US bank Wells Fargo working on Windows Phone solution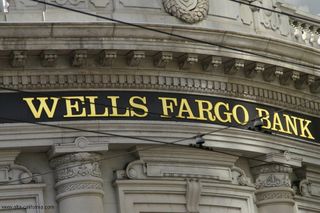 Wells Fargo, a bank and financial services establishment in the US, is reportedly developing a Windows Phone app. We've covered numerous other banks in multiple markets releasing apps for the platform, but it's always good to see further support rising from the ground. Wells Fargo currently has solutions for Android, BlackBerry, iOS and even Palm OS, so it only makes sense for Windows Phone to be included.
The information comes via a customer service email to a customer, noting that the financial institution is "already working on it" and that they "plan to make it available in the future". Of course, this being customer service, a grain of salt is required as we're not sure if they are privy to such information nor should it be considered "official" by any means.
No further information has been revealed, but we expect the feature sheet to be similar to its other apps, as well as mobile banking apps already available on the store from other establishments. You can expect account management, branch and ATM locator, transfer functionality, secured connectivity and more. We'll look to update you all once further details come to light.
via: WMPU - image credit: Chicago Agent Magazine
Windows Central Newsletter
Get the best of Windows Central in your inbox, every day!
Rich Edmonds was formerly a Senior Editor of PC hardware at Windows Central, covering everything related to PC components and NAS. He's been involved in technology for more than a decade and knows a thing or two about the magic inside a PC chassis. You can follow him on Twitter at @RichEdmonds.
It's nice to see many famous companies rolling out their WP apps. I also wanted to thank everyone that writes to WPCentral for being so proactive. You guys don't miss a single news. Thank you!

I sent them 2 or 3 emails letting them know Windows Phone 8 needs a Wells Fargo App. I got nothin, I'm jus happy to see one comin. Pageonce is great to check account up to now.

I'm waiting for mint Ai that I can drop pageonce. They refuse to update the app and add features to it.

I was told we don't pre announce up coming products. So at this time we have no info about WP8 or W8 apps. This is what I got everytime I've asked so I'll believe it the day the app is in the store.

About damn time. I'm a Wells Fargo customer and their lack of support for WinPho has been really annoying.

I work at wells fargo and I understand :)

I work for Wells too.
Can't wait for the official app - the mobile version isn't bad but there's nothing like an app

Awesome news. I think that is really the only app I have been missing. My old BB Curve had it and it was ok, served its purpose. I noticed they revamped/overhauled their mobile site which was nice but can't wait for the app. :)

The mobile version isn't bad at all however I want a Wells Fargo app

Geez, it's about time. Their mobile site works fine for me but I've been wanting a Wells Fargo app since I first came to Windows Phone (Verizon HTC Trophy) 3 years ago.

We need these type of apps on the desktop too!

Hasn't this been under way for a while? I've been wondering why it has been taking so long. Hell, some of our indie devs could have had it done months ago!

They tweeted me a year ago saying an app was on their way. Thou they didn't say when...I will believe it once it drops in the marketplace other than a CS rep saying it is coming.

About time. But they already lost me earlier this year to Chase who has better customer service and a phenomenal Windows Phone app.

Same here, except I dumped Citibank. Amazed how much better Chase is... not just for the app, but the customer service has been spectacular.

Chase is okay but I prefer Wells since they offer additional products for customers like personal loans, secure cards & retirement accounts.

I was considering a switch too, simply because Chase had an app.

Wells would be a big feather in WP's hat if it happens But not being a member nor fan of Wells or any of the other big banks, I can only wish upon a star that my local & friendly credit union would some day develop an app for the platform

Yes!! Now all I need is AMEX!

I switched to CapitalOne because of all the great perks, but I sure miss having an app from my previous bank.

I'm about to leave Capital One after 20 years, due to no locations in North Carolina area and no app, this really sucks

Bout GD time❕... Sorry.. Texas.

Title of this article is a bit confusing, as their is a US Bank too. "Wells Fargo (USA)" would be better.

I'm missing this app, I had it on WebOS, damn. Now all we need is runkeeper or nike running, heck I'd take Adidas miadidas isn't it funny how we always say, now all I need is.... After every app that shows up.

So true lol. After this comes Il probably say the same.... All I need is ______. Lol

Ha ha. And a WSJ app! Come on, Dow Jones... get off your ass.

That's what I'm talking about... Its only 1 app that's left that I want on WP that I used daily on android and that's 'Catch Notes'

Why? Been using the mobile site for years. Works just fine.

How can you scan a check with the website?

You can't. Hopefully the app is released this year

I specifically cited lack of WP support as a driver for not bringing more of my business over (in a post mortgage survey). Glad to see this good news. Now we need to d/l and use the app when released so they continue to support the ecosystem.

Please let it be WP7.X compatible. Pleeeeease...

I hope it is but WP7.X devices are sort of a dying breed. Shouldn't be too hard to port over the app to WP7 though depending on the features.

Doubt it. It would be nice

I need American Express to climb onboard.

*Looks around* Any sign of Navy Federal Credit Union? ...hello?

why is Citibank not making an app? it's ridiculous.

Seriously, Citibank needs to hurry up as well.

Dump them and move to Chase. I did... best decision I ever made. Not only is the app awesome, bit the customer service, bill pay,and website make Citibank look like they are stuck in 1992.

Or Wells Fargo... Best customer service ever!

Every gr8 company are rolling out wp apps then why not google c'mon stop the war ....... I think google will realize this soon

i hope travis credit union eventually makes an app too

Finally. Been wanting this app since the beginning since I have both business and personal accounts there.

Yay, finally! As a Wells Fargo customer, I've been wanting this app.

SunTrust needs to do the same.

A nice feather to the WP cap. Now Santander, please follow suit. Natwest, RBS and others are doing this in the UK.

They have been reporting this for a long time. Not sure why it is taking so much time. This along with Amex and mint should do it for me

Now all we need is a Jimmy's "I'll keep your money locked in my closet" Bank app!

While you wait, download webapps and pin to start. Works great!

This news came from wmpu more than 5 months ago. Yet still hasn't materialized. Though during MS or Nokia event couple months back , I did see a WF app listed. Why so long?

Great news! I've had to use the desktop site every time I wanted to access my account. Can't wait to see it.

The Wells Fargo app on iOS was nothing more than a wrapper for the Mobile site. So I wouldn't expect much for WP either. Shortcut the link to the mobile site on your home screen. That will be no different to whatever is in the works.

This is not true anymore, you can deposit checks from your apps. If only they found a way to deposit cash. Haha

Must have been rolled out this year. When I switched over the iOS app was only a web site wrapper. Gives some hope for WP8.

What about US Bank? When they will make their App for Windows Phone?

Damned Wells Fargo! I live next door to one (and witnesses a robbery last year). I've waiting for the WP app so I can open an account there. I don't really need them, tho, as I'm happy with BofA and Chase. Closed my Citibank and Capital One accounts last month because both refuse to support WP and even Windows 8. Long live Chase and BofA!

Wait u closed your acct BC they wouldn't make a app with WP! Wow

I have been waiting for this since my Focus days! Webapps has made Wells Fargo mobile very tolerable in the meantime.
Funny thing about all this is the new interface for Wells Fargo's ATMS is very metro-like. Flat tiles and all. Maybe there is a Windows designer working with Wells Fargo???

I'm trying to get my credit union to build a WP app. They keep stalling. They have ios and google.

Okay, so by the end of the year, our app ecosystem at least deserves a 6.5 on the Verge, right? ;-)

I sure hope this is true. Considering this is who I bank with its been frustrating to know we are left out to dry.

It's about time!

It's kind of an embarassement that one of their biggest competiors (Bank of America) has been on board since the beginning.

BoA and WellsFargo are a toss up as far as services and atm/branch availablitly where I live, seriously though about switching to BoA from WellFargo because of the lack of WP8 support. Good to see companies waking up...

I got the same email response months ago

Been waiting on a Comcast and Wells Fargo app forever. The only two I'd need to make my Windows Phone experience complete.

If you are looking for the Xfinity Remote app, it was released recently. :-)

The more "big industry" apps the better!

Hi Rich, can you write article about PNC Bank app for Windows Phone? Just to get some expusure. I'm PNC customer for past 10 years and with my L920 I'm missing only app.

There are several threads about this, one here
http://answers.microsoft.com/en-us/winphone/forum/wp8-wpapps/pnc-bank-app-for-windows-phone/5f9adef0-2730-47cc-a6bc-91cc47db5fc0
The user Dustin_2007 says the app would be available this September?

Good. I was just thinking about this for last night. For my niece. I would never bank there, lol.

And now I have decided to get Moto X instead though.

Seriously - About damn time!
I hate having to use my Mobile IE to log in to my WF account.
Thank you!

Congratulations Wells! You may have me as a new customer if Citibank doesn't do something soon!! I've been waiting for 3 years for a Citi app, sent multiple emails/letters, called customer service, etc... I don't understand why they would make one for blackberry (which is soon to be out of business) but not windows phone?? Well here's to wells if citi doesn't get their act together...

Ok people i think we got lied to by Felicia... I got an email from wells fargo ansking me to participate in mobile banking survey. im sure they had a meeting about us, the windows phone community so please complete the survery and show your support for getting us a wells fargo app! See my copy and paste below but i thinnk the link is encryped so you may have to call the number included...
If you have problems accessing the survey using the button above, please copy and paste the following URL into your browser:
http://surveys.morpace.com/m120257/?u=01697700&password=7751

To ask questions about this survey, please contact Wells Fargo Online® Customer Service at 1-800-956-4442 and mention the "Mobile Banking Survey" administered by Morpace.

Thank you for agreeing to participate in this Wells Fargo survey.

Your Wells Fargo Mobile Banking Team
Also the question before the last one was "How likely are you to purchase a new Blackberry device like the "Z10" in the near future?" Another funny question was "Do you own a tablet device like an iPad or Kindle Fire?" Honestly everyone I also think the survery was made too long intentionally and biased against Windows Phone.