U.S. government could resort to heavy-handed tactics to force supply chain information from TSMC
Chipmakers don't want to share trade secrets and customer data with the U.S. government.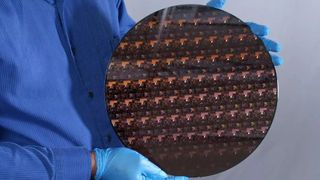 (Image credit: IBM)
What you need to know
TSMC is considering how to respond to the U.S. government's request for information regarding the company's supply chain.
The U.S. government has requested that several chip suppliers share information to help address the current global chip shortage.
TSMC says that it "will definitely not leak our company's sensitive information, especially that related to our customers."
Taiwan Semiconductor Manufacturing Co. (TSMC) is hesitant to fulfill a request from the U.S. government regarding the company's supply chain. The U.S. government has sent out questionnaires to several chip makers to help fix the ongoing global chip shortage. TSMC expressed concerns over customer privacy and trade secrets (via Nikkei Asia).
"We will definitely not leak our company's sensitive information, especially that related to our customers," said Sylvia Fang, TSMC's general counsel. "We are still at the stage of doing some preliminary research and evaluating the contents of the questionnaire."
Chipmakers, including TSMC, have until November 8, 2021 (45 days from when given the questionnaire) to voluntarily provide information to the U.S. Government. The companies are expected to share information regarding key customers, production capacity, and inventories.
If TSMC and others don't voluntarily provide information, the U.S. government could take more drastic action. After a meeting with chip makers, U.S. Commerce Secretary Gina Raimondo said that the Biden administration could resort to Cold War-era national security tactics.
"What I told them is, 'I don't want to have to do anything compulsory but if they don't comply, then they'll leave me no choice,'" said Raimondo to Bloomberg. "I said today we're evaluating all of our options right now, all the tools. I hope not to go there but we need to see some progress and we definitely need compliance."
Windows Central Newsletter
Get the best of Windows Central in your inbox, every day!
News Writer and apps editor
Sean Endicott brings nearly a decade of experience covering Microsoft and Windows news to Windows Central. He joined our team in 2017 as an app reviewer and now heads up our day-to-day news coverage. If you have a news tip or an app to review, hit him up at sean.endicott@futurenet.com (opens in new tab).
From Bloomberg: "The goal is to alleviate bottlenecks that have idled U.S. car production and caused shortages of consumer electronics and to identify possible hoarding, she said in an interview." I mean, how is the US government going to do that? How are they going to force TSMC to do anything? How do they even know what the best course of action is? I think they're assuming TSMC has very high market power (lots of excess capacity at this time of very high prices), but that may be assuming a lot. It's not like there isn't competition. Or is the Biden admin going to advise them on their supply chain? That's pretty ridiculous ...

I believe they're looking for signs of preferential prioritization of certain companies. Concerns about whether Apple, AMD, Nvidia, Huawei, etc. are getting right of first refusal of any additional capacity as it opens up and things of that nature. It seems like a knee jerk reaction since a lot of US companies are finally realizing that outsourcing does have its drawbacks in terms of supply chain resiliency.

"preferential prioritization of certain companies" That's a business decision ... And how does removing that improve the supply chain? This is all pretty stupid and probably just to make it look like the White House is doing something. Shocks to the supply chain are going to happen. Shocks as big as Covid are rare and not easy to predict. I just don't see the lessons for individual companies that you do.

Look at it this way, greedy companies got lazy and put profits over foresight. Now they are looking someone to blame so naturally they aren't going to scapegoat themselves are they?

Once again the US is trying to over reach. What the hell is their business who TSMC sells to? Bugger off US, your drunk.

"you're" Three word minimum...

1- Yes, it is heavy handed and authoritarian.
2- It is, however, typical behavior of the current administration.
3- TSMC is taking government money to subsidize new production. Specifically a $12B facility in Arizons : that opens them to government scrutiny. There is ample precedent for the government to force information from organizations taking federal money. In this case, they are dishing out $52B and want to make sure they don't end up subsidizing China's military, yet again. It's the golden rule: "Them's as have the gold rule." TMSC has three choices:
1- Comply
2- Refuse/return the money
3- Sue and hope for a miracle

To be honest, TSMC doesn't have to comply as the supply isn't being shipped out of a factory in the US.
The only caveat is what you alluded to - whether funds were given with strings attached. Then yup, either return the money, comply or risk turning this into a diplomatic issue. Which is neither good for the US or TSMC. However, it's especially not good for the US as the previous administration has tanked the soft power and integrity of the US down the toilet. So, the US will come off looking more like a bully as opposed to ensuring supply chain integrity. The right wing media will also use this to batter the Biden Administration as well - thus feeding more into the bully aspect. It's an extremely thin line for both sides.

The only integrity lost has been in the last 8 months and Biden sure is not done walking that dog either.