Valve Index vs. HTC Vive Cosmos: Which should you buy?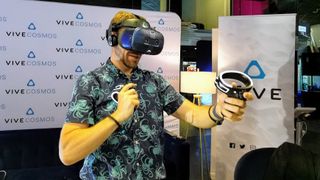 (Image credit: Windows Central)
Premium PC VR

Valve's Index is about the best PC VR you can buy right now, but it will cost you dearly. External tracking, outstanding motion controllers, and a knockout display make it worth the money for any VR enthusiasts.
For
Higher 144Hz refresh rate
Maximum 130-degree FOV
Adjustable eye relief and IPD
Comfortable fit
Precise external tracking
Against
Slightly lower display resolution
Considerably more expensive
(opens in new tab)
Inside-out tracking

HTC's Vive Cosmos is a follow-up to the original Vive, this time with inside-out tracking and a much higher-resolution display. It ultimately doesn't match what the Index offers, unfortunately, though it does cost less.
For
Compatible with Vive wireless adapter
Cheaper price for full system
Comfortable build
Slightly higher-resolution display
Modular design for wireless connection and external tracking
Against
Inferior tracking
Lower refresh rate and FOV
Inferior controllers
These two VR headsets are modern options that require a PC to run. While the Valve Index costs considerably more than the Vive Cosmos for a full system, it should ultimately deliver a far better experience. Let's take a close look at the two VR kits to see which one is better for you.
Valve Index vs. HTC Vive Cosmos tech specs
Here's a breakdown of the specs found in each VR system.
Swipe to scroll horizontally
Valve Index
HTC Vive Cosmos
Display
Dual LCD
Dual LCD
Resolution
2880x1600 (combined)
2880x1700 (combined)
FOV
Approx. 130 degrees
Approx. 110 degrees
Refresh rate
144Hz
90Hz
IPD
Manual
Manual
Audio
Integrated
Integrated
Tracking
External
SteamVR Tracking 2.0
Internal (six sensors)
External
SteamVR Tracking 1.0 or 2.0
Connections
USB 3.0
DisplayPort 1.2
USB 3.0
DisplayPort 1.2
Design, audio, and tracking
HTC's Vive Cosmos saw a redesign from the original Vive, bringing in a comfortable halo headband with plenty of padding. On the back is a dial to adjust the tightness, and the front display portion is hinged so that you can flip it up to see the world around you without having to remove the entire headset. There are some different face gaskets included, and even those with prescription frames should find that the Cosmos fits comfortably.
Valve's Index has a similar halo design, with a dial on the back for adjusting the padded fit. Most users should be able to find a comfortable fit whether or not they require prescription frames. Like the Cosmos, headphones hang down off the side to deliver quality spatial audio. On both headsets, the headphones can be removed if you prefer your own solution.
Where these two headsets really begin to differ is in the tracking and controllers. The Valve Index relies on at least two base stations for precise external tracking. The newer SteamVR 2.0 base stations included in the full Index package deliver the best experience, though the original SteamVR 1.0 hardware that shipped with the original Vive will also work. The base stations take a bit longer to set up, but they're going to deliver far more reliable tracking.
The Cosmos relies on six built-in cameras to track itself and its controllers in space. This is the same idea Oculus has for its Rift S and Quest systems. Unfortunately, tracking is often quite spotty despite some significant updates, and many users don't find that the convenience of internal tracking is worth the poor performance. However, the Cosmos was built to be modular, and HTC has been working on a faceplate that will work with the same base stations the Index uses. There's not yet a release date or price, but HTC has said it will cost less than $200. Keep in mind that the motion controllers that ship with the Cosmos will not work with the external base stations, so you would also have to invest in different Vive controllers.
Valve's Index "Knuckles" controllers are arguably the best hardware available now. They have a unique design that allows them to be strapped to your hand so you can completely release your grip without them falling away. Combined with pressure and touch tracking for your hands, you're going to get a natural input for whatever you're experiencing in VR. Thanks to the external base stations, the motion controllers can be held in almost any way and will not lose tracking.
The Cosmos comes with some rather fancy motion controllers — they're covered in a lit design that allows for tracking — that are reminiscent of Oculus Touch. There's a large ring used for tracking at the front, and they sort of have an overall pistol-grip design. They're comfortable to hold, but they don't offer the same level of input as you'll get with the Knuckles controllers. They also don't deliver nearly the same precision due to the inside-out tracking, and if you decide to make the switch to external base stations, they will be rendered useless.
One thing the Cosmos does have going for it is compatibility with the Vive wireless adapter. You can convert the Cosmos to work without needing a physical tether back to a PC, but it's going to cost somewhere around $250 (opens in new tab) on top of the Cosmos price. If you do want wireless VR right from the start, you're far better off checking out something like the Oculus Quest.
Display and lenses
HTC did a fantastic job boosting the display in the Cosmos. It's a huge step up from the original Vive, with about an 88% resolution bump. It has dual LCD displays with a combined 2880x1700 resolution and hardly any screen-door effect (SDE). Like Valve's Index, the Cosmos features a manual interpupillary distance (IPD) adjustment dial so that a wide range of users can find a comfortable fit. Unfortunately, the Cosmos does not have eye relief like the Index, so FOV is capped at about 110 degrees. The Index, with its adjustable eye relief, can hit about a 130-degree FOV.
The Index has a similar combined resolution at 2880x1600 and also features dual LCD displays with minimal SDE. It can hit a whopping 144Hz refresh rate in an experimental mode (with powerful PC hardware), whereas the Cosmos is capped at a 90Hz refresh rate. You're ultimately going to get a clear image from either headset, but thanks to the increased FOV and refresh rate, the Index wins out in the display category.
Price and PC requirements
Image 1 of 2
These two VR systems will benefit significantly from powerful PC hardware, and individual games and experiences will require different levels of performance. However, stated minimum PC specs do slightly differ between the two headsets with the Index recommending more RAM to get things off the ground. Both headsets need at least USB 3.0 and DisplayPort 1.2 to connect back to a PC.
Price plays a big role here, as the Valve Index costs about $999 for a full kit containing the head-mounted display (HMD), Knuckles controllers, two base stations, and a copy of the upcoming Half-Life: Alyx VR exclusive game. If you owned an original Vive and still have the controllers and base stations lying around, an Index HMD alone costs about $499.
The Cosmos costs about $700 (opens in new tab) for the HMD and controllers, making it $300 cheaper to get VR off the ground. If you value precision tracking and natural controller input, that extra $300 for an Index should be worth it. And if you really do want a VR headset with inside-out tracking that works with a PC or by itself with no tether, the Oculus Quest is priced at about $399 (opens in new tab).
The Valve Index is the best PC VR on the market
It costs more than the Vive Cosmos for a complete package, but the Index delivers big. As long as you don't mind external tracking and no current option for wireless VR, you're going to have a far better time with Valve's VR system.
High-end PC VR
An impressive VR package

If you want the best PC VR experience on the market and have the budget to back it up, the Index should be the top pick.
HTC's Vive Cosmos could be so much better
HTC's Vive Cosmos would have been a killer VR system two years ago, but it just doesn't measure up well in the face of Valve's Index and what Oculus has done with its Quest headset. The Cosmos ultimately costs less than the Index, but not so much that it's not worth saving up some extra cash and going with the best.
Inside-out tracking
(opens in new tab)
Doesn't quite stand up to the competition

The Vive Cosmos delivers a quality display and modular design, and it is available at a lower price compared to the Index.
Windows Central Newsletter
Get the best of Windows Central in in your inbox, every day!
Senior Editor, Laptop Reviews
Cale Hunt is formerly a Senior Editor at Windows Central. He focuses mainly on laptop reviews, news, and accessory coverage. He's been reviewing laptops and accessories full-time since 2016, with hundreds of reviews published for Windows Central. He is an avid PC gamer and multi-platform user, and spends most of his time either tinkering with or writing about tech.
Windows Central Newsletter
Thank you for signing up to Windows Central. You will receive a verification email shortly.
There was a problem. Please refresh the page and try again.