Vector 41: Mergers and accusations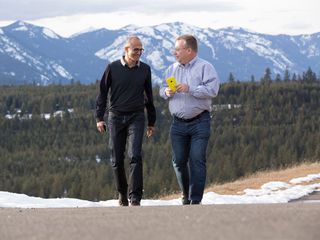 Vector is Mobile Nations technology news and analysis show featuring the biggest stories, the hottest trends, and the most interesting guests in the industry. On this week's show, Ben Bajarin of Techpinions talks with Rene about mergers, including the just-completed Microsoft and Nokia, the ongoing Comcast and Time Warner Cable, the just announced AT&T and DirectTV, and the rumored YouTube and Twitch and Apple and Beats deals.
Support Vector: Go to squarespace.com/vector (opens in new tab) and use offer code VECTOR to save 10% on your new website! And visit airsquirrels.com/slingshot/ to share your screen with anyone, anywhere.
Show notes
Comcast plans merger with Time Warner Cable
Beats and Apple: Does such a marriage make sense?
Guests
Hosts
Feedback
Question, comment, recommendation, or something you want us to follow up on for the next show?
Windows Central Newsletter
Get the best of Windows Central in your inbox, every day!
Is that supposed to say accusations or acquisitions?

I'm accusing Sprint and T-Mobile of being next.

It's a play on words. Letters being funny!

I can't seem to find this on my native podcast app on my Lumia 1520. Anyone have any ideas?

We can't find it either. We're trying to get that fixed. I blame Sam. Because he's not here. :)

Mergers and acquisitions right?

It was meant to be a joke :)

Like accusing Microsoft of buying Nokia...right? ;)