Verizon finally shows off Windows Phone 8 with new tagline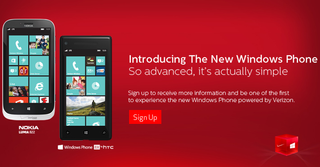 Perhaps it shouldn't be "odd" to see Verizon promoting Windows Phone, after all, the powerhouse US carrier is planning on selling not one, but three Windows Phones this year: Lumia 822, HTC 8X and the unspecified Samsung Odyssey (expected to have a 4" S-AMOLED display, WVGA resolution, and a 5MP camera)
Still, you know things are changing when you see a nice ad right on Verizon Wireless's front page (opens in new tab) with the line "Introducing The new Windows Phone. So advanced, it's actually simple."
We dig that tag line. And we're glad to see Verizon onboard with Windows Phone. Thanks, Andrew K., for the tip!
Daniel Rubino is the Editor-in-chief of Windows Central, head reviewer, podcast co-host, and analyst. He has been here covering Microsoft since 2007 when this site was called WMExperts (and later Windows Phone Central). His interests include Windows, Microsoft Surface, laptops, next-gen computing, and for some reason, watches. Before all this tech stuff, he worked on a Ph.D. in linguistics and ran the projectors at movie theaters, which has done absolutely nothing for his career.
Then who will sell the Samsung Ativ S? Since the Odyssey is the medium end WP.

I think that is going to T-Mobile and AT&T if it sells good im sure VZW will pick it up also.

I hope T-Mo picks up the Ativ S. I read somewhere that Samsung wasn't releasing anything in the US until next year. I hope that isn't the case, cuz I want this to be my next phone.

Idk if I'm right, but I read somewhere, that the Ativ is exclusive to Verizon.

I just hope it comes to T-Mo, and I also hope it is not exclusive to one provider.

MJF has confirmed the ATIV Odyessy for Verizon December 2012.

http://www.zdnet.com/where-and-when-can-users-get-microsofts-windows-phone-8-devices-7000006550/

No confirmation from Sammy or VZW as to what it will pack. i.e. How it will compare to the ATIV S.

http://www.engadget.com/2012/10/29/samsung-ativ-odyssey-brings-more-windows-phone-8-to-verizon/

http://www.intomobile.com/2012/10/29/samsung-ativ-odyssey-mystery-device-headed-verizon-december/

http://www.techradar.com/us/news/phone-and-communications/mobile-phones/samsung-ativ-odyssey-sailing-exclusively-into-verizon-this-december-1108347

Typically TechRadar is pretty good with thier Windows Phone scoop. Hopefully WP Central or TechRadar come up with more information about this VZW ATIV.
WP Central formus are also buzzing about a big Black Friday promotion for WP8 at Verizon and, of course, the Nokia 922 rumors are still buzzin' hard too.

Confirmed Odyssey? Microsoft announced it Monday and told us it was coming in December.

Just like the FCC passing the ATIV Odyssey today? Let me rephrase "confirmed" and use the phrase "published story".

No scoop about the ATIV announcement and now no article about the FCC passing the ATIV? Where's the love, Danny?

The odyssey is a version of the Ativ s from what I hear. There is another Sammy coming to Verizon that's pre paid but it's definitely not the Odyssey.

You heard wrong. It's not the ATIV S.

Are you 100% positive? My source has batted 100% on Verizon wp8 news thus far. After the wireless charging for the 8x I have total faith that he's steering me straight.

VZW will be getting the Samsung ATIV Oddyssey - Coming in December

I love how it seems that everyone either already has the new windows line up or at least they are advertising it. But At&t the so called premiere partner doesn't have squat once again they have dropped the ball but hey if you look on their website you can get an crap phone 5 or pre order a Samsung note 2 not even a word about new windows what a joke. Worst marketing scheme ever at&t really hire someone with some competence.

+1. For all this wait, ATT better have a surprise, when releasing or at least carry enough devices, so I can freaking get one!

AT&T is really pissing me off right now. It's freaking November 2'nd for crying out loud. Give us something already!

While I agree that AT&T has definitely dropped the ball as far as announcements and timing go, they have had a landing page similar to this up for several days:
https://www.windowscentral.com/e?link=https2F2Fcli...
Still lacking important details (dates, pricing, etc.) though

How did this turn into a ATT post?! The better question would be; when is Verizon going to step up and play ball and finally get N922?!

All those people who went to ATT for the L900 feel that they are entitled to having the best of anything WP so they bring it up in every topic that ATT this or that. As if there aren't enough places on this site to discuss ATT and their WP lineup.

Verizon really is the best network (at least for me, yes I understand not everybody is the same) and it's great that they are getting some solid WP devices.
The one thing that bugs me about this site is most people think that Nokia is god and any other phone is sub-par. "Verizon going to step up and get the N922"???? What's wrong with the 8X? The phone is amazing. Yes, the latest gen of WP7 devices the N900 was the best but this 8X looks pretty fantastic for a first gen WP8 device! I honestly would rather have it than the N922.

Some of us like the Lumia 920 over the 8X for any number of reasons such as
Wider screen ratio
Larger screen
60Hz screen with super sensitive display (gloves and such)
Camera with OIS
32GB Storage
Wireless Charging
Hardware design/colors

The 8X is a damn nice phone, but that doesn't mean others can't want something else. I don't get why there are so many people that are trying to hate on any of the OEMs. Like what you want, and buy what you want without bashing other products, especially in the same family (Windows Phone).

"The 8X is a damn nice phone". True, i had it in my hands recently, and i had the 920 too. Pros and cons for both of course. The 8x feels just right in your hands, is lightweight, the camera is pretty decent (it's a phone not a DSLR), the screen is the same gorilla glass as the lumia. The 920 has a bigger screen, bigger battery better camera stabilization... but is heavy! damn heavy. But... but it has the exclusive Nokia apps that i think will make the difference for me. Drive, Music, Transport, City Lens they are all great and i actually use them on my 800. Damn it, i'm confused... :)
What would you do?

Maybe I did the math wrong but isn't the 8x about a .25lb and the 920 around .5lb?
I feel like if I'm going to get fatigued holding .5lb then I need to go to the gym or see a doctor... Anyway I chose the 920 for the reasons you listed above but I was opining for the 8X for a while. Good to have multiple top-notch options!

The Lumia is 6.5 oz. (.4 lb) so quite a bit less than 1/2 lb. Agree with what you said basically. 95% of the people saying it's heavy are speaking relatively and/or without even ever having held it yet. I personally think some phones are getting so light that they are too easy to drop or feel like they aren't well made.

Yes, your math is wrong. 920 about 0.4 lb. Seems to me this would indicate a more solid, tougher product, which I would rather have.

I'll never consider a cdma network the best network :/

I never considered a Windows Phone with no SD card slot, short battery life, no gyroscope and marginal rear camera a "damn nice phone" either. Patience Grasshopper. VZW will have better phones out than the 822 and 8X in less time than it will take for you to get your first 8X monthly bill.

Maddog,you must think everyone has the same opinion as you. First off I don't know how you know if the 8x has a short battery life.
second, I've been sporting the htc trophy for the past 18 months and I'm due for an upgrade. The trophy does not have a gyroscope nor a sd card slot. And I still think it is a "damn nice phone"
everyone has a different point of view with their smartphones. Some people may agree with you but I certainly don't. I would love to get the 920 it has a ton of new features, maybe more then the 8x but that doesn't mean it's a much nicer phone then the 8x.
I would also like to know when these better phones will be out as well and who from. Since you seem to have all the answers.

WP95 - Not trying to hurt your feelings. Just out here running another search on "gyroscope" and I am still seeing what HTC refuses to talk about - no gyro for the 8X. Sad.

WHAT WAS confirmed today (and WP Central missed) was that the Samsung ATIV Odyssey was passed by the FCC. A good sign that this may be coming to Verizon shortly (December).

The VZW ATIV has a gyroscope and other anticipated desired features like a large replaceable battery, SD card slot and more. May be worth staying out of the Verizon store until next month?

I'm actually getting the Lumia 822 over the 8X. The 822 might be the "inferior" phone but it isn't by much. Compared to my HTC Trophy, there's no competition.
1) The L822 will have Nokia's clear black screen and the super sensitive display. Check.
2) The camera will have an f/2.2 aperture. Check. They don't state what kind of sensor it is, so I'm going to assume it won't be BSI, but still, f/2.2 is not bad compared to f/2.0. Low-light performance should be decent in theory.
3) Expandable storage. Check. I don't know about you but data caps, data caps, data caps. I'm not going to stream all my music and media and my 16GB on my Trophy runs up PDQ.
4) Nokia apps and support. Check. I've said it before, I'll say it again. HTC's apps on WP7 were near worthless. Maybe they'll step up their game with, WP8 but Nokia has done a great job at setting themselves apart and really supporting Windows Phone.
5) Snapdragon S4 CPU. Check. They all have just about the same internals so performance theoretically shouldn't be that different.
The biggest problems I see people having with the Lumia 822 is the 800x480 screen resolution and the camera tech (especially when compared to Nokia's Pureview). There will be some that just really dig the 8X design or really don't like the Lumia 822's design and that's a fair point as well. But the more I thought about it, the more I became sure the Lumia 822 was the phone for me.
I can't wait for all these phones to launch though! Man, it's going to be great!

That pretty much sums it up for me christosays

Well put. The 822 doesn't get the credit it deserves.

Same here. The exclusive apps and SSTS really do it for me right now. I used to add the wireless charging to the 822 side but now that it has been revealed that the 8X gets it as well, then that made the choice if more difficult. And now the price might be an issue too since the 822 is now $149 (before rebate) vs. the 8X at $199. Decicision decisions!

Sound enhancer was far from worthless

6) Gyropscope. HTC 8X doesn't have it. I say its a HUGE miss. I'm surprised there isn't more fuzz about 8X and 8S not having a gyroscope. I bet there will be a lots of disappointed HTC owners that do not realise that when they are buying. Bye bye games and some other cool apps that will use it.
As far as I can remember Nokia mentioned on launch event that 820 uses the same sensor technology as 920, just no optical image stabilation on 820.


The 8X/S would basically be the 3rd Gen for HTC. Previous units include HTC trophy, Titan I, Titan II. Ad to why Nokia is considered the front runner.
1. They introduced cutting edge design 2. Markets the device, thereby get WP into the hands of users 3. Works with/pay developers to bring popular apps to WP's ecosystem

Just for curiosity... Why not Samsung, the ATIV line, and the Samsung ATIV Odyssey? Sammy seems to be a front runner to me. Here's my Samsung laundry:
Slimmest phone out there. Very light and fits nicely in the hand. Best battery life of all WP8 devices and the battery is replaceable. SuperAMO screen with crisp resolution. Great front and back camera with good supporting software. SD card slot. Gyroscope. Great Windows Phone history with possibly the best selling WP device to date (Focus). Not copycats like HTC, yet smart enough to release a device with the success of the Galaxy SIII Samsung utilizes the Microsoft OS and OS features - Nokia may have a decent feature or 2, but they don't have the infrastructure to support hardware and software (ahem, Symbian success?) Samsung IS NOT watering down the WP market with a bunch of cheap, crap, handsets.
Sorry, I thought the last point to be pretty important. I would like to see as many WP8 customers out there as possible, but I would also like to see them happy and buy future WP devices. This watered down Nokia and HTC inventory scattered amongst the carriers (so the carriers won't be mad about 8X and 920 exclusives) does nothing but appease the carriers. The only benefit to the customer is in the pocketbook, not the WP experience.

What's wrong with 8X? Nothing if you want sound over the camera and are happy with half the storage. But some of us want the camera as our highest priority. I want the camera, the storage, and the apps.

I hope I can get the 8X soon. I'm ready for a new phone. Slight crack on my trophy screen. Not too bad but bad enough.

I have a crack too. But I can't upgrade until the end of April. :( But maybe I'll have more options to pick from or at least discounted prices.

You are in way better luck then I am buddy. My contract with tmo ends late December, I'll be forced to choose something less par to n920. Come April, you'll have so many options, and most likely pay a lot less then the rest of us.

Really nice tagline, hopefully will get people interested and finally realise that WP is so much more then just squares, as some of the people I know put it.

Some people still in deny the fact that Microsoft is actually pushing the desing and usability bar higher than before.


looks nice.. but still no multi tasking.. still too closed os. App market is better than before but stil far back frm android n apple. love the screen n camera. i sometimes feel other than samsung y suddenly every company is not give external storage card slot. i mean when it comes to buyin a cell phone ppl do want it n thus samsung is sellin many more devices than other OEM. i jus hope windows user are able to get extended memory in future devices.

Samsung is selling millions because they spend a lot more on advertising then the others.
And the Lumia 822 has a SD slot, and if I am not mistaking the HTC 8S also has a SD slot.
About multi-tasking even wp7.5 can do that, maybe not the way you want it to but you can multi-task on windows phones.
Sorry if it look like I am picking on you I am not, but the part about a closed OS to me that is a huge plus so we will just have to disagree on that one.

It's an iffy sort of multitasking. My problem is Internet Explorer on WP7 isn't contained within itself, that is each page becomes a new instance or essentially app in the "multitasking" section, and thus overwrites apps that I had open before. So if I had Soundhound (just off the top of my head, bare with me) open, then went to internet explorer and went through 5 different pages and then held the back button down,Soundhound would be gone but 5 IE pages would be available. Just to clarify: This only happens if I make a new tab, otherwise IE remains as one single instance .. but I always make a new tab when clicking links so it's a problem for me

The other problem with WP "multitasking" is that you can't close any of the 8 open apps. They just automatically slide off into thin air one by one. That's just plain stupid!

Not sure if WP8 is different than WP7 but in WP7 you just keep hitting the back button and they will close, or if you just want to close one of the apps you hold the back button select it then hit the back button.

Its not an intuitive way of multitasking, closing of apps. But many have suggested swiping opens upwards to close but guess MS didn't take that into consideration.

I thought wpcentral had a post yesterday outlining true multitasking in wp8

You should stick with Apple

You should take that apple out of your uh..... Nevermind.

I would love another 4" phone besides the 8S! I would still have my original Focus if it's charging bell didn't go off every half second!

Did you try a new battery for the Focus? I swapped mine for a new one with 1800mah and it breathe new life into the Focus.

The bigger question is will Verizon salespeople bother trying to sell Windows Phone this time? The Trophy release was a disaster with their employees actively trying to steer interested customers away to iPhone or Droid.

There will still be personal bias from the reps as usual, but Verizon does their best in their training courses to instill an attitude that it doesn't matter what the reps like, it matters what will work best for the customer. I can tell you that the marketing for Windows Phone 8 should be big enough so that customers will ask about it, which is the first step.

I was chatting with a Verizon rep at a BJ's Wholesale kiosk (kiosk only sells Verizon, btw) and told her I'm waiting for the new Windows Phones. Her reply (in a condescending tone): "Why would you want a Windows Phone?"

When I bought my Trophy there wasn't one on display. I had to ask the Rep if they even had one I could look at. He acted like he couldn't even be bothered to go to the back of the store and grab the demo phone for me. I wondered if he got it out of the janitors closet cause it was really dirty and gross looking. He said no one ever bothers with the Trophy. I said of course not. How's anybody to know if you have it if it is buried in the back of your store and not on display? He just shrugged.

This landing page has been up since the Windows Phone 8 event.

Also, there are these pages on Verizon's site:
http://news.verizonwireless.com/news/2012/10/nokia-lumia-822-windows-phone.html

http://news.verizonwireless.com/news/2012/10/htc-windows-phone-8x.html

they should have used another color for the htc


Totally agree with you, Lasp. The pictures they have posted look the same as their iPhone and Android lineup. How about animated gifs or flash showcasing the Live Tiles? Make those phone POP on the page and people will come running to buy them.

I preordered the Lumia 822 at Best Buy yesterday. Can't Wait.

I'm actually kind of offended by Verizon's tag line... "So advanced, it's actually simple."
Actually?! It's like the Geico Caveman commercials... Actually, as in, Windows has always been a pain in the ass, so difficult, wah wah wah, let's cry about it. And maybe I should take that to mean so advanced and so simple it's better than Droid or Apple, but that use of "actually" bugs me.

yeah it irked me too but no one on this thread seemed to mind. "IT'S ACTUALLY SIMPLE" ?? How About a tagline that mentions the philosophy behind windows phone something like "The most personal phone you will ever own!" or "Windows phone knows what you care about most"
or even microsofts tagline
"This phone was not made for all of you, but for each of you"
idk im just being picky and think they could have been more created.
verizon certainly was with the "in a world that cant Droid Does" sigh w.e at least they are getting phones lol

You didn't get my tip? And ATT shows the 920, 820, and 8X on their home page.

Hey Verizon how about a F*$&$N date would that be too much to ask. It's not like you don't know it you been plannig this for months

Microsoft's press release for vzw phones says "by Thanksgiving". Good enough for me!

I'm glad to see this. As long as carriers at least mildly get behind WP8 I think we'll see some market growth!

It should say " checkout the new windows phone we were to ignorant to maintain it now we feel at&t will jump us for number one so now we support it " DROID RAGE LOL

No front carrier branding on Verizon's 8x too!!! They really are making this the Windows Phone first device..i like that!!

Funny how article doesn't mention lack of HTC and Verizon logo in front.

Why is that funny? Those are renders, not actual photos of their phones.

You should have learned by now that Verizon is the black sheep around here. Apparently people are upset that they didn't sell legacy devices last spring.

I wish they'd get onboard with the Nokia 920
Windows Central Newsletter
Thank you for signing up to Windows Central. You will receive a verification email shortly.
There was a problem. Please refresh the page and try again.