Verizon warming up to Windows Phone?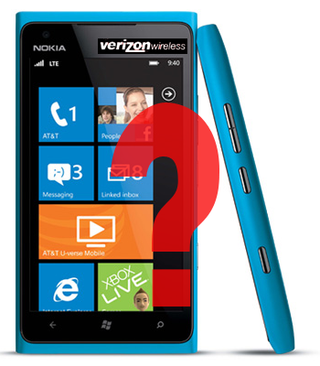 While Verizon Wireless does off the HTC Trophy as the company's one and only Windows Phone, customers have been wanting more selection out of the wireless provider for some time. Based on what Verizon's executive vice president and chief financial officer Fran Shammo said during a conference call, Verizon customers may finally see more Windows Phone becoming available.
Shammo said he was fully supportive of Microsoft and discussed the need for a third mobile ecosystem in the wireless industry. This is a bit of a change from late last year when Verizon had issues with the lack of LTE support coming from Microsoft. The feeling was that Verizon would continue to focus on Android devices as their center piece.
If Verizon was waiting for LTE support, the Nokia Lumia 900 and HTC Titan II should prove that LTE support exists with Windows Phones. Another sign that Verizon may be coming around on Windows Phones is the recent announcement of the 8107 update for the HTC Trophy.
Based on Shammo's comments the chances of additional Windows Phones joining the Verizon line up seems promising. Could we see a Verizon Lumia 900? Or maybe a Verizon Titan II?
Source: CNET (opens in new tab); Thanks, Anonymous, for the tip!
Windows Central Newsletter
Get the best of Windows Central in in your inbox, every day!
George is the Reviews Editor at Windows Central, concentrating on Windows 10 PC and Mobile apps. He's been a supporter of the platform since the days of Windows CE and uses his current Windows 10 Mobile phone daily to keep up with life and enjoy a game during down time.
It will be the Titan 3 when VZ gets it...in three months. Lol.

agreed, or better yet the Lumia 1000!

Samsung Focus Zzzzzzzzzzzzzzzzz?

Highly doubt we'll see anything new from VZW until WP8 in Oct. or so... I do think they will offer a phone or 2 then however.

They're probably just saying this now that they see the 900 is doing better than expected. But I can't complain, any positive word for WP from Verizon is good since I'm waiting on a new phone from them. And if they put some effort towards promoting WP once a new phone does come it then they could really be the factor that pushes WP into the mainstream.

If they start supporting and getting new windows phones I'll come back to them when my current contract is up.

My AT&T contract is up in November and if Verizon has some cool Windows Phones, I might go with them.

I would love to see more WP 7 devices on Verizon, but they are so in bed with Google it may be a while be we see anything.

As much as I crave a VZW Lumia, I certianly wouldn't touch one if I was Verizon until WP8, unless it was a device that would be upgradable..

Enough with the rumor comments. Seriously, the situation is no different now than it was a week ago before all this back and forth started happening.

I think if Verizon gets behind Windows Phone, we will see a huge rise in sales. Every seems to already be condemning Nokia and MS to death because the Lumia 900 didn't have an iPhone 4S type weekend. It still sold very well. Also, one phone release isn't going to turn around Nokia's profits. Its going to take a lot more. I think we will see great things in the coming months.

I would drop kick 1000 kittens for a Titan II on verizon

That's the best photoshop job ever

really >..>

it definately fooled me :P

Great to see that the Lumia 900 & Titan II are making Verizon see the light. Particularly the sales of the 900. I'm not a Verizon customer, but I love seeing Windows Phone grow!

I was about to jump ship to AT&T for the Lumia 900. I love my trophy, but the terrible battery life is killing me.... LTE wouldn't be bad either!

I just updated my trophy to 8107 today. It provides support for LTE

My contract with tmo ends in nov/dec. If Verizon picks up either one, im def. heading over to Verizon. Well, I was going there anyway, im hoping they pick it up anyway.

Fran Shammo is the CFO of Verizon Wireless, not the CEO. I would also love a Windows Phone 8. I have the Trophy right now and I like it enough to wait until the end of 2012. Will switch to AT&T if it doesn't pan out though. Never going back to Android!

Lumia is not making them see anything. What Lumia 900 did was take Verizon customers and switched them to AT&T. All Verizon is seeing now is loss of customer base.

Either they are really interested in WP now that they are losing customers or this is just a play to keep their customers in line so they don't leave.

Either way the Lumia has caused them to see the light & change their tune. Whether it be from losing customers who want the Lumia 900 or sales of the Lumia it's obvious it caused this reaction from Verizon.

Except Verizon just reported a very good quarter with strong customer growth.

Yeah I really love my trophy as well but I want something bigger with better battery life. Also future proof would be great to (lte and at least a promise of wp8)

I think that this is THE BEST news to come out this week! Carriers supporting WP is the most important factor in WP's success, not just in the US, but worldwide, since the US is a trend setter!

I think they like seeing the strong sales of the Lumia 900 but given that WP8 is right aro8und the corner, with ALL the changes it will bring, there is no way they will do ANYTHING with Windows Phone until after Apollo is out. I'm betting they'll be first in line for Nokia's top line WP8 phone when it is ready though.

"does off the HTC Trophy" Freudian slip?

Lumia starts selling and Verizon is suddenly on board. Why am I not surprised.

Don't be surprised, be happy

Verizon sucks! Wp8 will rule....maybe.

Knowing VZW, they'll wait until Apollo. :(

Ppl are still actually believing WP8 will come out in October? Seriously? Another pseudo date MS never talked about and then everyone starts saying they failed...

I actually believe it might come out earlier...

Tango already slipped to June, do you think we'll have less than 3 months between Tango and Apollo? It doesn't make sense, even without judging from previous huge "delays" (based on dates set by the community, of course)

Agreed... Tangos a downgrade:)

Two completely different groups. Windows 8 is in beta already. Windows Phone 8 will probably be released in tandem with Windows 8. I have been testing the Windows 8 beta (not the WP8) and find it to be a very solid build. I can't image that there is much more...
MSFT's earnings call in 30 mins..hopefully they give us something.
btw...MSFT just beat street estimates...stock is trading up after hours.

Every leak (From OEMs or otherwise) we've seen shows 4Q so yeah I do think it will ship in Oct or Nov. They do not want to miss the holiday potential and I'm quite confident MS and Nokia are well aware of the timing issues.

Shit I know right? Fucking idiots

The final tango build was completed months ago. Tango as an update is not released yet but would certainly not have pulled any of the devs away from wp8

I think the fact that BlackBerry is in the process of crashing back to the planet with no real plans to stop the fall is what brought Verizon to Windows Phone. Both iPhone & Android are more consumer geared devices than anything else. Windows Phone has a real chance to fill the void that is BlackBerry and offer a 3rd option for consumers thanks to Windows Phone social integration.

I love that Photoshop job..

Did not realize it was Photoshop. ;)
Cast my mostly ambivalent vote for a deep red Lumia X (with 16MP BSI camera).
WP8 will likely be bringing expandable storage, and we fully expect dual core. Verizon likes "halo" devices, so expect 16-32MB onboard plus expandable storage, dual-core, front-facing camera. What am I missing? If Nokia works with Microsoft and Verizon to bring a feature beast into the game, along with whatever goodness WP8 contains, it could be a real big push for WP8 adoption. (The halo beast isn't likely to sell super well to mainstream, but it will get attention and get the early adopters talking a better game.)

If verizon got one of these phones in this order.. I would sign a 2 year TODAY
1. Titan 2
2. Lumina 900
(that camera in the Titan is something I cant turn down) but, I would be happy with the Lumina

I thought it might be a typo until you did it twice. You know it's Lumia not Lumina right? Not trying to insult, just pointing it out.

It's just been one of those days...Yea, I know it's Lumia....thanks for pointing it out anyway...

I had my htc hd7 on tmobile and loved it but when I moved to arkansas from mass. I quickly seen that I was in AT&Ts choke hold and I didn't even get a bar when roaming on the at&t. So I walked my happy self into an at&t store and start new service when I was told that at&t doesn't carry windows phone so I unwillingly walked out with a sony xperia play and was overwhelmed by glitches and forced closes. I called tmo and got my hd7 unlocked but when I called at&t the told me that my hd7 was not supported on the at&t network as to wich I remarked "you have the hd7s, why doesn't my phone work on your network?" After allot of circling around the issue I hung up and a few days later walked into a different at&t store where the lady that worked there showed me the soon to be release nokia lumia 900 in jet black I was excited then sad to realize that I could not get the phone due to my upgrade being in 20 months wtf! It vzw does get the titan II or the lumia 900 before I can even get a discount from the 'evil mobile empire' I just might just ship and deal with the spotty vzw coverage. *sorry for being long winded, I had a lot to say*

hmm..you had the HD7 on TMO, but you didn't know that ATT has all the best WP7 devices?? HTC and Samsung??

Oh and more salt in my wound, a month after I got told at&t doesn't carry wp my mother in law shows me her brand new samsung focus flash she got for a penny from a different att store! And of course I was outside of my return date for the sony xperia play.

well, do some research before you buy, next time :)

Verizon will get a new Windows Phone. Then the salespeople will try to get to buy an iPhone or Droid.

Being a Verizon customer, as much as I love their reliable reception, I absolutely HATE their policies on introducing new phones. They are always last.

They may be last, but they would've never let the Lumia out into the wild with that data connection bug. They over test their phones pre-release to the point of absurdity, but in the end we benefit from some pretty rock solid devices.

Verizon + Lumia = Lumia 920
Expect it to come on October/November. That's (after me) the date Apollo/WP8 devices will ship.

More photos at: http://www.concept-phones.com/nokia/nokia-lumia-pureview-920-runs-windows-phone-8-12mp-powerful-camera/

Ineresting for a concept phone... Time will tell but, I'm not sure I'll still be with Verizon by then.

I wish carriers would stop pushing worthless LTE technology. It has alot of cons and no pros.

Just wondering why you say that. From what I have read, LTE is far better than CDMA and faster than the current GSM standard with as good or better range.

Sorry but, if you dont like LTE, you need to not buy a phone as it's going to the the nationwide standard in a few years. I figure by 2015-2016 Verizon will discontnue it's CDMA network because of LTE and everyone is going to it now.

I have LTE for my 900 in STL. I have NO cons to report. What could you possibly see as a con?

Yeah I don't get that either. Its noticeably faster

Well, it's nice to finally hear something from the horse's mouth. Even though it's nothing specific, at least Verizon is awake.

If Verizon got a titan 2, that might be enough to get me to break my at&t contract and go back.

I'd sign a 2 year today for it...

Verizon is like that psychotic hot girlfriend that just when you think about dumping her...she pulls you back in and you hope she's going to change (cuz she's hot) but she never will. Curse You Verizon!!!

I hope this is true! I was thinking of leaving Verizon Wireless when my contract expired because they weren't supporting the Windows handset. Crossing my fingers!

I was also planning to leave Verizon if they didn't get an Apollo device by the time my contract was up.

Verizon doesn't really like WindowsPhone because they can't load it down with that awesome VZW bloatware, or gouge consumers' eyes out with the overpricing. Maybe they'll get it together eventually. Or maybe not.

And I shake my head (and my fists) at people who won't even give the platform the respect it deserves. I've been waiting for phones this simplistic for a long time.

Shammo said that? I say SHAMWOW! Lol :)

I'm for at&t jumping to the number one spot but wen it comes to windows I'm really wanting WP on all carriers more also for metro pcs so that we can gain more ground

I too would be willing to go back to VZ if they give WP some love. Locked into At&t for two years though. Honestly no complaints with At&t so far, reception has been better than expected, especially for my area (I think this has more to do with the Lumia 900 more than anything). Also, there seems to be extensive Wifi in downtown San Fran, so that is a boost. But, when I was with VZ, my signal was very strong all of the time.

Verizon wake up, you lazy dogs

But im gonna stay with the big company as I have always been ;) AT&T the best

I guess the proof is when I see phones on the website...or in the store...

Im with verizon and i was about to get,the trophy because they are going to start charging $35 for an upgrade. Glad i saw this.

I think they would likely get both becuase. The 900 is one of the top selling phones in AT&T, it's almost sold out that Nokia is trying to meet demands. It's also the best selling windows phone sold In a pace and the Titan ll with it's impressive camera. Then they'll go dead serious on wp8 : )

I guess Verizon were smart after all. They waited for at&t and Nokia to do all the promotion advertising hence saving money when they eventually move to windows phone 8
Windows Central Newsletter
Thank you for signing up to Windows Central. You will receive a verification email shortly.
There was a problem. Please refresh the page and try again.