Verizon's upcoming Lumia 735 leaked again with official render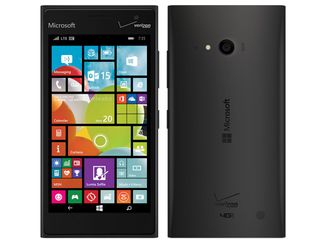 We have been reporting for quite a while now that Verizon Wireless is planning to sell a version of Microsoft's Lumia 735 smartphone. The Windows Phone device was recently outed by the FCC, and now an official render of the Verizon Lumia 735 has made its way on the Internet.
The render comes from noted gadget leaker Evan Blass, better known as "evleaks", and is consistent with the previously released FCC images of the same phone. The standard Lumia 735 has a 4.7-inch 720p OLED display with a resolution of 1280x720. Inside there's a 1.2 GHz quad-core Snapdragon 400 processor, 1GB of RAM and 8GB of internal storage. There's also a 6.7MP rear camera, and a 5MP wide angle front-facing camera.
There's still no word if Verizon's version might have any hardware changes, but it should be sold with Windows Phone 8.1 Update 2 out of the box. Verizon is also getting ready to launch another Windows Phone device, the LG Lancet, in the near future. Stay tuned as we will post more information on both of Verizon's upcoming Windows Phone products as soon as we receive it.
Source: Evleaks (Twitter); Via: Neowin
Windows Central Newsletter
Get the best of Windows Central in your inbox, every day!
That Verizon logo on the front....I always believe that Verizon execs have that logo written across their underpants :p

They wouldn't put it there because no one would ever see it.

I heard they call it the "tramp stamp".

It's horrific, isn't it? The Microsoft text adjacent to it isn't that hot, either.

That Verizon logo is so sexy! Only wish they could find more areas to place it.

I'm happy to see that the 4.7" screen hasn't entirely disappeared. This is the perfect size for me and truth be told, probably for many others. I don't understand the current fascination with bigger is better for phones. If people want a big screen, they can buy a tablet.

Most people do not want to carry multiple devices.

That's what Hillary said.

You are incredible right Sir! And so, I can't understand the other extreme in the table that say that small screen smartphone needs to have low end hardware, I would love to see a 3.8"-4" screen Lumia Phone with some mid or mid-to-high end hardware, but we only get the super duper affordable 430 and 532, wich aren't that bad, but just not in the same league as, for an example, the Lumia 620.

The problem with your statement "they can buy a tablet" is a) not everyone hands are the same size as yours and b) from a productivity standpoint, a bigger phone can be a lot better than just a 4.7" screen, while still maintaining a form factor that will fit in your pocket.

Yes of course not everyone's hands are the same size. That's why its good to have options. I don't think whether or not it fits in one's pocket should be the standard...my Kindle Reader fits in my pocket but I wouldn't want to use it as my phone. To each his own!

Np with a large screen size on this end. Using 5" icon. If Verizon would have carried a 1520 variant I would have purchased that. It's not unusual for me to be sitting somewhere and play the occasional movie... Some people prefer a large phone the same as you prefer a smaller phone because it fits their daily lifestyle and usage.

Thumbs down to your statement. Show me a Verizon windows tablet with a 5.7 inch screen and ill agree

If you don't understand why people want big phones, that's perfectly fine. People will like what they like, and they will continue to use whatever they seem fit to use for themselves.

My favorite windows phone to date: HTC 8X, 4.7" screen.

I have an Icon at the moment. It's big and heavy. I much prefered my HTC 8X.

The icon is a dogshit phone.

Yeah idk why they can't make a phone with a smaller screen, with mid to high end hardware inside. If you want a windows phone with a screen smaller than 5" then you have to sacrifice everything else in terms of specs (camera, processor, ram, memory). I love my icon but I wish it was smaller, thinner, and lighter. My mid range motorola that I have for work is much smaller and more comfortable to use and carry in my pocket, all of my previous windows phones have been the complete opposite.

Basically, give me an icon mini and ill be happy. They can call I the 930M or something idc.

Look for an early retirement.

Shhhhhhiiiiiiiittttt, by the time Verizon starts selling the 730 it will be a year old.

Can we find this wallpaper?

GIVE US THE WALLPAPER!!!!! DANIEL RUBINO WE NEED UR HELP

Looks beautiful! I'm on Verizon currently, but my Dad wants to switch to Sprint and their supposedly getting this device as well.

I am waiting for Sprint to get a decent WP. I have the HTC 8XT and I would totally get the 735, but the last article i saw about sprint getting it was from mid 2014. They also just got the 635, which isn't an upgrade from what I've got. Hopefully They will be getting some windows 10 devices.

Yeh no joke, it would be a complete downgrade from what I have to any of those WP's. Hopefully ill just remain with Verizon and get that new LG device.

How could you have possibly seen an article like that in the summer when the phone wasn't even announced until late Fall?

Switch to at&t or cricket. Sprint is awful.

Those both have terrible data coverage in my area and Sprint is cheap and has a good deal.Verizon keeps pushing us because they don't care about current customers. We are trying to get a quote from Sprint and then tell Verizon "Hey, we got an offer from these guys, do something about it" and if they don't, we will switch.

As weird as it is to say this, given Verizon's poor support of WP in the past, Verizon is much better than Sprint when it comes to Windows Phone options and support. So, if you switch th Sprint, that might make it more difficult to be a WP user. Just a though. Ideally, though, Microsoft will launch some killer Windows 10 flagships across all carriers this fall.

I used to work there and I'm on a $50 unlimited plan. But T-Mo is looking interesting.

I'm on Sprint and I've heard that last fall. But there hasn't been any news on this coming to Sprint so far unless there is some kind of agreement that Verizon has exclusive rights on it for specific time. However if you or your dad is a Windows Phone fan; I'd stay away from Sprint as they have shown to barely support the platform. I'm considering moving from Sprint this Summer to T-Mobile because they at least get Windows Phones and T-Mobile cost and package is comparable to Sprint. Now if Sprint announces that they will get this then I'll likely buy this off contact and stay put. But it seems that if you're a Windows Phone fan you're better off going with a GSM network carrier like a AT&T, T-Mobile, Cricket, Metro PCS etc. It seems that more of Nokia/Microsoft Lumia phones support that band over CDMA from Verizon and Sprint.

No glance and no camera button... Boo

I'd say Glance is my most used feature and a definite deal breaker. My ancient crappy 822 has it, no reason this shouldn't support it.

The display on the 735 does not have display memory which is needed for glance.

Which was a stupid oversight, just like on the 930. At least on the 930 it was forgivable because Glance was new, now it is just dumb.

Honest question: How does this make sense when the rumoured 740/740XL is on the horizon? At this point, the L640/XL already seem to be either on-par with this device or exceeding it. I think that Verizon only pretends to care about WP.

A couple of possible reasons: 740 rumors are inaccurate, 735 has been delayed numerous times

right, but with the 640/XL essentially "out," the 735 barely seems to pull even with them. In short: the delay has been so long (too long) that it has been caught/surpassed by the model that is supposed to be "below" it.

The 640/XL isn't going to Verizon

Well, sure, but there are likely contracts involved. So the 735 gets released. Plus, for average Joe 735 is better than 640 (which isn't available on Verizon anyway) and 740 is vaporware as of now.

Anybody knows where I can get the wallpaper?

What the hell is all your guys problems with wallpapers. Just bing balloon and grab the one you like. jesus

Haha I always think the same!

Does anyone knows if there is SD card support?

Sweet. If only the internal GB was bigger it would be wicked cool phone.

Wait for the specifications. The may increase it like they did with the Lumia 822.

Sometimes I think they make their devices ugly on purpose or something.

No one cares about WP. Posted via the Windows Central App for Android

Then millions have made a terrible mistake. For years.

Microsoft seems to think so as well, essentially abandoning what made WP what it is....

They are getting rid of live tiles? To me that is the only thing that makes WP what it is.

Written on the app dedicated for WP. You really know how to make your point.

Not smart enough to turn off the signature lol?

That is the biggest Verizon logo I've ever seen on a device... Good for Verizon customers though!

It's the same size on my Lumia 928. On the the actual device the logos are toned down to a dark grey. It looks much more tasteful than the render.

Still waiting on information about a high end Flagship Windows 10 device for Verizon... Upgrade is in August and I would like for a new phone to come out before then...

It won't be out before August. Later this fall. Why do you need to upgrade immediately?

I would say October to November going by past MS history.

It's almost as if Verizon is trying to sabotage WP by delaying releases.. :D

And people are still considering buying this device from this confirmed WP hostile carrier? Good luck getting updates when its retired 2 weeks after its launched.

Top and bottom bezel's are too big...

Agree, but the AMOLED helps blending the display very nicely with the bezels...

Joking? LG might be smaller but that's about it.

This can't be anything but free on contract, can it? Smaller MP camera and half the internal storage then the Lumia 822. Probably a very good little phone (like the 822) but very low on the specs size to justify paying anything for it.

None are free, you pay one way or another.

Yes, some are free. I pay the same montly cost regardless of the subsidized price of the phone.

Switch to Verizon's Edge plan. It basically removes the subsidy from your bill and lets you pay for the phone in 24 monthly payments. If you finished your 2-year contract you can change the line to Edge and get the discount.

Just like Verizon getting the low end to mid range Windows Phones. That way they can keep saying Android offer better specs.

400 is a year old already! 410 is 30% faster!

I need that back cover for my European model...are they purchasable as a standalone item because i want to get 1 for myself (my friend can buy me 1 from US and then bring it here to me during summer holidays)??? I hope also that no changes will be with the size of Verizon's model like that was the case with 521...it would be nice to have Nokia on front with MS and Verizon on back :)))

IMO one of the worst concessions that MS made to nonexistent third party OEM, removing the dedicated camera button.

If any carrier, yes, ANY carrier, offers a better phone than my Icon, I will leave Verizon in a heartbeat and take my four lines with me.
Problem is I think upgrading to W10 will make upgrading the hardware unnecessary, and if the next high end phone doesn't offer a vast improvement on specs, then I'll be with Verizon for a while... damn conundrum.

I'm waiting to upgrade my Icon until a high end comes out that can use Continuum.

There will likely be interesting features that require new hardware.

Is Qi charging built into any of these rumored phones?

Meh. Specs are unimpressive

I give kudos to all of you WP beta testers, I don't know how you can stick it out with this inferior mobile OS, WP is so far behind iOs and Android it's laughable. Posted via the Windows Central App for Android

Senseless Trolling is always a sign of a superior intellect

*clap clap* you want a medal or something?

I like people like you. Let's me know she something is popular enough when it gets trolled.

Maybe Verizon can get this phone to market before it turns one year old. Talk about cutting edge.

You mean cutting Microsoft Edge...

I love Verizon's branding wish AT&T did that.

Are you serious? I couldn't really tell. We'll have to disagree about that. I think the Verizon logo is hideous and their use of it atrocious. They mar otherwise beautiful phones with that nonsense.

Are you kidding? Any telco branding on a device makes it look so ugly, most other countries stopped doing this years ago for this reason.

With Verizon's track record, they likely will poorly advertise it, make it hard to find in the stores, not train their staff on it, not allow updates quickly, and then complain of low sales and can it. All while saying they are interested in Windows Phone.

I can't believe US telcos still slap their branding on devices, perfectly way to ugly up a device.

Nooooooooooooooooooooooooooo High end NOW

Good god, how in the world would a high end launch with W10 coming in months. The carriers would kill it by not upgrading it and people would be furious. If you want high end get an Icon, M8, or 1520 (if you can find one), their specs are not that far off the "high end" androids.

I really don't like seeing carrier logos on phones. It ruins the aesthetics of the design. Good thing phone carriers here in the Philippines don't do that to their phones. Hehe well they're not in the position to do that tbh because they don't modify their phones, just lock then put their logo during startup.

Blah....blah.....when will we see something actually worth buying on any carrier...so tired of the same ol same ol....

Love the ugly Verizon branding on the front. Why not just put a big Verizon check mark on the screen?

If there's one thing I can say about Verizon, it's that they have no taste.

Sick of these 720p screens Posted via the Windows Central App for Android

Sick of qHD & 'need everything at low/mid price' obsession.

I have a 735 since Christmas and really love it. I think it has a lot to offer for the 200€ (without contract) I paid, especially the OLED screen. It could have been a huge success for Microsoft but instead they were only marketing it as the stupid "Selfie-Phone" which turned off a lot of customers, I think. The only thing I noticed was the phone speaker making a noticable hissing noise. Anyone having the same issue and knows how to solve this?

Why would anyone buy this when they can get a reconditioned Lumia 928 with better specs for about $100? The 928 is also upgradeable to denim right now.

More WP low-end scraps from Verizon. What a joke.

Verizon's 735 will be a joke for users like the Icon has been! Verizon retail store will keep it in the stockroom and then if a buyer comes in they will try to turn that person to Android or iPhone! Microsoft has a one sided love affair with Verizon for some reason. It the most expensive of all carriers and Microsoft wants to have them carry the 735?