This is the Verizon LG Lancet Windows Phone with Update 2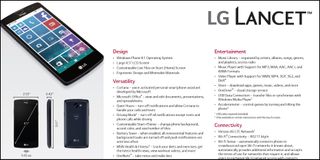 Here it is, folks. Verizon's upcoming (and so-far unannounced) LG Lancet. The first Windows Phone from LG in years and it looks to bring some of its Android magic to the wide-world of Microsoft.
The information comes to Windows Central via the official e-brochure and spec sheet for the device.
The LG Lancet features an "ergonomic design" with rounded edges, 4.5-inch (854x480) TFT display, and an 8 MP rear camera. For a processor, users are looking at a 1.2 GHz Snapdragon 410 CPU and presumably 1 GB of RAM. The full specifications can are found below.
LG Lancet Specifications (Verizon Wireless, unannounced)
| Category | Specification |
| --- | --- |
| Operating System | Windows Phone 8.1 Update 2 |
| CPU | 1.2 GHz Qualcomm Snapdragon 410 (MSM8916) |
| Display size | 4.5-inches |
| Display resolution | 854 x 480 |
| Internal storage | 8GB (4GB usable) |
| microSD card slot | Yes (microSDXC compatible) |
| Dimensions | 5.11 in x 2.55 in x 0.42 in |
| Weight | 143g |
| Battery | 2100mAh |
| Rear camera | 8MP (1080p video recording) |
| Front camera | VGA |
| Network | CDMA LTE |
| Wifi | 802.11 b/g/n |
| LG features | Knock On (double tap to wake), QuickMemo, Gesture Shot (front facing camera only), Soft Light for selfies (front facing camera only), Live Shot (LG camera only) |
LG bringing some Android 'innovation'
Interestingly, LG is borrowing a bit from itself, adding a few features to the LG Lancet from their Android line. These features include:
Knock On – Wake the screen or put it back to sleep with two taps
Soft Light | Gesture Shot – Take great selfies with an illuminated screen or a simple hand motion (open/close fist)
Release date and pricing TBD
Unfortunately, we do not yet know when this phone will be announce or released. However, seeing as we are looking at the e-brochure and finished specification sheet, it has to be very close to releasing.
The phone itself looks like a competitor to Microsoft's Lumia 640 with some lower specs and, on the face of it, nothing amazing. However, mid-range devices do seem to be the sweet spot for Windows Phone these days, so it makes sense Verizon would choose this device.
It makes even more sense that Verizon, who has had lukewarm relationships with Microsoft and Nokia, would select LG for their mid-range phone. However, information passed on to us still tells us that a Lumia 735 will be available on the carrier soon as well.
Big thanks to G, for the info!
Daniel Rubino is the Executive Editor of Windows Central, head reviewer, podcast co-host, and analyst. He has been covering Microsoft here since 2007, back when this site was called WMExperts (and later Windows Phone Central). His interests include Windows, Microsoft Surface, laptops, next-gen computing, and arguing with people on the internet.
And again no specific launch date or release information. How is the entirety of Windows Phone launches(beside the amazingly quick release of the HTC ONE for Windows) so slow? I mean geez three months go by and we still don't know when the 640 and 640XL are launching. Let me quit my ranting. Great to see another device added to the WP selection.

In Germany they launched several days ago. They already show spots in the tv!

Are you retarded? This is a leak. LEAK

Does not change facts. The 735 was officially announced last September and..... where can people pick it up at in the US? Leak or not, this phone will be no different. Lost in oblivion before people can actually get one. Posted via the Windows Phone Central App for Android

Pretty obvious that they are not going to launch the 735 state side. There was a rumor they might on Verizon....

Were we not just discussing the 735 and look what popped up today...

It'll probably be doomed in Verizon.

If it makes their prepaid wall in the $60-80 range, it should do well. Should be decent competition to the Moto e and LG transpyre which are their best value phones right now.

Snapdragon 400 = $260+ outright.

Wrong. The New Blu HD has the same processor at 199. This with a lower resolution should go for less.

Glad to see a strong brand supporting the platform. The battle is an uphill one of our beloved platform. The more hands on deck, the more visibility Windows Phone has. I'm glad to see that LG has been able to do what Huawei claimed was one of its barriers to continuing support for Windows Phone- add differentiation. The Knock on and Soft light features are a nice touch borrowed from their Android line. Hopefully these types of differentiation applications will inspire confidence in other OEMs to trust thier ability to bring uniqueness to thier 'flavor' of a Windows Phone device despite the platforms uniform presentation and standard UI. Which is a contrast to androids malleability in the hands of OEMs. LG, welcome to the fold.:-)

I think Microsoft should allow OEMs some customization of the software. Otherwise there is very little they can do to differentiate themselves. And there is even less reason to get anything over a Lumia. My suggestion is on the home screen. Swiping from the left does nothing. Let that be an OEM's area. For htc it can have its blinkfeed. Other OEMs could use it however. But just give them a way to be different and better than the competition!

I would be very tempted by an LG G4 in leather on W10, with USB Type-C of course. That kind of differentiation might well pull me away from an MS device for the next update, oh bugger, Glance....

Oh heck ya. But like you said, once you start using Glance, you can't not have it.

Disagree...I had Glance on my 822 and loved it. Picked up an Icon at the beginning of this year and aside from waving my hand over the screen a couple times the first day or two, I haven't missed Glance at all.

Exclusives and lack of high end hardware (or any hardware really) will be the death of this platform.

Agreed, nobody wants the grandma phone

Don't know why they're bringing budget phones out when they need flagships for stuff like continuum

Yuck that resolution !!! 730 is truly the best mid ranger out there. Even better than the 830.

The 640 screen is pretty good, I just picked one up today.

Yes but in most places the 730/735 is the same price or very close to the 640. Seeing as the 735 has a lot more features and one of the best amoled screens I've ever seen, it makes sense people go for the superior 735. Remember the 735 has sculpted glass, haac mics, a better camera (less mp but better sensor, better lenses and that aperture...), wireless charging, much much better build quality, the unibody shells, is thinner by quite a bit and has a far more ergonomic design. Not to forget the better front camera. ​ ​ ​ ​ ​ ​

Yeah, but you know. That 1GB RAM and 10MB camera instead of 6.7 make a lot difference for some.

Lumia 730/735 has 1 GB ram!!

All of them have 1GB of RAM

Ha, sorry. It was the Glance who keeps me from it.

Price considered, the 735 has a ton of value, even camera wise. Although I thought it would be in the US already, which is a pity for some.

@vitor_canova 10MB Camera??? Lol Awesome typo :P.

I totally agree with you. I've had mine for about 3 months and it's a pleasure to use it!

except for the price, no, it's not better than the 830

I put my 830 side by side with my M8 and while the M8 was crisper and brighter it wasn't by a mile like a spec sheet would imply. In the real world use it wasn't that much.

Ugh, this has pretty much the same specs as my two year old 822, minus the CPU of course. Verizon needs to bring some good Windows phones to the table, of they want me to stick with them when my contract runs out.

I think they'd argue they did with the Samsung ATIV SE (nice phone) and Lumia Icon (very nice phone) and neither sold well.

The lack of glance on the Icon killed it for me, such a big mistake. Once you have it you just can't go back to a phone without it, at least I won't as long as it remains an available feature. That and it just wasn't a compelling enough upgrade for the large number of users that bought the 928.

"you just can't go back to a phone without it" it's not like a Heart you know. It's a phone. I'm using 930 without Glance (before one year with 920) and I'm perfectly happy.

My Lumia 820 has Galnce and I never used it. I tried it once, didn't see the point.

But it is almost as heavy as 920. Using 830 to me looks like I'm using a half of a Lumia 920 in regard weight.

Glance is pretty pointless

you pull the phone out of your pocket to check the time, and the clock is automatically displayed. you don't have to worry about repositioning the phone in your hand and pressing the power button. this is especially useful for one-handed use. for example, when you're standing up on the train or bus.

Guess it depends on how you use it. I had peek active on my 1520 and used it all the time to check time and see if I had notifactions quickly. I dropped it and cracked the screen so I went back to an old HTC 8X, and I keep taking my phone out to check the time only to be disappointed when I have to reach for the button to turn the screen on.

Wrong! Glance is awesome!!!

About as pointless as this very remark. Any feature can be considered pointless on a phone except for cell service itself. As always, its a user call. Personally, I look up at my 830 on its vertical Qi charging stand at night with red text and see the time and go back to bed. No movement necessary. During the day, I just tap the screen innocuously while in a meeting to lament the life lost in said meeting. All without ever actually picking up or pressing buttons on a phone. I mean, one doesn't want to be rude... Hehe. Options are good! If the 930 were available when it was released in ATT I'd have gladly given up glance, though. That was then...

Yup same here...930...glance is anything but a deal breaker...

But you have double tap to wake, the icon doesn't. I personally would never buy a phone without those features, but to each their own.

I agree. Glance is a must-have for my next Lumia.

Either Glance or a good notification LED is a must.

Not to mention they were first with the HTC One M8 which is still one of the top Windows Phones available.

Yup, and the One M8. Verizon actually does have some compelling high-end devices.

The M8 is compelling? Windows Phone often attracts people who want good photos and thr M8 misses the mark on that. I really wanted to buy an M8 unless I tested the camera. Its horrible even compared to a mid range Lumia.

I like the M8 a lot. Also, not everyone cares about cameras all that much.

If it only had wireless charging.

Glace is something I gave tried a couple of times, but never thought highly of it. Wireless charging on the other hand is a killer feature. I was not too bothered, but like glance, I noticed people on here singing its praises. I now could not manage without it, and it saves so much ware and tear on the port.

Not everyone wants a phone for its camera. The M8 does just fine for photos just nothing spectacular.

Actually if a camera was a selling point for phones, Lumias would have dominated the market. M8 is a really good phone. For the first time, HTC showed they can take on Microsoft in terms of the little available differentiation in Windows Phone

Agreed that the M8 camera is pretty lousy, but everything else about is lovely. My first Windows Phone, and I'm glad to hear it will get Windows 10 (eventually). :)

No Camera button, and lack of software optimization where both negatives for the M8. Otherwise a great device.

Only want is something comparable to the lucky ATT customers who have the 1520.
I'm currently off contract and delaying upgrade in hopes that the new flagship drops on VZW. Cool thing is VZW offers you a $15 monthly discount for sticking with them off contact. :)

One more crying over his broken-screen 1520. It's the Aquiles' heel of that gorgeous flagship. I had my screen broken too, and almost everyone I know purchasing it had the same deception about its amazing fragile display.

An HTC m8 that hardly anyone is buying.

With that disastrous camera and looks that only appeal to ubergeeks and Robocop, it's no surprise nobody wants it.

The same could be said for the colorful Lumia line only appealing to certain segments of people. Not everyone wants a phone that bright & colorful made of plastic or polycarbonate.

But you have black, white options and metalic borders in Lumias. What's the problem with the very robust properties of polycarbonate? Good appearance, possibility of multiples presentations and ports and exchangeable batteries.
And almost indestructible.

But at least HTC released their high end device as an option. Other than the camera being its weakspot, there is nothing wrong with the phone.

The M8 that you keep hating on is selling just as well as the Icon and 1520. But please, continue with your moronic HTC hate

How did the m8 sell more than the 1520? The icon maybe but definitely not the 1520 lmao. You have zero ground to back that up.

Well they certainly want them over the m8 at least

Hard to sell something when you don't advertise it, the sales people don't show it to customers, and the actual device is put way in the corner or not displayed at all. Never understood why they keep pushing the iphone. The iphone doesn't need promotion. The iphone has a high subsidy. These windows phones have a much lower subsidy. if they convince a customer to get it, they would make more money. Windows phones would be great for many older customers. They don't care about apps as much, WP is easier to use than android, and it cost less than iphone.

I hear this a lot. Not sure I buy it. They have advertised these phones in the past, no one bought them. We have covered numerous ad campaigns and TV spots for Lumias like the 928 and the Icon. How long do you keep blaming the 'no ads' things and just accept the fact that no one wants Windows Phone in its current form?

As someone who DID buy the ativ SE let me add to the other people telling you how hard it was and how many times I had to turn down other offers to get it. I was then shipped a Galaxy S5 anyways and had to get it exchanged........ You really should believe people. :/

Cant believe everything everyone says and Daniel is right. Advertising doesn't always mean sales. But sure the people selling the phones have a fairly big input too and just don't recommend them.

Carrier store employees push the phones that are popular, they're looking for an easy, hassle free sale. It's only logical, and I don't blame them one bit.

"no one wants Windows Phone in its current form" I agree and disagree with you here. I think a lot of people are very unaware of what the curret form is. When I bought mine, even the sales guy didn't know about all the features, and couldn't even set the damn thing up in the store. There's also a lot of misplaced "hate" for WP, just like Windows 8.1 and too many people that won't do the research other than asking kids "what is good" There are people that can't accept losing certain apps, and I understand that, but there are a ton of people that don't even know what they are hating on and even if what they are hating is true.

Exactly Axmantim. I came from Android and did the research on Windows Phones myself. Didn't even discuss with the sales guy, just went into the internet, compared a lot of specs, and... Well, stability is a big plus that many Androids in the same price range don't have. After a while, I went into a store, which, fortunately for WP, has specialized sellers. He also had an Android, he admitted, but as soon as he was forced to learn about WP, bought a 735 for himself.

Well said. In its current form, WP 8.1.1 on my Icon, it is a great phone that nobody knows about....

I adapted very well to WP environment, and don't think to return to IOS or Android. I have 1520, 930, 630, 820, 520. I left my excellent M7 plus device Android inside to my wife. My five children don't use the Iphones I have, but instinctively grab the Nokias/Lumias due to its improved accessibility. I asked them why they like WP more than others OS, the answer was almost the same "it's fast". Potential of WP is only in the beginning of its development. Universal apps, cross platform and continuum are good promises, and it's really affordable and very nice to handle. I'd like to have M8WP, but HTC abandoned Brazil. My M7 had a big issue: Android with Sense. I liked Sense, but not Android. It's a personal opinion, haters and fanboys, don't need to discuss much. Maybe, it was M7plusWP, it would be my main phone nowadays.

Yeah MS advertises them and then Verizon maybe has one sitting in the back corner of the store or the store rep has to order one for you while they push an iphone or droid on you. Sorry but this is the sorry fact of US carrier WP sales. AT&T is a little better. Hopefully Windows 10 along with cool new marketable features like Continuum changes this.

I took this picture a few days ago at Best Buy. About 2 months ago (I think) they had installed this display, the first I had ever seen of its kind, with Windows Phones. I was pleasantly surprised, because they had NEVER had any WP on display, except rhe 520/521/635 hanging in boxes by the prepaid phones. Now, I walked by the same display again. Here's what it looks like today (the phones no longer work): http://i.imgur.com/INL8tg4.png That's pretty sad...

Yeah that is sad. I saw the same display at a Rhode Island Best Buy over Christmas and the display had a 635 and mentioned the 830 but there was no 830 to be found.

This one had an 830, a 635 and a 530(?). The display was pretty nice with the promo material in the back etc. Now, there's obviously nothing and they don't sell them anymore. Wonder if anyone bought any there, I can't really imagine the sales people knew much. The display was also off to the side from where all the Androids and iPhones were.

Verizon dropped the ball with the Ativ SE. It released without advertisement or fanfare and on the same day as the Galaxy S5 which had better specs for nearly the same price.

They must have sold poorly because I left for T-Mo (In that case it is not realy the phone, it is the service cost because T-Mo (imo) does not have any WP after L925, I am with them for their service prices plus I buy my WP that works on their network from all other places (zero contract)

To be fair, though, both of those phones came with concessions (e.g. 16GB of storage on the ATIV SE + unusual name and design compared to Samsung's Galaxy line; lack of Glance screen on Icon, etc.) and neither had a marketing push. I don't know why Verizon would expect either to sell well when they tucked them into the back corners of a few stores, but them on the bottom of the "smartphones" page on their website, and then didn't bother training their staff in how to use them. It would be nice if they do that when the Windows 10 flagships launch. As for the LG Lancet, I doubt it will do better given it's outdated specs, but I do like the Knock On and Soft Light features. I've always wanted the Double-tap-to-wake feature on Lumias to also have a double-tap-to-sleep option.


My sister has an Icon, has been replaced 2 times that I know of and it looks and feels like a brick. She hates it, and hates there's no glance screen.

No idea how anyone can hate the Icon now with Denim. Great phone, IMO. :) Of course, if it keeps breaking on her for some reason I can understand the hate...

And it should be argued that they nor Samsung or Nokia/Microsoft did much advertising about them. Especially Verizon and Samsung. A phone just sitting on a display won't do much. People have to know about it,and good luck if you have to rely upon a salesperson there to get the information from on a Windows Phone.

Not to bicker, but I must point out the main reason neither sold well is because Verizon employees actively persuaded people not to buy Windows Phone. This is not "speculation" on my part, but something I personally witnesses and experienced myself. I reported this several times to Microsoft in hopes that Microsoft would do something, but to no avail. I only hope that Microsoft is smart enough to launch their first Lumia Win10 phones on ALL carriers and not make it "exclusive" to any one carrier. Lesson should have been learned by Microsoft from the Lumia Icon exclusivity deal with Verizon debacle! By making the phone available on all carriers, this also expands Microsofts market for the new phone. Limiting a phone to one carrier just cuts off thousands of people who aren't on that network. Let us hope!

I've boughten 3 different Lumia's from 2 different carrier stores, and I've never had anyone try and "talk me out of" buying a Windows Phone.

Same here, but enough people on this forum seems to have had this issue. The only problem for me was FINDING a Verizon store that sold WP. I had to go to the "flagship" carrier store, the others didn't have any. Hard to sell phones when they're not in the stores.

Good for you, but I can't say the same. I actually had a sales person tell me to my face "you don't want a Windows phone, let me show you the iPhone 5. It's a much better phone.". When I told him I wanted the Windows Phone, he continued to insist on showing me the iPhone until I asked to see the manager. He then sold me the Lumia Icon with no instructions or any set up assistance. Had to do it all myself. I don't think he even knew how to use it himself.

This actually happened to me a couple times. And they would say, "Nobody wants those, everyone returns it." And now, they know me and aknowledge that I am in fact not of an expert in this subject so don't try to dissuade me anymore.

& one can hope actually be dualband lte unlike 822

Need to make the G4 with Windows for all carriers

They won't. But as someone who's had a little time with the G4, I agree. I would buy that without a second thought.

So they could lose money? Windows Phone doesn't sells (well) high-end phone in US yet.

Who knows how much they would lose though, if any. It doesn't take much for them to load the different OS onto the phone, with a little ad-revenue they could gain some steam.

That's probably because they haven't had a fair shot to due so yet. Name one high end Windows phone that was simultaneously released across all of the networks? One with a commonly preferred screen size? One that got proper carrier support and advertising? One that wasn't a re-release of old hardware (M8). Finally one that gets all of those things right,plus it's running the latest version of the OS. So people (including MS) are judging WPs high end sales off of the wrong things,because they don't stand much of a chance without those things. Add to the fact that carriers and salespeople or usually biased.

I would love to see more OEM's follow the HTC example with the One M8.

I hope they don't. Bring exclusives not rehashed android 6 months later.

Then it'd be your loss. 'Re-hashed' or not, the new LG G4 is one of the best pieces of smartphone hardware in the world right now. Take it from someone who's actually seen and held it.

It's not my loss because I own and brought the best windows phone with little compromise. Lumia.

Those designs are recognizable by android users. And if they look good I'm all for it.

LG probably will - when the G4 is old news a year from now, they'll slap Win 10 on it and ship it to Verizon! :p

Use the G2 at work. Love the back buttons and feel in hand. Would purchase a WP G4 in a heartbeat.

G2 is still pretty much my favorite Android phone of all time.

I don't really trust Verizon to market this phone (and by market, I mean having their sales staff actually know something about it and be willing to acknowledge its existence).

Well, commenting only about the phone specs: I prefer lower specs cameras in these entry level phones but better screen. After all you're not buying a low-end phone to take high-end pics, but mostly for a daily driver so I'd rather have a good (or decent) screen than this camera. It says 8mp but maybe takes awful pics, who knows. Still TFT is awful. AMOLED and IPS are the way to go and it should be standard.

A low-end exclusive that will go nowhere. At least LG threw WP a bone.

Even though it's the low ends that sell... Give it to us in the UK and it will sell.

What is this thing? My windows Phone 7 HTC Trophy from 4 years ago has similar specs

Verizon: #NeverSettle.....unless you like Windows

just what we needed! /s ah well it's something though.

Is there an app for WP which can do exactly what "Soft Light" does?

6snap was able to, but that's gone now. I don't know, but if there was I'd certainly like to know about it.

I'm glad that more and manufacture are joining windows phone family
Hey, at least we got 1 more option to select
For me, it is not only a competitor to Lumia 640 but also like BLU Win HD LTE.....I guess the price should be about the same as Lumia 640
Btw, can anyone explain the good/bad of TFT display?

480 resolution on 4.5 inch phones apparently is still a thing. And LG wondered why their Windows Phones didn't sell.

Not much different than 6" that's 720p. :/

6" with 720p has about 15% higher ppi than this.

They probably don't care if this Windows Phone sells. They only built it so that Microsoft would give them a break on Android royalty fees.

Very interesting and foreseeable claim. That would be sad.