VH1 now available on Windows Phone and Windows 8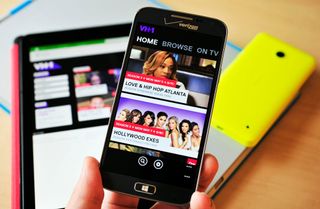 VH1 is a popular cable television network based of NYC. It launched in the mid-80's and was originally meant to showcase music videos, but that, of course, changed as time went on. Now you'll find all sorts of reality programs, original programming and the occasional music video on VH1. You can now also watch that content on your Windows Phone or Windows 8.1 device thanks to the new VH1 app.
This VH1 app is a Universal Windows app, which means you'll be getting it on both Windows Phone and Windows 8. The apps will share pricing, features, and more as time goes on.
Here's what you'll be getting today with VH1:
Authenticate through a cable or satellite provider to watch a full episode
Browse through the list of broadcast series
See all videos and playlists for a particular series
Browse through the list of videos in a particular category
Watch a video from one of the Quickies category
See the TV schedule for the next seven days
You'll need to sign in with your cable/satellite provider to watch full episodes with the app. We signed in with our Verizon FiOS account and were able to stream an episode of Hollywood Exes, our absolute favorite show, with no problems.
It's a solid app for anyone interesting in the content on VH1 and worth downloading since it's free. Take it for a spin and let us know what you think.
Thanks for the tip Antonio!
Get the Windows Central Newsletter
All the latest news, reviews, and guides for Windows and Xbox diehards.
Does this include VH1 Classic or just regular VH1?

Good question. Having a Black Sabbath video with Ozzy's vocals in front of a pschedelic backdrop, where ever I am, would be great!

Only show id watch is that metal show or rock show

Glad to see more official apps. I don't watch vh1 anymore but good to know its there when I need it

Man, what is happening today. This is like some kind of twilight zone with all the official support via updates and apps. Great to see.

Google is like: Yeah, if you delete your official app from the WP store we'll pay you 10 million.

TMS! TMS! TMS! Other than That Metal Show, I'd rather watch a colonoscopy.

Where the adult swim app?

I wish WP8 had that app. :(

+Microsoft(R) Corporation Surface(R) Pro 1st Generation with Microsoft(R) Type Cover(TM) 1st Generation lol

Has Windows Phone hit critical mass or something?! Today has been a big one! Great to see

Interesting! I didn't know apps had a sexual orientation. (idjit.)

Comcast not available... Sucks!

It's not available in India

Network has sadly gone the way of its parent, MTV. All reality garbage and hardly anything to do with music anymore. :'(

Sign of the times. Music is dead. Sure, there is stuff they call music, but it doesn't count.

Some of today's music is good. Draws influences from the 80s and early 90s.

A bit overdramatic don't you think? There is a ton of good music out there.

There's a ton of good music, but nothing popular. You just have to know how to find it :)

Ooh I hope they have some of the VH1 Storytellers within the app. Maxwell and Jill Scott killed it. Downloading now.

Bloody Windows 8.1 again...

Didnt know vh1 was still around.

Lol. Love and Hip-hop is the most ratchet filled show ever.

I can't sign in because I need Optimum Online. Stupid...

Maybe I can watch some old Flavor of Love episodes with this app.

Bring Comedy Central! They even removed Colbert's "The Word"

App not available for your device! #Lumia920

Or maybe coz its not available in India

Its not available for window phone 8

I don't have it in India yet

I think to site is over rated, if you can get around the ads it might be usable.

Just watched Adrian Smith on that metal show. For you knuckleheads, Adrian Smith is the lead guitarist of iron maiden. My favorite band