Viber for Windows 10 scores a huge update with design improvements in tow
The Viber app has seen numerous updates for Windows 10 and Windows 10 Mobile in the past, but this may be the biggest one since the unveiling of the UWP app itself.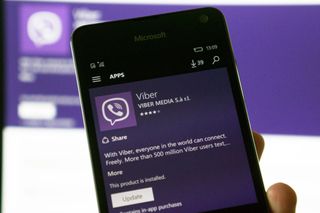 As spotted by Windows Latest the update features many new features and improvements.
Changes to the Share UI with new options and improved photo sharing.
After Tapping on the share icon in chat windows you will now be able to see six options – to send photo & video; take photo & video; send file (NEW); share contact; send location (NEW); hold & talk.
Viber now has a built-in photo picker opening by default when you tap on the share icon.
You can attach one or more photos and send at the same time. Currently, you can only attach one photo and send for the PC version.
A new sharing menu.
Do note that we still have the 6.5.1 version, even though the store says we are up to date. The update may be hitting just a couple of devices at the moment, with others following shortly. The Windows Store has a built in option for releasing an update to just a handful of users, collect analytics, determine stability then proceed with the rollout. This might be the case here, so If you aren't seeing the update yet, wait a few hours and it should appear.
The app can be downloaded from the link bellow if you don't already own it, and if you do, make sure to check for updates in the store.
Download Viber from the Windows Store (opens in new tab)
Dennis Bednarz is a former writer for Windows Central and the guy behind ModMy. He has been a recognised member of the Microsoft community for years and owns everything from Lumia phones to Surface PCs. He occasionally likes to rant about Windows Phone and drink tea. You can go ahead and follow him on Twitter at @DennisBednarz
I got the 6.6 update two days ago. I noticed the new (flatter) emoji style as well.

Interesting. I am not a big user of Viber, so I installed it just for this article where I noticed that I still have an old version. Annoying.

I think this update is for those who have joined Viber insider program. There is no issue at all.😉

Has it got a backup feature finally?

I love Viber, I think it's 10 times better than what's up

Xaxaxaxa that was actually funny

The recent Whatsapp update for beta makes whatsapp so much more beautiful than before with its Win10 layout and gain of space. Viber has also been improves a lot but its still not as fast and reliable as Whatsapp ..i use both on an everyday basis

For whatever reason, WhatsApp won't run on the 640 since build 14986.

Does whatsapp have all the notification features of Viber, with quick reply, mojis and photos?

It doesnt have Quick Reply but emojis and photos?? They been there forever. I believe Whatsapp is tied down when it comes to an actual Win10 app due to the WinP8.1 userbase but with the latest update its clear they putting an effort to make it feel like a proper Win10 looking app

It has photos on its notification? That is actually great then

If that's what you meant by photos then no, sadly notifications are still old-school

See, that's why I think Viber is better on windows 10

I see what you are saying and viber definitely has stepped up its game on thr Win10 front but unfortunately, while their notification system is Win10 enabled, their actual notifications are unreliable when compared to Whatsapp ...this is also true for iOS and Android. So while I do use both, I tend to use Whatsapp more due to reliable notifications and less spam

Does Viber has webchat like WhatsApp web ? U can share gifs in WhatsApp web

Ok, everything's great so far, but when are we gonna get this update anyway?

It's now time for Whatsapp to update their slow as snail app to UWP. I don't know what's going on with the beta version but the release version is really outdated!

The reason for them staying Silverlight is backwards compatibility. If they made a UWP app, they would have to maintain two separate apps for two niche markets.

then why Viber made a UWP app?

Because Viber has a different business strategy

Because eventually, the mobile version of windows 10 will not be use for phone but for bands and internet of thing. The next window phone come to the market will be run the UWP windows 10 version with continum for legacy desktop or none convert win32 apps.

Even so, every damn person uses WhatsApp. They're one of a few companies that can't complain on that front.

That's true. I do not agree with their strategy.

They can't update WhatsApp app bcz still majority of the users are from 8.1.... They are not going to build any UWP....

I thought the title is " Viber for windows 10 mobile will be not available from today"

Unfortunately, no pivot navigation yet.

Loving that It's being kept up to date. My favorite messenger for keeping in touch with family

I wish people weren't so caught up on WhatsApp here in Brazil...

or everywhere else in the world

Viber is on a roll. I'm very glad the main chat app in the Philippines is regularly updated.

For me, WhatsApp is the most reliable chat app on my 640XL right now.
I wish MS could implement both Skype and GroupMe to be like WhatsApp.
BBM is the worst. Never syncs unless I open the app.
FB messenger is doing fine too.

if messenger launched faster it would be great. but still lacking the windows 10 features viber has

WA often hast the "resuming ..." screen. It's fast to kill it and start in new in this case. Skype runs very smooth on Lumia 950, Surface 3 and my Families Lumia 640 / 550. Also no problems with S4B. BBM has also problems on Blackberry devices, while it ran perfectly on pre BBOS10. They just have messed it up. FB Messenger sometings does not allow the autocomplete or swipe features, i'ts like you're entering a password. Besides that, no complaints.

I've got update version 6.5.1 and it broke notifications. So annoying

They should add dark theme

Yes they should and let us use are own background photos.

and bring transparent tile back

Yes a transparent tile would be good just as long as it will still show some of the text from the last message. Something WhatsApp doesn't do.

exactly how it used to be

I think this is for Viber insiders only, and this update is yet to come to others. That's why you don't have the update yet.

how is the call quality of viber compared to WhatsApp?

Viber has the same call quality as WhatsApp. Maybe better.

This is a BIG lie, there's no update

Who are you Donald J Trump?

I'm telling the truth, there's no update.

It's not for everyone yet. They will update. They have to keep up with everyone else. I use, WhatsApp, Viber, WeChat and Telegram, not to mention Skype. WeChat seems to have the most functions and the most potential but the video call quality was low. I like the live tile on Viber because it gives me more info than any other, like who wrote and a little bit of the message. The thing I don't like is I can't set my own background and pick the colors used for message blocks. I would stop using WhatsApp completely if it weren't for the fact that so many people use it but everyone of my friends who use something other than WhatsApp I use the other.

No update...................

Can anyone tell me when will be update?

I got my last update two weeks ago. 6.5 I don't know if this is the one they're talking about.

Just got the update, woohooo!
Windows Central Newsletter
Get the best of Windows Central in in your inbox, every day!
Thank you for signing up to Windows Central. You will receive a verification email shortly.
There was a problem. Please refresh the page and try again.