Hands-on with the T-Mobile Alcatel OneTouch Fierce XL with Windows 10 Mobile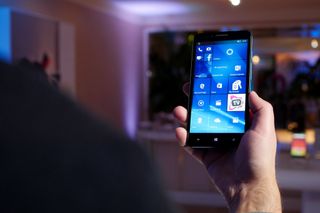 Alcatel OneTouch in partnership with Microsoft and T-Mobile U.S. are launching the new Fierce XL smartphone with Windows 10 in the coming weeks.
We managed to get a hands-on with the budget-friendly smartphone here at CES 2016 and figured we would give you the full tour. Watch our hands-on video to see what is coming.
Alcatel OneTouch Fierce XL
Windows 10 Mobile build 10586.29
5.5-inch HD Display (1280x720 pixels)
1.1GHz Qualcomm Snapdragon 210 Quad-Core Processor
Cyan color exclusive to T-Mobile
4G LTE Cat 4 (B2/4/12)
8MP AF Main Camera with x2 Digital Zoom + 2MP Front-Facing Camera
2GB of RAM + 16GB of storage
2500mAH battery for up to 14 hours of talk time and 820 hours of standby time
Additional Features: VoLTE, FCC Mandated Anti-Theft Protection and T-Mobile Wi-Fi calling compatibility
Impressions
Alcatel OneTouch has done an admirable job with the Fierce XL. The HD display is a little bit washed out when compared to the deeper blacks on some Lumias, but it is also much better than what we have seen from other budget OEMs in the past.
Being a 5.5-inch display with a curved body makes the Fierce XL feel great in the hand with no grip issues. The power button is placed on the right-hand side above the volume rocker, which is non-standard, but not as jarring as the split button setup on the Lumia 950 XL.
The cameras are fine and, of course, feature the Rich Capture ability found in the standard Windows Camera app. Images will be decent but at $140 the Fierce XL is still in the budget lineup so expectations should meet that category.
The cyan color, which is exclusive to T-Mobile for now, is a nice nod to Lumia fans of the past who liked a little personality with their phone.
The Windows 10 Mobile experience is vanilla with no customizations or unique apps, save for T-Mobile's apps and Wi-Fi calling. That's a good thing too as I don't think manufacturers should feel obligated to try and improve upon the OS. Plus it saves everyone costs that get passed on somewhere.
Although the Qualcomm Snapdragon 210 is not a powerhouse of a processor the phone's performance felt fine to me with no real lag. Performance is certainly helped by the unusual (but welcomed) inclusion of 2GB of RAM instead of 1GB found in most budget phones.
Takeaway
The Fierce XL from Alcatel OneTouch is a solid looking Windows 10 Mobile phone for budget conscious shoppers. More importantly, it gives those on T-Mobile who have aging Lumias in that price range somewhere to go for 2016.
I liked the Fierce XL, and, more importantly, I liked Alcatel OneTouch's commitment to the Windows 10 Mobile ecosystem. They have made it clear to us that this is not their only phone coming this year with the Microsoft OS, and they will release phones in the high-end too, possibly near the summer time. It's exciting to see a company this interested in Windows 10 Mobile and hopefully the Fierce XL on T-Mobile will do well for them.
The Fierce XL launches in the coming weeks on T-Mobile in the US for an estimated retail price of $139 with no contract. Unlocked variants will eventually be sold through Alcatel OneTouch and Microsoft Stores directly as well including support for AT&T LTE.
Don't forget to check out our hands-on with the Alcatel OneTouch Pixi 3 - an 8-inch Windows 10 Mobile tablet with LTE. It is a very cool device for just $199!
Windows Central Newsletter
Get the best of Windows Central in in your inbox, every day!
Daniel Rubino is the Editor-in-chief of Windows Central, head reviewer, podcast co-host, and analyst. He has been covering Microsoft since 2007 when this site was called WMExperts (and later Windows Phone Central). His interests include Windows, laptops, next-gen computing, and for some reason, watches. Before all this tech stuff, he worked on a Ph.D. in linguistics, watched people sleep (for medical purposes!), and ran the projectors at movie theaters because it was fun.
Good low end phone that will do well in developing markets

HTC should start making windows 10 mobile midrange smartphones now.

Yes!!! Im eagerly waiting for some good news from htc

Samsung needs to make flagship windows 10 phones just like the they do for the galaxy S tab pro

I've had every HTC WP as well as a few of their android phones and I must say overall I really liked them alot. Can't wait to see them back on WP. Posted via the Windows Central App for Android

Looks like this phone has capacitive buttons and not on screen ones. If true, it is a great addition for many.

I would have seriously cosidered this if it was a 4.5incher.

True. But even in developed markets sales of lower end phones have a big share.

Except it is not sold in developing markets.

An sd 210 with 2gb ram? I don't understand why.

cheap proccessor - good performance

Because slower processors can do better with more RAM. I think the 2GB was a nice decision. It should allow for very smooth operation for most circumstances.

a normal user will look at specs and see.. "Quad core, 2Gb RAM..." they don't know the difference between SD210, 400, 617, 810, etc.. Some people even thinks that the 617 is better than the 808 because it has "8 cores " and the 808 only have 6..

what do you think the performance compared to 640? any idea...

Hahaha. Implant processor intel Xeon on that phone..then you will say "overpriced-too expensive".

Very lumia-Esq. Not a bad device

A Mozo backcover would be nice, but with a fixed battery I assume that's out.

I think the back cover does come off, the battery is just fixed in place. Posted via the Windows Central App for Android

wow, very nice phone for THAT price... im very surprised at the price as thats almost the same as the 550 that just got launched... im assuming that the unlocked will cost maybe 169/179? But still, impressed with this phone and the specs and nice to see features like Rich Capture carry over to budget phones too.... loving that on my 950XL. Thanks daniel for the overview - expect you will have to do a full review at some time?

Dang nice phone at a great price! You boys and girls can keep those flagship phones, us bottem feeders are doing just fine.

Damn right. "Cheap phones are getting good, good phones are getting cheap" - MKBHD

Hot off the press! Apple shares approach $100 as they scale back iphone production. MS needs to get it together to that they are ready to take the shot....

The share price has dropped over 20% so far. iPad sales are decreasing ever quarter. Should iPhone sales decrease they will be in trouble. Android/WP have far more variety as OEM's make a larger range of better spec'd phones and the release of W10 tablets right now put the iPad Pro to shame. I believe Wall Street wants Apple to diversify rather than rely on iPhone sales. We've seen Nokia, Blackberry and Motorola tumble so Apple need more than a one design phone only approach. Share price dropping is the writing on the wall.

That was my point. iPhone production is being scaled back. News out today.. http://www.marketwatch.com/story/apple-scaling-back-iphone-production-20...

Funny, iPhone production scaled back and MS can't make lumia 950 series phones fast enough. This is where MS needs to prepare so that they can define and bring windows 10 mobile to the forefront and not let Apple or Samsung define what windows mobile is or isn't.

And Apple does that ever year once the holidays are over. That's nothing surprising. Or shocking. But here are people like you screaming doom! Posted via the Windows Central App for Android on my Frost Nexus 6P

Only low end phones in 2016?

Alcatel flagship superphone coming soon

It is the sixth day of the year...

You mean it's 2015 already?

I notice that, All new devices OS has brightness control with percentage like 20%,50%,100% not high medium low.
Waiting for that on old devices.

We already have that in settings => extras=>display=> brightness profile => advanced.

Somehow, by the way thanks

my lumia 525 begs to differ. i dont have a brightness profile under display settings. Running 10568.36

Very nice specs for a low end device. The 550 should of had specs like this.

Very cool. My respect for tmo grew a few notches.

Well im getting this, as it's the first windows phone I have seen in a long time from t-mobile. Do you know if their higher end phones have a chance of coming to t-mobile? Thanks for the article, im happy to know another WP is coming.

To a certain extent I'm assuming this may be a test for T-Mobile. I've heard about a new training program for T-Mobile employees concerning Windows Phones. That even includes Continuum. That might indicate higher end phones expected in the future, that just might include the Lumia's.
So, I'll be with you in line to buy one. And make sure you tell John Legere to keep bringing Windows Devices. Alcatel is also bringing a nice tablet/phone.

Daniel also noted that Alcatel will be building higher end Windows Mobile devices as well, so the door is opened to T-Mobile. That's a smart play for both. T-Mobile is growing and having an exclusive line that is affordable is wise while Alcatel is betting on Windows 10 Mobile, so a deal with T-Mobile could only help promote those devices. Will be interesting to see if T-Mobile does a package deal for the Pixi and the Fierce XL. I'd be interested in grabbing both with LTE.

I've always thought Windows Mobile and T-Mobile would be a perfect match. The UnPhone on the UnCarrier. What could be better. I'll bet they're a few thousand Verizon, Sprint, AT&T windows customers who'd switch.
But we've got to make sure T-Mobile keeps it going. Tweet John and show some support.

I don't think a test is needed. Tmobile can see how many windows phones are connected to their network at any time.

The fact that they're saying "in the stores" and a Windows training manual for employees is coming (or out) they might be "testing the waters" so to speak with Windows again. We've given them so much greif over the 640, many we're seeing an attitude turnaround.
Who knows?

Thanks for the info. I'll buy this one for sure and consider a higher end one if it comes. I would bug t-mobile to keep supporting WP, but I don't use social media.

If they treat this phone like they did the L640, it will be removed from sales in about three weeks.

Look Ma, real buttons! So you always have that 5.5" screen available to you!!! :)

+1, Daniel should highlight about the button! I one of those who despise on-screen button

Some of us are indifferent to physical or onscreen buttons.

I prefer the on screen buttons. No problems with accidently hitting them when you're in the midst of a game.

I thought they added a feature that helped prevent that. On my 925 I have to tap it twice in a row quickly to get Cortana to launch during games.

Thats what im talking about! Posted via the Windows Central App for Android

Capacitive buttons on my 1520 are killing me with ghost touch.

You still can with onscreen buttons which offer a superior way around that that capacitive don't. You can easily hide them :-) so you won't accidentally press them ala capacitive buttons accidentally if you are in a game or watching a video. Posted via the Windows Central App for Android on my Frost Nexus 6P

I tried to like the onscreen buttons when i played with a 950xl at a windows store,,,it just doesnt do it for me,,especially when you turn the phone on and the onscreen buttons are sitting on the lock screen. Posted via the Windows Central App for Android

Yep, I was happy to see that as well.

Did the reviewer test T-Mobile's WiFi calling feature on the phone? Seems a lot of us (with upgraded phones) have issues with it, apparently due to the driver triggering too soon on startup and thus failing. Upon upgrading my Lumia 640 to W10M I lost WiFi calling. But considering the comment on it in this review, I take it this great feature now works with Windows 10 Mobile? Or is it just a "promise"?

It will have it. Considering that the phone is already loaded with other T-mobile apps, I'm pretty sure it will have it.

That's odd I have WiFi calling on my Lumia 640 that I upgraded to 10

Via an app or the built in setting under "Cellular & SIM|SIM Settings?" I unlocked a MetroPCS 640 and upgraded it to W10M, using TMo. WiFi calling is there but not sure if it works.

The built-in setting is "ON" and "WiFi preferred," but it still doesn't work. The WiFi icon doesn't change to the one with a phone on it.

Really?! Darn it, I really enjoyed that feature - but it doesn't work anymore. I've been searching for a solution, but all I can find is this statement that there isn't one: http://answers.microsoft.com/en-us/insider/forum/insider_wintp-insider_c... So how in the world do you get yours to work...?

All I did was upgrade a metro 640, then unlock it. Bought it used for $50. Helluva burner phone but laggy.

Oooh... Nice... Lumiay style... Nice... Salute to the Lumia

Nice phone at that price. 16GB storage and 2GB ram are better than most budget offerings. The design looks to be comfy to hold. And cyan.

Glad to see improved specs coming to the low end. Still room for improvement though. Alcatel makes the One Touch Idol 3 for Android and that phone's spec sheet is unbelievable for a phone costing $149 on Cricket Wireless. ​

Have you ever used an Alcatel Pop?? They are bloody awful, to put it politely! At least these look well nailed together. The android stuff is poor though.

No have you heard of the Idol 3 that he mentioned. Posted via the Windows Central App for Android on my Frost Nexus 6P

W10 on the Lumia 550 is very smooth and this phone is a step up so the experience will be even better.

U have the 550? It doesn't lag with that 210 processor at all?

I had it, and I agree. It really isn't laggy, you don't really notice much of anything but I didn't try it with any games.

I damaged my Lumia 930 and tried the 640 and 550 as I was considering purchasing one of them. You will notice the difference between each, as the more powerful processor will make the OS more snappy. But, using the 550 with W10 is smooth, it is not as snappy as the 640 and 930 but is smooth. I really did like the size of the 550 and would have bought it but found a really great deal on an almost new 930, so went with that. Otherwise the 550 would be mine. There are videos on YouTube that show how well it works - worth checking out if you're interested.

Yeah, the 550 was pretty solid, I would have kept mine if I could deal with the low light camera performance.

Wow just looked at the specs on the idol 3 and how is that selling for almost the same price as this?!?! I don't understand pricing sometimes...

I give props to them for bringing another WP with VoLTE, Band 12 and WiFi calling to T-Mobile. To hear that Microsoft will be updating it themselves is great, wow. Maybe Windows 10 Mobile is the future...

Great news indeed, as that would mean pretty much all WM10 devices would be on the same playing field.

Not just 2gb ram but 16gb onboard isn't bad for a budget phone (I hate the term low end!). Why the hell did MS bother with the 550?? Fab to see OEM's getting involved with Win 10m.

I think the Lumia 550 was launched to prevent growing the increasing popularity of the Lumia 435 which is now available where I live at $50 unlocked $50 dollar devices are mean no profits for Microsoft and their OS has so low marketshare, that they need to focus on revenues more than marketshare.

I believe it was a way to upgrade and round out all of the low end devices, and it has done a heck of a job doing so!

It must be Nokia phone designed 3 years ago. That's what WC been saying at least.

Glad to see OEMs are now putting 2GB of RAM + 16GB of storage on Windows 10 low range devices, 2016 looks like good year for Windows 10 mobile. If Alcatel could make a phone like this but with metal body + dual led flash + 13 Megapixel camera + Atom X3, it will be my next phone.

Seems like Alcatel is becoming the new HTC and NOKIA, it is endearing itself in the hearts of Windows die hard.

This seems like a great budget phone, but I wish T-Mobile would get some higher end windows phones. I know I can just go buy one for full retail, but I would like to have Wi-Fi calling.

That's why I just went back to ATT. In reality, they are equally BYOD friendly, and ATT has better phone options. WiFi calling is a band aid and only TMO devices can use it.
After I purchased my 950xl, I needed to find a solution to the sometimes spotty coverage, so back to ATT I went. Yesterday in fact. All ATT bands allow voice calls, unlike TMO band 12. I wanted to believe in the uncarrier, and they did move the industry in the right direction, but all they have is price.
Don't get me wrong, their coverage has gotten better, but the next step is they need to allow phones to connect using features they support. Right now, TMO has to certify each individual device to use VoLTE or WiFi calling at the OEMs expense. Screams money grab to me, because even if they certify it, you know they won't support issues with an unbranded device.

Long live the physical buttons

And so far the Lumia 650(if the renders hold up) is the most attractive designed Windows 10 Mobile phone. One picture at a time -- LG V10

Although it's not for me I love all the new WM10 phones coming out, at least it gives users more choice and should help the platform.

Yet another low end cheap windows phone to make WM look like a cheap after thought with no apps. I keep holding out for something new and fresh. The 950 and 950XL do not feel premium either. How long does one have to wait? I totally dislike the iphones but they feel premium and have all the apps you can ever need.

True. But most oem prefers to test the market first with low end. Bringing high end is relatively big investment, hence its avoided. I agree new lumia and windows phones feel cheap, and app gap is there.

does it support glance and double tap to wake?

No Glance is a Lumia exclusive...or should I say select Lumia exclusive along with double tap to wake. To be fair, right now the software doesn't support that on mobile devices with native W10M.

Double tap to wake isn't Lumia exclusive. The HTC One M8 for Windows has that option. Posted via the Windows Central App for Android on my Frost Nexus 6P

I had no idea about double tap to wake, thanks!

How does this phone compare to the Lumia 925 as far as smoothness and usability? I know the Lumia will have a better camera but the phone tends to lag and crash alot...

Gee, what a concept: COLOR. Why didn't Microsoft think of that?

Yeah, I miss the colors big time. When I say missed, I mean in past tense...because I'll be rocking a 735 with color soon.

But does it support continuum

Might pick this up to play with as @ back up to my 640. Interested in the real world battery life and the processor/ram combo they've decided to go with

I havnt been on windows phone in a while, is there any text messaging replacement apps? I never really liked the stock messenger. Posted via the Windows Central App for Android

It has changed massively in W10. If you're using W10 on desktop, it's the same app and integrates Skype and GroupMe seamlessly.

Im talking about the layout, im on android at the moment and use a text messaging app called Yaata, has cool chathead feature where incoming messages show a pop of the person texting you and you can tap on it to expand it and reply with out having to open the app. Posted via the Windows Central App for Android

In windows10, If you want to reply to a text without opening messaging, you can now respond directly when the notification pops up(down really)

Thank you. Thats good to know. I think im gonna be picking this up when it hits Tmobile. Posted via the Windows Central App for Android

There's something similar where you get notified on the top of the screen. You can reply by swiping down on that notification and type your reply in the text box.

I know. The thing i like about this app is it shows a picture,,,i guess its like fb messanger i heard, but i dont use facebook. And you can drag the pop up to where you want it to appear for following text messages. Posted via the Windows Central App for Android

I don't think a pic appears.

No you can't, like iOS you are stuck with the stock message application. Unlike Android where you can change your sms/mms application. Posted via the Windows Central App for Android on my Frost Nexus 6P

There are no replacement apps for the stock messanger? Posted via the Windows Central App for Android

Will the low in snapdragon be able go handle Halo?

Haha i doubt that Posted via the Windows Central App for Android on my Frost Nexus 6P

Now I wonder how soon it will make the Insider list?

How does the Snapdragon 210 compare to the 400?

Does it has a Call recorder?@ Daniel

the 550 does so very likely

Thanks for the information, appreciate it.
So, hope everyone will have the call recorder. :) hardware doesn't matter.

Nice but, It still runs Windows 10 Mobile which is right now as delightful as the plague. I will wait for a few months before I buy an iPhone... :(

What a happy and completely subjective comment that only relates to you personally.

Why would a OEM release a new phone with an old OS..? How does that make sense? lol

if it had 410 it be sweet up grade to 640
Windows Central Newsletter
Thank you for signing up to Windows Central. You will receive a verification email shortly.
There was a problem. Please refresh the page and try again.