Alcatel OneTouch Fierce XL Windows 10 Mobile smartphone announced, coming to T-Mobile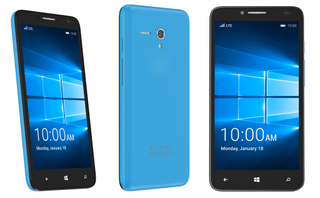 As part of its CES 2016 plans, Alcatel OneTouch has officially announced the Fierce XL smartphone with Windows 10 Mobile and some mid-range specifications with 4G LTE to boot.
As for what's located under the hood, we're looking at a 5.5-inch HD Display (1280x720 pixels), 1.1GHz Snapdragon quad-core processor, 2GB of RAM, 16GB of expandable storage, 2500mAh battery and an 8MP main shooter (with 2MP front-facing camera).
The smartphone will be sold by T-Mobile U.S. in the near future, but pricing and an exact release date have not been announced but it should be in the coming weeks. Be sure to check out our hands-on impressions of the Alcatel OneTouch Fierce XL immediately following this article.
Press release:
IT ALL BEGINS AT START WITH ALCATEL ONETOUCH AND T-MOBILE'S FIRST WINDOWS 10 MOBILE SMARTPHONE
Coming exclusively to T-Mobile, the affordable ALCATEL ONETOUCH Fierce XL with Windows 10 Mobile offers a seamless Microsoft Office experience anywhere
LAS VEGAS – January 6, 2016 – ALCATEL ONETOUCH, one of the top five mobile phone manufacturers in North America[i], today announced availability of the brand's first smartphone running Windows 10 with the ALCATEL ONETOUCH Fierce XL™ with Windows 10 Mobile hitting T-Mobile stores nationwide in the coming weeks. The affordably priced Fierce XL with Windows 10 offers consumers more of the popular Microsoft Office Mobile productivity applications, including Word, Excel, PowerPoint and OneNote, as well as OneDrive, to help keep on the go workflow a breeze.
This new Windows 10 powered smartphone also comes with Cortana pre-installed, bringing a capable voice-activated personal assistant to the palm of your hands for whenever you need an update on your schedule, driving directions or just want to check the latest weather[ii].
"Today staying connected on-the-go has to mean more than just having voice and data connection," said Jon Maron, Vice President of Marketing and Communications for ALCATEL ONETOUCH. "By perfectly showcasing more of these connected experiences like seamless workplace productivity and document storage via OneDrive[iii] as well as a powerful personal assistant like Cortana, Fierce XL with Windows 10 Mobile customers are getting more from their smartphone than they ever could before."
"The ALCATEL ONETOUCH Fierce XL is a great new device featuring Cortana, Microsoft Edge, Office Mobile apps, and many of the features that have made Windows 10 the most popular version of Windows ever," said Yusuf Mehdi, Corporate Vice President, Windows & Devices Group, Microsoft. "We're excited to bring Windows 10 to T-Mobile customers at an attractive price."
"We strive to provide our customers a wide selection of price points, operating systems and capabilities when it comes to choosing a smartphone, so adding the Fierce XL to our hardware line-up was a no-brainer," said Roger Brown, Vice President of Marketing at T-Mobile. "This will be our first Windows 10 device to hit T-Mobile stores nationwide, and since the Fierce XL is coming from Alcatel, our customers know the build quality and feature set will be top notch."
ON THE GO OFFICE:
Featuring the latest versions of Office Mobile applications like Word, Excel, PowerPoint and OneNote, staying productive while being on the move has never been easier thanks to the Fierce XL. And thanks to the mobile optimization of Windows 10 Mobile combined with quad-core processing and a powerful 2500mAh battery for all-day use, being productive out of the office is a breeze.
DOING MORE WITH CORTANA:
Never be late to another class, forget to schedule a meeting or miss an important life moment thanks to your always-on voice activated personal assistant, Cortana; which comes pre-installed on this version of Fierce XL. Cortana not only learns your behaviour to better serve you, but also works on your PC, so you can stay organized easily while in front of your computer, or find the best dinner with a view when you're on our Fierce XL while you're out on the town.
IT ALL BEGINS AT START:
Enjoy easy to use one-touch access to all the things you care about, like news, weather, social apps and more on Fierce XL. Customizing your device has also never been easier, so you shrink, expand and organize your live tiles to stay current at a glance with your people, photos and more while staying synced with your other Windows 10 devices.
DO GREAT THINGS WITH MICROSOFT EDGE:
Browse the web with ease thanks to Microsoft Edge, an all-new browser featured in Fierce XL. Find the content you want faster with the improved Microsoft Edge address bar which includes personalized recommendations to get you to the content you want faster. You can also use Cortana to seamlessly move from searching to doing, making tasks like researching a restaurant and making a reservation simple without having to leave the page you're viewing.
Other Fierce XL Windows 10 Mobile Key Features Include:
• 5.5-inch HD Display (1280x720 pixels)
• 1.1GHz Qualcomm® Snapdragon™ Quad-Core Processor
• 4G LTE Cat 4 (B2/4/12)
• Windows® 10 Mobile
• 8MP AF Main Camera with x2 Digital Zoom + 2MP Front-Facing Camera
• 2GB of RAM + 16GB of storage (expandable up to 32GB with MicroSD)
• 2500mAH battery for up to 14 hours of talk time and 820 hours of standby time
• Additional Features: VoLTE, FCC Mandated Anti-Theft Protection and T-Mobile Wi-Fi calling compatibility
For more information on Fierce XL with Windows 10 Mobile, or to learn more about ALCATEL ONETOUCH, visit www.alcatelonetouch.us.
Get the Windows Central Newsletter
All the latest news, reviews, and guides for Windows and Xbox diehards.