Videocon and Microsoft launch world's first Windows 10 powered TV in India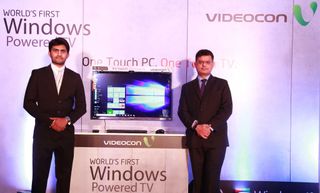 In a press conference today, Videocon, the leading consumer electronics and home appliances company from India, in collaboration with Microsoft, launched world's first Windows 10 powered TV. The new LED TV seamlessly transforms from a TV to a PC.
The device can be seamlessly tuned into the TV mode to access various television channels. Comprising of 2 models in different screen sizes - 81cm and 98cm - the two televisions have a built-in Wi-Fi function that automatically connects with the available networks and the MHL interface of the TV allows users to connect their smartphones, tablets, and other portable consumer electronic gadgets while simultaneously charging the device.
The TV comes with HDMI ports, 2GB DDR3 RAM, and has 16 GB of internal storage that can be extended to 128 GB through the MicroSD slot.
Announcing the launch, Mr. Akshay Dhoot, Head of Technology and Innovation, Videocon said,
The dual function of the Windows 10 powered LED TV makes it an interesting fit for one's room where one can easily switch from work to leisure. The company aims that by next year, Windows 10 powered televisions will contribute 5% to sales. The Videocon Windows 10 LED TV will be available through Videocon dealers and at all leading outlets by November 2015 at a price starting at ₹39,990 ($615).
Would you be interested in a Windows 10 powered television or use a Mini PC or PC-on-a-stick to transform a regular television into a computer? Let us know in the comments.
Windows Central Newsletter
Get the best of Windows Central in your inbox, every day!
That's great, I always like Videocon and windows too...

did anyone notice that in the grey colored quote it said TV cum PC ? like is that a typo or what?

Yeah, unfortunately, we Indians use that word a lot. Look it up in a proper dictionary.

They use the word 'cum' the same way we use the word 'slash' as in "This is a new TV slash PC." This is normal.

I plan to plug in my L950XL to one of my existing TVs to make a 'cum' PC out of it.

Other than Noun, "cum" is also used for Conjugation, which usually defines the ability of one thing to work as two things. For example, a Surface Pro 4 can be used both for laptop and tablet purposes. Therefore, it can be advertised as "Laptop cum Tablet".
And in this instance, it's TV cum PC.

Different strokes for different folks.

Ever heard of magna-cum-laude or summa-cum-laude? Magna = great; summa = highest; cum = with; and laude = honour, or praise. It's a bit of archaic English in its lost glory. Posted via the Windows Central App for Android

One of my wish that came true....I asked Daniel for #AskDan about this but he never considered my question. I'm super glad they finally made it. Definitely gonna get this for our next family tv

Why, when this TV can do it, can't my PC pick up TV anymore? Seems odd to remove Media Centre only to put W10 into TVs. Can't the TV tuner functionality be provided with desktop editions as well? This TV would have been even better with W8.1 & Media Centre. Just imagine. I wonder why they went with W10 only now, after they dumped TV support?

This TV has 2 separate modes much like how you can switch between composite video and coaxial cable on older TVs. The modes available would be Coaxial Cable (for channels), HDMI, and PC mode (for using Win10)

Can WC do a full demo on this? Just curious how it works

Is there a dedicated UI for the TV part and a remote controller?
What I'd like to see is Microsoft licensing an Xbox-like interface to TV manufacturers to counter Android TV.

As Xbox is about to get Windows 10, then Windows 10 is the way to go on this. Xbox-like interface may be decent for media consumption, but this is about being a PC as well, with media consumption, while there, takes a bit of a back seat. My 2 cents, which may or may not be worth the actual 2 cents I contributed. ;)

My guess is its iot or embedded(win xp style)

My estimates would be on Windows 10 Home license on this TV.

That was called Media Centre. Another Nadela victim.

Heres a victim from his division windows home server. If they would've gotten storage places running sooner it might've survived till haswell which would've made these nas appliances even cheaper

Question for Indians users: How's this price compared to normal TVs?

Not bad, considering this is also a pc

It is absolutely reasonable price. Because at this starting price you can't get a android power smart TV. You can get a TV which supports USB n HDMi connection only. So this is going to be a Games Changer in Indian Market.
Btw... Who doesn't want to have a TV with PC within???

He is asking about Indian prices. So, no use of tigerdirect, better check flipkart and amazon.in

Very nice and affordable.. But I would like to see one from Sony in the near future...(Videocon can't compete with Sony's resolution and picture quality)

Normal LED TV from brands like Sony cg posts around 30k.

Very affordable since it can be also used as PC.

That's really affordable. Usually, top branded TVs of this size are priced at around $700 to $800.

Its actually quite competitively priced. I mean we bought an LG TV (regular one, not a smart tv) and it was much over this price.. So its pretty good priced

Yeah, the pricing is decent. Even i picked an LG over a Videocon TV even though the Videocon one was priced wayyy to less. The reason being, horrible software and interface.Plus Videocon TV's (from what i"ve seen, 2 friends own it) take so much time to start. The interface looks dull and the format support is also less.

Really affordable. Moreover, the TV is being launched in November, and this month is a huge festive season for us. So, we are bound to get discounts over the original price. So, ₹39k is not a bad price at all.

wow great. W10 ventured into a new dimension. I really hoped for windows powered smart TV and here they are. Samsung, LG,sony and other leading tv makers should soon do this.

As long as they don't put ads in it Samsung style.

Maybe we can get a Surface/Lumia tv in the US.

It's called the Surface Hub.

Unfortunately, with all that the Surface Hub does, it doesn't do TV. At that price point, they probably should have tossed that in, but it's targeted for business meeetings and such.

C'mon, it's a $7000-$20,000 device for business use, it's not a 'tv'. Btw, if the future has tv's with built-in windows 10, in tablet mode, and custom controls for remote use... it's a good future.

Yeah, I could do that too, if MS hadn't killed Media Center.

Why did you upgrade a Windows Media Center PC? Didn't you know that you would lose Windows Media Center?

Wooooooow
This is awesome
But why didn't Microsoft made it first??!!

Because their production facility is not designed for it

n ow windows is a service ,with windows 10 it supports IOT,if they want make products that support window 10 ,they need to start plants for cars ,robots ,TV,home theaters etc.. worldwide

I'm not a fan of smart tvs of any type, I prefer my smartness to be external and upgradeable. TV's last for years, smart technology evolves way more rapidly.

Very true.... all in one computers are never a good idea. The CPU gets outdated or fails and you have a perfectly bulky monitor. You would be much better off getting a nice tv and a hdmi stick...

That's what I was thinking. I think perhaps a good quality TV with an upgradeable HTPC is the way to go. However, these are more affordable for many. Apple and Android smart TVs will suffer the same issue as this one, and people purchase those left and right. I say give the people a superior choice with Windows 10. You can always plug in a dedicated HTPC later one your budget allows.

Couldn't agree more. I'm probably a year away from upgrading my TV, and I'm actually sad that I wont be able to find a high end screen without smart abilities. I have an x1, and soon to have a surface pro 4. There's all my smart abilities right there.

Amazing......
I really like the way Windows 10's progress in India !!
Keep it up Windows and Indian market !!!!!

But no Media Center... That's a big mistake

I tought it was a PC with an app for TV.. but it looks more like a "monitor/tv" but with the PC internals on it.. (could be called all-in-one/tv). I was expecting something like a Android TV.. where it's a TV but the OS is Android.. With the universal apps being made to Xbox.. they could use an interface similar to Xbox without the game elements and create it

My initial thoughts were same...that it has some kind of Winows 10 OS for TV

Always thought about this... Hqve few major questions...
1. What version of windows 10 it is?
2. What about os updates ?
3. Whats about launching photoshop and/or gta4 like pc games from usb?
4. Hw is this different from connecting a laptop to tv via hdmi?

1. 10240
2. Have WiFi and you'll be fine.
3. This PC isn't powerful enough to run it smoothly.
4. No laptop required.

Either iot or embedded(think hp quickplay for xp)

No. Iot doesn't have a normal desktop. Did you look at the picture? That's Windows 10 home.

Missed that(I blame app not rendering correctly) embedded still a possibility though as the intel/amd variant can be run as a PC

1. All versions of Windows 10 are Windows 10. Versions aren't supposed to matter, because updates can't be stopped completely. 2. All Windows 10 devices are required to accept udpates sooner or later. It has Wi-Fi, so it will be able to get updates. 3. Launching PhotoShop or GTA4, etc. will all depend on the processing power of this unit. If it's a low-end CherryTrail with integrated GPU, then don't count on it. With only 2GB RAM, still don't count on it. If you want to run high-end video or photo processing or even do gaming, I suggest a dedicated PC with the proper capabilities. 4. You don't have to use the HDMI cable. That's how it's different. Also, depending on the specs of the laptop, performance and capabilities of the PC part will vary. The TV will be lower-end then most laptops on the market.

Thanks gentlemen.
Also i would like to share
I have a LG smart tv with web os with followinzg hdmi connections.
1. Surface 3 pro (for pc games n adobe suute)
2. Xbox360
3. Wireless hdmi 2TB ext HDD. Purpotedly windows 10 would solve my problem of connection so many devices if it were to be OS of a TV. Once Xbox gets win10...
will distinction between PC games and Xbox games persist eternally

1)will be an insider get all latest updates 2)it had WiFi ,you can update through settings 3)it runs on Intel's Cherry Trail Atom processor ,it doesn't do heavy graphics oriented processes, 4)no need to laptop,you cant switch from pc to TV its very decent price ,for this price you can only get a Tv.now its PC/Tv,its Welcoming product For Country's like India

Possibly. But windows 10 would have to be tailored for the TV. I think the Xbox user interface is the better design for windows 10 for TV. Or it would have to be a tablet mode by default design where the live tiles reign. And microsoft should push for interactive live tiles (fast). But in reality I think I would be satisfied just linking my surface device to the TV or using miracast.

So disappointed at windows central for misleading article. How is this a windows 10 powered tv?? This is nothing but a all in one. My Dell aio can switch between 2 displays where one can be a monitor and other is pc.
This just has cable ports in addition. Please correct since this looks like a ad from the company that made this tv. Btw it's a stupid idea to me to have pc cum tv. Won't it be odd or inconvenient to work in your living room pulling your chair close to tv table LOL. May be for other users who have different user case. Either way remove this article or at least don't say word's first. Posted via the Windows Central App for Android

It's a tv. Powered by Windows 10. How is that misleading? It has Windows 10 installed on it, and it's more than a monitor. It has a TV tuner and hdmi inputs.

With No Windows Media Center, or Xbox one tuner app, How will it use the TV tuner or HDMI inputs for sources in Windows 10 ?

Think about it this way. On most smart tvs, there are multiple inputs, and then there are all of the apps. It could be that Windows 10 operates separately from the normal tv functions. I don't think that Windows will see the hdmi ports because that will be a separate tv function. However, it's possible they built their own tuner and tv functionality as software that runs in windows 10.

Kitchens, bedrooms, dorm rooms, motor homes... Lots of uses. And my guess is that the TV can be viewed through an app, but who knows - would have been good to know that.

How cool would be using continuum on this one

My question too, brutha. :P Posted via the Windows Central App for Android

Windows Media Center would fit well in this TV

Its doable, its been hacked in

Good to see that in India....

Excuse the ignorance, do you guys have predominately cable or antenna TV? And do you use boxes or cable-card-type tech?

mostly cable and in some area boxes

Most of the areas have cable set-top box. Dish TV (satellite) based HD set-top box connections are also in huge number with many companies competing in the market. Basically you have both options and you can decide which one you want to go for. I am using Satellite based "Tata Sky" HD box. Most of the cable set-top box is offered by local cable guy or local companies, you can check the details for some satellite based options here: http://www.tatasky.com/wps/portal http://www.videocond2h.com/wsc/index.aspx http://www.dishtv.in/pages/Home-NewUser.aspx

Mostly cable set-top boxes but DTH is a huge player as well both in urban and rural areas with several players competing.

Already use my old Sony Bravia with HP Pavilion Mini.... this gives more options for scalability whenever required.

Does this mean Office can run it? I mean UWP should apply, right?

Otherwise it wouldn't make sense

how about xbox streaming or steam streaming...

Microsoft seriously needs to develop a new User Interface that can works well with TVs; with the power of Windows 10 but the ability to easily use a remote control to control everything. It should be catered to easily flicking tv channels, opening up apps like personal videos and pictures skype etc. (leaving the more productive things on the side). I don't think the new Xbox experience can fulfil that unless they make it more remote control friendly. I'd see this working on new Windows TVs and the new HDMI Sticks.

They had it, and it still is a great product....Windows Media Center...If you never used it, get a simple tuner, remote and try it for a few days, you will be amazed.

Well said, my htpc will stay Win 7 until they figure this out.

Our family friendly whole house Windows Media Center is on Win 7 until they figure this out too. Nothing compares to it's range of features and ease of use.

I don't have a TV Tuner but still use media centre a for local videos and music. I like it a lot. They should have improved on it. Boy, MS never gets it.

Except it never supported Europe's most common digital tv standard DVB-C

Which is why most device vendors emulate a DVB-S device.

Well I have monitor that can be dualled to make a TV. I prefer that coz I like assembled hardware. I like to build my own PC and upgrade according to my needs. The price doesn't make much a difference if you are considering to a buy a big screen TV.

So this product isn't for you, I bet there are plenty of those who see the value in this

I'm surprised it took that long to create a Windows-powered "smartTV"

I'd like to see this works. Pretty cool though.

If Videocon tv doesn't sell anyways how would this variant work ? What's the point of having such a useless strategic tie up from Microsoft's perspective..

Will be great for our boardrooms and conference rooms at work

An updated Windows Media Center would be epic for this type of use. A DVR, a full gude for TV, streaming sources and all made for a remote control. An option if the user wanted to use it... No matter how good Windows 10 is, it's really designed for a touch screen or keyboard/mouse. WIndows Media Center was designed to be 100% controled by a simple IR remote. Even the Xbox one does not work that great with just a IR remote. Missed chance here by Microsoft...Oh, well.. At least with a hack you CAN use WMC on Windows 10...

This product may replace desktops in rarely used homes like your parents home. In my parents home, there is a desktop which gets damaged easily because of its lack of use and I am fed up of repairing it again and again. I was thinking of buying a pc stick (it has similar internals) that can be used through a HDMI port (I have to buy a new tv also, as my old tv is too old now). My only concern is space. If I can connect a portable hard disk, I would go for that.

I've thinking about this for a long. Glad MSFT did this. TV with a RAM & Storage. No need for Casting devices. Just play directly to your TV. Hope this comes to US sooner than later. I'm plannning to gradually move to Windows ecosystem.
Phones, PC, TV, XBOX, Surface & a Band.

Can you switch channels using Cortana?

Ug I only know inches on a tv

This is awesome!! Then you can seamlessly connect it with your Windows Mobile devices. You can use them to cast your screen for instance. Posted via the Windows Central App for Android

Looking forward to a hands on video. Please make one as this is interesting product.

It can also be used for Continuum...

Wow! Would likely buy this.

I've been waiting for this since Windows 8. And have been saying it for the last few months because I have a Samsung Smart TV with a really low IQ and thought Windows 10 TV would be awesome. However, it's not clear in this article how it all works. What I want is a TV that is Windows 10, not a TV with a Windows 10 PC inside it and you have to switch between the two.

Wow this is the future, I would love to get one of these Tvs

Need more details... Review it please...

Sounds good; could be an interesting alternative to a regular home setup...

This is just a bit cumbersome. I don't like the idea of it at all. They should just make a TV running an IoT version of Windows, or Microsoft should make a version of Windows catered to TVs, like how Xbox and Surface Hub run special versions of Windows 10. That way it's intuitive to use with a regular remote and doesn't look like a total mess. An example of how they could make this work is a UI similar to Media Center that would be the main part of the TV's OS. Then add the ability to run UWAs. Having Windows on modern TVs in my opinion is an excellent idea, because it'll push developers to make apps for the TV which will be available for desktops, tablets, and-- with little modification-- phones. I just don't get why you'd want to make Windows TVs a complicated situation like this.

Nice try....however i suspect whether it will move in market or not as Videocon products are majorly sold in rural area... how many people will understand and go for this hi tech gadget...i have seen their premium products failing.....almost all premium products failed.....classic examples are DDB, 3d led, front door washing machines, french door refrigrator etc.

I want it in Europe!!! Asap! :)

It is a good news as it opens up for more... For instance, I'm waiting to see a good 65" UHD/4K smartTV running Windows 10 to appear on the market to buy one. More​over Google is always bragging about Android being installed on billions of products forgetting to add that this includes not just phones and tablets but also tv sets, alarm clocks and even connected toilets...

Definitely sounds like a top device, no more pc like experience from smart tv but a pc that gives a tv experience. When can I get this in the uk? Ms a really going in the right direction here. Btw well done India enjoy.

Is India being used as a testing ground for Windows TV. Instead of directly competing with Apple TV and Amazon, they are using India to polish the modified OS for TV & then ring to US as a worthy competitor ?

I'm curious as to how well is the quality of the display. At this price, LG, Samsung and Sony have very good LED panels. This needs to be reviewed properly. Videocon, although supplies a lot of parts to other OEMs, themselves don't make very good high end products - at least that's the market perception.

MHL??
Does any windows phone support MHL currently?

Hey. Good impression. Great job microsoft and Videocon We need it in USA too. Posted via the Windows Central App for Android

Too bad.i just bought a new TV a month back

Why the hell are they putting a micro SD slot in this? Space couldn't be an issue in a TV and normal SD cards are mich cheaper.

The idea is intriguing to say the least. I want Windows Runtime with its unified windows store with universal windows app platform apps like XBox, streaming apps like youtube, sound cloud, Spotify, Netflix, tv channel apps and casting/projecting features to come to smart TVs and every other gadget like cameras, cars, sound systems, home automation systems, IoT and every other computing device ever. Now that we have an OS and apps that can run everywhere, we need synergy between these devices. A smart connected ecosystem with universal platform and apps with information flowing between them to make us live a more aware and in control life of our precious gadgets and possessions.

Buying this for sure this festive season. :)

Would like a tv that could run apps, have Cortana. Snap apps to the side and overlay information and messages. Hoping something like this becomes available.

With face recognition who would need an alarm system in your home. When you get in the room, you are greeted by Cortana who if you are an intruder calls the police...just one example of the disruption of this technology.

No continuum dock sales in India then.

Meh...I'd rather pick up a bigger regular TV for that price and just stream my Surface via Miracast...

This is how MS can resurrect the desktop.
Hope it can play live tv.

I have a feeling this can beat apple TV in India. Apple TV can only run store apps. This can run Win32 programs!