Vieather, a beautiful weather app, closes out this month's AdDuplex HERO Apps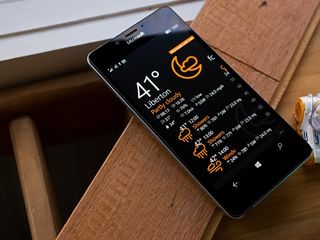 Vieather has been available from the Windows Phone Store for some time now and delivers the basic weather forecast data to your phone in an attractive and customizable manner. The app has seen several updates through the years to improve performance, including expanding its coverage by offering a Windows PC version. It comes as no surprise that Vieather was selected as one of this month's AdDuplex HERO Apps.
The HERO Apps program is a promotional campaign for Windows Phone and Windows developers on the AdDuplex Network. The program partners AdDuplex with myAppFree, AppDeals, PluralSight and Windows Central to deliver a host of benefits to the top apps and games each month. Our role in the HERO App campaign is to offer a little exposure to these titles by sharing them with you, our readers. We close out the month spending a little time with Vieather.
Vieather is a free app available for both Windows PC and Phones with a host of in-app purchases that include removing the ad support and unlocking features. The core app delivers the essential weather forecast data in somewhat of a minimalist fashion, but it's visually-appealing nonetheless.
The opening screen will highlight the current conditions and an hourly breakdown of what to expect, weather-wise, throughout the day. Current conditions on Vieather include the temperature, sunrise/sunset times, humidity levels, UV levels, dew point, visibility and winds. You will also have a large icon that reflects the current condition and a short description of what you should see outside. The hourly forecast covers temperatures, general conditions (humidity, winds, etc.) and the rain chance percentages.
From the main display, Vieather utilizes a panoramic design with additional screens to display a seven-day forecast and a listing of your saved locations. Vieather can use your location information to automatically set your forecast, or you can manually add global cities. The list will not only show you the locations you have added but also the current conditions for each location. This is a nice touch, allowing you to get a glimpse of what the weather is like for all your locations without having to switch between locations.
The three-dot menu runs consistently throughout the app and will pull up options to access the personalization settings, the app's general settings, view your in-app purchase options and view the about screen. You also have the option to visit the Store to see additional apps by the developers.
Personalization options include Live Tile options, app background colors and accent colors. General settings include options for language support, data sources, turn on/off location services, update frequency and weather unit choices (Fahrenheit or Celsius).
Vieather does not have support for weather alerts or weather radar/maps. However, if you are looking for an attractive app to deliver the basic weather information you can use to help plan your day, Vieather might just fit the bill perfectly.
Download Vieather for Windows PC and Phone (Free) (opens in new tab)
AdDuplex HERO Promotion
AdDuplex is a fantastic resource for the cross-promotion of Windows Phone and Windows apps. AdDuplex has launched a new program designed to help developers promote their apps even further with free access to various tools and resources from AdDuplex.
The HERO Apps promotion partners AdDuplex with Windows Central, myAppFree, AppDeals and PluralSight (opens in new tab) to provide additional benefits to the top apps every month that include:
Vouchers to advertise on AdDuplex
One month subscription to Pluralsight Plus
A featured campaign with myAppFree
A featured campaign with AppDeals
A review here on Windows Central
If you are a Windows or Windows Phone developer, you can sign up for the HERO Apps program here at AdDuplex's website. To participate in the program, you will need to apply within thirty days after your app or game has launched on the AdDuplex network.
Windows Central is already partnered with the myAppFree campaign and is proud to be partnering up with AdDuplex with the HERO Apps program. It is another excellent opportunity to help promote both the Windows Phone and Windows platform.
Keep in mind that the HERO Apps are different than what you find with the myAppFree deals. The HERO Apps are free, ad-supported titles that often have the option to remove the ad-support via in-app purchases. The myAppFree deal delivers a paid app or game at a discounted price or for free.
George is the Reviews Editor at Windows Central, concentrating on Windows 10 PC and Mobile apps. He's been a supporter of the platform since the days of Windows CE and uses his current Windows 10 Mobile phone daily to keep up with life and enjoy a game during down time.
Great app. Using it for years. Good job.

Yes, I love it too. And wasn't even aware that there is Windows 10 (desktop) version as well...

Yeah it really looks nice but I only have space for MSN weather...

Cần chú ý . Không thể tải xuống

Did u even understand what he said!!!!! XD

Man, such a deep thought. Never even imagined that. Posted via Samsung Galaxy S6 but still love for Windows.

he said " Need attention. Can not download "

Ah you people made me cry

She says 10 dollar sucky sucky

Great app indeed. I like how one can choose weather provider for location and improve accuracy.

Best weather app for me :) beautiful also.

Why Lumia story teller app not available??

It is available. You can find all the details in a posting about candy crush saga. Do a quick search for it.

Its a good app but I miss weather Flow :(

Second that. Not to disparage Vieather, but Weather Flow (the 2.0 version) was the best weather app on ANY platform, and I wish someone would steal the idea and make a good clone of it.

No link to store in WC app?

Yes that annoys me, too. And im kind of expecting the guys here to announce their Win 10 UWP WC app.

I'm starting to think their uwp app is vaporware... (And also hoping this comment will spur it's release because even a month ago Dan mentioned it felt good in an Ask Dan ;)).

This was a past for me. Not sure the developer update it for windows 10 mobile.

It didn't work for a while for me too, but it does now. It was updated a few months ago.

The App works great with Win10 mobile.

NC app but I think they have to improve their live tile.Still the best is the MSN weather at my opinion

Really beautiful app. Need more apps like this in the Store, but MS seems hellbent on creating negative perceptions of W10M by squeezing devs, not promoting the 640 and 950 lines and basically giving the impression that they've given up on mobile.

Can you explain your thoughts???
I think I miss sth.Isn't ironic

Just grabbed it and I have to admit, it is a nice, pleasant interface. Even the ads aren't intrusive, but if all goes well fir a couple of days, I WILL help the dev out :) Considering the car crash that accuweather is now, this is a huge difference! Running on .63 with no issues.

Which phone is that, the one shown in the pic?

Saw that rim around the phone,so thought it might be some other phone...could be a mozo case

Myfreeapp is showing me travel mate in the app. Not this weather app.

Since losing the ability to track weather at ski resorts with windows weather app I have been looking for a replacement. Does this one allow resorts as places?

That is a feature I miss as well...

Ma favorite weather app, attention to details is what makes this app truly beautiful, fast and clear metro transitions, crisp layout and typography, simple and professional look and feel, not to mention nice looking and very informative live tile, it's truly pleasure to touch & to look at. Last but not the least, now you can simply click on I love Vietnam and get rid of all ads ;)

8103012e error while installing vieather on Lumia 730 any solution guys?

Best weather app for me, 1520

Tried a dozen times, but I have not been able to install this on my Lumia 640.

asking ₹600 and above just because developer loved Vietnam

UI needs an update. It looks like Windows Phone Mango.

too bad i haven't been able to install it for months now

I don't know what is happening with the Vieather app on my 520! Every time when I try to install it, the app freezes and stops installation!!! need help!!! anyone else having the same problem???

Make sure you are installing the app in phone memory and not microSD.. As the publisher doesn't allows to store the app in microSD, but doesn't stops with an error from downloading in the store in microSD like others.. May be a bug which needs to be fixed.

hmmm... solved!!! THANKS bro!!! :)

Unable to install ón 8.1 Lumia 640 DS please help....

I wouldn't use it just because of the name. I won't use something I can't pronounce. Viea ther? Vie ather? Vi eather? V ieather? Surely there's a better name they could use.
Windows Central Newsletter
Get the best of Windows Central in in your inbox, every day!
Thank you for signing up to Windows Central. You will receive a verification email shortly.
There was a problem. Please refresh the page and try again.