Vine for Windows Phone is now available for download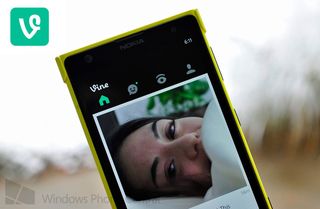 Updated 11:30 AM ET: The Official Vine app is now live in the Store. Link below.
Vine has today announced on the official blog that their Windows Phone app will be released today. Fans of the service have been left with little choice but rely on third-party solutions (6sec and Viner to name a few) while Vine looked at developing an official app for Microsoft's mobile platform. We covered an unveiling of the official Vine app at Nokia World 2013, but soon you'll be able to download the app and create some awesome short clips.
If you're not familiar with the service, Vine enables you to create looping videos with sound - think of them much like animated GIF images. The team will be releasing a product, which is in line with what's already available on iOS and Android. However, they have confirmed specific Windows Phone features such as the ability to pin favourite Vine accounts to the Start screen and we bet there'll be integration with the camera.
Download the official Vine app for Windows Phone here in the Store. 10 MB, Free. Windows Phone 8 only.
Source: Vine
Rich Edmonds is Senior Editor of PC hardware at Windows Central, covering everything related to PC components and NAS. He's been involved in technology for more than a decade and knows a thing or two about the magic inside a PC chassis. You can follow him over on Twitter at @RichEdmonds.
1000 internets for you and an "atta boy" too.

Yes❕ You❕.. You're Jasper❗.. That's why we all bow down to you.. Thanks for your ever continued support of the WP platform, and WPC.. You are a WP GOD, my friend.

You sir are an amazing human being. We all are in your debt.

You are awesome to.. Don't forget yourself. You awesome person.. You.

Ok. Enough of the humbling act.;-)

What❔ Everyone likes the $hit out of you.. Don't you think that's cool❔

FINALLY! I have been waiting for this day. Thanks, guys.

Really❔ I've been waiting for the day Kate Upton knocks on my door and ask to wrap her lips around my rooster.. I guess we all have different aspirations.....

Yeah, but he was waiting for something plausible. You are waiting for a fantasy that will never happen.

Hey, I just want to let you know that it happen around 3:24pm today. So, don't ever try to crush my dreams again... And yes, she does smell like bubble gum, just like I suspected... Jokes on you❕❕

6sec really gave us a reason not to wait for this :P
But fine that it's here finally!

Yeah, it's good for adoption.

If you would have said "Vine that it's here Vinally" it would be funny :)

This is how I feel about 6tag / Instagram. It's good for companies to support WP, but honestly, with such great third-party apps, I'm not chomping at the bit like I use to.

I hope Instagram will be releasing soon.

Tom Warren of The Verge replied to a comment saying it could be here before the end of the month.

The hell does he know. I could have said the same thing based upon "in the coming weeks". I actually think it will be out before next Friday for obvious reasons

I have a slight feeling it will be out November 22nd..

RUDDDDDDDDYYYYYYY!!!!!!!!!!

Just don't call him 2 more times!

NOOOOOOOOOOOO! STAY AWAY FROM THE LIGHT RUDDDDDYYYYYYY!!!!

All these apps are copying of yours Rudy! Quick, push the kill switch!! :P

Rudy is a great guy, and at times, better than the official apps, but what else is he going to make?

He's working on a Snapchat client at the moment.

Yeah, what's taking so long with that❔

Last I heard he's tackling every unsupported app.

i can't wait for rudy's version of infinity blade!

So we have everything that iOS has? I think there's PLENTY left to do. I wouldn't worry about that ;-)

Siriusxm-I've been bugging them for 2 years.

I'm still waiting for a few.. A DirecTV companion app that actually works. Instagram (coming soon) A Proper Youtube App Subway Surfers and other random games

No worry pal, he still has to fill the gaps from Waze, Gtalk, GVoice, Tinder, Hangouts, Dropbox, Pinterest... And he might also try to make REAL apps for Facebook, Facebook Messenenger, Gmaps, Youtube...

Tinder and Pinterest are the only non-Google apps that I think WP is lacking (Waze is Google now btw)

Waze is almost ready to release for WP8.

It's almost ready to release for 9 months... it's like a baby

The bad news is that waze has a step father.......google so it could delay the birth Taht sob lol

If you realy think there needs to be a "gap filled" for missing google apps, you must be smoking sherm.

Yeah, cuz 99% of WP users are fanboys that hate the evil Google and doesn't relly on Waze, or Hangouts or Gmaps, or Goggle Docs, or a dedicated Gmail app, or G+, or Google Earth, GTalk, or Analytics, or Google Translator............ Why someone would move from other platforms to find no Google apps when you can have an Android/Iphone and rock with Skydrive, Hotmail, Skype, Office... Where Facebook and WhatsApp (ok, this ones you can't say nobody uses) actualy works, and have that many thousand apps that don't work here or relly on a few good third party developers to FILL THE HUGE GAP Yeah, I must be drugged

I only use Gmail, YouTube, and google chrome, but rarely on my phone.

Like your comment. Hate to disagree, but WhatsApp is one of the most awful apps compared to the other OS. WhatsApp on Android is a beauty.

I agree with you. I said that people USE these apps, not that they are any good. Like facebook for WP, WhatsApp is a total embarassment for the platform. Even Wechat or Line, which have fewer users are better apps

Waze is already coming. The Google has announced that they are cutting off 3rd party apps in early 2014

I would love to see a Rudy's Youtube version :)

I would love to see a Rudy's Youtube version :)

Waze said they are close to going live.

He should make a Pinterest app.

Pinsation works pretty well. Focus should be on apps that don't already have a viable alternative.

Yea I could totally go for snapchat, tinder and YouTube apps from Rudy!

Pinterest! My... um... my wife, yah... SHE wants a Pinterest app... its for her... I swear. Sheesh, guys don't use Pinterest... *ahem*

Yeay! And then Path! Wooooohhhooooooo!!!

Yea! It has been 4 months since they announced it but still waiting..

Yes Path Please. That and Nike + are the only things I am missing that don't have a 3rd party replacement or official app.

And ultraviolet on the flixster app.

DAMN. .... Would be great if instagram came out before the release of the 1520. I am not abandoning 6tag, but that would be great for 1520 commercials to promote the phone and ecosystem to future WP owners.

yes - because in a 2 minute clips it is essential to say "instagram avaiable" to promote Nokia and WP :)

It isn't. In fact it reinforces how long we wait for such things.

I have been using 6 sec and its an amazing substitute for Vine. I'll still use it even after this one drops but I'll check this one out as well.

hell yea keep it comin' son

YES. Now what about Official Instagram AND Mint!?

Instagram is coming by the end of the month supposedly. Mint is supposed to have a release by the end of the year, so hopefully that is still the case.

Check the news feed. There just was an article about an official beta starting for both Win8 and WP8 for Mint.com

Which I signed up for and have yet to hear anything back...

U know what games, I love to see on WP8? The infinity blade series. Random, i know.

PvZ 2, Temple Run 2, Candy Crush

Candy Crush with achievments would fly like hotcakes with wings and muscles (unlikely though)

I'd love to see GTA IV and 5 on WP too. IOS has all the gtas. but IOS can keep all those so-called'freemeium' +IAP apps, with the exception of asphalt 8 and qonqr I guess. (they aren't plagued with ads and are not PTP.)

Spelling official is tricky & hard...

+1 it obviously eludes many of us...

Hehe, you're not the only one that noticed that...

There is no "I" in the team and we are offical WPCentral team. Okay may be there is only 1 "I" in the team.

Hope it runs on the HTC 8S.

Will probably still stick with 6sec, thank you very much.

Woo! There are some vine specific features that haven't made it to 6sec so I am excited to see them
. That being said, 6sec is amazing so I am ready to see if vine can have the same fluidity.

Snapchat, instagram, bbm and that's about it :)

Gonna stick with rudy, but I'll give this a try

When the application is visible? پس کی برنامه قابل مشاهده میشه؟

I bought 6Sec a while ago.. but right now they show me some ad's! tha's it not right... so i will use vine official app instead

It won't let me download it