VLC app for Windows Phone has generated 3 million downloads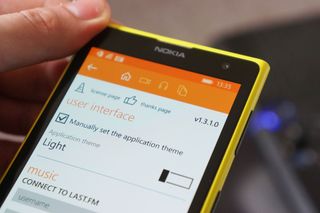 One of the most popular mobile apps for any smartphone platform is the free VLC media player from VideoLAN. Now the head developer of the Windows version, Thomas Nigro, has revealed that the Windows Phone version has generated 3 million downloads since it launched several months ago.
VLC for Windows Phone was made as a private beta in December, and in January it was released inadvertently to the public. In March, the beta tag was removed from the app's name. Now Nirgro Tweeted:
VLC is also available for Windows 8.1 and Nigro has already announced a universal app made for Windows 10 is expected sometime in November.
Download VLC for Windows Phone
Source: Thomas Nigro (Twitter)
That's thanks to the awful stock music app. Haven't used it in months

To readers : we're still working hard to fix the videos playback problems some of you still have. That's the top priority.

Thanks for the update Thomas!

Thank you. This app is beautiful

Take care of you exams buddy.....

Almost done! Getting back to serious work next week.

Music library scanning is still in stone age, rest all is awesome.

Exactly, after half an hour of scanning, VLC searched only 1/4th of my songs of the total 380 songs on my 640..

Thanks for support Windows and Windows Phone. It's nice to see someone saying their improving support for Windows when others are pulling even Windows apps.

Vlc won't play any video on my Lumia 625. Sometimes just audio. TIA.

Works fine on my L625 though.. Some videos does'nt play with the stock Movies & TV app.. So VLC is my main video player..
@Thomas Glad you guys are having a good time in the store.. 3 Million downloads in WP store is not that easy to achieve :)

Talking about green screen when playback on every video on a 535? Great to hear you're working on it :) though that I was sold! Thanks!

Yup same problem in my lumia 535

The UI is a bit weird wen using Files in landscape mode in my 640xl.. Please check it.... I can provide screenshots

They have a site for feedbacks.. Or tweet it to him :)
Update : Report it in trac.videolan.org

Can't add DRM protected music which I bought on iTunes any other alternative?

Just curious about the HW Decoding support. I've been following. You guys for a while now. As this app can not even be compared to it's Android version I'm having doubts about it's future in the windows phone market. As many know VLC for Android has HW Decoding for Hi10 H264. A method used by converting RGB -> YUV. Can something like that be implied with the windows phone app as well in the future? I've seen shitty android HW Decode HD Hi10 with ease. Please explain about this. Thanks.

Well we have direct rendering and hardware decoding working on WP now ...

Awesome. It's a great app. I don't need it as much on phone, but I recently replaced my old x86 vlc with the modern app on desktop.

that's good... I think MS should add an info about no of downloads for each & every app in the store like android. Sometimes its helpfull.

MSFT considers this info as trade secret

And still behind MoliPlayer

Who says you that ??? I am very much satisfied by vlc than the moli player... I can watch and listen each and every thing beautifully in vlc than moliplayer... And vlc is now my primary media player also...

Still needs improvements!!

VLC on win 10 mobile is literally unusable at least on 512 devices

Fixed it for you : Win10 mobile is literally unusable at least on 512Mb devices

Ha, that would be an interesting bug if it didn't work on exactly 512 devices.

You're right, this has nothing to do with VLC. It's just that bad right now on low memory devices. Leaving an active app just kills it. There's no tombstone and resume, open the task switcher and you'll see it's just gone.

It always has something to do with VLC. There are many media players that play HD/FHD videos pretty well without a lag on 512Mb devices. Only thing I like about VLC is the UI. But without performance improvements, VLC makes no use.

Now pls fix the app and make it usable!

I am a great fan of vlc app for both computer & laptop...
I was also very happy at the time when it launch to windows phone but even after more than a year the app is just giving a bad experience ...
But , finally my hope didn't end here because I will wait till it become universal app ...
Good luck team ....
Hope you work hard to make it great...

What do you mean by "bad experience"? Don't hesitate to create a ticket on trac.videolan.org :)

Bad experience means - sometimes it work n some times it crashed automatically and It also take long time to load the videos ...
I am not tolerate you because I know it's not an easy task to make a good video player but, I was waiting from Last 3yrs for a good video player and my waiting didn't end till today ..

You must be using a 512MB device combined with W10M

If someone has to uninstall an app, then reinstalls it, does that count as 2 downloads in counts like this? I know had to uninstall VLC a couple of times initially. 3M is still a great number, but it may not translate into that many users.

Nope..count is generated by counting the no of accnts owned the app.

And a big thank you to Thomas Nigro and the VLC team for putting out a great app! Especially considering the horse-hockey Thomas had to put up with from many forum members during the development stage....

They said automatic info download was coming for tv shows and movies (cover art, season and episode ordering, synopsis, etc). Whatever happened to that?

searching for music takes forever and it keeps searching at every startup and while searching (which never ends) the app is unusable if i open a video nothing happen and the app freezes but sometimes it playes the video (windows 10 for PC) and on windows phone 8.1 it gives me a green screen with audio tested on windows 8.1, windows 10, windows phone 8.1

Thats great news, but can you guys here request on the insider program to have view of downloads for an app or game ? As well as video preview for an app or game on the store ? I did submit a request but needs more than one request to have microsoft make it.

I am unable to watch my video with it because it displays green blank screen. They should work on that.

Still not good as moliplayer ..

You guys know the best way to get bugs fixed is to log a ticket for the developer to investigate right? Spouting off in news comments probably wont change anything

Except the App developer is participating in these discussions. He's already said submit official feedback and provided a link to the videolan bug tracker.

3 million is a nice number to support, can't wait til that's 30 million

Thats the best video app i use on my phone keep up the great work.

Quickplay still better, go for it.

Typo here>> Now Nirgro Tweeted:

Any word on how many downloads VLC has on iOS an Android?

10 million the stable version and 50 million the beta one. Seems weird but that are the displayed Play Store numbers. Posted via the Windows Central App for Android

That can't be right people keep telling me there are only ten windows phone users.

And only about 3 or 4 Apps, that is why those 10 users download the same Apps again and again :p Posted via the Windows Central App for Android

The support for mkv files seems to be improving each update. Thanks for the hard work :)

Good job. VLC is shaping up nicely. It seems much worse of on 8.1. Any with the same experience.

I've installed and uninstalled this app so many times I've lost track. Just not as good as MoliPlayer in terms of the UI and player controls but that could change.

To Thomas Nigro,
Please add "Fast Forward and Backward" keys to VLC player.
Thanks.

Still the worst player crashing everytime while playing video

Whatever , when it came for the first time the interface and the layout was very good but now its ok but it is slower than before now

This is what I like to see someone makes an app for Windows phone and it gets 3M downloads, not only should this be a message to those who don't want to make apps for us, but much Thanks to the Developer who obviously cares about his users enough to read and answer comments in here!!!! We need more people like him!!!! Great App Thomas!!!!

Not able to download the app

I use MoliPlayer Pro and CC PLayer Pro. Watch large mkv,mp4 avi files (old F1 races and the like). I find that MoliPlayer Pro handles the larger 3gb+ files magnificently on my 520 and has the best interface. Great pity that it is rubbish with aspect ratios eg. 704x576 gets squashed sideways and so does 688x576. CC Player Pro is great with aspect ratios. Videos are perfectly proportioned but playback of a large file while fine doesn't feel quite as smooth as with MoliPlayer Pro. XBox Video that comes with the phone is very limited. As for VLC, the new beta update did nothing of note and it too has long way to go to beat the two best players on WP.

Not at all useable on my L630 after the new update... The UI sure looks interesting but what good is an app that doesn't work.
-crashing when scrolled fast
-video plays only with audio and then crashes
-crashes when i change the music
-and crashes for no reason
So the app now pretty much does nothing but crashing atm.... Really need a fix.

Congrats! Keep it up, developer!

Downloads are not generated!!! They are reached!!!

I m not able to update the vlc app in my lumia 730,plzzz tell me some solution

Having the same problem with playback ,green screen turns on everytime I play and app crashes ,is it due to 512 MB RAM .hope to see this fix soon

@Thomas: Thanks for a really great app - keep up the awesome work you do!
Windows Central Newsletter
Thank you for signing up to Windows Central. You will receive a verification email shortly.
There was a problem. Please refresh the page and try again.