Voice Memos, a feature rich solution for quick and easy audio notes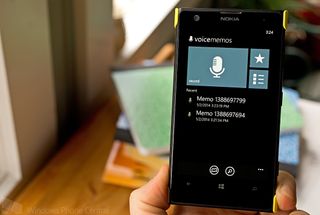 Voice Memos is a nice looking Windows Phone 8 for recording audio notes. Moreover, the app isn't just good looking; it has a nice feature set to go along with its clean interface.
Voice Memos has the capability to geotag your memos, add photos to the description, export them to your music library and more. Need more features? You can upgrade to the Premium version through an in-app purchase to unlock additional features such as SkyDrive backup.
Voice Memos makes a rather nice first impression that does not fade much after use.
The main page for Voice Memos will have a microphone tile for launching the recorder, a star tile to display your favorite memos, and a list tile to view all your memos (as well the memos sorted by tags). The main page will also display your most recent recordings.
Along the bottom of Voice Memos' main page has control buttons to view a map with any geotagged memos pinned and a search button to sift through your voice memos.
Voice Memos Main Page and Settings
Settings can be found up under the three-dot menu along with the options to upgrade to the premium version ($.99), pin record and view the about screen. Pin record is a rather nice feature in that you set a Live Tile on your Windows Phone screen that when tapped will initiate the record function. This feature makes for easy note taking while on the run.
Settings for Voice Memos cover a wide range of options that include:
Setting up your backup accounts (premium version)
General Settings that include confirmation windows, use of the system player, and show un-played count on the main tile
Recording settings that cover quality levels, channels, encoding format, skip silence, record under a locked screen, edit the recording before saving, geotag your recording, etc.
Establish a secure PIN code for recordings (premium version)
Storage settings to reset the app, recover memos, and check on how much available space is left on your Windows Phone
To start a recording, just tap the microphone tile on the main page and the app will begin recording. You can pause the recording, save the recording or cancel it all together. If you have chosen to edit the recording before saving in Voice Memos settings, you will then go to the editing screen. Otherwise, you will need to pull up the recording individually to edit the details.
Editing options include:
Adding a photo to the recording description from your Pictures Hub or launch the camera to capture a new photo
Customize the title
Add a tag that can be used to sort and search for your memo
Add any notes about the memo
Additionally you have the options to mark a recording as a favorite, upload and share the recording (premium version), pin the recording to your Start Screen, delete the recording, or save it to your Windows Phone music library.
Voice Memos Editing Options
The free version covers the basics nicely. The premium version goes a little further and includes (beyond what has already been noted) MP3 format recording and background recording to let you use your Windows Phone while recording.
Free or Premium, Voice Memos is an appealing option to consider if you are in the market for an app to record memos with. I can see it coming in handy while on the go and having the ability to geotag and add a photo to the description gives you a nice visual reference.
Voice Memos is a free app, available for Windows Phone 8 devices. The premium version will cost you $.99 through an in-app purchase and you can find Voice Memos here in the (opens in new tab) Windows Phone Store.
George is the Reviews Editor at Windows Central, concentrating on Windows 10 PC and Mobile apps. He's been a supporter of the platform since the days of Windows CE and uses his current Windows 10 Mobile phone daily to keep up with life and enjoy a game during down time.
I see what you did there. +820

Useful during some lectures! Will give this app a try.

I'd buy a dedicated recorder. I used some recorder app and recorded valuable lectures while I was in college, only to have the app update and have all of my recordings deleted. I've never used a recording app after that incident. Good for quick notes, but lecture-length 30min+ material, go for a real recorder.

I'd have to agree with getting a dedicated recorder for those who really record lectures. I dont record as much in fact very rare do I record lectures. In the case of you losing your records after an update, well it's the developer's fault, IF he didnt state that all recording will be deleted upon update.

I recorded all my lectures in collage using an app and never lost a single one; althought that was not on WP; it was on Windows Mobile on an iPaq 2210 with Resco Voice Recorder. So far WP has been useless for recording; this is the first recording app that looks a bit promising. I will probably give it a try but I doubt it will beat Resco on my 11 year old iPaq, which is kind of sad.

I was actually hesitant to update, but seeing that the update included Skydrive integration, it was perfect. But nope, everything gone and got 0 communication from developer.

The article does say the premium upgrade lets you back up to SkyDrive. Set up a new SkyDrive account if you worry about privacy.

Will still use one note which does the same job for me.

I use OneNote too but it dosent have seek feature. :/

Maybe microsoft will remake the one note app for windows phone 8.1 with this seek feature. I have high expectations from microsoft team in this year.

Boring week for windows phone!

I want thiss, but I never get to record audio only without also taping video.

It is surprising that you have great official apps by both Microsoft and Nokia for video and photo recording, yet there is no proper sound recording app by either MS or Nokia; nor is there an ability to record calls, something my 13 year old dumb phone could do.

Interesting sounding app. Does this record phone calls? The ability to save to an sd card surely means you wont find anything deleted - one can just drag and drop to the computer..?

This app sounds great and I will donwload it later today. I doubt that it can record phone calls though because in many US states, including mine, require all parties of a conversation to be notified that a call is being recorded. We've all heard that "this call may be recorded for quality assurance" type of announcement. The reason you hear that is because of these state laws. There used to be a way to legally record calls in some states without an announcement of the fact if the phone line included an automated beep sound that repeated every three or four seconds. I don't know if that option is allowed any more or if many people would even know what it meant if they heard it, but if the app generated such a tone when it recorded a conversation that would be a useful feature and it could be legal. Please notice I avoided any references to the NSA. Until now.

The laws only state that you need to notify the other party that you are recording the call, which is the callers responsibility, there are no rules that make tools to record calls, such as apps, illegal.

This feature is allready in Evernote. great app. Use it on all my devices

Ms rules suck! I mean everything!!! We should be able to choose which features we want to pick. Sorry folks.

The inability to record voice calls is just another in a long list of WP OS limitations that prevents more users from adopting WP. :-(

Worth the premium purchase!
Windows Central Newsletter
Thank you for signing up to Windows Central. You will receive a verification email shortly.
There was a problem. Please refresh the page and try again.