Vserv.mobi launches advertising SDK for Windows Phone; announces $100,000 challenge on DVLUP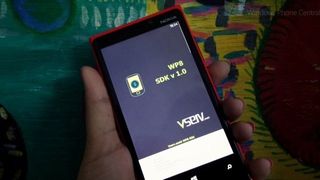 Vserv.mobi, the mobile advertising company focused on emerging markets, has announced its Windows Phone 8 SDK to enable advertising based monetization for Windows Phone developers.
The service includes a downloadable SDK that allows developers and multi-app publishers to integrate over 10 mobile ad formats. It also enables premium full screen launch, exit ads, global hybrid mediation, and analytics.
The company has also partnered with DVLUP, Nokia's Windows Phone developer rewards program, announcing a $100,000 challenge for developers. Under the Vserv DVLUP challenge, developers stand a chance to double a month's earnings with cumulative awards of $100,000 to be given out by the end of the year.
To be a part of the challenge, developers can submit their apps on DVLUP. Valid apps will then be approved by Nokia, giving developers 250 points for maximum 2 apps. At the final stage, Vserv.mobi will take a snapshot of the revenues earned by developers on December 31, and reward developers with the double money offer.
The capabilities of the Vserv.mobi SDK and the additional rewards as part of the campaign would drive higher revenues for developers, thus make a significant impact towards growing the app ecosystem on Windows Phone 8 platform.
Windows Central Newsletter
Get the best of Windows Central in in your inbox, every day!
I for one, hate ads and will delete the apps as soon as they appear.

I also don't like ads, but there are a lot of people that don't (can't) have a credit card to use to pay for apps. And I think devs should get paid for their work, so ads are a necessary evil IMO..

That's why I like WP, you don't have to have a credit card, you can just use PayPal linked to your bank account or prepaid credit for app purchases

Hm, last time I checked PayPal was not accepted as a payment for WP apps (at least not in Portugal). I started buying apps through a virtual credit card, but last January I started getting problems with it and tried every other option, but I ended up getting a credit card after trading mails with a M$ representative :| hope the WP store accepts PayPal now, it should be easier for many people than getting credit cards

You're right. I had to create a virtual credit card just so I could the apps I need/like. Also, devs have to make some money or why would they bother?!

Yeah, developers should work for free for your amusement /s

We (devs) hate ads too. But we live in a world where people say "that costs $1? Too expensive!" and proceed to buy a starbucks Grande latte for $8. Its great that we live in a world where most web services are free, but we still need to get something for our efforts. Usually if you see an app with ads, you'll find a $1 paid version, so you could just buy that.

I'm happy to pay for apps that I use frequently... It supports the developer and gives me few extra features. For apps that I use infrequently, I prefer ad-supported ones. The only ones I delete are when the ads mar the UX. And that goes beyond apps. I don't visit such websites as well.

The apps don't need to be Free of paying for them, I just hate ads. I paid allready for several apps, even for some just to support the Developer. I can pay, in the Netherlands, via my phonebill (T-Mobile) or PayPal.

Any update on the enquiries i asked last time,Abhishek?

Good lets get these Devs building 50,000 apps before January ;-D
Windows Central Newsletter
Thank you for signing up to Windows Central. You will receive a verification email shortly.
There was a problem. Please refresh the page and try again.