Official Disney Channel app available for Windows Phone, brings full episodes and live TV [Update]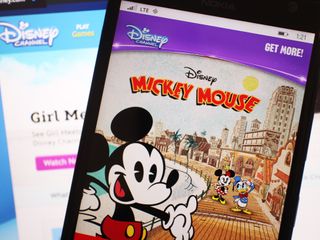 The official WATCH Disney Channel app is now available for Windows Phone. This app from Disney allows you to watch the kid-friendly Disney Channel on your phone, so long as you already subscribe to cable or satellite TV. You get access to full episodes of popular Disney Channel programs and live content with this new app!
Head into the Windows Phone Store and you'll find the first version of WATCH Disney Channel. Here's what you can do with the app:
Watch full episodes of your favorite shows anytime, anywhere.
Watch what's on Disney Channel LIVE!
Again, you'll need to subscribe to the Disney Channel with a participating TV provider to get access to those features. Otherwise you'll only be able to view shorter clips for free.
Let us know what you think of the WATCH Disney Channel app for Windows Phone!
Edit: Turns out there are two other apps from Disney available: WATCH Disney Junior and WATCH Disney XD. They work just the same as the WATCH Disney Channel app, but have content specific to their channel. Check them out!
Thanks for the tip Kevin G and smartboyamo!
Windows Central Newsletter
Get the best of Windows Central in in your inbox, every day!
Played around with it.. pretty good app!

The Watch Disney apps are very good quality. As for the content, 95%+ require a TV subscription from Verizon, Comcast, etc.
•
I suggest Disney, or any TV content provider, consider offering a direct subscription to their channels vs. requiring a third-party TV subscription. Help cut the cable!
•
For example, access all content with a low-cost monthly or annual subscription, or even with a paid app. However, I do *not* recommend pay-per-show/series; any payment should be for all content.

US only! Surprised I am not.

Πως το έκανες; Δεν δουλεύει σε μένα

Can sign in with liberty global subscribtion?

IT'S good to see more official apps for our platform

You are deluded if you think our platform will remain forever. Just wait and see what the release of iPhone 6 will do to WP market share.

Well, aren't you Mr Sunshine!

He didn't say he thought it will remain forever. He said it's nice to see more official apps...that's all. Thanks for the market share heads up though.

Windows phone will never success of you and too many other people say this, you, me and any member of this community must help WP to grow by suggesting WP to your friend, go to the nearest phones store and make people know what is Lumia, what features and apps do we have.
Help WP by reviewing and translating apps into your language, send feedbacks.
Help WP to grow, MS is working hard for you, you must say thank you.

I said "Thank You" to MS by buying and using a device that works on their OS and staying in their ecosystem. They are not giving us their phones for free so we can feel obligated to help MS to grow. They have enough people and teams in the marketing department to know how to operate. If they were a small company and needed fans support, then yes, i might help them anyway i can, but helping a company who is the richest company in the world (or maybe one of the richest), which have enough money to buy few small countries, it's too pretentious. But, I do get your point, in some way you are right. I am not being ignorant, i am just realistic. I use MS products since Windows 95 to Windows 8 and from Windows Mobile 5 to Windows Phone 8.1 and i will continue using it in the future. :)

IPhone stands nowhere close to WP in India. WP in India beats iPhone market share by miles.

Low-end Lumias are the biggest selling Windows phones. iPhone 6 isn't a competitor.

So if I want a cheap phone that works buy WP is what your saying. If I want a high end phone don't buy WP?

Its great that cheap WP devices are doing good because more people will see what WP is like including their friends and family. And if they'll like it enough they'll want to upgrade to a high-end WP. That's how android did it. Except android was/is a piece of shit on cheap devices. Heck even on high-end devices.

Untrue. Got a friend with an LG l90. The phone runs kitkatt and its absolutely buttery smooth. In fact it runs much better than my 521 does now.

It better run better since it is consider a mid range device. The 521 is a low end phone. And cost more than half the price.

@maktaba. What? Apples that are bending windows phones? Oh.... Wait. IBendy 6 is no Competitor to the low end phones.

Why the fvck do people praise the iPhone 6 so much, it's literally just a bigger 5s with a spec bump. Once again, anyone who thinks apple innovated with the 6 is just drinking the juice. Apple used to innovate, now they just get by

Are you Bob from work, the guy I have the $20 bet with that Windows Phone will still be around in 2 years?

Why can't Disney Channel UK release a similar app? Same with Comedy Central UK! Looking forward to going on holiday so I can appreciate these apps... At least for two weeks! :)

Are all these "Watch -insert network here-" apps made by the same company? The FX Now app for windows 8 is atrocious and has seen NO updates since launch. Captions are cut off , audio is low. The lifetime tv app frequently just stops playing I just go to the website. Why are windows/wp apps so low quality?

from what i can tell all of the WATCH -channelname apps are from channels owned by disney: WATCH ABC, ABC Family

Agreed, tried using the FX app last night

The Hulu Plus app was crap too (especially on WP 8.1, it was slightly better on WP 8.0). I canceled my Hulu Plus subscription because watching on the phone (the reason I got it in the first place) was such an unpleasant experience.

I agree about the fx app the only update they did was to patch in the login requirement for full episodes

Yay for "official!!" Hopefully it's built well, not buggy.

U.S. only :( my daughters loves watch Disney Channel (dubbed) here in Brazil, would be nice if it were available here too...

Just change phone settings temporarily to region country US , download Disney apps then change back to Brasil.

It's not that simple... There aren't any brazilian TV provider in disney's list so I can't register, and to watch the content must be through an U.S. valid IP address.

Maybe another ABC company, ESPN, will bring their "Watch" app soon?

The only one I care about.

Seriously WatchESPN has to be coming soon?? or at least fix Scorecenter??!

Good keep them coming...:)

Now can we get WATCH ABC and WATCH ABC Family

So I have Disney on FiberOp in Canada with Bell. It's not on the list. So can't use this app?

Change country to US, install app, even if provider isn't listed app remains functional for some content, then change location back to Canada.

YES! Now I can watch That's So Raven on my phone :D

About time. Posted via Windows Phone Central App

Great. Just need Disney Junior....hopefully its next.

Its in the store. Look at related apps and search for it. Its there

Yep. Thanks. Right after I posted this I searched and found them. Should have known article wasn't 100%.

There is also watch Disney Jr and watch Disney XD that is in the store. Not just only watch Disney :D

Sweet. Will add in a few mins when back on the PC. Thanks.

YES! I need DisneyXD so I can watch the Star Wars Rebels movie!

Don't forget Avengers Assemble and Ultimate Spiderman. But Yeah Star Wars Rebels on the phone is awesome!

I have been asking for this for over a year! Hope we get Disney Jr for my 5 year old.

Its in the store. Search for it

Cool. Just downloaded it!

Imagine my surprise when I didn't see Time Warner on the provider list. *sarcasm

Seriously!!! WTH. Been waiting for this one...every time a commercial for this app airs, my daughter is like, "when will we get an apple app"
Now I've got the app, and TWC isn't on the list!

German Disney channell please...

I wish I could a la cart channels from cable. I refuse to pay for 9bajillion stations I don't use. I also refuse to pay for sports contracts that these companies make. Anyways a la cart would be great for me. Probably have 10 to 12 channels at most that I use.

So... does this include that new star wars show? If so... I am interested

Yes. But that's on Disney XD, which also has an app for Windows Phone. Updated the post with the Store link.

Nice Monument Valley avatar pic. I was just there in January. It was amazing!

Another us only app(not that it matters as ive found their cdn. CH. Sucks more and more now simlar to how cn does in Canada)

This is nice as I think not even android has this

I think it's only for US. or not for Lumia 1520

Why is this not a universal app for the tablet also?

First thing that came to my mind as well..

This is great, but why is HBO and other such apps dragging their feet? These apps would be even better if you could download the app in lock locations that automatically delete after a certain time (similar to Xbox video rentals). Most of us use our video watching on our phone on the go... which very often means limited data and no WiFi.

Great news! I thought about it not being available for our platform everyday because I have to watch the Disney Channel everyday. I'll download it.

i wish i was a kid again. this would be a gem to me. still a great app to add on Kids Corner, if that still exists. lol

Awesome! Now if Disney would just release WatchESPN on WP! It is available for Windows.

Gotta Love Disney for loving our OS!

And finally a mobile video app that Xfinity supports. Another good addition.

maybe Watch ESPN will be next...doubtful

Hopefully the Watch ABC app will land soon.

You just can't reason with some folks...
And yes, of course it's is US-only.... And I was hoping to show it to my nephews... They would love it...

Change phone region to US , get app then change back

Thanks!
I've tried it, but it didn't work...

How about watch abc? There is one in the windows store. Maybe its next.

Finally!!! Thank you Disney My kids will be thrilled!

Finally!!! Thankyou Disney now I can think about having some kids.

No Xbox live support? Lol

Ah yes.. This US only bullshit again. Ain't it funny that Disney and other cable providers broadcast to other territories, but still limit their content to US only. Steups

Is this available to people in the UK?

Oef the most important Disney apps, the "My Disney Experience" has yet to see a release on Windows Phone. I love the Disney support for WP, but come on guys, you want us in your parks too, right?

A fanstastic news for Disney fans, especially kids....

No Lizzie McGuire? And no DirecTV login? No thanks.

So Watch ABC, ABC Family, and ESPN are only on windows 8 And Watch Disney, Disney Junior, Disney XD are only on Windows Phone Please release thema s universal apps. I want these apps on my Surface

These apps suck. They load slow and end the sign in session when attempting to sign in. I have really good internet too. Uninstalling forever.
Windows Central Newsletter
Thank you for signing up to Windows Central. You will receive a verification email shortly.
There was a problem. Please refresh the page and try again.