WaterField's new Field Muzetto bag could be the perfect fit for your Surface Pro 4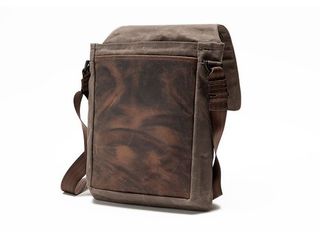 WaterField, the company behind a number of popular bags and cases, has announced the Field Muzetto, a padded bag for laptops and tablets. Coming in three sizes, the Field Muzetto might be just what you need to store your new Surface Pro 4 or Surface Book.
The Field Muzetto is a vertical bag made of lightweight canvas, and comes in small, medium, and large sizes. The small bag is meant for items about the size of a Surface Pro 4, while the medium back is meant for medium-sized laptops, like the Surface Book. The Muzetto also comes with other, smaller pockets for things like your phone, notebooks, pens, and even a charger.
The Field Muzetto starts at $169 for the small bag, with the medium priced at $189, and the large bag costing $199. The bag is set to ship by November 10.
Windows Central Newsletter
Get the best of Windows Central in in your inbox, every day!
I own the Outback Solo for SP3. I cannot say enough about this bag and how awesome it is. The quality of the bag is outstanding, I would definitely buy again from Waterfield.

Im assuming for $169, it comes with a Unicorn that sh*ts gold coins?

Also urinates molten diamonds. Up to you how creative you'd like to get with this.

I cant beat your creativity. Victory is yours. Well played.

I'd pay way more than $169 for a unicorn that shits gold coins.

Me too, but I will NOT part with $169 for a bag. Id pay $169 for a unicorn that cries champagne tears - thats a fair price.

This may be the Indiana Jones style bag that I've been looking for. But that damn that price is steep....almost $200 for a computer bag?!?

If you want quality then you'll have to pay for it... if you want cheaper, stick with the ugly nylon bags

Obviously this isn't for someone just looking for protection at a low price. I also got the Outback Solo as soon as they were available for the SP3. If you are looking for a computer case that combines excellent function, quality, and looks, then these bags are good value. They are made in the San Francisco bay area (not China) and the workmanship is top notch. (Google around for reviews of their products; the quality is consistent.) The waxed canvas and distressed leather actually looks better as it ages. And, yes, very Indiana Jones.

I own the Estate NS city bag by Fossil, and it is a perfect fit for my Surface Pro 3. It doesn't have the padding, but it's stylish and durable and carries all my two hard drives, Arc Touch mouse, two battery packs, and other miscellaneous items I carry for work and school.

Does it cost extra to not have an orange tinted square in the middle?

Yes, because you'll have to buy the leather version with different accent colours for $239 https://www.sfbags.com/collections/microsoft-surface-pro-4-cases/product...

Wow so beautiful. That texture at the front looks amazing I think I see ghosts in there.

Well built bags with style, not just a laptop bag. I have the Outback for my SP3 and love it. While they are not cheap, I do recommend them.

Agreed + 929. Look at my comment just below about their customer service, too

I love the one I have for my SP3, and if you have a problem, their customer service is TOP NOTCH. Months after I bought my bag I emailed them with a problem that the snap on one end of the strap kept coming undone. The email reply less than an hour later had a tracking number in it. Now THAT is responsive.
Windows Central Newsletter
Thank you for signing up to Windows Central. You will receive a verification email shortly.
There was a problem. Please refresh the page and try again.