Waze for Windows Phone entering beta stage, looking for recruits to test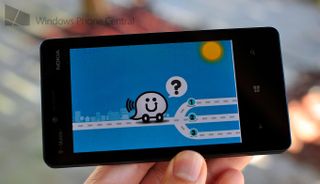 Recently we reported that the popular traffic app Waze was finally headed to Windows Phone in an official capacity. That story was second hand reported in an online newspaper with the company itself remaining mum on the matter. Now, it's official: Waze is in the works and about to enter beta.
That's the good news. The bad news is it's beta and not exactly around the corner for immediate, general release. However, betas can move fast and that original June timeframe could still easily be hit, assuming the developers are worth their salt.
Even better is that you can sign up for beta testing, so long as you are committed to providing feedback on the experience to the developer. You'll need to have an account with Waze and sign up through their forum, where they have detailed the instructions. Of course there's no guarantee you'll be selected but hey, if you're a big fan of their service it is certainly worth a shot.
Head to Waze to get more info and hopefully we'll be hearing more over the next couple of weeks.
Source: Waze; Thanks, Mark M., and others for the tip!
Daniel Rubino is the Editor-in-chief of Windows Central, head reviewer, podcast co-host, and analyst. He has been here covering Microsoft since 2007 when this site was called WMExperts (and later Windows Phone Central). His interests include Windows, Microsoft Surface, laptops, next-gen computing, and for some reason, watches. Before all this tech stuff, he worked on a Ph.D. in linguistics and ran the projectors at movie theaters, which has done absolutely nothing for his career.
Off topic: Hey Daniel, do you know if the grooveshark beta is done?

Does this work in the uk?

Help! I want to make the switch to Windows Phone 8 but don't want to spend a lot! I'm really new to the smartphone world, and I want a simple, modern phone.
I have two choices, the Lumia 520 and 620. Both are for £7.50/month with 175 mins, 200 texts and 250mb but the 620 has a £65 phone cost, whereas the 520 is free. Please help me decide!
P.S. Does the Lumia 520 have City Lens?

P.P.S
The Lumia 520 works out at £180 over two years whereas the Lumia 620 works out at £245. Is the extra £65 really worth it for a newbie to smartphones? I will download a few apps and I'll only use it for texting, WhatsApp and the internet. And could anybody explain NFC and what it does?
Thank you,
Nearly a Windows Phone User

In my opinion, the 520 is a nicer phone, aesthetically and in screen size, the only problem in comparison is that it doesn't have a ffc nor gps.

It does have GPS. but no FFC or NFC

The 520 will probably be fine for your needs, at least to begin with, although you might find that you want the extra features and power if you start to become a keen smartphone user. Personally, I think the 520 looks nicer than the 620, but that's just my opinion.
NFC (Near Field Communication) allows the device to communicate with others in the near vicinity. This can be useful for sharing contacts and other files with other people who have an NFC phone, and it's the technology that allows you to use the digitial wallet to pay for goods in shops wirelessly with your phone, although there are very few, if any, shops which actually accept this method of payment at the moment (at least in the UK). Hopefully this will change in the next few years, though, and there are lots of other potential applications for the technology. But it's not a 'must have' feature just yet.

You might find this video useful: http://recombu.com/mobile/news/nokia-lumia-520-620-720-820-and-920-comparison-vs_M19006.html

Get the 520. Both have a 1 GHz processor, 512 RAM and 8 GB of internal storage (+ microSD support). Although they also share the same 5 MP camera, the 520 doesn't have flash nor a front camera. It has, however a bigger/better display: 4.0-inch ClearBlack tech, vs. 620's 3.8. For what you stated, the 520 seems the best fit. Ps2: NFC: http://en.m.wikipedia.org/wiki/Near_Field_Communication Edit: as stated below by other member, the 520 DO NOT support City Lens.

I have the 920 and my girlfriend has the 620.
I could barely notice any performance difference.
for most task, the 620 performs as good as all the big ones. The main difference that I have noticed is that there are some apps (mostly games) that are not allowed to download for 620 users (in my opinion, mostly for no reason).
whatsapp works perfectly and other apps, even the game asphalt 7, works great. The NFC chip gives your phone the ability to know that there is an item(that needs to have the NFC chip too) that is "touching" your device, and by this your device knows what's the identity of the item and can perform tasks fest and easy. For example, by attaching one phone to the back of an other phone you can send contact info, photo, music and other things.
there are speakers that let you put your device on top of them and automatically connect the phone and play what ever sound your phone makes. I hop that this might explain a bit.
and sorry for my English.

you seem to be the only one who replied who understands anything about mobile phones

Just a tip, use Top CashBack or Quidco to get effectively £35 extra off the price of the phone on a contract. That may help sway you one way or the other.
Cashback isn't instant or guaranteed, but it goes through without issue 99% of the time. Will take a few months for it to be deposited into your bank account.

As far as choosing a phone goes, as nice as the Lumia 620 is, don't go beyond your means. If you can't afford the extra £65, you won't miss much by going for the Lumia 520. If you feel you need a front facing camera for Skyping etc, then obviously the Lumia 620 will be the way to go. NFC isn't all that useful yet, and still won't really be by the time your contract is up. As it stands, it's sort of like Bluetooth.
For WhatsApp, texting and internet, the 520 is just as good as the 620, other than lacking a front facing camera. I'd go into a O2 (they stock both, but don't buy from there) just to compare the two. See which one you prefer. If you do prefer the 620, time to decide whether you prefer it to the tune of 65 quid.

no, the 520 doesn't have city lens due to the lack of the compass, it also can't autoalign maps, it doesn't have an FFC, it doesn't have flash, the screen is inferior...

but it has a supersensitive touch screen, the screen itself is bigger and is cheaper

NFC is Near field communication, it enables communication with near devices without the hassle of bluetooth, pairing..., it's good for sharing photos and other files, helps make payments, works with tags which make the phone do specific thing when it touches them (eg. make the phone silent, open the maps when you enter the car...)
I think it's useful, but not that much

you should see if you can afford the 620, if you can't, or would have trouble buying it, don't buy it, if you have some extra money laying around, only then should you think about it, never buy anything not necessary if you can't easily afford it

for the uses you mentioned, the 520 is better (due to it's larger screen and super sensitive touch) , so I recommend it

I want this. I used it on BB

Signed up. Loved Waze on iPhone.

All I can say is that, once Waze launches on WP. It will kickstart quite a few new users.
Now all that's left is Instagram. Forget Instagraph.

Signed up! Can't wait to help out.

I used in on Android and would be a good tester

I applied too. Can't wait to see how Nokia updates their offerings in response to Waze coming over.

Seriously. I thought Drive would/could make Waze irrelevant, but it hasn't happened.

I remember Waze on Windows Mobile. I think that's where they got started and then they abandoned us, but now they're coming home.

Applied and can't wait.
This and SnapChat are the ones Ive been waiting for lately.

I guess I don't have a user account anymore from windows mobile days...couldn't retrieve a password.

Pretty sure that the beta testers website uses a seperate login database to the normal waze site and client (if that's where you were trying to register) so you might still have your user account on waze.
EDIT: Just had an email saying to hold on for a bit before signing up for beta so will encourage others to do the same; the servers are overloaded so you won't get past doing entering your email address for validation anyway.

Oh. That probably explains why I have not gotten my confirmattion email from them as yet. I tried to register last night.

Take a look at Wikipedia: http://en.wikipedia.org/wiki/Waze
Doesn't sound like Waze is committed to a Windows Phone app to me.
"Waze supports Android, iPhone, Symbian, Blackberry 10,[5] and Windows Mobile 5–6[6]. In May 2013 a Windows Phone 8 beta version was made available on Windows Phone Store.[7] As of July 2013[update] Waze said that they were currently planning to support both iPhone and Android and would consider supporting new platforms/"



Windows Central Newsletter
Thank you for signing up to Windows Central. You will receive a verification email shortly.
There was a problem. Please refresh the page and try again.