Waze official app finally coming to Windows Phone 8 in June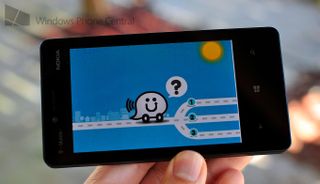 We're not actually huge fans of Waze (www.waze.com) but we sure know a lot of you have been yearning for it on Windows Phone. The popular navigation-traffic-social app allows drivers to keep up to date on traffic conditions, detours and anything else worth self-reporting to others. We saw a sanctioned homebrew project for Windows Phone way back in 2011 that used Waze's data, but it was far from perfect and quite clunky.
Now, Calcalist.co.il is reporting that the an official app for Windows Phone 8 is not only planned but it's ready to come out in June—no doubt part of the continuing wave of official and updated apps that we've been seeing over the last few weeks. So why the reconsideration? Waze is based in Israel and as it turns out, Windows Phone just wasn't too popular there, leading the developers to put it on their long to-do list but hardly giving it priority. With Windows Phone 8 though, the tables have turned with the OS growing (and supporting right to left languages) allowing the company to reconsider.
Personally, we were a bit peeved and shocked to find that the new BlackBerry 10 OS already has an official Waze app. Granted, the BB10 World store pales compared to Windows Phone as is, but it always rubbed us the wrong way seeing "official" apps for that nascent platform before ours. At least now we can take solace in knowing that Waze will soon come around to the Windows Phone camp, giving us one more feather in our cap.
Interestingly, Waze used to be on Windows Mobile back in the day and Microsoft reportedly invested $25 million in the company back in 2010.
Source: calcalist.co.il; Thanks, Opher , doron and achiash, for the tips!
Daniel Rubino is the Executive Editor of Windows Central, head reviewer, podcast co-host, and analyst. He has been covering Microsoft here since 2007, back when this site was called WMExperts (and later Windows Phone Central). His interests include Windows, Microsoft Surface, laptops, next-gen computing, and arguing with people on the internet.
+sauce huzahh, maybe now I can finally get directions that say take exit 8b north and not just exit 8 #nokiafixyourusmaps

#stopusinghashtags
#youarenotontwitter

Its always good to see more official apps coming to WP8.

Speaking from the Z10, it's a great navigation app. Not a great 'maps' app since it has no top-down, satellite view or imagery, but the voice guided, turn-by-turn navigation is spot on. A great road companion.

Based on my experience with it on iphone, the routing in Waze was not optimized like Gmaps, Ovi Maps(on my symbian phone) or other navigation apps on my iphone. Used to take unusual routes.
Plus, it used to consume more battery and heat up the iphone. Also, it's sometimes a distraction and I believe this kind of crowd-sourced app is as dangerous as texting whle driving. I have myself experience the distraction.
(My experience is based on more than 6 months back, but don't know if it has improved or not. Don't feel the need to check it out again when I have Gmaps,Scout,etc apps on my iphone)


its only good for traffic info, but when Drive adds traffic flow I dont think Waze has any advantange over ND.

Doesn't Drive already have traffic info? I don't have a WP currently, so don't know.
But I thought that Nokia had announced that new feature of automatic optimized best daily commute route based on traffic info?

still pretty useless at this state, somehow they are not getting the best info and coverage.

Poor reporting by Daniel. This is not just traffic, it is up to the second traffic with estimated speed, info on hazards in the road, estimates delay, auto re routes, and best of all notifies you where the cops are.

The notification of cops is one of the distractions I mentioned. When the app keeps constantly notifying something you are trying to pay attention on the app and that's where is a high chance of distraction when you would like to look at the phone to see what the app said, incase you didn't hear it carefully.
That's just my experience.

Ahh, I use it on road trips and plug the audio into my car stereo..waze/iphone did a nice job of fading between directions and music playback... Also had my sig-o take care of posting cop alerts if we saw them

Daniel, what are you a fan of, REALLY?

The Lumia 620. Possibly puppies.

I like puppies, and kittens.

Cats, Scotch, fitness, photography, movies, Lumia *720* and science :P (In seriousness, my beef with Waze was the fact that they released a BB10 way before Windows Phone and I find the concept of self-reporting traffic events dangerous and weird...sounds like work when I'm driving)

So let me get this right. You prefer the Lumia 720 over the 920?

Pretty much. I do love the LTE on the 920 and obviously the camera...but day to day? I prefer the 720.

What about Wphone 7.8 , any apps around the corner like waze , whatsap with wide live tile and other premium apps ??

I think im just jealous of the 720 haha

It goes to show that specs are not everything. Written on an 8x.

actually, it's not.. its a very surprisingly smart app... when you're on a highway and you drive 10 mph the app asks you/ figures out on its own weather its a traffic jam or not...
or if lots of users seem to be at the same place, the app understands its not reccomended driving through this place...
there are more features and stuff, its really great! popular for a reason ;)

It's not the only app with such features. Infact lot of its features are user distraction as I mentioned above in my other reply.

It helps more than distracting

I have BB Z10 and Waze is currently an Android port on Bb World - not built specifically for BB10. So having an official app for WP8 brings me joy.

Waze, finally, I need it only for ONE reason. Dodge speed trap cameras. Android users did told me the feature is present. The speed limit of my country's highway is a laughable 110km/h, and some incompetent drivers drive even slower than that. Too farking slow. 140 would have made more sense, but it's pretty normal for me to drive at 160 or higher.

There is always need for something like this in a smartphone :) But i guess the database is not made for every country.

Yay, using a smartphone to get away with breaking the law sounds like smart indeed.
Or just irresponsible...
(the highway speed limit is "just" 120 km/h in my country too. It makes plenty of sense, just not for you because you like going fast. Well sorry if this comes as a shock, the world doesn´t revolve around you and your desires)

To me 140 is more of an ideal speed; 160 might be a tad bit too fast for some people, but that's the speed i often go at. A difference of 50km/h saves a lot of time in long distance drive. I drive on the highways every week for over 4 years already and i never had any issues, despite going fast im usually a very alert driver.

I heard of waze about two weeks ago my friend was using it and said it is the best re route for traffic, I am not sure we will see

Actual source is reddit, so why no credit?

Bullshit. The source is an online newspaper called Calcalist--they did, you know, the actual reporting. Reddit gets no credit because (1) all that site is is reposting of other people's sources (2) we didn't see it there

"... so why no creddit?"
hehehe

Lol slow news day or week I should say xD

It is Sunday, you're lucky there's any news ;)

What about the 920 volume issues that users have been having? This would've made a delightful weekend article...

LOL! I think you need more scotch :-P

You joking, right?
This is wonderful news for me.
I am waiting for this app for 2 years now. :D
I have had the Meir lavi's Waze version (Thank good for him), and i still can use it,
But how can i recommend the WP to someone in israel when the first question is dose it have WAZE?
And my only answer (since that's what nokia said tow month ago), it should be available in the late 2013.
So, yes. It is news :D

I remember waze from wm6 and my Java based dumbphone before that. Awful UI. They had better conform to metro. Never really used it since it's smarter to observe and memorize for yourself where the speed traps are; my area was woefully incomplete and it just isn't worth trusting.

I adore waze on ios. Glad to see it coming.

Man.. I've been wondering about this app for so long.. Nice to see that its coming to Windows phone

Very cool! I met the founders the other day and asked them about WP and they smiled and said it is highly requested and they hope to have one soon. Looks like they were holding their cards closely to their chest!

Sweet! This is one of the few iOS apps I miss. Great for the daily commute, whereas Nokia Drive is currently useless.

How is Nokia drive useless? It works very well!!

Yes, for directions. Note I said "daily commute". There's no point using Drive on your daily commute because it does nothing for you if you know where you are going.

Understood! Sorry about that...

Hopefully waze app will use offline maps on Lumia phones.

Offline maps isn't really what waze is about. Waze uses community edited maps and bidirectional data communications. For instance, if it detects people driving where there is no road it flags it and anyone with an account can go into the map editor and fix the issue.

I loved this on Windows Mobile and was so pissed when they ignored Windows Phone. I wish Nokia Drive would put in some live traffic and redirection so we wouldn't have use for Waze. I'll probably end up using it, but I'll never be the vocal advocate that I used to be. There are plenty of iPhone user (some Android too) that are using this app because a lot of us pushed it to build up the user base for more accurate data. When they ignored us on Windows Phone, they lost me and I'm sure others.

I'm confused, was this confirmed by an actual Waze employee or something? it doesn't really say who informed the newspaper on these news..

Great app, use it almost everyday on my iPhone. This is the last app I was looking for on WP. I know there are other GPS apps but I've been using Waze for almost 2 years and hated to lose it when I go to the Lumia 928 (hopefully) for my upgrade in June.
Waze has warned me many times of not only camera lights but also police speed traps and traffic jams. They've added a ton of improvements including nearby gas prices and their maps and directions learn over time to get better and better.

Nice to have a popular app like this. Hulu Plus then Instagram are next :)

Actually hulu plus is reported to come to windows phone soon :-). So yay!!! And for instagram :-)

I had this on my Blackberry. But, honestly, I only got it for a Foursquare Badge. lol

Love Waze. This is awesome news.

This is great news. I really miss Waze on my Lumia. Waze is outstanding in avoiding traffic

Finally my lumia 920 will be complete

In Israel it's a very popular navigation software, and WP missing it was a deal breaker for many. So I assume it's good news for WP in that market.

I don't know if this is too little too late. I used to use my WM6.5 Omnia II all the time with Waze and mapped the hell out of my local area. Helped fixed maps as an area manager too. Then all the BS over the last few years concerning making a WP app. It was never about market share, I just think that someone in the company with power had a hate on for the platform. I'm to the point where I don't care if this app makes an appearance especially since Nokia Drive is far superior when it comes to turn by turn nav.

Nokia Drive does it for me too!

Please sign these petitions to get popular apps on WP!!
http://www.change.org/petitions/square-make-an-app-for-windows-8-and-pho...
http://www.change.org/petitions/google-inc-support-your-popular-apps-goo...
http://www.change.org/petitions/instagram-make-instagram-available-on-wi...
http://www.change.org/petitions/snapchat-create-a-snapchat-app-for-windo...

You can also search for more WP petitions at http://www.change.org/

Love the fact that Official apps are coming to the platform and I say keep it coming!

Everything is coming together, slowly but surely. Its about that time that we start to hear of some progress from the WP teams end.. Wasn't it about this time last year that the internal video of Joe Belfiore leaked? Ya know, the one where he talked about the new features that were coming to WP8?.. With all these new apps coming in it would be great to have WP in the news again to keep everything new, and exciting.. IOW, I agree with you totally.. LOL!!

This is good for windows!

Whoo!! This was THE app I missed the most on iOS. Will provably use this over HERE Maps. Now if only my bank would make an app for windows phone.

i just bought a cheap android phone to do waze via wifi tether in my car. its amazing for the los angeles 405 Sepulveda corridor. nothing else comes close!

Wonderful!!! Now I may have a fighting chance in this Dallas traffic!!!!

I used to have this app on Android and loved it. I know that it will be better on WP :-)

I remember this on classic WinMo :)

Who cares Nokia maps blows waze or any other GPS app. Get a damn XmRadio app please!!!!

Nokia Maps is a useless POS compared to Waze. It cannot do:
1) User-reported live traffic info on every driveable road
2)User-reported construction/accident/road hazard/police/speed cameras
3)See on the map and communicate with other users/friends/groups in real time, as well as share your custom routes/destinations.
The only thing the crappy Nokia apps are good for is occasionally navigating to an unknown destinations, nothing else. So yea, having Waze come to WP is useful for A LOT of people.

anything with a constant data plan can do that, heck even my local web app does better with real time video.

I never used it on Android...but will try it again when it does arrive

How much data does Waze use?
Some of us are on really restricted data plans, but Nokia Drive does not provide camera info in my country. Would be great to be able to manually import traffic cams into Nokia Drive.

I stopped using Waze win I switched from my Droid 4 to my HTC 8x. And I could not be more excited to see it coming to the WP8 platform! the app not only gives turn by turn navigation, but it gathers the traffic data based on other users current speed. This allows the app to always provide the fastest route, even when there are no traffic sensors to rely on. Also, you earn points and make friends which creates a fun navigation experience.

This is probably the one app I wanted more than any other on WP8. The navigation is pretty good but I want it for the traffic alerts and for alerts about the police. I would love to see similar featues in the nokia drive app.

yes !!!!! i used it all the time on my android phone

So a few comments:
1. Windows phone came to Israel but a few months ago so bearing this in mind, Waze has been pretty fast.
2. I'm a GPS junkie and frankly Waze just rocks! Of course it depends on market penetration but here in Israel its extremely good.
3. I had to purchase a new phone a few weeks ago and was very tempted to move to Windows phone, but due to the lack of Waze, I bought an iPhone.

Why don't you guys like Waze? It baffles me. It's far superior to any other smartphone map and nav/GPS system.
What baffles me even more is that you are actually bothered by the Blackberry having it first when you don't even care for it. That's just petty.
I'm just happy its now on Windows Phone 8, now I can seriously consider moving from Android to a Lumia.

How did you get it on your Windows Phone 8? I have a Nokia Lumia 1020 and when I search for Waze in the app store I get no results. When I click a direct link to Waze on the app store it says Waze isn't available for my device.
I'm in the USA by the way.

So, no news of waze so far...


Any time y'all want to release Waze for Windows Phone 8 would be great kthanxbye

its October already, c'mon developers, you can do it
Windows Central Newsletter
Get the best of Windows Central in in your inbox, every day!
Thank you for signing up to Windows Central. You will receive a verification email shortly.
There was a problem. Please refresh the page and try again.