We go hands-on with the Acer Liquid Leap+ smart activeband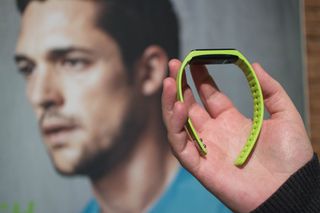 Today at MWC 2015, Acer has announced their Liquid Leap+ smart wearable. It can track the user's steps, running distance and calories burned. It also supports notifications and playback control. What's also great is that it can sync and connect with Androis, iOS, and Windows Phone devices. See it in action in our hands-on video.
The Acer Liquid Leap+ features a 1-inch touchscreen wrapped in a durable exchangeable rubber wristband. It also had has an IPX7 waterproof certification. The wearable technology in Liquid Leap+ talks to the Acer Leap Manager app which you can download for Android, Windows, or iOS.
The Acer Liquid Leap+ will be available EMEA in March with a starting price of 79 Euros. It comes in a variety of colors: Charcoal Black, Fuchsia Pink and Lime Green.
Are you interested in the Liquid Leap+? Let us know what you think in the comments!
Windows Central Newsletter
Get the best of Windows Central in your inbox, every day!
Waterproof, and a very stellar pricing! Doesn't do all that the band does, but I'd consider it if it were sold in the states.

Exactly the same for me... When will it be available in Belgium ? :D

Actually this month i think arount the europe. I will getting this for shure, it have all I need.

Wow water proof? 5-7 battery life
...oled screen all for 79€ great will but this for my replacement of watch if it releases in India.... But the band colors can be more stylish and wide in options

With the specs and price? Bring it to north america! I will consider this one.

Will definitely get one if it comes to my country Nigeria

i'd be buying this. very interesting

That moment when the video in not from windows central ( i know it's from mobile nation's site) !

This is tempting given up on the Microsoft band at this point in the UK

Maybe I know my gf would love one

Good price ! Very interested, would defo buy this device if available in UK !! Does everything you need and looks comfy to wear, like the Green

Well the UK is still in Europe which makes it an EMEA country.

That's very cheap for an IPX7 certified wearable, I was considering a Fitbit Flex as the MS Band isn't available in the UK but this seems to be what I'm looking for. This works out at about £57 which is slightly cheaper than the Fitbit Flex anyway.

Yeah, don't go with the Flex anymore. It doesn't have notifications or even the time.

At just 90 dollars or Rs 5500 it is very good ......

Below ₹6k I'm in...
Waiting in India...

What about the battery life??

Probably will be average, considering the price.

Battery life is 5-7 days......as it uses a low energy Bluetooth 4.0

Mark, is the "A" in EMEA for Africa or Asia? Want to know availability.

In video it was told that it will be available in asia

Actually, I checked online. Engadget and NDTV say Africa.

Africa. But don't forget this show is hosted in Europe. Acer is however an Asian company, it's unlikely they'd ignore their home markets.

I would definitely buy one. Awesome pricing + availability in Europe.

How do you know? Care to share your hands on experience?

Hi, interesting product. How does it calculate the distance? Is it multiplying the number of steps by a given stride length? Or GPS?

Why does the artical say "we go hands-on"? it should be "android central goes hands-on" as the video is from the android central YouTube channel. ( I really like this band BTW)

The writers you see here at Windows Central also write for other Mobile Nations sites, you'd think by now people would understand his.

Because we're nice people and we work for Mobile Nations so we all help each other out. No reason to host a video twice (three times since it works with iOS as well)

I'm buying this to pair with my Lumia 1520.#definitely

So yeah, available around the Europe , waterproof, connection with WP, long battery life, relativelly cheap with function i always wanted (notifications, reminder with vibrations, alarms, sport tracking.)
I am in baby. Sorry bulky MS band, maybe next revison.

The ​ question is: I can pause and jump my music on my WP with this band?

Yes. It has music controls.

I know it sounds silly but, does phone notification include phone calls? If it does then I'm sold (actually this is what I wish the M$ bands would be like, I think the revision 2 will be, but for this price I might just buy the Acer one)

Not a bad price, but lacks all of the functionality of the Microsoft band. No UV, can't reply to messages via keyboard or speech no integration with other fitness apps. But for a simple fitness bands, it should over take the fitbit....maybe

How does this charge then? I don't see any charging ports on it. QI maybe?

That's pretty awesome. Looks like it works quite well in the demo. And it's waterproof. If it works well in the real world then I think Acer has a real winner on their hands.

If they do not sell it in the US, I will have to find it when I am in Stockholm in May! Great device and even though not feature rich like the Band it looks to have great battery life and waterproof. Wonder what color wrist bands they will have besides black, lime and pink?

Does this band have a heart rate monitor on it? If so I'm sold!

Androis syncing is the reason I would get this. Lol

I think I have given up on the band in the UK, so might buy this

Their band is so, so much better than their phone offering.

I find it amusing that Acer has added music controls but MS Band hasn't. Lol.

I'm so in on this one. It has excellent spec at this price, and looks good too. Would rather get the MS Band, but since that's not available in UK then better get this one now, skip the band and wait for MS smartwatch later in the year.

My mother in law is looking for a fitness tracker and I pointed her to this Acer. Seems to suit her needs

It's unbelievable MS "forget" to implement media controls on MSBand.

Actually yeah
I do wanna get MS Band but's it's easier to catch a unicorn than the Band here in MX, so if the device comes here, I'll have it for sure.
It covers the basics, so I'm cool with that

I would buy it if it releases in india

Probably not sell in TW...

Interesting, looks like it will support other app notifications contrary to the previous post. Great alternative to the Band if this is supported on WP.

I am sooo buying this, the broad compatibility, price point, battery life, being water proof and functionality is a winner.

Is the Leap+ app available in the Windows Phone store? I searched for it but could not find it. Thanks

I thought hands-on meant a comprehensive first-hand review!

No, "review" means review. You don't review products at a trade show press event.

Definitely interested....at that price with the functionality, crazy not to be! Hopefully a more comprehensive hands on coming soon ;)

The main reason I want the MS Band is the sleep tracker, but this Acer being waterproof and the fact that the Band is not available at all, makes it a better buy.

Good job Acer. Not a bad product and support for 3 major mobile platforms is the smart move.

No GPS and no HRM. Still, it is waterproof. I guess you get what you pay for.