The Weather Channel gives its Windows Phone app a major visual makeover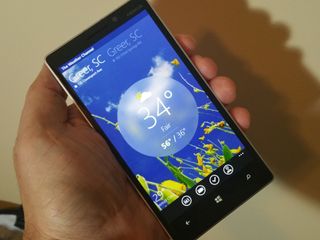 The Weather Channel app for Windows Phone just got a big update today, bringing with it a new design as well as other features to help give its users the latest local forecast in style. The user interface now mirrors the one utilized in the official apps for both iOS and Android.
For a complete breakdown as to what's new in the Weather Channel app, here's the full changelog:
Complete redesign: More beautiful & easy-to-use.
Social Weather: Report your weather conditions to us! We'll use the information to improve the forecast & map out what others are reporting or tracking in your area. Plus, your report will be added to your personalized weather history, so you can track your past reports. To complete your report, remember to take a photo and share it with your friends.
Seasonal tools: Hurricane Central, Airport delays, pollen counts, and boat & beach planner
Improved navigation—swiping right to left allows you to browse your saved locations, whereas the detailed forecasts and stories can be viewed by swiping up and down.
Head to the store, download the update, and let us know what you think!
Thanks to David and Adamm for the tips!
Windows Central Newsletter
Get the best of Windows Central in your inbox, every day!
I hate em'...they interfere with my "this hasn't been updated in [insert timeframe here]" bitching.

Just turn off auto updates in WS settings

Agree. I hate anything positive and want to whine until I die my sad death.

Does the radar work now? I uninstalled when that broke on the last update.

Its glitch for me, and the live tile doesn't work.

Yup...One step closer to having a non-Apple device looking just like an iPhone.

High end Windows phones cost the same as an iPhone.

You can use the same app in low cost phones which is not a choice in the iWorld.

Nothing like ios, thank god, it's on Windows OS.

Trying to say it looks just like the IOS version

It is like iOS, no live tile.

No live tile? I have a live tile?

I could get a live tile for my home location but it doesn't change for my current location.
Now neither live tile works at all.
Garbage.

Looks close to crapdroid version. Sucks that a lot of apps are now looking less and less metro and more like cheap ports from the other two OS's..I won't be updating it.

Thanks for the intelligent post.

Looks Modern UI inspired if anything. Downloading to see up close.

For some reason I have two different weather channel apps.

Same here. I uninstalled the old one.

Nokia used to have an exclusive version of the Weather Channerl app for their Lumias that had a few different features than the "general" app. You probably have that one installed too.

Best weather app in store.
Edit : LOL,Store rating is only 3.3 :P

I don't go off of app ratings. People complain and rate low over the stupidest shit, so I don't believe half of the ratings I see. Windows users are some of the whiniest people in general to please, so dont take every little review seriously. What seems to be a 3.3 overall rated app could actually be a 4.5 or even a 5 to somebody else. The best way to like an app is to download it and try it for yourself.

Actually we are very grateful for the majority apps and updates we get however - if the app sucks then the app sucks.

Dont get me wrong I know there are Windows users who are grateful, as I am one myself, but I have seen a lot of the reviews and comments by others and some of them are ridiculous. Hell look at a few of the comments that some of the idiots post here on Windows Central. "Oh this app is worthless because there is no transparent tile", "I'm not getting Windows 10 because its slow and buggy" (even though its a preview build), the list goes on and on.

Like all the one stare ratings for map/GPS apps because of no support in Iran.

The funny thing is, you can't believe the ratings in the Google Play store either those users over-rate damn near everything. You said it best, download and try for yourself.

The app used to be a piece of garbage before this update which is why it has only a 3.3 rating.

Exactly my thought. Lots of good apps in the Store are underrated by those fools. And the stupidest reviews in my list are "It must be freeeee" or "Add [abc] and I will change my review" etc.

That's a high rating actually. I had to delete it after one try.

Haven't tried this. My expectations would be that you go to check the weather and all you can get is some Alaskan fishing show or something.

3.3 because it hadn't been updated in a long time before this, so users were upset about lack of support.

Great, but Appy Weather is more than enough for me.

They call Lite Tile by Widget now. And, what a awful new Live Tile!! You barely can read their trademark!

Bing weather tile gets blank randomly. Let see how is this app.

Bing sure works a lot better than this "live" tile.

No transparent tile. No thanks

That's a pretty lame reason to dismiss an app.

Just noticed the update when I first checked my phone this morning. Now it looks just like the iOS app. I honestly didn't mind the way it looked before.

I'm going to check out out

I like Amazing Weather HD :)

Navigation is really bad. It's not developed for use with the back button which just closes the app.

Indeed, I can't believe how they missed something like this. Totally amateur-ish.

Well, then just give them a feedback and tell them your findings. They just updated the app so it's pretty much "hot" now in their developers team. I am sure a new update will be very soon, maybe in few days to a week. :)

It doesn't have lock screen wallpaper.

Weather bug will always be the best.

thank you Weather Channel for utilizing the panoramic controls and not the stupid,STUPID hamburger menu!

Does the radar work now ?

Great! now if it would actually work. It amazes me that my wife (her running android) and I sitting next to each other get completely different information from the Weather channel app for the same location..

Love weather to go, one of the best apps ive used, will try this

Non transparent tile, back button exits app, and the the detailed forecasts are buried. Other than that, it's a little nicer. Still like Appy Weather and Accuwether.

No Doppler radar? What gives? That's the most important feature on a weather app!

It's there. You have to scroll down.

Thanks! Like I said before, I'm a knuckle head!

Buggy.
1. Only allows you to add locations, can not delete.
2. Feedback link takes you to a beta download page in the store and when you attempt to download it says you don't have permission.
3. Will not allow you to update profile addresses.
This should be listed as a beta as it is far from a finished product.

There is an option to remove from the elipse menu.

The option is grayed out on the ones that the app installed. Will not let me delete.

Actually you cannot remove the first one you add, which in my opinion is the default location, every second location you add can be remove it. You can't set a default location by choice, which is a bit lame. I added by mistake a wrong location and not mine so that's how i check this. I had to uninstall the app and install it again to add my location. But, I did send them a feedback on their website contact address stating few bugs and suggestions, including the option with back button that just exit the app. Feedback people, FEEDBACK, that is how you let developer what to fix in his/their app. Whining on comments section is non productive (I am saying this in general, it is not for you, lol)

There is no way to remove the location from anyway. When I was setting my location 'Mumbai' by mistake I selected 'Materan' now I cant remove that location. So I uninstalled it, I hope they fix it in next update and that update must come soon.

I know where Greer,SC is.

It looks better. The wide live tile does not seem to be working for me.

That main screen looks to have been "inspired" by my personal favorite weather app, Blue Skies!

Everytime i try to launch videos it crashes

Live tile??? Its not working!! 1520 lumia

I tried so many weather apps, currently installed is Frost but I'm gonna add this too.

Try weather to go, ive tried almost all weather apps in store, found weather to go to b the best, awesome lockscreen pics, accurate temperature nd lot of locations to choose frm!

If it weren't RIDDLED with advertisements, it would be OK.

The extended forecast actually gives you information now, which is really nice. I don't mind the design but more so prefer info presented horizontally (in line with Modern design) than vertically, but it does look nice.

Try Amazing weather HD, it's good :)

Looks nice! Some apps go, some come (or are updated) -- apps being updated is a good trend I hope we can look forward to as interest rises more with Windows 10.

I like it, Not as intuitive to scroll vertically, but can get used to it. But ya the live isn't working. If that doesn't get fixed, guess I'll go back to the old one.

Bing weather is more than perfect..

Unfortunately, MSN Weather is far from accurate :( I think, The Weather Channel and AccuWeather are the best when it comes to accuracy.

It was raining two weeks ago, MSN showed Partly cloudy !!!

Yeah, and for me it never shows any snow. Even in snow blizzard it showed cloudy :D

Don't use their app as Bing weather works fine for me. However, major kudos to TWC for bringing the app up to par with the other platforms.

Just to play devils advocate. Why is an application not looking like the competition sub par? I, for one, do not subscribe to the herd mentality that to be cool you have to look like everybody else. The uniqueness that is windows phone was and is the biggest draw to the system for me. I ride a motorcycle but it isn't a Harley. My smart phone will never be an iPhone. Be different, I dare you.

Vieather is good app for weather. Used lately, its working fine and free with all features. Having regular update feature.

Made me create an account??? Why?? No thanks!

Creating an account is not optional if you want to delete the Turkish city.

I just updated it on my 1520. Went to add my location and the app crashed. Attempted to reopen multiple times, and it just continues to crash. Some update.....SMH.

Looked at it. Hate it. Keeping the old one

Strange they renamed it and now it is a w8/wp8 dual app I think. So now I have two weather apps from TWC on my phone.

*taps 'provide feedback'*
*taken to 'Weather[Beta] store listing*
*taps download*
"Sorry, you don't have permission to download this app."

Radar map works! It's about time. Why is this a new app, as opposed to an update of the existing app?

I can't remove any location except for the one I need to use for where I live. WTF

Have to create an account to do so. That's a deal killer for me. As if I need another password to remember!

Same here. I deleted it almost immeadiately after I realized this. It's too bad. I really like the redesign and it's a lot faster than it used to be. Another funny thing is that if you click on support in the pull up menu it takes you the Beat app page in the WIndows Phone store. I don't know what to do now. Bing Weather has been acting up on me and I need an alternative.

I'll be looking at this app. Weather Flow functionality has gone AWOL on my phone.

Why no live tile?? It's a bummer

Got radar back at the cost of a live tile. Certainly not cool at all.

This app is horrible! I hate the scrolling down function. You also have to scroll all the way back up to the top once at the bottom. It doesnt wrap like the Metro horizontal scroll. Scrolling is not very preceise either. It doesnt stop on a page with a flick. I'm going to delete this version and stick with my old Weather Channel app and Bing Weather.

Hmmm...thus wasn't an update for me but a separate app I needed to install. Now I have 2 Weather Channel apps.

Was an update for me. Just one app showing.

Seems there are 2 different versions then.

I went to leave feedback and it took me to the beta version in the store. Wonder if they jumped the gun a couple days early ?

Day 1 Lumia 920 owner.... Once upon a time there was a TWC app and a Nokia TWC app. One utilized a LiveTile update featuring local radar (personal preference) and the other didn't. Anyone know off-hand which LiveTile was with which original app, and what the LiveTile is for this app? (I'm at work now and will research and repost after work.) Thanks in advance.

The news design is very cool :) My default weather app now

Seems a lot of apps lately are being "updated" to mirror their design on iOS/Android. They are purposely taking away the features that highlight the Metro design and making clone apps of the ones on iOS/Android. Basically they just are too lazy and dont want to take the time to maintain the uniqueness of the WP app so they just make it match the crappy versions on the other platforms.

Absolutely agree with you. I buy for my mother an Xperia M2 last week and the ''weather channel'' app had this looks and I told myself, thanks god is so much better in WP. Well I was wrong, now we have this great to look at, but not as usefull app..

However this is not the case of this app. This looks like an app made for Windows.


I still like Atmospheric weather app. But I will try this again. I was using this app back in WP7 on an HTCHD7

Visually beautiful BUT app is very slow. At least on my 925 it is. I will stick to MSN Weather for now...

How do I turn off where it shows my exact location under my city

Disable locator for that app.

Nooooo! In the new design you must do extra steps for everything! (ex. the next days weather) I really loved the previous style, this ''new'' design is just not that handy (basically a port from the android the app''.

EDIT: Now this ''weather channel app'' contains 2 BIG adds, between the scrollable forecast.. And on top of that the small live tile is just showing the apps name and NOT the current temperature! Not to speak about the way worst fluidity, and sometimes choppiness it shows.. That is really depressing, they ruin a tottaly fine app.. Well time to find a new weather app!

Some parts are still in Englisch, so delete. I want Dutch. And adds, hate that....... so deleting this.

I don't understand this application. does not work live tile. I prefer the previous weather, which I have installed :(

If you try to leave feedback, it takes you to the Windows Store with an option to download the Beta. But clicking on it does no good, as you don't have permission.

Seems like most people dislike this update. I'm contemplating switching to a different weather app, but I'm definitely used to this look on TWC app on my iPod touch.

So, after this update aka installing a new version, I now get stupid locations that I don't want. Additionally, when I log in to my weather account to set my preferred home and work location then save it, the app seems to disagree with my choice of home and work and chooses different locations for me.....EVERY TIME. I also cannot remove the location it chooses on the main screen...you can see the option to remove location, but it's grayed out and useless. WTF chuck....not diggin this update/new app at all....

Oh So you moved here from Neowin? Only know because I live near Greer, SC and remember you lived in Greenville.

Good to see it is updated. Got a working radar again but at the cost of a working live tile. Damn.


Live tile worked for me, only for a few hours though. : / wtff

Exactly. Worked for me only for a few hours and it stopped. Too bad. And I liked the new design so much :(


Looks great but no live tile, which is a real shame.

Too bad TWC is insanely inaccurate

I think I'll keep both versions installed until the new one works out the kinks. Then I'll delete the old one. I don't mind the new look. I just want more control over my info (deleting ALL locations, adding accurate location/addresses, etc).

At least the radar works now. Amazing weather is accurate and tells you how many inches of snow your getting so far its right on.
Weather channel never did that not 10 days in advance anyway, now it does so we'll see who's more accurate.

It seems the live tile has stopped working on it. It was working after I installed the app. Anyone else have this issue?

Yeah. Same.
Even after reinstall and soft reset.

Yep, same here. Live tile worked for a few minutes after I installed it on my 830, and then nothing. Tried reinstalling the app, but the live still isn't working. Also tried installing it on my 1520 and the live tile isn'tworking on that phone either. Will keep using the old Nokia (now Microsoft Mobile) version of The Weather Channel app until this one gets fixed. I also use Appy Weather.

Live tile does not work!!!

Live tile doesn't work.App causing resume issues.

Like the live tile interface... But tile refreshing is still an issue. Developer should look at it urgently. If tile doesn't work ok, app become a bother. Secondly, feedback link takes you to win store, opens weather channel beta, which you cant download ....permission restrictions.!!!! I suggest he takes it out store, works on it proper first become we are able to download. Reason, users can't reach developer or even comment/give feedback.

Doesn't support live tile. Just showing the logo in tile.

This was the only live tile radar app that I know of and the update broke that feature. Does anyone know of any other weather radars with a wide live tile?

No live tile. Going back to AccuWeather.

It does have some freezing issues so I hit the Feedback button and it took me to the Beta version in the store to leave feedback. Any chance they jumped the gun a couple days ?

It says you can take a picture and share it. I can't seem to figure out how. I bet that feature is broken.

Does MSN Weather actually work for some people? I thought the whole nation lives in Redmond, according MSN Weather. I know it won't let me change the app's preset location, even though Windows location settings work fine in other apps, and even though MSN Weather Online knows I live in Plymouth, Indiana. I've been attempting to change MSN Weather's location from Redmond, Washington to Plymouth, Indiana every day since I installed Windows 10, and every day, after giving a few hours to do something, I close the app, which has never gotten past the step of responding to my change, even after uninstalling and reinstalling the app. I thought maybe the programmers forgot to remove hard-coded test data before releasing it.