Weather Flow app removed from Windows Phone Store [Update]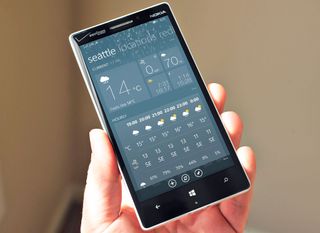 Update: We have now received a note from Weather Flow's creator Gergely Orosz on why the app has been removed. In short, it's because of a lack of revenue due to his weather provider increasing its fees:
Original story: One of our favorite weather apps for Windows Phone, Weather Flow, is no longer being published in the Windows Phone Store. So far, there's no word on why the app has been pulled from circulation.
The app's creator, Gergely Orosz, launched a major 2.0 update to Weather Flow in October 2014, with a beautiful new user interface and many other new features. However, the app has not been updated since a few bug fixing patches in November and now it can no longer be downloaded.
We have contacted the developer via email but so far we have yet to hear back from him about the reasons why Weather Flow is no longer being published. He has released a number of other Windows Phone apps that are still available from the store, including Cocktail Flow and Flashlight 7, so that would suggest that Orosz has not completely abandoned Windows Phone. We will post an update when and if he responses to our inquiries.
Thanks to John for the tip!
Windows Central Newsletter
Get the best of Windows Central in in your inbox, every day!
I'm sure it will be back...if they are pulling the app the developer will surely inform beforehand

You would apparently be wrong ☹

MS hardly oriented to cheapest phones only, will cheapest phone user bring some revenue to app developer? No. So I think it's a right move, developer need money too, but developing apps for cheapest market segment is absurd.

The only reason I went with Amazing Weather HD over Weather flow (loved the design graphics!) is because of Weather Flow's lack of radar.

I love amazing weather HD, been using for 2 years. No issues

That is a terrific app. Especially on the lock screen.

I loved the look of Amazing Weather but it often displayed drastically different temperatures then other services. One day it displayed an 18°f difference. I had to ditch it and now I use the weather channel

My go-to also. Been at the top of my start screen for several years.

I use accuweather for the live tile. Amazing weather for lock screen.

I hope the developers of Amazing weather HD won't abandon their weather app

I don't think so...they are working ok on a closed beta right now to upgrade their app. Been using the beta since they started it

Yes they are going good with the closed beta..been using that since it was announed..but they are also using weather underground so its also in the same boat as weather flow. little worried as lock screen is the best of any weather app

That was my immediate thought as well... Side note: having seen some of the weather apps for iOS8 (finally got the wife a newer iPod Touch) good WP devs could do well there. Probably the same with Android.

Guess Apple has paid underground to hike rates on developers who develop for windows phone so they can pull their apps. Can anyone reach out to underground to see if this app is on android, Apple and see if undergrounds rate increased for them as well. I honesty can't see why they would charge so much per month anyway when there's no in app purchasing that would allow the developer to continue making money after a user has made their initial purchase.

Well this developer talks about the cost of the data as being unworkable with revenues. I wonder if Amazing (or any others, for that matter) are also dealing with this issue.

I hate to say it, but can anyone verify this rate increase, I'm wondering about truthfulness.

Yes, the rate hike was pretty big. At 1M+ calls per day, he must be on a custom API pricing plan since teir online pricing stops at 100,000 daily hits; anything more requires negotiating with their sales team. Just 100,000 daily hits costs $400/month if you want data that includes a 10 day forcast.

More than likely a store bug again like Rudy huyns apps

This. Simple and it works.

Mostly the live tile l. I hardly go into the app for more info. I love the live tile.

I purchased weather flow. But use msn weather. It's unfortunate this had to be pulled though.

Hope it was temporary removal. Btw can anyone suggest me a good weather apps besides that blue skies.

I use weather premium, hasn't got anything except for a very good live tile (although renders incorrectly sometimes), but the best live tile I have seen.

I like Appy Weather. It looks great on the lock screen too.

I love Appy Weather. Feature filled and customizable. Really like the live tiles and have had no issues with the app. Well worth the price. It uses the same forecast.io model as does Blue Skies.

MET Office..... Although possibly not as aesthetically pleasing as this app. But I love it.

Appy Weather, great app. With Bing image of the day, looks amazing.

I also recommend appy weather. I hunted everywhere when I began having major issues with Amazing Weather HD (with no response to emails for support or feedback for the beta), and found that I like appy better anyway. It's gorgeous and accurate and the lock screen is very informational and quick and simple to read, but not intrusive. Well worth the cost (and I'm cheap).

Plz go with weather to go, hv tried all weather apps, settled with this one! Ull know why when u install it! Its the best, has so many locations to choose from( even antarctica- mcmurdo station!) accurate weather, best lockscreen pics ive seen nd updated regularly!!

Weather To-Go of course :-) Check out the ratings for your region.

Yes right! Weather to go is the best!

Actually, this has been missing since more than a couple of days ago.... my live tiles were not updating on the 930, and I went for a reinstallation.... and could not find the app listed at all.....!!! The helper app for the homescreen though seems listed (last I checked)!

Read again... The article has been updated...

thanks.... but doesn't change any of the things that I observed (and wrote) ..... only difference is that now I can find it and it says not available :(

He needs to add an in-app purchase for yearly weather info and see how that goes down. If people love the app they might subscribe.

I support this 'good idea'™

I agree. It may be worth the subscription especially if Gergely continues updating the app and adding more features, and the weather is accurate in your location. But for Weather Underground to ramp up their subscription that significantly to those figures is as bit rude. There are alternatives to choose for a provider in Weather Flow. It'd be interesting to hear how OpenWeatherMap and forecast.io compares in cost. Gergely has crafted a very nicely designed and usable weather app. A shame to see it go.

@realwarder:
Sounds like a good idea, but certainly won't work in this case. Because aside from a few peeps among the Windows Central crew the general folks hated the app after the 2.0 update, which I couldn't agree more on. After the update the graphics looked like a cheap iOS weather rip-off (sans animations). Before there were gorgeous looking pictures for every weather condition.
I even contacted the developer and suggested to bring the pre-2.0-design back, because the old version obviously sustained itself (back then).
They didn't answer and (sadly) didn't not revert. So it comes as no surprise to me that sales dropped after the 2.0-update.

yr.no weather API gives you free weather data .... EDIT: yr.no is unique in Europe because of its very detailed weather forecasts and its free data policy. yr.no was released in September 2007, and quickly became a popular site in Norway. It is now the fifth largest weather provider online in the world. What can I find on yr.no? yr.no offers weather forecasts in English (in additon to Norwegian Nynorsk and Norwegian Bokmål) for more than 900.000 places in Norway and 8.3 million places worldwide. Detailed forecasts on yr.no: Hour by Hour Long term forecast Advanced Map Sea and coast In addition to the weather forecasts, yr.no provides news and facts related to weather and climate, in Norwegian. Weather data Weather forecasts on yr.no are based on data provided by Norwegian Meteorological Institute and its international partner institutions such as European Centre for Medium-Range Weather Forecasts (ECMWF) and European Organisation for the Exploitation of Meteorological Satellites (EUMETSAT). Api.met.no api.met.no/weatherapi is an interface to a selection of data produced by the Norwegian Meteorological Institute. The data is available for use under conditions described on http://api.met.no.

I use yr.no provider in Forecast app on my phone and found it very accurate, at least in Croatia, where I am from.
If it's free, I suggest the developer to go with it!

Great. Another app added to WP Store.

And yet there are many broken, never updated apps floating around the store.

@scdkad:
I assume the developer wanted to make an example. But given their history I don't think you can count it as a positive example (compared to the developers you mentioned who abandon their apps), but maybe they wanted to scare users they might draw all of their apps.

That's a shame it really is one of the best weather apps out there, I would gladly chip in to help them making extra revenue

Yeah.... Poor developer... :(

Forecast is good. You can select either forecast.io or weather underground as providers.

I think it's forecast.io and yr.no?

Why not try making it a universal app and see of you get additional revenue form 8.1 users.

Sad story really ..hope he return with another good app soon

Cocktail Flow by the same developer was one of the first WP7 apps available at launch. It's still pretty much the same and doesn't show any signs of ageing - it just shows how good the developer is!!!

@FredBloggs007:
In fact it is. But its unbelievable that there are the same developers behind those apps. Version 2.0 of Weatherflow actually made the impression as if they sold the project off to another developer.

So sad to hear was my favorite weather app until things stopped working live tiles in particular. Now I know why weather data cost too much for developer to keep using. using MSN weather for now.

That is unfortunate, respect to the developer for funding it out of pocket for as long as he did.

Is there not a free weather data provider?

Weather Flow still working on my mobile.....

Never used Weather Flow...always used Amazing Weather HD (now I am part of the beta testing group for their newest version of the app) and MSN Weather.

Btw, what's up with that beta? I'm part of it too, but it seems that they stopped updating...

Woa! I didn't know the weather information had a cost. I always thought they got the data from governments or something like that.

Governments do not provide APIs to access the weather data.. Or even if they do it is difficult to collate data from more than 200 countries across the world. So apps have to rely on weather companies like Weather underground and it's costly

The Weather Channel app has really stepped up it's game.

This is a VERY, VERY bad sign for Windows Phone. When successful apps have to pull out because their cost to administer is greater than the revenue they generate, there is a serious problem. I hope that my favorite weather app, Appy Weather, does not suffer the same fate.

This one has nothing to do with the state of windows phone.

How so? If his business model is based on continuing revenue from sales of the app to keep the app running - and it has been one of the best reviewed WinPhone apps for a couple of years - his sales will reflect the growth or lack thereof of Windows Phone. Sadly, it is a case of "lack thereof." Or, if he is getting hit for a charge every time the Live Tile updates, perhaps it is a deeper issue with the economics caused by the Live Tile UI.

It has EVERYTHING to do with the state of WP. The developer clearly stated that he cannot continue to support the app because he's not making enough revenue to do so. Read between the lines. This year we've seen a CLEAR movement of developers pulling their apps for various reasons. We haven't seen this trend before, it tells a LOT. Every app pulled (realistically in a sea of very few as it is) contributes to the damage going on. Read between the lines.

@Mindi B:
No, in THIS case it ain't Windows Phone's fault.
If you suggest people read between the lines, then you need to care to read between the lines more CAREFULLY: Everything was fine with the app (constant stream of revenue that sustained the app's costs) until the developer decided to break a once gorgeous app with a unbelievably ugly update (2.0).
From there everything went downhill. The reviews sank from four or five star-average to one or two stars. So it's no surprise that new customers were scared off, thus breaking the cost-/revenue-balance that worked before the update to version 2.0.
Before the update Weatherflow was one of the most gorgeous weather apps I had ever seen, afterwards it's design just looked like a cheap iOS weather rip-off (without the animations). I even contacted the developer to bring back the old version. But they didn't answer and didn't do anything else (up until pulling the app).
So I disagree here: A developer making a bad move and thus breaking a FORMERLY successful app, can happen on any eco-system and is neither Windows Phone's nor Microsoft's fault.

That's a lovely exuse, but it doesn't address the greater picture that I mentioned - that a growing contingent of developers are pulling away like we've not seen before. I've seen more stories about apps being pulled this year for WP than I have since WP7 first launched.

@Mindi B:
And I'm not suggesting anything else (in the general picture). There has been a painful withdrawal of apps citing too little user engagement to justify the existence of an app (mainly banking).
But in this particular case I clearly see it's the developer's blame, because before the update to version 2.0 everything was just fine about the app.

I was unaware of the update and resulting tanking of review status. That's good information - thanks! Still, if new user revenue is required to support old users...it's a bit of a Ponzi scheme, then, isn't it.

@Richard Durishin:
Your welcome. Sadly with the withdrawal of the app I can't prove my description, but have to recount from my memory. But that has exactly been my observation. I was a dedicated user of the app for years and back then the store-ratings were full of praise. When the update to version 2.0 came in, the app wasn't the same anymore. In the past it had gorgeous pictures of beautiful panoramic landscapes that reflected the current weather conditions (see an example here: http://www.windowscentral.com/weather-flow-picks-transparent-live-tile-w...). After the update there was only a bland blue or grey background left. So it was a 100% different app compared to before. And that's why users hated it from then on.
Might be that the weather information on-screen was more customizable then in any other app. But that's not what people, with the exception of Sam Sabri, who lauded the app beyond my comprehension, wanted.
Regarding the revenue: Didn't know that either beforehand. Yes, sounds like a pyramid construction.

Was this the one that used to have the 'Metro' option where you would swipe upwards and the screen would 'fold' up to either realistic graphics or a metro theme? I used to love that, but i think it got lost in the last (rare) update. Or am i thinking of another Weather App? :/

@Jupast.
Yes, it WAS. Before the developer introduced the ducking ugly update to version 2.0. The old Weatherflow was one of the most beautiful apps I had ever seen, but after the update there was nothing special left.

Another one bites the dust..

@abond32:
But it was the developer's own fault.

Sadly weather data is not cheap, imagine that is the reason why it was pulled. Edit: Yup, just quickly skimmed through the article. Sucks they (weather underground) made it cost prohibitive to maintain the app... $1500 a month is not cheap...

Wonder if they upped the cost for iOS and Android?

@scdkad:
Maybe not in the same scale. Because John mentions that the data-polls for live-tiles are an enormous part of the requests.
Still I blame the developers. Before they introduced the ugly update to 2.0 the balance of cost and revenue seemed to work just fine. After the update the reviews sank to one or two stars, thus scaring people off from purchases.

He obviously didn't look very hard if he thinks that they're aren't cheaper alternatives when it comes to Weather APIs. OpenWeatherMap is much cheaper, and Yahoo Weather is free... Not to mention that Yahoo Weather pulls their data from Wunderground.

True, some companies do like to charge a crazy amount for the data unfortunately...

Nice to see you have no fucking clue.

sigh....another app removed, what is that 15 in the last 2 months ? I didn't use this app but, this is geting old, the last batch of apps affected me directly. I really hope Windows 10 and Windows 10 for phone resolve this. If the sales dont go up for WIndows Phone in the 6 months after release, I will be finding a new platform...and I love WP... WHen you see apps come out and the dev says they have support for Android, iOS and Amazone fire but, no WIndows Phone it just makes this even worse (I have seen 5 apps claiming they support the Fire Phone and Amason tablets, including BOA and MLB)...

Supporting Amazon Android is easy, it's the same apk. That's nothing special.

Many Android apps are running the back-end for Google Play Services. They're rarely ever the same apk.

So you totally ignored the apps that have come to WP over the past two months. They have been posted here, you know....

It's a money issue, nothing to do with WP.

@eric12341:
Thank you. It could have had something to do with Windows Phone, but in this case it didn't.
It was the developer's own fault, because with the update to version 2.0, he turned content users who marveled about the beauty of the (old version of the) app, to enraged users who hated the (new version of the) app.

If we start losing weather apps too, there wont be anything left.

So why not use yahoos weather data if its free?

Too bad. I use Amazing Weather. Only complaint is that it only updates once an hour at best. I would like it to update more frequently. Maybe this would result in the same problem. More hits for more frequent updates result in higher fees?

I didn't realize weather data cost so much to use.

Someone has to pay for the super computers it takes to guess the weather.

At least he is honest and telling us why but it makes since though

@elitlibra:
It looks like that in the first place. But my impression is that he spares the second part of the truth, which is that he scared off users with the ugly update to version 2.0, resulting into the escalation from praise-only reviews to almost only enraged reviews after the update. That, of course, scares off potential buyers.

Instead of pulling the app, why don't they look for a different weather provider?

So I assume since it was a money issue he will be discontinuing the apps service as well. :(

It's expensive to make apps and use services. I wonder if his Live Tile mention is unique to Windows Phone (for example, looking at Widgets on android, and those notification apps that I'd assume also make requests). In line with this, I received an email for one of my apps, furious that I had ADs with an IAP. I'm not saying any and everyone here will agree with me, but htis is a prime example that IAPs and straight up purchases does not cover the bills, shoot, ADs themselves are fractions of a cent. This is also another signal of a couple things for the platform. There aren't enough interested users, and growing user base, to seemingly justify some bills for individuals such as this. These cases become the prime example to larger business to not dev for the platform, grown continues to be slow or decline, and that self-feeding cycle continues, "WHERE ARE THE APPS!?" -> "WHERE ARE THE USERS!?"

There is no way that Live Tiles or widgets make requests to the service without control from the app/developer. They could easily add code to control the polling of the data to within minutes, hours, etc. Posted via the Windows Central App for Android

Yeah, but, from the user side, if you are comparing two weather apps and one updates - at most - every 30 minutes and the other updates - at most - every 120 minutes, which one - all else being equal - will you buy?

I'd love to know if he was already using a caching proxy, or what thoughts may have gone into modifying the service side to reduce costs. 1M hits/day seems crazy. That'd be what, 33,000 locations every 30 minutes?

For many APIs, caching their data is explicity against the Terms of Service. At a quick glance, I don't see such a restriction in the Weather Underground's API TOS, but I'm guessing it would be frowned upon at the very least.

Weather Flow never updates live tiles anyways. I paid for the app and its been pretty useless for a few months. Also story doesnt even make much sense...dev gets price hike with weather data, but blames the community? Why not use other data services? Sounds to me like the problem is scaling issue...wouldnt the problem be significantly worse if the app had more users?

I know the feeling. My app Football Ultras (cough cough which has never been reviewed by this wonderful site cough cough) is in the same boat. I've forked out nearly $2k in data fees over the past 3 years and have barely made $200 from purchases and ads. I can't support this for any longer and it'll most likely get pulled after this season or possibly I will change to a cheaper data provider and lose a lot of features. Sorry to hear weather flow has gone this way because it was my favourite weather app. I loved the live tile design. I can't believe weather data is that expensive though. Sheesh.

Nooo. It's my favourite weather application! I hope it continues to work if already purchased, but that seems unlikely.... :( so sad.

Sad, has been my weather app since I started using Windows phone but running at a loss is not good so I understand

Buy the app. Any app you use and support the developer.

Weather data for the US is basically free (forecasts, models, radar, etc.) from USGov websites. Outside the US it gets expensive, especially for radar and model data. If he focused on the US he could continue without the monthly fees ... unfortunately, the WP market in the US is very limited.

Oh the shock and horror.... Another App gone. I'm so over it.

This is my favorite weather app! It's in the third row on my home screen. Say it ain't so... :(

A logical reason to pull it, unfortunately I use it. Time to find something else.

The problem is people want the best for free and in today's market that is getting extremely hard to have. Either you get adds plastered all over the screen or you pay a subscription fee or a large price for the app itself. Developers like this who have stuck with it paying out of pocket for as long as they have just to keep the app alive should be praised not ridiculed like some have here. Some people think that maintaining a app is all fun and games and I know it's not that easy to do. Hopefully the Developer will find a way to bring it back and remain profitable at the same time Cry me a river then build a bridge and get over it

You're absolutely right that a developer who's fighting hard to keep its app alive should be rewarded and not ridiculed.
But in this particular the developer IS the one to blame, because he developed the app in a 180-degrees-opposite direction from what people wanted AND paid for in the first place.
To underline my point: I would be willing to pay for the app a second time if the developer brought it back in the pre-2.0-condition.

@realwarder:
Sounds like a good idea, but certainly won't work in this case. Because aside from a few peeps among the Windows Central crew the general folks hated the app after the 2.0 update, which I couldn't agree more on. After the update the graphics looked like a cheap iOS weather rip-off (sans animations). Before there were gorgeous looking pictures for every weather condition.
I even contacted the developer and suggested to bring the pre-2.0-design back, because the old version obviously sustained itself (back then).
They didn't answer and (sadly) did not roll back the app. So it comes as no surprise to me that sales dropped after the 2.0-update.

Agreed. The app went backwards in quality UI and other apps like Blue Skies and Appy Weather keep getting better. This was bound to be the eventual fate.

Bummer, this app has run my lock screen for quite a while now. Had awesome configurability.

he could have remove weatherunderground as a data provider and continue with Openweather and forecast.io instead of removing app :(

See, I can completely understand why he would pull the app for this reason, and I respect him for giving us a reason why he had to pull it. Its when devs pull their apps and not inform us as to why they did is what irritates me.

All this talk about weather, got me looking at different apps. I just use the Microsoft Weather app. Weather is so hit and miss in many areas, like mine, that I use it to get a general idea for the day. So my question is: If this guy can't stay in business because he is paying 1500 bucks a month for data fees, how does the developer of Weather Pro stay in business? That app is free and he uses Weather Underground as well! Is Weather Pro some kind of loss-leader for Metro8(the developer)? Or, is the excuse from the Weather Flow developer BS. Can someone explain Weather Underground's pricing structure here http://www.wunderground.com/weather/api/d/pricing.html and how it might apply to Weather Flow? I just don't see how he is getting to 1500 bucks a month.

The app is making too many calls for tile updates. If its making a call every 30 minutes to update a single tile plus a couple of calls when users open the app it's already 50 calls per user every day. It's easy to go over that 100,000 limit and into other pricing tiers.

Ah ok, I was wondering how that worked. So Weather Pro must be doing updates every few hours? How are they able to stay free do you think?

There are ways to deal with that. First example you could cache weather data by zip code on your own server so you don't call their API for every user in the same area

No great loss! I tried to communicate with the developer about a text size issue that overlapped the text making it unreadable but never received one response. So I went to Amazing Weather HD and found it to be a great improvement over weather flow.

I have always wondered how the developers of weather apps make money. The subscription model that all weather providers follow doesn't make it profitable for an app that you only pay once.

Microsoft should foot the bill for this- they can easily pay it and I think these kinds of apps are important to the ecosystem. If banks and such don't want to support it thats one thing, but if the only problem is cost than I think it is in MS best interest to fund this app. I'm not suggesting MS bail out every app, but just ones like these that are worthy.

You can't really be serious. Just think a step or two beyond what you have typed. Microsoft doesn't need to pay people to pollute the store with redundant apps.

Microsoft has it's own weather app and it's not like weather flow is a huge app that needs saving. There are plenty of weather apps and the users of this one are commenting here saying the 2.0 update screwed it up (probably the reason it's not selling as well)

A bit off topic here, but I'm feeling like such a traitor because I'm absolutely loving my LG g3 compared to my L1520. I wish MS was more "with it" because I loved the Lumia 1520 as a phone and the OneDrive integration but there's no denying that this Android phone is LIGHT YEARS ahead of WP. There's an app for everything I need, including printing from my phone. I can't believe how much more productive I am with my business now that I reluctantly made the switch! I'm not posting this to rub it in the face of MS, but 1) it's just the truth and 2) I hope MS gets it together soon because I would love to come back but the longer I'm away and integrated with this platform, the harder it's gonna be. The ball is in your court MS! I'm literally begging you to win me back but time is of the essence! Posted via the Windows Central App for Android

Paid for this app but stopped using it because it broke my live tiles. Sad to see it go

Microsoft should help developers to keep apps and games in the Store. There are many developers with financial problems.

Weather Flow? The one which I paid for and since version 2.0 is huge pile of crap, with not working lock screen updates and weird interface? I won't cry because of it.

It was an amazing app before the update and turned into a horrible mess after. I think it's better it got removed from the store (did not worth a cent).

Well, that's all about the forecast data provider who always wants more money for their "services", right? And that's exactly what we wanted to avoid. Therefore, our applications Meteoservis does not use any of these thieving services, but works directly with the numerical model outputs. Sure, it's a bit more difficult and requires own "server", not just an app, but it is perhaps the only way out.
Meteoservis is currently targeted to Czech and Slovak territory but we plan to extend the service to whole Europe soon. Look at http://www.softimage.cz/en/products/meteoservis/description/ for more details - if you like...

I guess Moweather takes its spot.

Fuck! Legszebb, legjobb alkalmazás ebben a témában.

It would probably be cheaper to cache the weather data in the cloud using Azure or AWS so instead of making separate calls from everyone in a specific area you make one call at the most for a certain period of time

For many APIs, caching their data is explicity against the Terms of Service. At a quick glance, I don't see such a restriction in the Weather Underground's API TOS, but I'm guessing it would be frowned upon at the very least. Furthermore, Azure and AWS are not zero cost, especially at the levels Gergely indicated he was seeing. For him to invest the time and effort it would take to make a reliable caching service on Azure, and _maybe_ save a few hundred dollars a month, it's likely not going to make financial sense. API costs are definitely a limiting factor on indie apps, especially ones that don't monetize well. We've stopped development on a number of our app ideas for this very reason.

Anybody looking to fill the gap with a new weather app might want to check out my "Weather To-Go" app. Been around almost 3 years, I update it quite frequently still, it is very configurable, and I care about customer support. 5 day trial... Give it a go.

Great app indeed! I reccommend it!

Maybe Gergely could find another data provider for the data. That is a hefty price jump indeed.

MICROSOFT PLEASE HELP IT IS A VERY STILISH AND AWESOME APP AND EXCLUSIVE....

Give the app for free --- redevelop, then revenue might come in thereafter.

You lack reading capabilities, right?

I'm sure the app could find another weather provider, there are alot of them. Your mis-interpreted what I meant, maybe you lack knowledge in the english language, where did I say what you assumed I said ?

Oof, I completely understand where he is coming from. My app, GetOutCast, is currently USA only because access to good weather data is available for free from our government (from NOAA). I get asked all the time to expand internationally, but run into the same problem, good weather data costs a ton of money. Yes, there are free alternatives, but they all have limitations - usally they only give a few days of really good data but then it becomes highly generalized (e.g. I cannot come close to giving hourly forecasts), or the information they give on a daily basis is painfully basic. Additionally, just like this app (that has been my favorite weather app), the live tile calls are insane, almost 80% of my traffic is for the live tiles, despite the fact that most of my users use the website, not the app (most of my audience does not have a WP, and I do not have an Android/iOS app). Fortunately, my costs, at least for the next year are quite minimal for another year (thank you BizSpark) but I am not sure what I will do come next April and my costs shoot through the roof.

Could always pull data from APRS. Sure there's a ton of shit to sort out, but its least its free for anyone to use. Ham's wouldn't be happy to see that people are charging to see their station, but sometimes it just has to happen and people need to deal with it. Apps are free, but application data is not always free.

Huh, I had never come across this before, thanks for sharing. However, APRS seems to only give current conditions and not forecasts for what the weather will be tomorrow or 5 days from now. Or did I miss something?

Its more of a live data system. Some users actually post forecasts, but its good for needing the latest information. Weather Underground pulls data from them too (anyweather station that starts with ARPS is one of them). It's more geared towards a mass BBS\data system that operates over packet that handles mostly GPS information and Weather statistics.

I have this application installed and it continues to work, for now...

Me too. Maybe it will continue to work until the montly subscription expires or I don't know :/

Does anyone else use Vieather? I love that app! This dev should look into other free options. i applaud his desire to want to get the most accurate info in an app, that's a righteous goal, but can't do it at such a massive loss.

Weather underground costs so much

I have seen several apps have monetization issues before, on all platforms. The main issue is that many developers are not aware of the intricacies of monetization and most leave a lot of money on the table. There are no blanket answers, but I find that most situations like this can be solved with some ingenuity, experimentation and perseverance. I prefer to develop on Windows Phone because I have found that, given the same effort the ROI is about 30-1 of the other two platforms combined. And yes, I do make ALL my income from my Windows Phone apps. I have reached out to this developer and offered to help him with this issue, but have not heard from him yet. I also extend that offer to all other developers on the platform… You can find me on twitter @atleyhunter

I Have this App and will never delete it its priceless now.

This sucks, I reset my phone now I don't have this app that I paid for

Well, it looks like it has finally ended. Last update: 1:05am, May 19, 2015.
Windows Central Newsletter
Thank you for signing up to Windows Central. You will receive a verification email shortly.
There was a problem. Please refresh the page and try again.