WeChat for Windows Phone updated with a handful of new features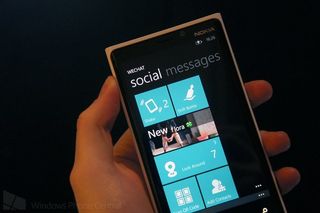 WeChat is a popular communication and social networking app that is available for both Windows Phone 7.x and 8 users. The platform is most popular in China, Hong Kong, Taiwan, Southeast Asia, and India boasting over 300 million users spread around the globe. The company started in China, but has recently been working hard to expand its international membership using brand ambassadors like Lionel Messi. The latest update for Windows Phone helps close the feature gap compared to Android and iOS. Let's check it out.
The last big update for WeChat took place in early February. Back then we gained free HD calls, support for video messages, and the ability to play audio messages in handset mode to keep them private. That update was to version 4.0, so what do we get in 4.1? This is what:
Invite your friends to a WeChat group chat via QR code
Support sending multiple images
Navigate to your friend's location
Easy to cancel voice messages sending
Click "+" to send screenshots quickly
Support setting font size on chat page
Support for Thai and Portuguese
At this point in time there are more chat apps and messaging platforms than most of us can keep track of. You'll of course be using the one where most of your friends are on. So for all you folk using WeChat what do you make of this latest update? Anything else it still needs? One advantage is that this app is available for nearly any platform you can think of – iOS, Android, Windows Phone, Symbian, Blackberry OS and yes, even BB10.
Grab WeChat for any Windows Phone by going to the Store, using the QR code below, or swiping to the right in our app.
Thanks for the tip Er. Akshat and afgzee!
Taiwain should be Taiwan :)
I'm guessing it still can't get stickers from a store like on iOS and Android? I wonder why is that for WP.

i wonder if the bug was fixed where you could not make video calls on WP8.

Another very useful feature: you can post text only update to moments now. Just press and hold the post button.

gee...thanks a lot. I've been searching for that feature, thought it's still unavailable

I think wechat is better than line and whatsapp only we need more people use this or im wrong?

Whatsapp is used more in the western hemisphere while wechat is eastern hemisphere.... Jus like google and qq
They are catered for different markets
But they are generally both the same app, just with different feature sets...
Ps. Last whatsapp update made it awesome... Its fast and the small UI tweeks were a step in the right direction... Still a long way to got but it's getting there

i know that but i mean whatsapp only work for msj and i think thats sometime bad, very bad... Wechat won for me, for these good features (HD VIdeo calls, video msjs) the only problem is "all" use whatsapp and thats sucks

I think it is much better than whatsapp.

Line has better stickers, in my opinion. :)

WeChat has the better interface with custom backgrounds, animated emoticons and the like. But whatsapp is very fast and stable now.

Yeah the last update its cool but whatsapp no support nothing only msj :S

I though so.....Whatsapp doesn't support video chat.......right?

Yeah! thats why for me We chat its better! the problem is all the people use whatsapp :cc

Update not live in wp7.8 store... :(

Finally my name appeared.. Thanks sam..

Is it only me or does other people have the problem that they can't make a video call without making an invite?

Even with invite it doesn't work.

Been an issue since 4.0.1. I contacted them numourous times about this issue and they never get back.

I've been using this app for a while with my wife who has an iPhone 5 just because of the video chat (Skype has never worked properly between our phones but this works perfectly). The only issue is this one. When I go to her contact I can invite her to a video chat but it tells me we can't because she hasn't messaged me in 10 minutes or something like that? So she is always the phone who has to initiate the call.

I know this is old, but isn't it actually swiping to the left? My finger moves to the left so just saying.

100% wechat supporter here... Out of all the messaging apps this one towers above and beyond...

Proofreader interopbyt here to inform you that you said "You'll off course be using the...". Might want to fix that ;)

can we trust China with our messages? how do i know this is not some kind of backdoor?

Can we trust the US or any country to be honest?

You don't trust that you can not use it. The company chairman who build WeChat became the richest man in China yesterday.

That doesn't say much. Most workers in China who make around $500 a month think they hit the jackpot.

Also, I believe messages within China are separate from international messages meaning that they can't be blocked or censored.

@rahul4aug:
Funny that you say this right after the NSA methods got public ;)

somehow i can still trust US but trusting China is completely different. I am more worried about secret backdoor access they might ship with the code.

I think wp8 apps are sandboxed. The only concern is they may take all your posts, as US is actually doing everyday.

the company has been known for being part of the chinese censorship program for a long time, but i don't care chinese government know i date a girl at red lobster tonight, i wouldn't talk about the f-35 weapon system on wechat though.

LOL....can you trust Facebook?

Main feature it needs is ability to post messages in landscape mode. That's something EVERY messaging sp needs. I make so many more typos in portrait mode.

I remember checking out this app a long time ago but leaving because it doesn't support landscape (on my HTC Arrive), so are you saying that it still doesn't support landscape mode even with this latest update?

The Windows Phone version still does not support landscape. I have used the Symbian version before and that version DOES have landscape. I haven't used the app for any other platforms to test that feature.

Can video chat between WP8?????

Are you sure? Me and my son both use Lumia 920. kept sending invitation back and forth........With Andriod and iPhone, no problem

The best messenger app on windows phone

There are so many chinese/philiphinos and all around asians in my area using this app. I live in an area where the majority of people are black too.
It is insane...

WeChat looks really good on WP8, but looks awful on Android/iOS

Just tested it... Video calling is working now

Good that would have been a deal breaker with me upgrading to a 1020 next month!

Got my 920 day 1 and after one week this feature stopped working which was a bitch slap since i got to the phone to use the front facing camera with this app

Update still not on WP7.8 :

I Can't Update Because In Marketplace It Only Shows Share Option And I Have A Lumia 710.
And The Version Is 3.4.6 Of Wechat How Can I Update.
Or Is This Update Is For Some Countries.

wew thank God! i can post now without a picture in my moments! i love wechat instead of line and whatsapp!

out of topic..hello guys havent u experience when pressing the two letters at the same time the screen will go big? and even how u try to press the back button it doesnt work unless u restart the phone. i dont know how to post this to microsoft problem! and i dont know also how to post a picture here!

I just created gif sticker on my pc, but I can't add it to wechat. Any idea how to add created stickers on wechat? Hmm

while using Not able send videos in lumia 520,, kindly suggest the method

PLS SHARE HOW TO UPDATE WECHAT IN WIDOWS PHONE
Windows Central Newsletter
Get the best of Windows Central in in your inbox, every day!
Thank you for signing up to Windows Central. You will receive a verification email shortly.
There was a problem. Please refresh the page and try again.