We're giving away an Oculus Quest all-in-one VR gaming headset!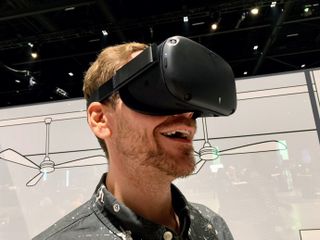 (Image credit: Windows Central)
Oculus Quest bridges the gap between Oculus Rift and Oculus Go. This is a VR headset with inside-out tracking, requiring no external sensors, much like the Oculus Go. However, Quest has 6DoF for an experience closer to what the Rift currently offers, yet without the need for a PC and wired connection. All the necessary hardware — including the processor, RAM, storage, and rechargeable battery — is worn on your head. This makes it a perfect solution for someone wanting to get into VR, but who maybe can't afford to shell out for a full computer system to power it.
So let's give away a couple! They officially release later in May, so this is a great chance to try to WIN one for free before you go ahead and spend the money ordering one. Keep reading to enter!
How to enter
The prize
This giveaway will have TWO winners! Each will receive one Oculus Quest all-in-one VR gaming headset!
The rules
There are multiple ways to enter, each with varying point values, in the widget at the bottom of this post. Complete all of the tasks by clicking each option in the widget for maximum entries and your best shot at winning. Keep in mind that all winning entries are verified and if the task was not completed or cannot be verified, a new winner will be chosen. The contest is open internationally, but any customs fees or taxes incurred during shipping are the responsibility of the contest winner.
The giveaway is open until June 4th, 2019, and the winner will be announced right here in the widget shortly after the close date.
Good luck!
We're giving away an Oculus Quest All-in-one VR Gaming Headset!
By entering you agree to our Privacy Policy and Terms & Conditions.
Windows Central Newsletter
Get the best of Windows Central in in your inbox, every day!
Thank you for the opportunity to win! Super excited to get this for my Son.

Seriously? It's stand-alone. That's the whole point.

Exciting stuff! I sold my rift a year ago as every time I wanted to use it it was a pain to reset my 3 sensor setup and all the boundaries that I simply stopped using it. also tripping and yanking cables sucks! Broke an hdmi port on my gtx 1080 because of the rift. looking forward to how the quest compares!
https://wn.nr/HPEB3j

As this would be my first experience with VR, it sounds like it could be cool as an all in one gaming device.

With game streaming it would be cool to still be able to also play games from PC. Could this be a future feature? Any way I look forward to the draw. Hoping for a win 😋

Would absolutely love to own this VR headset!!! I have never been able to try one because of price but I do research them a lot and daydream about owning one frequently.

Would love to win one of these, I was just looking at the Oculus Go for my two granddaughters for Christmas. Since I would have needed 2 was checking into layaway. Hope I win then only have to get 1!

Hey windows central I would really really really really really like the Oculus quest but I don't have Twitter so I can't earn more points. Like I said I really would like the oculus quest but the rules are the rules and I respect that. Hopefully you see this comment

Thanks for the awesome Oculus Quest all-in-one VR gaming headset Giveaway!

Super excited I'm glad they made the oculus quest, My bachelor party was at VR Hollywood so ever since that day I was in love with VR.

I have always loved to the idea of vr and am glad to have chance at owning a good headset.

Today is the giveaway day

Does anyone know where they announce the winners of the giveaway

It said in the widget but I have not seen them listed yet

They should announce the winners somewhere between 48 hours after the entries are over

But anyways I wish you all good luck and I hope I win a headset as well. I never got the chance to try VR and I watch videos on it all the time. I wish I can get my own headset but I can't really afford it so that is why I'm here with the competition.
Windows Central Newsletter
Thank you for signing up to Windows Central. You will receive a verification email shortly.
There was a problem. Please refresh the page and try again.