What is your favorite Windows Phone Navigation App?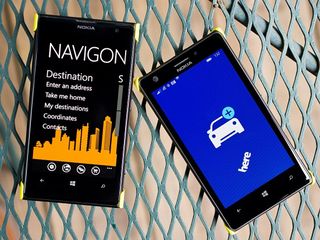 A conversation caught my eye over in the Windows Phone Central Forums where WPCentral reader jtsmak asks, "Are there any good Nokia Drive alternatives for Android?"
Jtsmak , for whatever reason, switches back and forth between an Android device and a Windows Phone. Having grown fond of HERE Drive on Windows Phone, jtsmak could pick up the Android version of Here Drive for about $10 but is curious if there are better alternatives.
While several good suggestions have been thrown out in the Forums discussion, it brings to mind a similar question. "What's your favorite Windows Phone navigation app?"
HERE Drive is a compelling choice but there are plenty to choose from in the Windows Phone Store. You have NAVIGON, Garmin StreetPilot, CoPilot GPS, GPS Voice Navigation and more. I think the apps like NAVIGON carry a slight advantage with downloadable maps. This lessens your dependency on a data connection as you travel but can gobble up on-board memory. However, most apps with offline maps gives you the option to download only the areas you will be traveling in.
So, what is your go-to Windows Phone navigation app? Personally, I bounce between Here Drive and NAVIGON. I tend to use Here Drive for short trips around town while NAVIGON handles longer trips. I'd really like it if one of these navigation apps had direct voice entry for destinations (hint, hint developers).
Let us know in the comments what app helps you navigate the highways and bi-ways. You can also hit the link below if you've got a recommendation on an Android alternative to HERE Drive to offer jtsmak (other than giving up and using Windows Phone full-time).
Windows Central Newsletter
Get the best of Windows Central in your inbox, every day!
George is the Reviews Editor at Windows Central, concentrating on Windows 10 PC and Mobile apps. He's been a supporter of the platform since the days of Windows CE and uses his current Windows 10 Mobile phone daily to keep up with life and enjoy a game during down time.
For a second I wondered how I didn't remember commenting here.

I own most navigation apps (paid or free) on WP and have now more or less settled on using Here Drive for the most part - -- No other app has a slower battery drain than Here Drive -- It keeps giving turn-by-turn directions even if it is in background or screen is turned off (I am looking at you Navigon!) -- The traffic routing and ETAs are really improved now (Navigon is still the gold standard on this though). -- Never a freeze/unexpected reboot when using it + In-Car bluetooth (I am looking at you Navigon!) What I still miss - The alternative routes that Navigon gives you and choose the route that you want to use.

One word to fix them all: Zune.
Get WP 8.x back to work with Zune. Rebrand it to whatever they want and voi'la!
I can bet that if Xbox (c*ap) Music service as whole ever beats Zune and WP 7, it will take at least 2 years, seeing the mess they're making.

HERE Drive for me as well. I was told that; while I won't find Google maps, HERE Drive is way better... and I was surprised to find that was true!

Here+ with the female UK voice.

I use here drive+ on my 8X, with female Spanish voice para practicar el Español.

Yes. Don't care if she won't give me street names... Love her voice!

I now say "motorway" instead of highway or freeway. "enter the motorway..." In her hot little voice.

Same here, but with announced street names. Not because I love hearing her voice but it's because the UK male version sounded coarse. The UK male voice without the announced street names sounded way better and I have no idea why Nokia didn't use this voice for the announced street names version. Hopefully Nokia will use that voice in a future Drive+ update.

Yes! I love the UK voice. It makes me feel important, lol.

You know what would be awesome? A HERE voice pack of Cortana :D "Chief, turn right"

Wow, I am very honor to see my forum post made it to the front page of wpcentral!! Thanks. Here Drive+ is not perfect, but I have been using other gps programs paid or free in android and there are moments that I just want to throw my Moto G out the window. I just want to enter an address and have a simple gps interface that is easy to control and read! None of them are close so far. For those interested, please follow my forum post, I will discuss what I found on Android so far. Please share, maybe there are some good apps out there? Nokia, please sell here+ on android and IOS. People need to know the power of Here Drive +. PS, I still love and use Lumia 520.

Copilot.. Have been using it since my WM days... Solid app!!

+920. The best navigation app. Feature wise even navigon comes no where near.

Copilot GPS. Consistently good

I use, here and waze. Both apps are pretty good.

Co-Pilot here as its just got everything in it now... Fantastic app...

Waze tends to be more accurate in USA

Waze drops the GPS signal all the time never had that outside with HERE maps

+1520 Here always gives me the long route

Does waze support landscape mode yet?

Waze is the default navigation app here in Israel. I don't know ANYONE who uses any other navigation app regularly, and it's the most accurate one as well. It became such an essential app in Israel, that once - when Waze's traffic services went down for a few hours - a lot of the roads in the center of Israel became clogged with huge traffic jams...

Interesting. Of course with so many users it should work very well.

That's because Waze is a company from Israel ;) Those people from israel know how to make navigation apps!

...nokia/M$ should have bought them.

I love Waze it saves me about an hour a day.

Here+. It works great here in Colombia

Here+ it's my choice. Colombia, beautiful country.

Here Drive+ without a doubt.

Here Drive works great for me. Have not even tried anything else. No need to.

I used here drive like 2 000 kilometers doesn't use so much network but battery die pretty quick it's a good app but sometimes it take me on long roads even if I make good settings

HERE Maps / Drive+. It gives me the best localization features.

I use Here maps/drive works great. I may try some of the recommendations in these comments.

The one you don't pay for

Hahahahaha we are cheap bastards

I would like to see HEMA maps on WP for off road use. But I use Here maps

Here, but they have to improve the maps in Istanbul, Turkey, some streets are missed.

I'd love to use Here but I'm using Waze because it reroutes me based on traffic and incident reports; warns me about red light cameras. I live in NYC, and a 'live' GPS is essential to get somewhere faster.

I'd also love a re-route option... Does any of the other GPS apps do that?

I saw waze some time ago in the Store and tried it out. The features of this service are pretty decent, though the user interface was absolutely not to my liking so I dropped it. If they would offer a more 'Professional' looking UI then I might return.

My eyes and ears. U need those to use an app :P but its here Drive + or waze for me.

I use Waze on a daily basis for my commute. Just have the map up, no navigation. Otherwise I like HERE Drive+, the fact it shows the speed limit is a big help, just wish it did lane guidance like the new Google Maps does.

Nokia/Ovi maps had lane guidance on Symbian. I was surprised that HERE maps on Wondows Phone doesn't..

Who drives the speed limit?

The speed limit feature is nice because you can see where it changes drastically, at least on major highways. Aside for the downloadable maps, it's the other thing I like over Waze, but Waze is still my go to.

WAZE - and if you haven't tried it, do so. It's free!

Agree, but the last update improved much on the battery drain problem - and like TechnoTim, I make sure my 1520 is plugged in

Agreed on Waze. I keep my phone plugged in while driving anyway.

Doesn't help on wireless charging with 920. And it keeps downloading the maps. Not good roaming around Europe. (see what I did there? :-)

Mine USED to be Here Drive+ but since 8.1 it doesn't work very well.

I hope that they update it soon. The biggest issue I've had is when I have voice navigation on, there's a really long pause between the navigation and my music resuming. Drives me nuts!

HERE Drive!!! I am from Buenos Aires and I have all maps offiline for my country. But also any part of the world...I was in US back in March/April with my wife doing our honeymoon across 4 states (California, Arizona, Utah and Nevada) for over a month. I drive 6100 Km (3800 miles) and Here drive never drive me bad. Even in long road trips (+500 miles) HERE tell me exactly where to turn, the proper distance, and the remaining time without doubts.

Same here! I drove from Kansas to California through Utah, Nevada, Arizona and Colorado, 100% relying on Here+, and it never let me down. It is almost perfect, even the battery usage is good (battery usage is very important when you are on the road for so long).

I use Here Drive+...simply because it offers accurate journeys and offline maps.
Where it falls down is that it doesn't present alternative routes when creating a journey. On Google Maps, three different journeys are presented - each with their pros and cons. We just don't get that option on Here.
Also, the traffic information isn't used to automatically re-route...which kind of makes it pointless (a smart navigation app will spot the traffic and then suggest a new route. My dad's 2008 Volvo has such a system built in....I just don't know why Nokia haven't implemented that yet).
If Drive wasn't free, I'd probably be a little disappointed. But it is, so I'm happy to stick with it.

Maybe now that they don't have to worry about the hardware division they may step up their game? At least I would hope so!

they have this system ....i had an n8 and i used the maps from nokia and there we had re-route and traffic information

It's pretty embarrassing for Microsoft that Nokia's old smartphone platform STILL outcompetes Windows Phone in some areas (power management, multi tasking, navigation!).
Maybe one day someone will make a smartphone platform that does the basics better than Symbian :)

Here Drive and Maps for ease of use, but I find Waze is more accurate in Canada.

Here Drive+ is excellent!!!

Here drive+. Super easy but does need Cortana voice integration

Hint hint developers, voice input for navigation for Dutch languge also please?!

I love Nokia Drive+ but man it burns my battery quick and sometimes the phone gets so hot everything just freezes. Maybe its just my 920 telling me to retire it, lol!

I shut my 920 off and the voice instructions still work, just no display. If you want to check progress on the map, just power back up. Runs way cooler that way.

What a good idea. Will try that

Thanks for the tip, but still not an excuse for why my 920 overheats for everything that I do from a game or watching video. Its around where the wireless charging coil is.

Here its perfect and free
Every time i go to some other country just download maps and I'm on the go :)

Here Drive or Native Bing maps. Not sure why people shit on Bing, it's never let me down.

if you look in the right bottom corner on bing maps you will see (C) Nokia (C)Microsoft Corporation

I've have had it wrong two times. I love it, but it just isn't reliable

here maps is great but, it does not support Republica Moldova and thats why I choose google instead.

what happened to Google maps ? dont they support something better in thier own OS.. I though Andriod had more apps ?

WAZE Especially if you are bored, the constant warnings about things coming up in the road are good to keep your focus. Even better if you have a co-pilot. I just wish WAZE had the Navigon interface with lane assist. +929

1. Here
2. Waze
3. Co pilot. (paid)
I uses them for different things. Here drive+ for daily use, waze when I'm driving in city's and more unknown destinasjons, copilot to plan a trip with via point.

HERE has served me very well. My only is the temperature my phone reaches. Once it starts getting hot it kills the battery. Last week I used it for approximately 2 x 1hr drives. It was baking hot in the car, and the ambient temperature did not help. It went on to battery saver on my way back. And the phone had been off between charges. Sadly, 8.1 seems to make it far worse. This time last year I drove for 6hrs to Cornwall, battery was still useable when I got there. Since update 2 on 8.1 the temperature has drove me potty. It gets warm and stays warm, even with very mild use.

I have heard of others having this problem but I have never had it...
I use it for hours every day as well.. AUS 925 edit; I remember when I first got my wireless car charger it got very hot... But then I realized that it was mounted near the heater air vent... So I moved it up higher and haven't had an issue ;)

You live in Aus and use a car heater?! :)

Navigon all the way. I use it almost daily and it hasn't let me down yet. It's not cheap, but they have it on sale from time to time. Transparent live tile option would be nice.

I personally think that the price for the Navigon App is way to high; especially the European version. They do not even offer to test it first. :/

Waze, installed the day it came out and haven't looked back ever since. Here+ sucks in the US

I like Here Drive for the city other wise I've been on vacation for 2 weeks. I've traveled over 1,000 miles and I've been using CoPilot the entire way. It's great and I haven't had any problems. I only use downloaded maps which is one reason why CoPilot is great. It's also accurate and has the look and feel of a real GPS.

Waze, hands down. Best that I've used, and it has unique features.

Voting Waze because of alerts and traffic optimization. Navigon has lane assist and nice signage. I want Here to be the goto, but only if I need offline access do I open it, and when I want to get a laugh when putting it in surfer dude English. I wish Microsoft or Nokia would have bought Waze instead if Google.

Here Drive when driving and needing a SatNav. The reasons is it has downloadable maps which are shared with Bing Maps and other Here programs, an it's free. There are a few features though that I've been wanting that have been mentioned as in the "works" but that was years ago. Things like a turn list and lane assist. Add those in and it'll be golden. If anything they should make lane assist an in-app purchase (turn list is like fundamental for GPS apps already, no clue why they haven't included that yet).

Turn list is there in 8.1

Waze, though on 8.1 it drains more battery than it gains while charging.

I haven't had that problem since they updated earlier this year..and on 8.1 as well. Soft restart ftw. I use it every time I'm in the car. Love the alerts and graphics better than Here+.

Could just be that my 920 is showing its age.

In the US, I use Waze 90% of the time. I like HERE's overall UI much better, but Waze it's by far the best I've seen at routing me around traffic, and includes times stopped at streetlights etc into account. If it didn't do that I would use HERE

I am a Garmin fan boy I'd say Garmin and then Here...

The app is nice, but it's CRAZY expensive and doesn't support offline maps. WTH? On iOS you get the equivalent app for free, and for the money we pay for the online only WP app on iOS you get lifetime offline maps. So upset with Garmin..

The app is VERY nice compared to Here Drive. I bought it before Drive was available, so the price is not an issue for me. If you set the route while connected it will be there if you lose data - out of luck if you change routes, though. The graphics re much better and the lane-assist it fantastic. It also tells you what side of the road the destination is on - so you don't have to remeber if it's an odd or even address and then look to figure which side is odd and which is even... I've had terrible experiences with routing using Here outside of large cities. As good as Street Pilot is, it's hard to recommend it at that price...

Which apps will reroute you due to traffic? I dont think Drive does that

Who can tell me how to make waze horizontal??? That's the only reason I set here drive as default.

It has been on their to do list since they released it late last year. Honestly, with my 1520, portrait works best for me. With 8.1, I can just swipe down from the top when stopped to check notifications and then swipe back up to go back to Waze.

Yeap, but due to the design of my hanger, I can't do that if I want to keep charging my 1520. Thank you, so it's not my problem, just a lack of feature. It hasn't been updated for quite a while.

Here is beyond great in Chile. It's the reason why I stayed with Nokia.

Waze. I like knowing the exact exit number on highways instead of just "take the exit for this street".

Waze, more accurate and I prefer the UI. Plus, it warns you for cops, car on the shoulder, obsticles in the road, traffic light cameras, etc. It's community driven, which is great. Here Drive is my secondary app.

Here+ and Yandex Navigator for when in Russia.

Here maps without a doubt

WAZE! I have just about all the Navigation apps (purchased & free) on my Lumia ICON but after using Waze I don't think there is any better especially with the predicted arrival times even on long trips.

Navigon -> used $25 credit microsoft gave. Here Drive is also good, not as good as navigon

I use HERE on WP 7.8 offline mode. It works fine.

Here drive is great. But i mis a truck version :/

Me too! Bridge heights, and restricted roads... B-double approved roads would be nice too!! Great opportunity for developers I think! Not to mention a rest area app!!

I'm back and forth between Waze and Copilot. I like Here but I just don't use it as much. It needs more traffic details. Posted via Windows Phone Central App

To all the places I have traveled to in the world, here maps and here drive have guided and directed me perfectly. Highly recommended and I never leave home without it!

Navigon. Hands down. Lane assist, motorhome, bicycle support and so on. Most have not tried Navigon because it costs money. For full navigation: get Navigon.

Which is free? There's your answer

Here drive by miles.......better than TomTom, Garmin etc....Android based navigation rubbish compared to here drive.....no comparison. . . End of discussion

Here Maps/Drive but it takes you the long way to places. Wish there was option for shorter routes. Used it on my trip from Texas to Georgia. It was trying to take me through Dallas when I knew I didn't have to. Had to set 2 different destinations. Idk about other nav apps, but drive is horrible on battery. Even when plugged into the charger,
my phone was discharging. My car charger is pretty beefy as well. Other than that, its a solid app.

I love the stock WP Bing navigation

My understanding, though I'm sure someone will correct me if I'm wrong, is that Bing and HERE maps are effectively the same - i.e. I think Bing gets most, if not all, of its map data from Nokia.

Here is so overrated. Still can't do on the fly traffic, takes mr to closed roads, often uses a destination I used the last time instead of the current one (dont realize it till you are going completely the wrong way), etc.
If they would have stayed up to date with Garmin, it actually was nice. They just lack updates and when they do have them, they seem almost like they've done nothing.

Here suite of apps for every and any kind of navigation. Works perfectly for me!

Here, until Waze gets a landscape view.

Probably not happening, now that they've essentially stopped development on the WP version Waze. Still, it's pretty good as is.

Who said they stopped development?

That's a shame. Could you give a link?

Copilot live has really good maps, but they are expensive

I Really like HERE Drive +, but mostly use Navigon with the Garmin Windscreen HUD. Works great! Michael

In my pre Windows Phone days I used Syngic on Android. On Windows Phone... HERE Drive+, nothing I've seen screen snapshots of in the store seems worth switching to, either looks cheaper or expensive with not enough added benefit.

Yandex Navigator @Russia. More reliable offline local maps than native free WP solutions like bing maps or external services like google maps.

Waze user here! I live in the UK, works really well, and it's saved me from many traffic jams!

Here Transit is awesome except is drains the battery pretty quick and crashes my phone when the battery is below about 60%

HERE Drive+ is the reason I didn't switch to an iPhone 5s. Pay for offline maps; are you crazy?

On my Nokia 1020, all the the Here+/Drive+ apps routinely place me about a mile from my actual location and do not "follow me" as I move around. I've reinstalled the apps, and switched phones even. Same problem exists. Its very disappointing. So I use my 7.8 Lumia 900 for GPS type nerds still.

Yes to all the comments on battery drain. That's a serious issue and should be a sofware development priority to address.

Here drive+ is great, but it needs an update to better support WP8.1

Yandex.Maps and Yandex.Drive are best for EMEA

WAZE is more accurate than HERE+ in Brazil.

While we are on the Here Drive topic, is there any way to get the phone to still speak the directions while you are actually on the phone? I like here drive, but i find it recalculates much slower than my real garmin, and i also find that i miss turns while i'm physically on the phone. I prefer not to stare at a map while driving. For the record, i always use a wired headset in the car if that helps. My garmin doesn't have lifetime maps and is getting old and outdated. Not sure if i want a new one yet. I'm an electrical contractor so i use it very often, at a minimum 2-3 times a week.

I like the Here app the best, but I simply HAVE to use Waze 100% of the time because of the community police reports and more accurate traffic/accident reports.

I love here but its frozen too often in my 521. I tried Waze and I like the concept also but moves slowed as hell.

Drive+
MapQuest
GPS scout(telenav)

Nothing happening there, just here for me.

The built-in Bing nav app because it's the fastest and easiest.

One nice thing with CoPilot is that if you buy it on Android then switch to windows, download for free enter your password and it gives you full access to paid features. Has a cool feature if you have a load of addresses to visit, it will optimize the journey for you. Also has nice alternative route features.
NAVIGON is owned by Garmin these days, provides loads of features but isn't cheap.
Here Drive is nice to look at but I agree, little point in having traffic functionality and not auto rerouting when there is a problem ahead. Also lacks multi stops. Nice to have global maps at no cost regularly updated.
I end up staying with my old iPhone for navigation, purely because it has TomTom. Why?Horrible maps to look at but their live traffic and rerouting is far better than anyone else. Which results in the best routes being chosen. It has saved me so many times. Always gets me quickly to my destination. They use traffic info from lorry data, all TomTom traffic users, Vodafone cell signals, cameras on motorways, government data etc. They also base routing on historical road data, so what normally happens at this time on this route. The same routing info is on their website if you ever want to test.
I'm in the UK.

I use here drive, but one thing i'm consistently upset with is the battery drain it has. but while we're talking about this, I'd also like to see an app that has live tile support showing transit stop information. for example, on the onebusaway windows 8 app, you can pin a bus stop, and it'll show arrival time for the next bus. however, the wp8 one bus away app does not allow for this. I've looked at other apps to find a better solution, but no phone app does this, from what i can see. someone make this happen!

Speaking of battery drain; I think even when mine is charging in the car, it drains faster then it can replenish when here drive is on.

None... as none of the navigation apps support/provide maps for Pakistan! It's kind of disappointing too, considering the Symbian Nokia devices actually used to have Pakistan Maps in its navigation software... and even though Pakistan falls under the radar for most, Nokia does major business here and Windows Phone users are growing as well. Hopefully will have maps added to Here Drive soon!

Navigon, but i use here drive because is free

it would be here drive, but since it doesnt support my country(nokia maps did) i have to use waze when i need turn by turn directions

I used TeleNav and Scout on Android. I've been using Here since switching to WP. I like all 3 of them, but Here is my favorite.

Nokia HERE Drive+ and Nokia HERE maps.

Here Drive is my favorite too!

Waze for now. I'm hoping to go back to Here after Cyan hits. After putting the developer preview of 8.1 on my 1020 Here now wants to initiate some sort of weird phone call state with my vehicle's built in bluetooth system and I miss the first few seconds of an instruction while they connect up to each other. On 8.0 it would just do it over bluetooth audio streaming which was fine since I'm usually streaming music over it anyway. Waze still uses the streaming audio output. Only problem is it doesn't mute/lower the music volume while giving instructions.

I've only ever used HERE/Nokia maps, but lately if I shut my screen off to conserve battery the GPS loses its connection; which I don't remember it doing before. Is that normal?

Here maps would be even better if it didn't beep at you everytime you go one mph over the speed limit. But it's very accurate and probably the best GPS ever created for smartphones

You can change the beep interval or disable it in the app's settings.

Navigon Europe... Here Drive+ is just good for punctual usage... And I also use Waze for speed traps.

Ive used navi across all platforms Nokia maps/here is by far the best and most accurate

Here.....! No doubt.....!!!

I don't use Navigation maps ... Haven't used a map app in over 2 years ... I don't even know what the Map App in my 8X looks like lol

More & more I have been using Waze over Here maps.

I've used HERE and Navigon and definitely prefer Navigon. Graphics are better. Love the lane assist, downloadable maps, integrated Red Light Camera notification, Google integration, contact list integration, weather at destination, parking at destination, traffic notification and re-route, 3D view, etc.

I use Here both here, there and everywhere

I have my region to the United States just to get Here Drive and Cortana on my phone

"I'd really like it if one of these navigation apps had direct voice entry for destinations (hint, hint developers)." Cortana already does this with "directions to [destination]" where destination can be the name of a place or an address. It sends you directly to here drive and starts the route.

Here Drive......You can open it up with Cortana

Waze, Here+ doesn't support real-time traffic reports here in Costa Rica.

I used Garmin before on my old Nokia E75 , good but ended up with a $100 roaming bill finding a restaurant in Bangkok . HERE is my choice on my L925 , no such problem anymore .

Waze primarily, because HERE Maps POI support is so poor at where I am. Followed by HERE Drive, and Route 66.

Here for in town and Navigon for lo ger trips with unfamiliar highways. The picture of the highway signs it provides are very helpful.

Here Drive is great but search is lacking sometimes so then I use gmaps to find and then select here to navigate

Waze hands down! I've beat a lot of speeding tickets with Waze ;)

Co-Pilot GPS is the most accurate navigation app I have found.It's not free,but certainly does it all

Unfortunately, Here maps gets lost or doesn't find my exact destinations even with the full address too often. I live in Brooklyn, NY and I've been burned numerous times putting the address in believing it found the right address wind up at the wrong destination. One thing I do love about Here is the map is very easy to read but that's about it. Functionality wise, the app named "Turn by Turn Navigation" is awesome but the maps are to small to read the text on the screen. The price is a little bit up there for the downloadable maps version but it appears which ever naviation app I choose will take some funds to get.

I found that Here had problems with the routing algorithm, often taking me right past the correct exit, only to then tell me to take the next exit and then drive back.
I now use CoPilot and am happy.

I've tried many of these apps. Most are okay, some are bad, but I've found Garmin to be the most reliable. Not perfect, but the most complete of the bunch.

Here drive. What's the point in asking!

Here maps, but I hate it when it overheats my phone after a long period of use...

Here is the best but you can't select alternate routes. When are they going to update it?????

Need google maps for Japan and south Korea.............

I just use Waze. It's a necessity in LA. I feel like Here Drive isn't a accurate in rerouting me around traffic.

Yes! Live traffic rerouting in LA is a life saver!

I use here drive, often in combination with Gmaps as the here maps/drive in Australia just doesn't have as many places of interest in its books. It's great for addresses though. So using gmaps to find something and using its only link to here drive works very well.

Here ,the best and most accurate...

Waiting for here explore beta to get out of beta. Nokia has to update their maps now.

Here loses GPS signal/lose voice nav whenever I turn off the display... Tried enabling background usage and messing with the battery saver settings, but I can't seem to get it to work when my display is off.

No official app for Pakistan

I've gotten used to Here on my WP but google nav on my old MyTouch 4G ran circles around it. Voice input and accuracy made a huge diff. GNav never asked me to turn onto an overpass like Drive does every now & then.

pretty much went back to android for the sole reason oh how bad Here was. Maps just always get everything right. From location, directions, search results, and reviews.

You changed phone for that! Why not install Gmaps or something else?

I honestly think that HERE Drive is the best GPS app out there. Things like speed limit is something that some of the popular alternatives do not have, which is a huge point for me.

Cyclometer and endomundo atm.
Would have been mapmyride but after mailing them they obviously cant be fkd with wp (still have a non functioning v1.00 release on the market after a year, which Microsoft seems to be ignoring too). Yeah I cycle. We still need decent gps apps.

Maps Feom Microsoft ;) Sweet N Simple.

Here+ Nothing else is even worth a bother.

In Romania if you have a WP apparatus Here Drive will work ok on major roads. On secondary roads and small cities there is no address information. Routing is ok also, but still, you should keep your eyes open for sign streets. (Waze on WP is a joke, Copilot is very ok but I didn't bought it as I don't really need it, Navigon I didn't tried and Google Maps doesn't have turn by turn option.)

But the rest of us (majority to be fair) use iGo Primo on GPS devices or Android phones.

To sum up, when I drive in a major city or on short distances or on a known path (just for fun of it) I stick my Lumia 720 to the dashboard. If I am on a long and little known trip I use iGo Primo on a GPS device (I don't have car navigation).

Oh, btw, as an explorer-pedestrian I use gMaps. Way way better than Here, here in Romania. All neighborhood little paths are showed.

Used Navigon on 3 platforms, always a great option.

Hands down Here Drive..it actually adds real value to the OS and the devices!

Maps don't work on any Lumia device from Pakistan post Amber-update, regardless of the app you install/use.

I use Here Drive and I'm from the Philippines

WAZE. Saved my ass a few times with the cops.

HERE Drive is BEAST in my opinion! Especially for FREE.

definetly the Nokia Products! Really great

I mostly use Yandex in Turkey. They update their maps more often than Here Maps. It is very important in rapidly growing cities where new roads are built or existing roads are renamed. Yandex also has a good UI.

CoPilot. It's not as crazy expensive as Navigon and 7 times better then Here Drive.
I would a,matter of fact state that anybody serious about GPS navigation does NOT use here services. I only have Here Maps and thats because it synchronized and backup'd all my favorit places, I like that in a map service.

Can somebody explain the difference between Here Maps, Here Drive and Here Transit to me?

H. Maps is strictly on foot/( bus?) only. No speedometer or speed limit indicator. ECT.
H. Drive is customized for personal, non-commercial transport. Just like/ better than traditional GPS in cars.
H. Transit is customized for the bussing system near you. (public)

I have activate Co-pilot navigation on my Lumia 925 so whenever am searching for a place it automatically open the copilot navigation app. My choice of this GPS navigation was its ability to warn me of any speed camera locations, its ability to warn of any possible traffic jams on my route or road repairs, and suggests alternative routes. I wish Nokia maps should also have inbuilt speed camera warnings like other apps. Navigon is good too but I hate I when it comes to address search where you are required to enter every piece of the address otherwise no trip.

I use Here Drive+ most all the time. Occasionally I use Waze. I'd like to try others but can't justify paying for them when my current options work well enough.

Here Maps & Drive since it exists, but recently I prefer to use Waze in Budapest, since Here does not have live traffic coverage in Hungary

Waze is my navigation choice, but I'm also a Knight Wazer so I might be biased!

HERE Maps; nothing else comes close.

HERE Drive+ doesn't work in my country, shows and warning that my area is not yet uncovered, i wonder when it would covered, maybe after so many 'donkey' Years. i don't know why it doesn't work yet GPS Navigation works fine, They have also denied use of HERE Maps on GPS Navigation yet theirs doesn't work!!!!!!!!!

So what's the best Nav app in Australia ? Here maps doesn't do so well on the sunshine coast, its not updated enough.

Oh! Come chief! Windows phone.
It's here Drive+

Here maps: Connecting peoples.. Lolzzz...

Nokia's own Here Maps and Transit are my favorite :)

I use Drive Here most and Navigon second. I really like Waxe on my Android, but I wont do landscape mode on WP and I doubt it will get updated much now that Google has bought it.

Waze! Just wish it would receive an update though...

Navigon is almost as expensive as buying a proper GPS unit. Here Drive is good enough x I just wish it had lane assist.

Waze! Here Drive+ is just pounded to my start screen for cosmetic reasons at this point.

HERE Maps! It is the best! My android buddies get jealous when they see me use it offline :D

The problem with GPS navigation is Google has, by far, the best and most up to date road and POI data. But their navigation app is very, very bare bones. The other navi apps are much better but suffer from out-of-date cartography and POI data.

For actual navigation, meaning I really need directions, I use Here. For my daily commute I use Waze since it will report traffic hazards, speed traps, etc...

Only Here Drive, always avoids after concert traffic automatically. Here Drive makes all my friends jealous.

Here drive is the best gps ever made, here map !! But when i go fishing i use Gmaps Pro iv got a better view of rivers, wood and the satellite view is helpful

Here Drive and Maps is the best mapping experience to Egypt. Others provided false directions.

I use Navigon exclusively these days. I had too many problems with HERE drive for me to be confident in it. Navigon has worked well for the most part, and one great thing about it is that since it is a division of Garmin, there is actually a live person you can call for support if you have problems. My only real complain with it is that it does not always interface wtih Cortana as well as it should. When you have addresses stored in Cortana it pulls them up directly in Navigon most of the time, but sometimes it does not work and the address which gets pulled up is not even close to the one in Cortana. That needs to be fixed going forward.

Navigon, for years and years. It is excellent and worth more than it costs, for me and my business.

Everything of HERE. No competitor.

I use waze but Here if I'm offline

I thought i would give navigon another try since I own it. Well it does not work on windows 8.1. It just shuts down. From my last time using it I did not like the fact that you had to have the maps installed in order to use. If you are going across states you have to have each state downloaded and maps aren't that small. I love Here and I will be sticking with it.

Here, it has downloadable maps, is free, and is the result of a decade+ (Navtec) of use, I have not found any other mapping system come close.

NAVIGON This is what I have on ALL of My Devices. No Cell Signal is Required at all for you to use it. Just use the built-in GPS on your Phone and you're on your way. I have Recommended this to Many People in the Past and Will Continue to Recommend it in the Future as well. Wether you have Windows, Android, or iOS, this will Work Flawlessly! The Panorama 3D View is Really Nice! Navigon used to make Automotive GPS here in the US but had Stopped a few years ago. They were So Good that Garmin had Purchased them to make their Automotive GPS Way Better than they were before.

HERE Drive of course (and HERE Maps when I am on foot; unfortunately HERE Transit doesn't cover my city). I have been using it since Symbian days, although strangely the WP version sometimes doesn't bring the most efficient route (in contrast to the Symbian one).

Waze for the commnity/crowdsourced up to date information on traffic during rush hours - saves me so much time on my commute - recommend it!! Sending in updates live too is a good way to give back seeing as this is a free app. Traffic data is usually pretty good due to the large userbase - warnings for hidden police or accidents are awesome. Only ding against Waze is the lack of landscape mode although as someone else mentioned its lkinda cool to drop down the notifications slider and then swipe it up again to carry on with directions. HERE+ is good but the level of enroute/incident updating on Waze makes it a sure winner in the Nav category!

I use here maps with cortana to find points of interest when out of my comfort zone. Considering these maps are downloadable, I have no need for most other things. However, occasionally, I find myself using gmaps (I know!) to find up-to-date results. Happens when I know there is a starbucks nearby but here maps is not showing it to me. As for Navigation, Here drive is plenty good for me. However, I am not sure if it is capable of using the offline maps downloaded by HERE maps. I haven't even felt the need to try anything else. I know about some cool features like lane display in some of the paid apps, but I find that its more useful for drivers who have a harder time on the roads, like the senile elderly and distracted moms/dads.

Waze Navigon if need plan route with more than one point in route.

Here Drive, Here Maps, Waze

The Greatest and the Latest of all time "Here Dive plus"

Used to be Here, but after trying Waze - haven't looked back.

Navigon. Here Maps locks up and just quits sometimes. CoPilot is a scam and traffic interaction is bad. CoPilot willuse your data plan for maps even if on Wifi. It seems to want LTE if it is available so be carefull when downloading maps on CoPilot

I created one and I use it. ;-)

I used Nokia Maps (Ovi Maps) on Symbian phones for years. The main reason why I chose Lumia 800 back then was the offline navigation. But the program on WP 7.8 is a shame. Useless. Couldn't sync my saved favourites from Ovi Maps, I couldn't pick my destination from the map, only search result could be targets. And my targets usually in the middle of nowhere without proper addresses (farms). So I kept my old C7 for navigation purposes until it died. Now I use and old android phone and Waze for navigation. And it is more accurate, shorter and faster routes compared to Nokia Drive+ and much more accurate ETA prognosis.

Waze. I like Drive, especially because I can download maps, but it doesn't give the exit numbers. Waze can't get any better unless it can start accessing the maps I've downloaded.

My Uncle Sean just got a stunning blue Jeep Patriot SUV by working from a macbook... see this website>>>>>>>>>w-w-w.c-a-s-h-2-9-.c-o-m

Using Waze (for casual driving) and Here Drive (when using directions) .... Waze would be perfect if it was showing the current speed limit and if it can work better without data. Drive would be perfect if it was showing radars/police/traject control/accidents etc.

Here maps + Gave up all navigators ages ago as the l920 is with me all the time.

Yanosik - unfortunately it is only available in Polish but it is hence down the best solution for driving. It supports google maps, and is updated live by other users. Not only does it provide all standard Nav features like traffic congestion, POI, restaurants, bars etc. but it also notifies you about accidents, speed cameras, police patrols, undercover patrols, transport check-ups. The database is updated and verified live by other users so the moment something happens on the road you will be notified by the first person who sees it. I personally avoided many speeding tickets and even more traffic jams thanks to this little app. Maybe the developer will go outside Poland with this at some point.

For commutes I like WAZE to alert me to accidents and police actions For distance driving I like GARMIN STREETPILOT For impromptu directions to places around town I like HERE+ If I had to choose just one I would choose GARMIN STREETPILOT which has lane recommendations and interchange previews. In addition, it provides excellent readability as well as landscape (wide view) screen support.

Well if you are on any of the coutries not supported with navigation you are out of luck with HERE which is a shame! that means I have to use Gmaps pro or Waze

Anything other than Here. Worst routing ever.