What is your favorite Windows Phone Navigation App?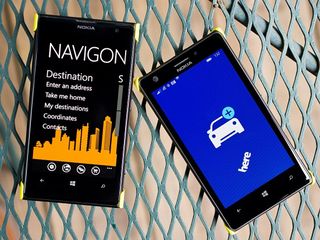 A conversation caught my eye over in the Windows Phone Central Forums where WPCentral reader jtsmak asks, "Are there any good Nokia Drive alternatives for Android?"
Jtsmak , for whatever reason, switches back and forth between an Android device and a Windows Phone. Having grown fond of HERE Drive on Windows Phone, jtsmak could pick up the Android version of Here Drive for about $10 but is curious if there are better alternatives.
While several good suggestions have been thrown out in the Forums discussion, it brings to mind a similar question. "What's your favorite Windows Phone navigation app?"
HERE Drive is a compelling choice but there are plenty to choose from in the Windows Phone Store. You have NAVIGON, Garmin StreetPilot, CoPilot GPS, GPS Voice Navigation and more. I think the apps like NAVIGON carry a slight advantage with downloadable maps. This lessens your dependency on a data connection as you travel but can gobble up on-board memory. However, most apps with offline maps gives you the option to download only the areas you will be traveling in.
So, what is your go-to Windows Phone navigation app? Personally, I bounce between Here Drive and NAVIGON. I tend to use Here Drive for short trips around town while NAVIGON handles longer trips. I'd really like it if one of these navigation apps had direct voice entry for destinations (hint, hint developers).
Let us know in the comments what app helps you navigate the highways and bi-ways. You can also hit the link below if you've got a recommendation on an Android alternative to HERE Drive to offer jtsmak (other than giving up and using Windows Phone full-time).
George is the Reviews Editor at Windows Central, concentrating on Windows 10 PC and Mobile apps. He's been a supporter of the platform since the days of Windows CE and uses his current Windows 10 Mobile phone daily to keep up with life and enjoy a game during down time.
For a second I wondered how I didn't remember commenting here.

I own most navigation apps (paid or free) on WP and have now more or less settled on using Here Drive for the most part - -- No other app has a slower battery drain than Here Drive -- It keeps giving turn-by-turn directions even if it is in background or screen is turned off (I am looking at you Navigon!) -- The traffic routing and ETAs are really improved now (Navigon is still the gold standard on this though). -- Never a freeze/unexpected reboot when using it + In-Car bluetooth (I am looking at you Navigon!) What I still miss - The alternative routes that Navigon gives you and choose the route that you want to use.

One word to fix them all: Zune.
Get WP 8.x back to work with Zune. Rebrand it to whatever they want and voi'la!
I can bet that if Xbox (c*ap) Music service as whole ever beats Zune and WP 7, it will take at least 2 years, seeing the mess they're making.

HERE Drive for me as well. I was told that; while I won't find Google maps, HERE Drive is way better... and I was surprised to find that was true!

Here+ with the female UK voice.

I use here drive+ on my 8X, with female Spanish voice para practicar el Español.

Yes. Don't care if she won't give me street names... Love her voice!

I now say "motorway" instead of highway or freeway. "enter the motorway..." In her hot little voice.

Same here, but with announced street names. Not because I love hearing her voice but it's because the UK male version sounded coarse. The UK male voice without the announced street names sounded way better and I have no idea why Nokia didn't use this voice for the announced street names version. Hopefully Nokia will use that voice in a future Drive+ update.

Yes! I love the UK voice. It makes me feel important, lol.

You know what would be awesome? A HERE voice pack of Cortana :D "Chief, turn right"

Wow, I am very honor to see my forum post made it to the front page of wpcentral!! Thanks. Here Drive+ is not perfect, but I have been using other gps programs paid or free in android and there are moments that I just want to throw my Moto G out the window. I just want to enter an address and have a simple gps interface that is easy to control and read! None of them are close so far. For those interested, please follow my forum post, I will discuss what I found on Android so far. Please share, maybe there are some good apps out there? Nokia, please sell here+ on android and IOS. People need to know the power of Here Drive +. PS, I still love and use Lumia 520.

Copilot.. Have been using it since my WM days... Solid app!!

+920. The best navigation app. Feature wise even navigon comes no where near.

Copilot GPS. Consistently good

I use, here and waze. Both apps are pretty good.

Co-Pilot here as its just got everything in it now... Fantastic app...

Waze tends to be more accurate in USA

Waze drops the GPS signal all the time never had that outside with HERE maps

+1520 Here always gives me the long route

Does waze support landscape mode yet?

Waze is the default navigation app here in Israel. I don't know ANYONE who uses any other navigation app regularly, and it's the most accurate one as well. It became such an essential app in Israel, that once - when Waze's traffic services went down for a few hours - a lot of the roads in the center of Israel became clogged with huge traffic jams...

Interesting. Of course with so many users it should work very well.

That's because Waze is a company from Israel ;) Those people from israel know how to make navigation apps!

...nokia/M$ should have bought them.

I love Waze it saves me about an hour a day.

Here+. It works great here in Colombia

Here+ it's my choice. Colombia, beautiful country.

Here Drive+ without a doubt.

Here Drive works great for me. Have not even tried anything else. No need to.

I used here drive like 2 000 kilometers doesn't use so much network but battery die pretty quick it's a good app but sometimes it take me on long roads even if I make good settings

HERE Maps / Drive+. It gives me the best localization features.

I use Here maps/drive works great. I may try some of the recommendations in these comments.

The one you don't pay for

Hahahahaha we are cheap bastards

I would like to see HEMA maps on WP for off road use. But I use Here maps

Here, but they have to improve the maps in Istanbul, Turkey, some streets are missed.

I'd love to use Here but I'm using Waze because it reroutes me based on traffic and incident reports; warns me about red light cameras. I live in NYC, and a 'live' GPS is essential to get somewhere faster.

I'd also love a re-route option... Does any of the other GPS apps do that?

I saw waze some time ago in the Store and tried it out. The features of this service are pretty decent, though the user interface was absolutely not to my liking so I dropped it. If they would offer a more 'Professional' looking UI then I might return.

My eyes and ears. U need those to use an app :P but its here Drive + or waze for me.

I use Waze on a daily basis for my commute. Just have the map up, no navigation. Otherwise I like HERE Drive+, the fact it shows the speed limit is a big help, just wish it did lane guidance like the new Google Maps does.

Nokia/Ovi maps had lane guidance on Symbian. I was surprised that HERE maps on Wondows Phone doesn't..

Who drives the speed limit?

The speed limit feature is nice because you can see where it changes drastically, at least on major highways. Aside for the downloadable maps, it's the other thing I like over Waze, but Waze is still my go to.

WAZE - and if you haven't tried it, do so. It's free!

Agree, but the last update improved much on the battery drain problem - and like TechnoTim, I make sure my 1520 is plugged in

Agreed on Waze. I keep my phone plugged in while driving anyway.

Doesn't help on wireless charging with 920. And it keeps downloading the maps. Not good roaming around Europe. (see what I did there? :-)

Mine USED to be Here Drive+ but since 8.1 it doesn't work very well.

I hope that they update it soon. The biggest issue I've had is when I have voice navigation on, there's a really long pause between the navigation and my music resuming. Drives me nuts!

HERE Drive!!! I am from Buenos Aires and I have all maps offiline for my country. But also any part of the world...I was in US back in March/April with my wife doing our honeymoon across 4 states (California, Arizona, Utah and Nevada) for over a month. I drive 6100 Km (3800 miles) and Here drive never drive me bad. Even in long road trips (+500 miles) HERE tell me exactly where to turn, the proper distance, and the remaining time without doubts.

Same here! I drove from Kansas to California through Utah, Nevada, Arizona and Colorado, 100% relying on Here+, and it never let me down. It is almost perfect, even the battery usage is good (battery usage is very important when you are on the road for so long).

I use Here Drive+...simply because it offers accurate journeys and offline maps.
Where it falls down is that it doesn't present alternative routes when creating a journey. On Google Maps, three different journeys are presented - each with their pros and cons. We just don't get that option on Here.
Also, the traffic information isn't used to automatically re-route...which kind of makes it pointless (a smart navigation app will spot the traffic and then suggest a new route. My dad's 2008 Volvo has such a system built in....I just don't know why Nokia haven't implemented that yet).
If Drive wasn't free, I'd probably be a little disappointed. But it is, so I'm happy to stick with it.

Maybe now that they don't have to worry about the hardware division they may step up their game? At least I would hope so!

they have this system ....i had an n8 and i used the maps from nokia and there we had re-route and traffic information

It's pretty embarrassing for Microsoft that Nokia's old smartphone platform STILL outcompetes Windows Phone in some areas (power management, multi tasking, navigation!).
Maybe one day someone will make a smartphone platform that does the basics better than Symbian :)

Here Drive and Maps for ease of use, but I find Waze is more accurate in Canada.

Here Drive+ is excellent!!!

Here drive+. Super easy but does need Cortana voice integration

Hint hint developers, voice input for navigation for Dutch languge also please?!

I love Nokia Drive+ but man it burns my battery quick and sometimes the phone gets so hot everything just freezes. Maybe its just my 920 telling me to retire it, lol!

I shut my 920 off and the voice instructions still work, just no display. If you want to check progress on the map, just power back up. Runs way cooler that way.

What a good idea. Will try that

Thanks for the tip, but still not an excuse for why my 920 overheats for everything that I do from a game or watching video. Its around where the wireless charging coil is.

Here its perfect and free
Every time i go to some other country just download maps and I'm on the go :)

Here Drive or Native Bing maps. Not sure why people shit on Bing, it's never let me down.

if you look in the right bottom corner on bing maps you will see (C) Nokia (C)Microsoft Corporation

I've have had it wrong two times. I love it, but it just isn't reliable

here maps is great but, it does not support Republica Moldova and thats why I choose google instead.

what happened to Google maps ? dont they support something better in thier own OS.. I though Andriod had more apps ?

WAZE Especially if you are bored, the constant warnings about things coming up in the road are good to keep your focus. Even better if you have a co-pilot. I just wish WAZE had the Navigon interface with lane assist. +929

1. Here
2. Waze
3. Co pilot. (paid)
I uses them for different things. Here drive+ for daily use, waze when I'm driving in city's and more unknown destinasjons, copilot to plan a trip with via point.

HERE has served me very well. My only is the temperature my phone reaches. Once it starts getting hot it kills the battery. Last week I used it for approximately 2 x 1hr drives. It was baking hot in the car, and the ambient temperature did not help. It went on to battery saver on my way back. And the phone had been off between charges. Sadly, 8.1 seems to make it far worse. This time last year I drove for 6hrs to Cornwall, battery was still useable when I got there. Since update 2 on 8.1 the temperature has drove me potty. It gets warm and stays warm, even with very mild use.

I have heard of others having this problem but I have never had it...
I use it for hours every day as well.. AUS 925 edit; I remember when I first got my wireless car charger it got very hot... But then I realized that it was mounted near the heater air vent... So I moved it up higher and haven't had an issue ;)

You live in Aus and use a car heater?! :)

Navigon all the way. I use it almost daily and it hasn't let me down yet. It's not cheap, but they have it on sale from time to time. Transparent live tile option would be nice.

I personally think that the price for the Navigon App is way to high; especially the European version. They do not even offer to test it first. :/

Waze, installed the day it came out and haven't looked back ever since. Here+ sucks in the US

I like Here Drive for the city other wise I've been on vacation for 2 weeks. I've traveled over 1,000 miles and I've been using CoPilot the entire way. It's great and I haven't had any problems. I only use downloaded maps which is one reason why CoPilot is great. It's also accurate and has the look and feel of a real GPS.

Waze, hands down. Best that I've used, and it has unique features.

Voting Waze because of alerts and traffic optimization. Navigon has lane assist and nice signage. I want Here to be the goto, but only if I need offline access do I open it, and when I want to get a laugh when putting it in surfer dude English. I wish Microsoft or Nokia would have bought Waze instead if Google.

Here Drive when driving and needing a SatNav. The reasons is it has downloadable maps which are shared with Bing Maps and other Here programs, an it's free. There are a few features though that I've been wanting that have been mentioned as in the "works" but that was years ago. Things like a turn list and lane assist. Add those in and it'll be golden. If anything they should make lane assist an in-app purchase (turn list is like fundamental for GPS apps already, no clue why they haven't included that yet).

Turn list is there in 8.1

Waze, though on 8.1 it drains more battery than it gains while charging.

I haven't had that problem since they updated earlier this year..and on 8.1 as well. Soft restart ftw. I use it every time I'm in the car. Love the alerts and graphics better than Here+.

Could just be that my 920 is showing its age.

In the US, I use Waze 90% of the time. I like HERE's overall UI much better, but Waze it's by far the best I've seen at routing me around traffic, and includes times stopped at streetlights etc into account. If it didn't do that I would use HERE

I am a Garmin fan boy I'd say Garmin and then Here...

The app is nice, but it's CRAZY expensive and doesn't support offline maps. WTH? On iOS you get the equivalent app for free, and for the money we pay for the online only WP app on iOS you get lifetime offline maps. So upset with Garmin..

The app is VERY nice compared to Here Drive. I bought it before Drive was available, so the price is not an issue for me. If you set the route while connected it will be there if you lose data - out of luck if you change routes, though. The graphics re much better and the lane-assist it fantastic. It also tells you what side of the road the destination is on - so you don't have to remeber if it's an odd or even address and then look to figure which side is odd and which is even... I've had terrible experiences with routing using Here outside of large cities. As good as Street Pilot is, it's hard to recommend it at that price...

Which apps will reroute you due to traffic? I dont think Drive does that

Who can tell me how to make waze horizontal??? That's the only reason I set here drive as default.

It has been on their to do list since they released it late last year. Honestly, with my 1520, portrait works best for me. With 8.1, I can just swipe down from the top when stopped to check notifications and then swipe back up to go back to Waze.

Yeap, but due to the design of my hanger, I can't do that if I want to keep charging my 1520. Thank you, so it's not my problem, just a lack of feature. It hasn't been updated for quite a while.

Here is beyond great in Chile. It's the reason why I stayed with Nokia.

Waze. I like knowing the exact exit number on highways instead of just "take the exit for this street".

Waze, more accurate and I prefer the UI. Plus, it warns you for cops, car on the shoulder, obsticles in the road, traffic light cameras, etc. It's community driven, which is great. Here Drive is my secondary app.

Here+ and Yandex Navigator for when in Russia.

Here maps without a doubt

WAZE! I have just about all the Navigation apps (purchased & free) on my Lumia ICON but after using Waze I don't think there is any better especially with the predicted arrival times even on long trips.

Navigon -> used $25 credit microsoft gave. Here Drive is also good, not as good as navigon

I use HERE on WP 7.8 offline mode. It works fine.

Here drive is great. But i mis a truck version :/

Me too! Bridge heights, and restricted roads... B-double approved roads would be nice too!! Great opportunity for developers I think! Not to mention a rest area app!!

I'm back and forth between Waze and Copilot. I like Here but I just don't use it as much. It needs more traffic details. Posted via Windows Phone Central App

To all the places I have traveled to in the world, here maps and here drive have guided and directed me perfectly. Highly recommended and I never leave home without it!

Navigon. Hands down. Lane assist, motorhome, bicycle support and so on. Most have not tried Navigon because it costs money. For full navigation: get Navigon.

Which is free? There's your answer

Here drive by miles.......better than TomTom, Garmin etc....Android based navigation rubbish compared to here drive.....no comparison. . . End of discussion

Here Maps/Drive but it takes you the long way to places. Wish there was option for shorter routes. Used it on my trip from Texas to Georgia. It was trying to take me through Dallas when I knew I didn't have to. Had to set 2 different destinations. Idk about other nav apps, but drive is horrible on battery. Even when plugged into the charger,
my phone was discharging. My car charger is pretty beefy as well. Other than that, its a solid app.

I love the stock WP Bing navigation

My understanding, though I'm sure someone will correct me if I'm wrong, is that Bing and HERE maps are effectively the same - i.e. I think Bing gets most, if not all, of its map data from Nokia.

Here is so overrated. Still can't do on the fly traffic, takes mr to closed roads, often uses a destination I used the last time instead of the current one (dont realize it till you are going completely the wrong way), etc.
If they would have stayed up to date with Garmin, it actually was nice. They just lack updates and when they do have them, they seem almost like they've done nothing.

Here suite of apps for every and any kind of navigation. Works perfectly for me!

Here, until Waze gets a landscape view.

Probably not happening, now that they've essentially stopped development on the WP version Waze. Still, it's pretty good as is.

Who said they stopped development?

That's a shame. Could you give a link?

Copilot live has really good maps, but they are expensive

I Really like HERE Drive +, but mostly use Navigon with the Garmin Windscreen HUD. Works great! Michael

In my pre Windows Phone days I used Syngic on Android. On Windows Phone... HERE Drive+, nothing I've seen screen snapshots of in the store seems worth switching to, either looks cheaper or expensive with not enough added benefit.

Yandex Navigator @Russia. More reliable offline local maps than native free WP solutions like bing maps or external services like google maps.

Waze user here! I live in the UK, works really well, and it's saved me from many traffic jams!