What's on your Windows Phone Start Screen, George Ponder?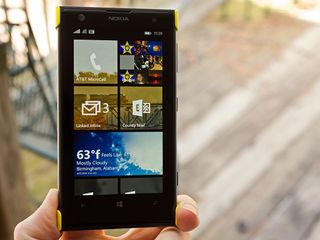 One of the key attractions for the Windows Phone platform is the Live Tiles. It allows you get a glance at key information such as new emails, the current temperature, your next appointment or sports scores. The recent Windows Phone 8.1 update only adds to this attraction with new features such as transparent tiles, a third-column option, and a few new apps that liven up your Start Screen.
Continuing the series on what is on our Windows Phone Start Screen, it is my turn to share.
While I do see my Start Screen tiles change weekly, I do have a collection of tiles that have had a constant presence since making the jump from Windows Mobile to Windows Phone.
While my organization is not the best, I do try to keep phone and email tiles pinned up towards the top of the Start Screen. From there I move to key contacts and settings and then to apps. I have not opted for the third column of Live Tiles yet mainly because I like the larger tile view the two-columm style offers. I do make use of the background image feature to show off some of my photography.
Page One
Page Two
Page Three
Page Four
Page Five
Of all the Live Tiles that I have pinned to my Start Screen these are the more constant tiles for my Windows Phone Start Screen. I generally don't keep a lot of apps pinned to the Start Screen and tend to find swiping over to access my Apps List just as easy. I will often have a series of games or apps that I'm reviewing pinned to the bottom of my Start Screen. These tiles seem to rotate throughout the week and help remind me not to procrastinate.
As far as my photography apps are concerned, with most being accessible through lens support and from the edit menu in the Pictures Hub I just do not see the need to pin them to the Start Screen.
So there you have it. Can't say that there is anything radical to my Start Screen and it is likely more on the conservative side compared to others. I do rely a lot on the Medium Tile size in part because my eyesight isn't what it used to be and on the run, these tiles are easier to tap than the small ones.
Any surprises? Any recommendations? Let us know in the comments below.
George is the Reviews Editor at Windows Central, concentrating on Windows 10 PC and Mobile apps. He's been a supporter of the platform since the days of Windows CE and uses his current Windows 10 Mobile phone daily to keep up with life and enjoy a game during down time.
The question is asked by George to himself so we comment here it will be off topic comment? Right?

Any body remember that WPC reported kids corner of 8.1 will support different password?

I'm gonna hijack your comment for a sec bro sorry.. If you have a black and white phone, set your tile background to an all black background and turn your theme to light. Pure sex, and doesn't have those stupid black boxes around tiles than if you do it the high contrast way.

What's on your Windows Phone Home Screen, Cybersaurusrex? https://onedrive.live.com/redir?resid=4D70EA25424E6EDD!114&authkey=!ADexZJF0F_zpOyA&v=3&ithint=photo%2c.jpg

I used the free app "Transparency Tiles" for a few of the tiles... like Facebook, Twitter, Music & Games.

I keep my live tiles to a minimum, too many cause battery drain and also stop all of them working without any warning

I have a single page of live tiles!

I have two. Seven is mind blowing.

3 on my 520 with 3 column view.

Amongst the usual email accounts, weather, phone, & messaging stuff I have 50+ games that are on my "must play" list. I have many other games installed, but these constantly remind me how little time I have to play them :P

Lately I have had a fancy to pin only transparent tiles to the start screen so that the background image is clearly visible without any clutter.

I am not George Ponder... But I will answer as well. :D http://img.photobucket.com/albums/v124/Nimdock/WP/WP_20140417_zpse43a4e8... Just below that a wide tile for Cocktail Flow and a medium one for OneDrive. Lately I've had a pic of my girlfriend as the background (not x rated :P) but I don't know if she would be OK with me posting it so for now solid color it is. :P

I am happy to be on your Start screen, George Ponder.

Birmingham, AL represent!

With the addition of weather info on the built in calendar, is it necessary to have a standalone weather app? Haven't really checked into it too much and since I only need the basic "will it ☔ or nah?" type of forecast, I don't have a weather app installed.

Why is everyone saying "there's third-row support" in posts, forums, and comments? It's a third COLUMN. I <3 Third COLUMN

because saying column is too much effort.

I guess everyone is looking their phone at landscape view...

Ha. If only the start screen could be viewed in landscape orientation...

This! Take a note, Microsoft.

Just to inform that Microsoft has ranked most attractive employer in India followed by Sony

Now that we have the "Action Center!" I have need for fewer live tiles - and some of the magic of Windows phone is gone...especially when friends pick it up and say "Oh! Cool!" as they realize how well those tiles serve the user vs. anything their start screen/notification center might have. So, several LT's have been placed into an App Folder for two-touch access instead of the previous single-touch (Live Tile) access. I hope they change their mind about it and have access to the "Action Center!" come from a left-to-right swipe instead of a pull-down, then scroll-down. I think that would be more in-line with the WP design idiom. I have stuck Cortana up there, pulsating away in a medium-sized tile on the first "page" of my start screen and I am anxiously awaiting Amazing Weather HD to deliver an update with a transparent tile option so its background flows into hers (Cortana's). https://onedrive.live.com/redir?resid=3542C7155F1C051F!22442&authkey=!AH2eGq5Xuj-1HpA&v=3&ithint=photo%2c.jpg

Swipe left to right is saved for something else in the future :) ... You never know they will enable to flip through open apps like in Win8.

After using Surface how I would love ❤ to swipe through apps.... Then if they can make the Surface double tap to start, that would be awesome, as I always double tap the screen as so use to it on my 920 lol

I'm down with that. I use a Surface! :)

Swipe left to the right is currently for Kids Corner, if used.

So how the heck do you get more than one page?

WP will have different UI. U can say WP 8.2

Not sure if being serious or just being symantics nazi...

I like the article uses pages.... except pagination is a concept that so far elludes the WP designers. which is too bad because it would help you find what you need much quicker than scrolling a mile and missing the one little tile 3/5s of the way down.

truly awesome.. well done.

How come Instagram beta vs 6tag? I noticed some of the editors have this too...

I personally like 6tag better, but since most of these guys review the apps, its better for them to have both available.

You should remove your settings tile like I did since you can get into "ALL SETTINGS" with a quick pull down of the notifications/action center.

When I see WP8 with 2 columns of tiles, it makes me feel like it is old. Like the transition from WP7.5 to 7.8/8.

Its usually because of the smaller screens, it doesn't look as good as it should in my opinion

I think you guys are going a little overkill on the articles seriously. But whatever right, beggars can't choose.

I was thinking the same, but didn't want to be the one that said it ;-)

Here is my beaut: https://fbcdn-sphotos-d-a.akamaihd.net/hphotos-ak-prn1/t31.0-8/1973410_1...

Why a WPCentral Group and not a WPCentral Room? Rooms are much more convenient when everyone has a Windows Phone.

This is my home screen https://onedrive.live.com/redir?resid=B3CD8F6BDB2D98CD!13497&authkey=!AE...

Here is mine homescreen and wallpaper! http://forums.wpcentral.com/attachments/windows-phone-wallpapers/63151d1... http://forums.wpcentral.com/attachments/windows-phone-wallpapers/63152d1...

Best WPC staff start screen so far. You have excellent taste!

Here is mine, I have similar sections set up for sports, finance/stock market, tech news, etc. Also, have several Flipboard magazines and Facebook pages (typically of news organizations or companies that I'm tracking, etc.). pic.twitter.com/T2khgq2ywR

Here are some of the Flipboard magazines...strategic use of website pinning, something MS needs to highlight more in their ads. It's high on my list of very convenient things that I love about Windows Phone. pic.twitter.com/Wm8tdb1pvY Here is what one looks like when it's opened, it flips just like you would expect Flipboard to do: pic.twitter.com/7lUf1Skv1A pic.twitter.com/y5hmrGdWRL

wats that case thats on his fone and is that a 920

Well to keep the ball rolling..here's mine. https://onedrive.live.com/redir?resid=B16F6282CBE9C175!6237&authkey=!AICoM-aOn59WAY8&v=3&ithint=photo%2c.png

Hard to say one by one but this is my start screen http://1drv.ms/Qix45Y

Your WP Central tile is transparent - how, cos mine is not?!

I have tried both WP central tiles, and neither are transparent :/

Seeing that non-transparent single player quick tile for Trine's Hangman made me cringe :) I have therefore just published an update for the game, that let's the user create quick tiles that are transparent (+all accent colors + black + white). After getting WP8.1 developer preview myself, I am hooked on having a picture on the start page, and then every tile that does not support it is a bit annoying. My other apps will get same functionality soon. And yes, I am the developer behind the game :)

The new photo tile option is great but some background pictures just add to the tile chaos. With WizTiles I created 'app category groups' so I can scan the home screen quickly, and every group closes with its own Nokia App Folder tile. This creates great contextual app access with my favorite apps on the home screen, and I don't have to find that one whatsitsnameagain photo edit app from the alphabetical applist. https://onedrive.live.com/?cid=33e3b75b743d3c34&id=33E3B75B743D3C34!9632... Some photos look much better. I wanted to ditch the wiztiles tile group headers, in stead starting each category with an extra large Nokia App Folder tile, but it quickly became a complete muddle again, so I reinstated them. I think they're very important for quick app access from the home screen, especially in combination with Nokia App Folder. Whichever category groups you want, these two tools save a lot of time. Tools used:
- WizTiles Pro (category tiles)
- Nokia App Folder
- Transparency Tiles (create transparent apptiles)
Windows Central Newsletter
Get the best of Windows Central in in your inbox, every day!
Thank you for signing up to Windows Central. You will receive a verification email shortly.
There was a problem. Please refresh the page and try again.