WhatsApp is broken for Windows Phone 8.1 and there's no fix in sight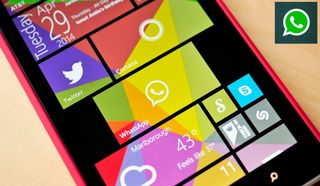 Normally, I'm a pretty big advocate of WhatsApp. After KIK unceremoniously abandoned Windows Phone in 2012, WhatsApp rose up to take its place. Sure, the app had issues on occasion, but the development team was busy pumping out updates so often it became a running joke (remember update Fridays?).
Lately, things are slipping. For instance, the public version of the app hasn't had an update since January. That's almost four months ago. Granted, WhasApp beta users have been receiving updates nearly every other day, but even that does not guarantee a steady or working app. New features have not been added in weeks, just occasionally moving around of elements resulting in a game of 'what's changed?' each time a new version is released (changelogs don't exist, evidently).
Now, Windows Phone 8.1 users are experiencing issues with notifications (see our forums). For some reason, alerts are showing up 10, 20 or 30 minutes later, assuming you get notified at all. It's not much better for those on the beta, where at least a pop-up alert reminds you that "some features" won't work in 8.1. Annoyingly, this pop up shows up each and every time you open the app, making me not want to use it any longer.
Perhaps it's unfair to expect WhatsApp to work perfectly during the 8.1 Preview, but it's not even clear why there are random issues with delivering notifications (every other app appears to work). It's also not obvious why this can't be fixed – even in the beta – considering the high profile nature of this app. Throw in the never-ending testing, the lack of a public update and the broken notifications for the million of us (give or take) on 8.1, it's a tad frustrating.
WhatsApp is supposed to receive a major update with VOIP, which could spark a new renaissance. Maybe the team is holding back for Windows Phone 8.1 release to be official, something that is expected by us at the end of May. Regardless, at least for now I'm using Facebook Messenger, which is a bit surprising. But it's been reliable, forgetting the white-screen-on-resume bug, and hey, it has hilarious stickers to boot. Plus I can use it on multiple phones.
Now it's your turn. You always ask about an update in comments, so here's your chance to rant (or praise) WhatsApp. Am I being too critical?
Related Reading
Daniel Rubino is the Editor-in-chief of Windows Central, head reviewer, podcast co-host, and analyst. He has been here covering Microsoft since 2007 when this site was called WMExperts (and later Windows Phone Central). His interests include Windows, Microsoft Surface, laptops, next-gen computing, and for some reason, watches. Before all this tech stuff, he worked on a Ph.D. in linguistics and ran the projectors at movie theaters, which has done absolutely nothing for his career.
I use telegram (migram on WP) and its nothing short of fantastic. Anyone looking for a nice alternative should have a look! :)

WhatsApp a poorest app on windows phone store

Actually both facebook and WhatsApp are poorest app ever on windows phone,we cannot share audio files on WhatsApp,no status hide option,no automatic message scheduler of what's app,nothing instead of crash crash crash

windows phone 8.1 is the best operating system out there but App support, selection and functionality is a big let down,which almost leaves the OS kinda disabled. I really love my L925 but am thinking of jumping ship if this issue is not seriously adressed

i dont agree , if that's true why Nokia release new Lumia which suppor Andriod , it's kind of failare admit , i think so , i have Lumia 720 and alot of app keeps get crashing specially when you use it continuosly and sometimes take a time while it's loading

Not worse than viber. I talk to someone for an hour with maybe 30 or so incoming messages and get notifications throughout the day one at a time. If I hadn't stopped using it, I would have turned notifications off completely, making the app useless anyway.

Yeah I'm going to start using it more for people who are on it

I like Voxer... Its been stable for awhile now

Yeah that is wht I use too but I'm missing the voice recording tho. It needs to be updated as well.

migram ! +920 almost every close friend use it :)

Viber, wechat and hike have gone way better then what's app on windows phone..... People should oppose what's app until they release an updated app... I cant see stickers sent via android phones... Its irritating... They make fun... Awww.. Windows phone users cant see what we androiders talk .... Insulting

Hike is awesome to chat, with stickers and real time notifications

I agree. After using so many chat apps on windows I like hike the most. It does allow only your circle of friends to view your status and last seen and better interface and good support team. Most of all you will recieve notification even when you are offline via SMS (only India currently). Moreover they run reward programs. 100% better than WhatsApp.

I like Migram and telegram in general, but 2 things hold it back: 1. You must use a phone number and if you ever change your number, your account is gone. 2. You must use a phone number and have it with you to log in. Ie. you can't login online without your phone. I currently use Google Hangouts while at work, but since it's Google, it sucks on Windows Phone (IM+ is meh, and it'll stop working in a couple weeks anyways).

Why don't you use Skype instead?

but there is no support for notification centre thats a problem + messages are delayed at times

With 8.1, you can only sign in to Skype with your Microsoft account. If your contacts aren't attached to your Microsoft account (mine are not) then Skype is useless on Windows Phone. Was not like that before 8.1.

Is anyone getting three notifications for each Messenger message? This is something I find really annoying, more so than Whatsapp being broken.

Yeah super annoying, plus the white screen by is frustrating.

Did you turn off the notifications in the Facebook app?

Yeah but only if your contacts are using it too and I don't know a single soul who uses it.

So much time taken for this update. Really disappointing. Bbm come soon.

Ever since Whatsapp landed in the hands of Facebook, what I feared is turning out to be ture. Things are just getting worse as time passes by.

Not disappointing at all, it still works perfectly well on WP 8! mind you, I would like to use migram more, awesome app, but no one else is using it, as none of my ios and android contacts see the need when their whatsapp works perfectly well. But as i say whatsapp works fine on WP 8, tough luck if you downloaded 8.1 before its official release date!

What!!! you're still using WP 8?

What is this 8.1 you speak of ? :-)

I didn't say anything about 8.1

I hate facebook team. They are holding the development of WP8 App by favoring Apple. They just built something because of the pressure from Nokia. Half baked FB massager, Instagram and WhatsApp.

They didn't build WA, as far as I know both Instagram and WA are still operating fairly autonomously

I think most who have updated to 8.1 don't really need whatsapp. It's a product demanded by the silent majority, whom are all still on wp8

Unexpectedly my WhatsApp is working perfectly since this morning

Brace yourselves for WhatsApp update in 20??..

Waiting till the end of may is too damn long! D:

I think Whatsapp needs a new development team. Whatsapp seriously doesn't know how to do incremental releases. First they need to push out updates for bugs that people are facing and at a later stage release an update with new features. Waiting to push out everything at one go just keeps getting users frustrated which is scewing up their credibility.

+1 a serious Development Team

Is Microsoft any different? :P

Add to that adding more bugs than features when such a massive update is pushed out. Why not add a feature or two, fix bugs, then add more, then fix bugs and so on and so forth on biweekly basis? Can't be that hard.

+620 yes I agree with u...i think they need good development team

Not at all too critical.
Something else that's bothering me is that whenever I open whatsapp, there's a humming electrical sound coming from my speaker I guess..
Really annoying and weid

I get that too. Very weird..

Oh wow I just noticed that. I get that too on my 920.

You can stop that sound by tapping the record button really fast/short (don't record anything!) and it will go away

My dear it is happening in many apps, check out temple run, minion rush

Yeah! Exactly! i tought i was crazy!! xdd Its like a music or streaming "something" kinda trick to receive notifications..or something like that.. Its so annoying

I suppose it is sound API initialization (gone wrong?). I just ignore it. The noise is just digital-analog converter or amplifier being turned on, since it's just builtin speaker it is quite lo-fi, thus the noise.

The rise and fall of whatsapp on Widows Phone. Miss those update days

Has WhatsApp on WP ever been bug-free? I don't think

ah well... i agree and it's defenitely a major issue for me that i can use whatsapp only on one phone and not via an account (like ALL OTHERS). I'm on an iPhone 5S right now but i planned to switch back to my 920 in a week with 8.1 installed. As i use whatsapp everyday, this may letting me wait a bit (or much) longer and stay on my iPhone for now.

I don't have this issue with whatsapp, and I have a wp8.1 dp. If i did I would be pissed :S

I didn't have it also until recently after I travelled to India from Dubai. I thought maybe it was cause I am currently in a different country. But going by these comments, I guess not. Just pray that you don't get it.

Even I thought I was the only person facing the delayed notification issue since last 4 days... Thanks Daniel for this article... Now atleast I know I am not the only one...

Yeah.. I thought I was alone too.

maybe its the whatsapp beta, no?

I'm not on the beta and haven't had any issues with whatsapp on 8.1. I've never seen that error message before either. I get all my notifications without a problem.

I have to agree here. I have zero problems with it on WP8.1. Nokia Lumia 920 on AT&T.

That's just it, it's random. But I have three other people on 8.1 and WhatsApp and notifications are all over the place now, so we don't use it any longer.

I have a 1520 and experiencing the reported issue, so there you have it...
Btw, Battery sense says WhatsApp is eating quite a lot of battery, so this might be an issue as well (and might even explain the increased battery drainage after updating to 8.1).

I am having notification issue since last few days.it's completely irritating. Hope they fix it soon.

Yeah me too, it's very annoying, I have to warn everyone that Whatsapp doesn't work properly on Windows Phone, it's hardly an advert for the device!!!

i am facing the same problem. i need to check the msgs. late notification of msg received.

I was having the identical problem with the regular build of Whatsapp on a WP8 (not 8.1) device a month or two ago; but the problem seems to have corrected itself.

My notifications seem to work fine on WiFi, but no notification work on data plan. None of my apps give me any notification on data plan. And yes, I checked the Battery Saver settings. But what really bothers me is that I can't send pre-recorded videos anymore on Whatsapp -.-

You can send... Install Pocket Explorer http://www.windowsphone.com/s?appid=ef636d74-3f80-4a2b-94c1-453777411d2a and move or copy the videos you want to send to the pictures\whatsapp folder of your phone. On the phone, not on SD card.

Just installed it but I can't figure out how to move a video to the Pictures folder. Can you guide me, please?

I have the same problem as Daniel, my notifications come in bundles, like 10 or 20 at a time and usually delayed by 10 minutes after the first message. And pre recorded videos aren't going through anymore.

Yup some tyms notification come 15minutes late ....sent what's app team an email 2 days back still no response... Can't switch to any other messengers because in android what's app works way better and most of my friends are using it too... Really frustrating..

I believe this is how bugs always show on WP. Randomly. Some get some spotlight and some don't.

I cant take the decision of not using WhatsApp as my business depends on it...me and my clients use WhatsApp for business... WhatsApp is huge in India...out of my 600 odd contacts 384 are on WhatsApp... Its a sad sad situation

I'm always getting notifications late after wp8.1.