WhatsApp is broken for Windows Phone 8.1 and there's no fix in sight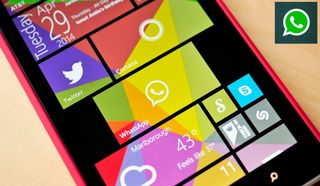 Normally, I'm a pretty big advocate of WhatsApp. After KIK unceremoniously abandoned Windows Phone in 2012, WhatsApp rose up to take its place. Sure, the app had issues on occasion, but the development team was busy pumping out updates so often it became a running joke (remember update Fridays?).
Lately, things are slipping. For instance, the public version of the app hasn't had an update since January. That's almost four months ago. Granted, WhasApp beta users have been receiving updates nearly every other day, but even that does not guarantee a steady or working app. New features have not been added in weeks, just occasionally moving around of elements resulting in a game of 'what's changed?' each time a new version is released (changelogs don't exist, evidently).
Now, Windows Phone 8.1 users are experiencing issues with notifications (see our forums). For some reason, alerts are showing up 10, 20 or 30 minutes later, assuming you get notified at all. It's not much better for those on the beta, where at least a pop-up alert reminds you that "some features" won't work in 8.1. Annoyingly, this pop up shows up each and every time you open the app, making me not want to use it any longer.
Perhaps it's unfair to expect WhatsApp to work perfectly during the 8.1 Preview, but it's not even clear why there are random issues with delivering notifications (every other app appears to work). It's also not obvious why this can't be fixed – even in the beta – considering the high profile nature of this app. Throw in the never-ending testing, the lack of a public update and the broken notifications for the million of us (give or take) on 8.1, it's a tad frustrating.
WhatsApp is supposed to receive a major update with VOIP, which could spark a new renaissance. Maybe the team is holding back for Windows Phone 8.1 release to be official, something that is expected by us at the end of May. Regardless, at least for now I'm using Facebook Messenger, which is a bit surprising. But it's been reliable, forgetting the white-screen-on-resume bug, and hey, it has hilarious stickers to boot. Plus I can use it on multiple phones.
Now it's your turn. You always ask about an update in comments, so here's your chance to rant (or praise) WhatsApp. Am I being too critical?
Related Reading
Daniel Rubino is the Executive Editor of Windows Central, head reviewer, podcast co-host, and analyst. He has been covering Microsoft here since 2007, back when this site was called WMExperts (and later Windows Phone Central). His interests include Windows, Microsoft Surface, laptops, next-gen computing, and arguing with people on the internet.
I use telegram (migram on WP) and its nothing short of fantastic. Anyone looking for a nice alternative should have a look! :)

WhatsApp a poorest app on windows phone store

Actually both facebook and WhatsApp are poorest app ever on windows phone,we cannot share audio files on WhatsApp,no status hide option,no automatic message scheduler of what's app,nothing instead of crash crash crash

windows phone 8.1 is the best operating system out there but App support, selection and functionality is a big let down,which almost leaves the OS kinda disabled. I really love my L925 but am thinking of jumping ship if this issue is not seriously adressed

i dont agree , if that's true why Nokia release new Lumia which suppor Andriod , it's kind of failare admit , i think so , i have Lumia 720 and alot of app keeps get crashing specially when you use it continuosly and sometimes take a time while it's loading

Not worse than viber. I talk to someone for an hour with maybe 30 or so incoming messages and get notifications throughout the day one at a time. If I hadn't stopped using it, I would have turned notifications off completely, making the app useless anyway.

Yeah I'm going to start using it more for people who are on it

I like Voxer... Its been stable for awhile now

Yeah that is wht I use too but I'm missing the voice recording tho. It needs to be updated as well.

migram ! +920 almost every close friend use it :)

Viber, wechat and hike have gone way better then what's app on windows phone..... People should oppose what's app until they release an updated app... I cant see stickers sent via android phones... Its irritating... They make fun... Awww.. Windows phone users cant see what we androiders talk .... Insulting

Hike is awesome to chat, with stickers and real time notifications

I agree. After using so many chat apps on windows I like hike the most. It does allow only your circle of friends to view your status and last seen and better interface and good support team. Most of all you will recieve notification even when you are offline via SMS (only India currently). Moreover they run reward programs. 100% better than WhatsApp.

I like Migram and telegram in general, but 2 things hold it back: 1. You must use a phone number and if you ever change your number, your account is gone. 2. You must use a phone number and have it with you to log in. Ie. you can't login online without your phone. I currently use Google Hangouts while at work, but since it's Google, it sucks on Windows Phone (IM+ is meh, and it'll stop working in a couple weeks anyways).

Why don't you use Skype instead?

but there is no support for notification centre thats a problem + messages are delayed at times

With 8.1, you can only sign in to Skype with your Microsoft account. If your contacts aren't attached to your Microsoft account (mine are not) then Skype is useless on Windows Phone. Was not like that before 8.1.

Is anyone getting three notifications for each Messenger message? This is something I find really annoying, more so than Whatsapp being broken.

Yeah super annoying, plus the white screen by is frustrating.

Did you turn off the notifications in the Facebook app?

Yeah but only if your contacts are using it too and I don't know a single soul who uses it.

So much time taken for this update. Really disappointing. Bbm come soon.

Ever since Whatsapp landed in the hands of Facebook, what I feared is turning out to be ture. Things are just getting worse as time passes by.

Not disappointing at all, it still works perfectly well on WP 8! mind you, I would like to use migram more, awesome app, but no one else is using it, as none of my ios and android contacts see the need when their whatsapp works perfectly well. But as i say whatsapp works fine on WP 8, tough luck if you downloaded 8.1 before its official release date!

What!!! you're still using WP 8?

What is this 8.1 you speak of ? :-)

I didn't say anything about 8.1

I hate facebook team. They are holding the development of WP8 App by favoring Apple. They just built something because of the pressure from Nokia. Half baked FB massager, Instagram and WhatsApp.

They didn't build WA, as far as I know both Instagram and WA are still operating fairly autonomously

I think most who have updated to 8.1 don't really need whatsapp. It's a product demanded by the silent majority, whom are all still on wp8

Unexpectedly my WhatsApp is working perfectly since this morning

Brace yourselves for WhatsApp update in 20??..

Waiting till the end of may is too damn long! D:

I think Whatsapp needs a new development team. Whatsapp seriously doesn't know how to do incremental releases. First they need to push out updates for bugs that people are facing and at a later stage release an update with new features. Waiting to push out everything at one go just keeps getting users frustrated which is scewing up their credibility.

+1 a serious Development Team

Is Microsoft any different? :P

Add to that adding more bugs than features when such a massive update is pushed out. Why not add a feature or two, fix bugs, then add more, then fix bugs and so on and so forth on biweekly basis? Can't be that hard.

+620 yes I agree with u...i think they need good development team

Not at all too critical.
Something else that's bothering me is that whenever I open whatsapp, there's a humming electrical sound coming from my speaker I guess..
Really annoying and weid

I get that too. Very weird..

Oh wow I just noticed that. I get that too on my 920.

You can stop that sound by tapping the record button really fast/short (don't record anything!) and it will go away

My dear it is happening in many apps, check out temple run, minion rush

Yeah! Exactly! i tought i was crazy!! xdd Its like a music or streaming "something" kinda trick to receive notifications..or something like that.. Its so annoying

I suppose it is sound API initialization (gone wrong?). I just ignore it. The noise is just digital-analog converter or amplifier being turned on, since it's just builtin speaker it is quite lo-fi, thus the noise.

The rise and fall of whatsapp on Widows Phone. Miss those update days

Has WhatsApp on WP ever been bug-free? I don't think

ah well... i agree and it's defenitely a major issue for me that i can use whatsapp only on one phone and not via an account (like ALL OTHERS). I'm on an iPhone 5S right now but i planned to switch back to my 920 in a week with 8.1 installed. As i use whatsapp everyday, this may letting me wait a bit (or much) longer and stay on my iPhone for now.

I don't have this issue with whatsapp, and I have a wp8.1 dp. If i did I would be pissed :S

I didn't have it also until recently after I travelled to India from Dubai. I thought maybe it was cause I am currently in a different country. But going by these comments, I guess not. Just pray that you don't get it.

Even I thought I was the only person facing the delayed notification issue since last 4 days... Thanks Daniel for this article... Now atleast I know I am not the only one...

Yeah.. I thought I was alone too.

maybe its the whatsapp beta, no?

I'm not on the beta and haven't had any issues with whatsapp on 8.1. I've never seen that error message before either. I get all my notifications without a problem.

I have to agree here. I have zero problems with it on WP8.1. Nokia Lumia 920 on AT&T.

That's just it, it's random. But I have three other people on 8.1 and WhatsApp and notifications are all over the place now, so we don't use it any longer.

I have a 1520 and experiencing the reported issue, so there you have it...
Btw, Battery sense says WhatsApp is eating quite a lot of battery, so this might be an issue as well (and might even explain the increased battery drainage after updating to 8.1).

I am having notification issue since last few days.it's completely irritating. Hope they fix it soon.

Yeah me too, it's very annoying, I have to warn everyone that Whatsapp doesn't work properly on Windows Phone, it's hardly an advert for the device!!!

i am facing the same problem. i need to check the msgs. late notification of msg received.

I was having the identical problem with the regular build of Whatsapp on a WP8 (not 8.1) device a month or two ago; but the problem seems to have corrected itself.

My notifications seem to work fine on WiFi, but no notification work on data plan. None of my apps give me any notification on data plan. And yes, I checked the Battery Saver settings. But what really bothers me is that I can't send pre-recorded videos anymore on Whatsapp -.-

You can send... Install Pocket Explorer http://www.windowsphone.com/s?appid=ef636d74-3f80-4a2b-94c1-453777411d2a and move or copy the videos you want to send to the pictures\whatsapp folder of your phone. On the phone, not on SD card.

Just installed it but I can't figure out how to move a video to the Pictures folder. Can you guide me, please?

I have the same problem as Daniel, my notifications come in bundles, like 10 or 20 at a time and usually delayed by 10 minutes after the first message. And pre recorded videos aren't going through anymore.

Yup some tyms notification come 15minutes late ....sent what's app team an email 2 days back still no response... Can't switch to any other messengers because in android what's app works way better and most of my friends are using it too... Really frustrating..

I believe this is how bugs always show on WP. Randomly. Some get some spotlight and some don't.

I cant take the decision of not using WhatsApp as my business depends on it...me and my clients use WhatsApp for business... WhatsApp is huge in India...out of my 600 odd contacts 384 are on WhatsApp... Its a sad sad situation

I'm always getting notifications late after wp8.1.

Notifications are coming late, man..... or never coming until you open Whatsapp.

That's the problem I'm having - if I have the app open it's fine - though you can imagine the battery life! How bizarre - it was perfect under 8.0. Have they (whatsapp) not even responded?

No problem at all.....WP8.1 NL925

I had endless problems with it burning through my battery in WP8. Reinstalled it with 8.1 and it runs perfectly. Haven't had any of the issues above. Maybe it is totally random?!?!?

I ve also no problem. Except few crashes a months ago.

It's true the notifications have been really late these days. Thought it was only me...

Yes, I was thinking it was just my phone. It was working fine, then suddenly no notifications or notifications 30 minutes later. At least I do not need to reinstall it again and again.

I don't have that bug in wp8.1 dp yet.. Luckily.. Though notifications are quite delayed when using WIFI..

Um.. What? You don't have the bug, but the notifications are delayed? Mate, you have it too.

Sent the whatsapp support an email about the issue and still waiting to hear bad from them

you're going to wait a long time

A really really long time

A really really really long time

A really really really long...you know.

This is what they replied to me: " Jami T. (WhatsApp Support) Apr 27 01:07 Hi, Thanks for your message. On Windows Phone, Push notifications come through a connection to Microsoft's servers, whereas messages come from a connection made through WhatsApp servers. The Push notification do not get processed by WhatsApp. When someone sends you a WhatsApp message, WhatsApp server sends a notification to your phone via Microsoft Push Notification Service (MPNS). Then MPNS manages to send the Toast notification to your phone. Currently, all of our servers are operating and connecting to MPNS normally. If you are still experiencing any delay or failure to receive the Toast notification on your device, your phone may be disconnected from MPNS. Microsoft's servers might be unable to connect to your device. In this case, please contact your mobile provider or your Wi-Fi administrator to help you configure the network settings on your device. If the problem still persists, you can contact Windows Phone Support for more information: http://www.windowsphone.com/en-us/contact-us Please also note that even though you can connect to internet to use WhatsApp or other applications, you may encounter a networking issues to connect to MPNS because the notifications and messages use different types of connections. For more information about MPNS, please see this article: http://msdn.microsoft.com/en-us/library/hh221549.aspx Please visit this article to get connected on your Windows Phone: http://www.windowsphone.com/en-GB/how-to/wp8/start/get-connected If you have any other questions or concerns, please feel free to contact us. We would be happy to help! Jami T. WhatsApp Support Team Interested in translating for us? Please visit http://translate.whatsapp.com Take a look at our FAQ: http://www.whatsapp.com/faq/ " Basically, they are pointing the finger square at Microsoft. What do you all think?

I don't think it's MPNS that is causing a problem, because every app that uses push notification uses MPNS (http://msdn.microsoft.com/en-us/library/windowsphone/develop/ff402558%28...)..... BUT other apps seem to work fine If they are saying "your phone may be disconnected from MPNS" then it's quite weird to see so many phones getting disconnected from MPNS.... LOL

I think developers can opt in to use MPNS. In this case Microsoft will send the push "in a way it improves battery life" and not immediately. I'm almost sure developers don't must use it for push. It's only a easy way. They can implement their own push directly to the phone.

All push notifications have to be sent through MPNS. AFAIK there is no way to bypass MPNS


The irony is that with wp8.1 mpns is no longer the only way of notification to WP devices. It supports wns now too (which you'll find with win 8.x apps), which makes notification a breeze (I'm developing a wp8.1 w wns support)

Thanks for the information :) It would be nice if you provide a link to the source. Edit: Souce- http://msdn.microsoft.com/en-us/library/windows/apps/hh913756.aspx

As well as my three Telegram apps (I'm testing them to choose the best one), Facebook apps (facebook and Messenger), NextGen Reader, Skype, Twitter, etc., receive every notification inmedietly (they sync/receive messages at the same time that my pc and mac do) I think Whatsapp Support Team is bulls***, and they have been like that allways (still remember when they used the music background task in WP7 to connect their own servers).

Sometimes I receive Skype call 10 minutes after they are "created". Have similar problems with Facebook and Twitter too. According to this article about MPNS (number 4),

To optimize available bandwith, these notifications might be sent in batches to the phone by the service

But that does not mean it holds back or delays the notifications

Well, to me for this send in batch is because they are being delayed.

Developer Preview seems Buggier.

It's been 7 hours and 15 days... Since I've received a response from Whatsapp

Notification problem is really very annoying
I m just fed up of it

I was never even under it ;)

I hope that an update will be there soon... Push notifications don't work properly. Lumia 1020 WP8.1

Typo in the title, "Window" instead of "Windows" and it says "WhasApp" somewhere in there :P

Like I've already said, it would be great if BBM comes soon and with a well executed app (I'm not holding my breath), the way WA has behaved lately is disappointing, I'm not sure what they are trying to accomplish, but the app has sucked the past few months on both 8.0 and 8.1. The constant addition of "new features" to the beta without anything being pushed to the wide release is frustrating. Also they should have probably addressed the bugs they've had (app crashing, constants notification issues, battery drains) before introducing new features. Personally I'll take those three bugs addressed over the useless backgrounds feature in the app.

Strange, I was doing just fine with KiK til I had to master reset my device, then now it doesn't let me sign in. And I had no idea support for the platform is gone...WhatsApp I use, but not as often, myself. What disheartening news to hear on both ends. Le sigh.....

I get spammed on Kik all the time and there's no way to prevent it (they added a feature to help, but only in iOS/Android).

But WP7 app works in WP8 Daniel! that's what Kik team says. why would they update it? ;) nah, but seriously, Kik account system sucks, I mean, some account get stuck in S and they dont fix that, they even say if you deactivate your account because of that in their question section. the only solution to avoid spam in WP is having a weird username and only give it to people you know. because that's how kik sucks in general. and I wish some people didn't use that crap.

I hate that annoying dialog on WhatsApp Beta(WP8.1) and I hate the support team also. It is like we report some bug on WP8.1 and they are like "We are not focused on Windows Phone 8.1 now". I don't know what they are doing or what they have planned for the Windows Phone users.

I am using chat rooms (so good) and facebook messenger. Notification problems are coming in WhatsApp, and some other bugs too.

I also hate that now the toast/notification displays "Message from <person>" instead of showing a preview/snippet of the message like they used to before

Check the whatsapp settings and ensure that "show message in notification" is enabled.

oh snap, i must've toggled that option by mistake. Thanks!

That's why i really hate this developer version. Just back to WP8 and love how everything works. And have Game hub, and GOOD music app (no that laggy one on wp8.1)!

WA sucks on 8.0 for a lot of users as well, you can get the music app in 8.1

Maybe but not so much as WP8.1. Audio level problems, game hub, cursor on text, apps problems and especially, battery SERIOUS issues. Thanks but no thanks.

Audio level problems? Interesting, can you elaborate please. Also which apps are giving trouble?

Sure, no problem! Audio level problems: Some devices (like L920, L810, L1020) had some pitch noises, when you are listening music or playing games or apps, and some song pass to another there is a "pitch" batch weird noise sound between songs. Really anonying. Apps like toast notificactions on Facebook, some gps problems with Waze, some problems with Internet Explorer on private mode, some problems of hoverheating on cam related apps. Most of them are explained on forums.

damn that sucks, I've had the pitch problem one one occasion, but can't say that I've had any issues with anything else, only notifications issues are WA and funny enough, I'm not sure how this happened, but my battery life improved

I just have the pitch sound problem, and is really disturbing. Can listen music well, really hurts whe you pass from song to song. My battery with Cortana and location and several services off are stupid, around to 9 hours, some of then on stand by. Im back on WP8 and zero problems, just some delay on toast but sometimes. I dont know if is for WP8.1 or the lack of cyan update, but WP8.1 was a pain for me and i worried, i hope something fix when the oficial release is on.

I feel like that with so many app not updated on WP. They're made than abandoned. App experience for so many app have been sub par

Remove whatsapp from store.asshole app no update nearly 4months. Posted via Windows Phone Central App

WhatsApp broken......and where is update???

Notifications not working for me, I have been using Facebook Messenger instead, have sent them e-mail with no feedback. Whatsapp is a joke on WP, users should ditch them and go for other apps. Is Facebook doing this on purpose to promote their own messenger?

Since fb has bought WhatsApp !! I don't think thts the problem!! The problem lies with the dev !!!

Really this is frustating. Fuck fb inc

At least now I know I'm not the only one

RUDY COME SAVE US!!!!!!!!!!!!

WhatsApp is proprietary, so no way for a third-party app.

I Know I Know...
So..SUPERMAN COME SAVE US!!!!!!!!

Rudy!! make another XMMP service like whats!! I support you! :)

well there is Wazapp and whatsup in MeeGo (whatsup made by @cepiperez he's like the MeeGo's Rudy) so why no ask them both to work together.

Fortunately I'm not having any issue with the app on 8.1

Mine started witout any issues, but past few days no notifications at all or I get a swarm of them that have accumulated throughout the day

It's annoying when there's a group conversation and you get the messages 30 mins later. It's getting better for me though. Battery consumption needs to be fixed!

It needs to come out of beta, seems like it's been in beta for a year.

Come on WhatsApp team. I use WhatsApp a lot. A lot.

WhatsApp is on the top of my battery usage right now, they seriously need to consider optimizing its battery usage.

to hell with whatsapp! its been bad since wp7! ugh! :G

This app has saved me thousands of dollars and still yet to come, I'm sticking with it all the way till the end. Thanks for the article.

I don't see that pop up but I am having problems with the notifications

The popup is only in the beta.

Misteriously im having a problem when im trying to check my account with the code. Everytime i set it, a message pops up saying that i have alredy requested my code, and a timer telling me how much time do i have to wait to try again. Can this be related with this huge problem with Whatsapp?

Nope, not being too critical as for a few days now I have been receiving notifications for messages a few hours later after they have been sent. The worst one was more than a day late!
Surprised where did this random glitch come from...as it was working perfectly fine before on my L920 running wp8.1 dp.

Its working fine on my Lumia 820 running 8.1

I thought I'm the only one experiencing these issues with the app :O

One of my friends sent an email to WhatsApp to sign up for Beta but they replied that WhatsApp is not accepting beta testers for the time being as a new update with new features and bug fixes for the public version is in the works.

As a long time WP user, I'm almost stopped using WhatsApp & Facebook! Its frustrating on WP & never perfect. And never will be!

This is very, VERY bad news for wp. Whatsapp is the most used and famous messenger. For wp to be left out while the other OS evolve isn't a good signal.

Whatsapp is having a party with facebook. Don't disturb them, don't ask them for an update or....

Yeah me and my girlfriend both not getting notifications. Shit. Facebook irritates me with the white screen thing too. PLEASE UPDATE!

I have a problem with attaching photos. After 8.1 all pics are being saved to "Other" folder instead of the "WhatsApp" . Now it wont allow me to see view and attach anything from "Other" folder.

I e-mailed The WhatsApp support team about this problem and all they said was, It might be the problem of MPNS :/ u gotta be kidding guys :|

Which is weird, because MPNS is actually really good from what I hear.

But as far as I know MPNS try to save your battery live so it try to deliver many pushs (it's right?) at the same time and not immediatelly.

I dont know that, but It should good if u say so daniel. Amazingly People at WhatsApp had the nerves to blame MPNS while the problem seems to be their own! I'm freaking annoyed at the moment...

....These are signs that Microsoft just don't know what to do.... How come no VP or even the CEO can call Suckerberg and ask him to update & improve Whatsapp for WP??? if the late Jobs were in charge ...he would have called that kid Suckerberg and ask him to update the WP client for Whatsapp...

Just no. Asking gets nothing. Money talks.

my whatsapp is gone down its not working since last 2 hours idont know what the problem is . no incoming outgoin messages . plz help anybody . ashking2@hotmail.com is my mail id . plz friends help .


i use wp8.1 developer preview .

What are you taking about? I've been using whatsapp on 8.1 since day 1 and it works fine

Yea mine works fine too lol

See forums. See the rest of the comments here. See beyond your own experience ;)

Notifications are opening only when the app is opened

.....my whatsapp is working fine.... And i remember when we where proud of them cause they have us a mighty amount of updates

I have been receiving notifications for messages after several minutes after they have been sent.... It crashes if we load previous texts... Hope they fix this problem asap!!!

before tow hours it was working perfect . suddenly its gone down to zero . now nothing works .

Guys use Hike !!
Its fantastic app with great,beauty,smooth UI
And nice stickers

While WhatsApp could be criticized for moving too slowly with regards to updates, it is not really fair to blame them for issues relating to the developer version of WP 8.1. Install at your own risk or wait for the final version.

Even if we cant blame dor the dev preview version we can for those who r using WP 8.0. Watsapp is even sucking on that version. So its high time. So those usless watsapp programmers needs to get their ass on work for WP.

Why can't be released a public beta?

Hold on right there, you use Facebook Messenger? I thought you said you don't have a Facebook account; unless you meant you don't use it as much. If so, this is breaking news!

Hello, this is asimografer from your IG account. Had told you I'll give a shout-out here the next time I saw you. ;)

We've been waiting the WhatsApp update from a long time, wallpapers... And better looking and working app.. Far from that they are very quite but hopefully its because they are working on a very big update (we wish)

It seems like these heavyweights just don't care for WP platform anymore. Instragam is still in beta as well but luckily there are other alternatives. Wish someone would build a third party WhatsApp client.

My WP has got to be magic cause Whatsapp is working just fine for me :D

Hike is working really great. Messages are received instantly. Pretty smooth :)

I know that there are better alternatives to whatsapp but the problem is that Whatsapp is the freaking only app that every single one of my friends use. (I have for example really active Whatsapp group chat with 20 people in that probably not a single one has hike for instance) If I change Whatsapp to another service, it doesn't help me at all. I would end up alone there without nobody to chat with while other folks are using Whatsapp.

Whatsapp has always been broken on wp8. Battery draining, late notifciations or old notifications all coming in at once like an hour later. I've read about issues with whatsapp on wp7, but in my experience over two devices for wp7 (focus S and lumia 900), whatsapp worked great and in real time. ONce i got to wp8, it was a horrible experience and to the point where i just abandoned it myself and ended up getting unlimited texting. Also, group me works better as well, real time notifications and notifications that actually use the action center. So whatsapp was pushed aside awhile ago and never looking back.

Lost complete interest in WhatsApp now. Hardly using when notifications resurface in notification center !!

It's been very unreliable as far as notifications are concerned. Sometimes I get them on time, other times late or never at all. I am on the 8.1DP

Oh thank god I'm not alone!! Seriously WhatsApp should not focus on android and ios alone! WP still sucks even if the beta version has a lot of features that the public one doesn't have. Audio sharing and a better video sharing feature, hiding the last seen time, custom backgrounds, etc must come to WP

I use voxer. Also Facebook messenger. Cant wait for BBM to arrive.

My WhatsApp working fine on WP 8.1 preview :O

WhatsApp on WP 8.1 is a big disappointment so far. I have been using Skype more frequently since I upgraded to 8.1 but I agree that even Facebook Messenger is more reliable than WhatsApp right now.

I believe that this is might be on specific devices.
I have HTC 8X unbranded, and my wife has a NOKIA Lumia 1320,both with 8.1 but we've no problems what so ever in Whatsapp.
And no delay on notifications at all.

SMS ftw. These are phones ppl.

Yes because SMS for international friends is cheap..

Well, in some countries, local SMSs are not cheap too ("Data package" + "messaging app" is cheaper)

I did also. First reply from them said it is my phones problem. But I sent them link of "official whatsapp thread" on wpc forum pointing them directly where ppl were complaining about delayed notification (pg 92 -X). Then they changed story, said .. "When someone sends you a WhatsApp message, WhatsApp server sends a notification to your phone via Microsoft Push Notification Service (MPNS). Then MPNS manages to send the Toast notification to your phone. Currently, all of our servers are operating and connecting to MPNS normally... Blah blah blah"

1st it was said they were keeping it for the release of preview now they are keeping it for official release..

Well, it is working well for me though. I've been using it since the update.

Good occasion for all to switch to Telegram!!

Well i guess i one of the lucky bastards who updating to wp 8.1 didn't break nothing, whatsapp works fine for me

@daniel rubino i want that start screen wallpaper.. plz

Worst app experience of WhatsApp at WP platform.

Whatsapp is flawless on my Nexus 5. It has never worked properly on WP8 and I haven't even bothered installing it on WP 8.1 My WP is for playing around at home on wifi until Whatsapp gets their crap togethor.

Same here. This notification delay isn't new. On my L1020 with WP8.0 the app routinely failed to notify me or delayed it by several minutes. Works beautifully on my iPhone 5S. I couldn't care less about Cortana or themes if basic apps like this and Facebook are not up to par with competition.

We need to do something rate it with one Star and report it to Microsoft everyday as Insufficient

Rubino came as superman, he seems to be very dedicated to windows phone community. Let thousands of us complaint about buggy WhatsApp but when Mr Rubino posts than it reaches millions!! Thanks sir!

Heh, even I have my limits ;) I usually leave some wiggle room for developers and try to see both sides (including OS limitations that may be interfering), but here I have to call a spade a spade. Hope it helps in the long run, as I want WhatsApp to succeed.

Hey Danny off topic but that wallpaper on imgur. Could you put it on there?I would ask for one drive but its hella resolution destroyer

WhatsApp works great on my Lumia 720. It resumes as quickly as the standard SMS hub and that's the key thing about it (especially when compared to Viber and Skype). However, notifications do lag for a few minutes some times, but it's not 10-20-30mins. The only bug I constantly have is that if I lock my phone when WhatsApp chat is open, I would not get any notification whatsoever; unlocking the phone shows the message properly though.

True, the service in WP is terrible.

Belfiore is doing an AMA on Reddit this Friday, everyone should ask him why they can't get WA to release a proper app with proper notifications and why they are fine with WA stating that MPNS is the issue

Kinda of a Hit or Miss here.
Sometimes it works fine , sometimes a 10~20 minutes delay. Uh Daniel, what do you mean Windows Phone 8.1 goes official at the end of May ? I heard that before & the Date May 31th was also mentioned a couple of times .
Thanks

Hilarious sticker to boot, i dont know that. Angone tell me what it mean.

Still the most popular phone app and the reasons people buy smartphones.
No issues, delays have to do with battery saver or data sense obviously...

I have all kinf of problems with the notifications and WP 8.1, the facebook messenger app, skype, etc. are not updating at all when I'm not on wifi, and when the phone connects to wifi, suddenly everything starts throwing notifications. I tend to think this is the OS itself, or how it's managing the networks maybe

Sorry mate configure your app setting properly coz it seems they only allowed to work over wifi

but then sometimes they just start working again without changing anything, so I guess this is not a settings issue after all

There is an option update over WiFi turn it off from store settings :)

was turned off already :)

no, sorry, I meant it was never turned on my phone but the issue still happening

One question tho, why are windows apps not updated constantly and entry of existing big app ie BBM, Candy Crash

It's rather odd - started randomly and more the only messages come through is if the app is open. I have the same problem with viber!!! Have whatsapp not responded about this? Can the wpcentral team try? ( though I'm sure they have) And what's a good alternative? Telegram? Anything else?

Same problem here. If it's open then it's fine. Closed, then messages are delayed with no alert.

This is the kind of shit that makes it hard to adopt WP as a primary platform.

Blackberry Messenger where the fuuu are you?

I have no issues at all using WhatsApp in Nokia Lumia 920. Works great!!!

Some of my friends lately have the same problem with WhatsApp and they are using Android phones. So clearly there are problems with WhatsApp servers ;)

It's been working pretty good on my 1020 but not too great on my 925

I've contacted support since that stupid alert began to appear on my WhatsApp beta (Lumia 820 WP 8.1 DP). No responses for them at all...

Ok, so while we're trying to destroy Whatsapp for not updating their app, what about the Windows 8 app of WPCentral. Hasn't been update for a long while also. It still doesn't have notifications and when you post a comment from the app you still don't get notified by email when someone replies to your comment, which is why I'm commenting from my Phone even though I first read the article on my Surface. Any plans for an update?

1. Article is about WA. 2. No offense to WPC, but WA is probably of a more importance to more people than WPC app, especially on W8

So far so good. Touch wood I have not faced this issue so far. Anyways Migram Beta is a very good telegram client. A worthy alternative.

Minus the voice integration

So Daniel are you finally admitting you like Facebook :P

Who is what's app good for?

The millions of people that use it.

Using Viber on lumia 920 8.1 and having the same problem. Also have whatsapp.

What if BBM comes Before WhatsApp update its awesome time for it to release as WhatsApp is not working properly...

i think whatsapp team giving some BS explanation To not giving Updates of Private Beta Version :P they making to beg us and want to prove it we need them i guess ...... its lik that they think we dont have any alternative :P but thats not true 2 apps which is stable in wp can kill whatsapp :P they should release the update with in a a week wheatever bug is exist on private beta . we are ready to use it anyway ............. NOW WHATSAPP DEV HAVE GOT GUTS RELEASE THE UPDATE AFTER SEEING MY COMMENT ? DO THEY RELEASE THE UPDATE WITH IN A WEEK? this is totally sucks ppl lik us fight to whatsapp dev get a update we dnt fucking mind to get a buggy version of pvt beta i agree beta is sucks but they should release the version as public beta not every one gonna get the same issue :p we can help whatsapp teamm much better if they not able to release whatsapp update atleast whatsapp public beta we need :9 please release public beta like my comment if we deserve the fight against whatsapp dev ! we need update :D atleast public beta

theres nothing we can do can we they enjoy a monopoly of sorts cause users in india do not even move to other messengers cause the bull crap reason that everyone one is on whatsapp. we need to move on to something like telegram or hike

migram dng good job and hjike but whatsapp team atleast they should release the public beta

switch to line, much better

Its situations like these that frustrates me. The quality of apps is not on par with IOS or Android, but only because our market share doesn't warrant it....

Fb inc sucks. Period. All are useless programmers.

Feel the same. Jus hope tha MS will develop a high end Nokia X device

If mpns is the problem I get random notifications of bing news not all the notifications on the action centre. If MPNS is the problem Microsoft needs to fox that. But we all know the app is alos way terrible.

How can some developers that work by themselves make an app better than a team of developers? I never understood this.
I'm not educated on making apps but it just baffles me.

I have problems with my notifications... 10 or 20 min late... annoying missconfiguration whatss!!

This and the Facebook APP are almost making me return to ICS. :(

Well now we are microsoft's . Daddy go and twist whatsapp arm till they fix the App. Or as we say in México manita de puerco !!!

Its better we all get operating systems get down from watsapp. Thee are so many talented developers who can work on making another decent messenger.

nl 720 and no problem with whatsapp here . just seems to work fine

Is it possible to make WhatsApp client ? I am totally fed up of this WhatsApp app and its numerous bugs surprising me every now and then .

I have almost quit using whatsapp. I'm slowly migrating to migram. I can use it on ALL my devices including my PC and tablet without any hassle. Messages sync perfectly, and if I don't read it on my pc, my phone will ring too.

For me the bug seems to be around all notifications..where sometimes they come in as a chunk..all of these after I have battery saver on..having battery almost drained completely and recharge..despite being out of battery saver seems messages are now delayed..I have same issue with LINE and FB messengers

I found my problem. Somehow restricted background data is on in data sense for me strangely.. Not sure what triggers it before

This is off topic but can I please get that wallpaper

Hating whatsapp for windows phone !

Thank you for this article Daniel.

I've been facing this issue from a week now. Frustrated by it because all the people in my contact list use it and its not possible for me to completely move away.

While they fix the WA app, I'm happily using WeChat, luckily it doesnt have that problem.

Everyone I know is either using WhatsApp or FB. WhatsApp hasn't been working that great lately so I've been using FB Messenger. I've had no problems. Running WP8.1.

Whatsapp is also facing the same issues on android as well so its not just windows phone

Still bro. We haven't got update since many days. Useless programmers. I'm forced to use watsapp bcoz all my contacts and imp grups are on that. But seriously since birth of watsapp its the worst mms app I have ever used.

We need a 3rd party app for WhatsApp..

Not working since Friday for me too. But why just since Friday!?!?!? I installed 8.1 weeks ago...

Working fine for me on Wp8.1?

I'm having issues with Viber on my Lumia 625 - when I enter Viber conversations directly through the notifications , it hangs on loading so I have to go to the app directly and open the coversation manually.It might not seem like a big deal but it's very annoying.And this problem was present on wp8 too , not just 8.1

Still no video upload feature

I am just waiting for BBM to land on WPs. After that, I am gonna switch. Majority of my international contacts use BBM.

Viber is now better than WhatsApp stickers photos & videos attachment location sharing all things are available and the free calling and viberout clear one like Skype....used Bluetooth call support when connected to car stereo top class..WhatsApp thumbsdn

Watsapp inc was lazy and fb inc is the laziest. So watsapp is the laziest app of all times

Now that's OFFICIAL : We never get the best from developers when it comes to Windows Phone. What are we waiting to switch ? Hope that Microsoft will develop a High end Nokia X device

Even on wp8 the notifications come 10min late under lock screen.

Jumping out of the ship!!.... Swimming back to wp 8.0 >_>

You know! WhatsApp in those cheap Nokia Java phones is better than windows phone!

My 920 having this problem too.

I find network issues in windows phone 8.1! Most calls break! Signal keeps on going down frequently! There is no problem with my other phone which has windows phone 8!

I've always had issues with promptly receiving WhatsApp notifications on Windows phone, not sure if it improved in one build our not but I've learnt not to rely on it. Funnily enough people have started to text me more nowadays.

This pushed me over the edge. I went and bought a Moto g this morning. I'll use it until 8.1 had its final release and shops support it

This pushed me over the edge. I went and bought a Moto g this morning. I'll use it until 8.1 had its final release and shops support it

Mine is working fine, htc 8x

No you're not being too critics. You are very unbiased. I feel the world is being racist to windows phone (I have no word for that yet but im working on it :p) I check my iPod I could swear to you that there will always be an update ready for install although I have 10 apps only installed on it. How embarrassing this is to us ? And its a frickin iPod

Wait, Daniel is using Facebook? I thought he hated Facebook. I'm surprised he had an account to log into messenger with. ;)

Crazier things have happened...though not many :P Having said that, I still hate FB, but their Messenger app is pretty good, lol

Telegram is a lot better than Whatsapp. Problem is not many people are aware that an instant messenger called Telegram even exists! Therefore, much communication does not happen on it and users start losing interest. Consequently, they uninstall it from their devices. Wonder what's going on in the little dev centre in WhatsApp's little office. No offence, WhatsApp!

That's weird, I don't get that popup about the lack of OS support, and I'm running WP8.1. In fact my WhatsApp works formally, and I've been able to use normally just as I did on WP8.0. Maybe I don't get the popup because I didnt install the app for the first 8.1...instead I updated my phone from 8.0 to 8.1 wiht WhatsApp already installed. Not sure if that makes a ddifference.

Sorry if it was unclear, but the popup is ONLY for those in the Beta. They added it to that version.

The irony is that with wp8.1 mpns is no longer the only way of notification to WP devices. It supports wns now too (which you'll find with win 8.x apps),which makes notification a breeze (I'm developing a wp8.1 w wns support)
For me WhatsApp messages seem to work fine in the mornings (central Europe) but get worse after 4pm or so. It seems to me like an overloaded server somewhere is the cause, related to the new push notifications in wp8.1

I noticed the same. Whatsapp works fine in the (European/NL) morning. As soon as the USA is waking up, whatsapp notification stop coming in or coming in with a huge delay.

Noticed the same here in the Netherlands!

I use hike. . . It has everything . . . Background image. . . Stickers . . . . Free sms(only in India) . . . . . And lots more. .

And ...... my facebook keep crash on my lumia after updated . really disappointed .

WhatsApp really needs to update

Since most people have unlimited texting, why are these services still used? I don't want to start a war, just seriously wonder why they are needed.

Some providers globally still don't offer unlimited texting, furthermore some providers have different roaming for text and data in the domestic service areas, people also have friends and family abroad that they chat with and people travel. Text is great when you have unlimited texting, you are in your roaming area and are talking with someone else who is in your roaming area and has unilimited texting, for everything messengers tend to be the way to go

Need yammer to grow more for enterprise purpose.

I guess those whatsapp employees still haven't stopped celebrating after becoming millionaires.. Thanks Zuckerberg. xD

The ridiculous thing is that the WP8.1 SDK has been out for a long time. And wasn't there a Nokia team working with the Whatsapp guys?

They were (maybe are?), but to me it looks like the Nokia guys helped them out and then handed it back off. That happens often with official apps (Nokia develops them, then gives the 'finished' product to the company to maintain).

Time for them to go back there! I have the bad feeling that FB might decide to drop WP support (or at least make it even less of a priority). Like the FB messenger app. That white screen bug has been here for weeks. When I see what some developers can achive by them selves, I think that FB should have no problem fixing these bugs in Whatsapp and Messenger.

LOL. There's nothing new about WhatsApp's delayed (or completely absent) notifications/messages. Been going on for years on WP.

Working fine on my preview for developers updated 1520.

Many of people switched to other os only because of Buggy whatsapp in india ...

In android the scroll of any apps is too buggy. I know WP watsapp is buggy but get to know that WP is an enterprise phone which os more meant for business. The price tag has of nokia has attracted ppl of India especially 520,625. I never bought this phone feeling it would give me everything stupid like droid.

Guys watsapp is working fine for me !!! L625 running wp8.1 preview for developers !!!! Notifications and everything are working as they did when I was using wp8.0 !!!

Okay. So tell me how this information helps me, my friends, my family and the people on this site who are all having numerous problems? ;)

Maybe its time to hijack the audio again lol

What's app sucks on wp8.1 but sorry to say this wpcentral app ain't that smooth either WP 8.1 is lagging almost everywhere I know its still beta. I'm using Lumia 1520.

When you go to history you came out from whatsapp, Audio not uploading, Taking long time to open, etc etc ...
And i m not blaming wp ...
Whatsapp devs are very lazy people ...

I might have an idea why whatsapp could have these notification delays. In Windows Phone 8.0 there was a page with "Background Tasks" what has changed in 8.1. I noticed that whatsapp was the only messenger/social client (e.g. skype, facebook messenger, telegram ...) what has to run in the background. If it has to ask whether a new message is there, of course there is a delay... Whatsapp is really not useable in this state, but all my friends have it so I don't really have a choice ;-) The developers should really implement the notification stuff from the ground new (I thought MS has built a simple way to do that right into Visual Studio...)

Notifications were very incosistent in 8.0 as well; background tasks are still there in 8.1 they have been moved to battery sense

Yes, I know that but the visual apearance has changed (in 8.0 you could see which app needed to run in background wich you could turn off but in 8.1 every app can be turned off ;-) ). My point I was tryin to make, I think the developers have a very bad way they implemented the notifiacations, because you don't need to have the app run in background to get push notifications. But you are absolutly right, the inconsitency hasn't changed a bit ;-) .

@Daniel, Line also has problems. It does notify me on time (I suppose), but it notifies me twice of he same message. Like 5 minutes later, the phone prompts I got a message - but it's the same message as before. By the way, there is also a strange hiss that comes from the speaker when opening a conversation thread in WhatsApp. I understand you use Facebook messenger, but in terms of design, WhatsApp understood Windows Phone: I love the blackness of the whole app. Furthermore, Windows Phone never likes people using more than one messaging app. Currently, I use Line, WeChat, Skype and Whatsapp - but it drains the battery so fast I have to charge twice per day when I use it. If I use either of those apps extensively (save Skype), the phone dies within hours (L920).

Works fine for me, not noticed any changes on 8.1?

This article started wrong by saying: "I'm a big advocate of WhatsApp". For once, you're wrong... :) But I still like your article. I hope an alternative comes very soon to WhatsApp within my circle. I'll dump it with no regrets.

8.1 and suffering from whatsapp notifications !!!

Its hell irritating...we still dont have those options which is provided in the ios n androod version 1 year ago(bckgrnd) !!
Dont know wht cn b the possibl reason fr such a long delay !! :/

Typo, "Whasapp beta". Second paragraph.

In not just whatsapp, all apps, like instagram, messenger do not give notifications. And then randomly they start working again. But yes whatsapp is the biggest problem

I think you are not getting this... In most of the european countries, WhatsApp is a killer must-have App - far more important than an emal client or facebook-app. More than 60% of all the message-communication goes via WhatsApp. In Spain / Germany it's even more. If WinPhone 8.1 is not able to handle WhatsApp correctly, no one will buy a Windows Phone. Without WhatsApp, there is no need for a smartphone. MMS / SMS are horrible expensive (for some reason - we have super fast and cheap internet (up to 300mbits for ~25€, but no good mobile contracts)... i can just hope MS is going to push some money torwards WhatsApp so they are going to fix the problem. otherwise, the strongest market of WP - europe - will go completly down in most countries.

That's not a solution if all your friends are on WhatsApp. Besides, WhatsApp is ought to make sure its app works properly. And "tell your friends to switch, Migram is arguably better" - that's not gonna work lol... No one switches apps that easily.

The only things that still holding me on WP are
1) I can pin WA contact on start screen. I use WA alot so its very easy on to use on my 928
2) And other two things are WP keyboard with it's amazing word suggestions (-dictionary) and the glance..
Even before 8.1 I had notification problems if I left WA open and screen got locked. Few months ago I told my friends that update (8.1) is coming for my phone and also WA will update.. I was wrong now it got WORSE

The problem is not with whatsapp. It is clearly pus notification center. Everything was fine untill sunday, I think, since then I'm not getting any notifications from whatsapp, facebook, facebook messenger etc.

There are many problems with WhatsApp itself. Also on 8.0, which does not include the notification center. Bottom line: WhatsApp on Windows Phone is bad programming, just awful. Interestingly, the app does work pretty fast, and the interface is smooth, but that's it. Under the hood, it is bad programming.

I use MTProto based stuff now, Migram works the best for me so far. Everyone I know is using Telegram since the Facebook adquisition.

Hm i don't have the described problems.

Would people stop with the I like this chat program now, I like this one! They all just send messages, pics and sometimes video. The only ones that will ever be really relevant are the ones that everyone is on, i.e. Whatsapp and Facebook. Telegram and a few others became the buzz word for about 5 mins, but no one other than tech geeks are going to move away from what already works and has everyone on, thus making it pointless unless your friends are all tech geeks too. I havent noticed any issues on WhatsApp with my 920 or 1520 yet, certainly havent got the message saying its not supported properly. Its probably not working because of all the wierd ways whatsapp tried to improve the notifications on WP8, and they just need to change over to the newer push system in WP8.1. Maybe its battery saver that breaks it? Does an uninstall and reinstall fix it for a bit? Because the first thing I did on my WP8.1 phones is go into battery saver, and set WhatsApp and FB messenger and a few others to override battery saver so I still get messages, just other live tiles don't update.

I haven't had any problems with WhatsApp I'm in the UK using WP8.1

WhatsApp notifications not working, along with the constant hissing/buzzing noise it caused my phone to make (check it out yourself, open WhatsApp and hold the speaker up to your ear!) caused me to flash back to 8.0

Can somebody explain why would anyone want to use any app other than Skype? What's the point of having several apps doing exactly the same thing?

All my friends and work related in china, Brazil, south America, Spain etc have whatsapp....just this

WhatsApp is Facebook's. Facebook hates Windows Phone.

I´m from spain,my english is very poor,in my lumia 920 and 1520 whatsapp works fine,my friends with ios and android send mi chats or images and i havent any problem,i dont understand if its a app problem why it is work fine in some smarphones and other is broken,my lumia 920 is from china and lumia 1520 is for england,my smarphones have installed wp8.1 dev version.

I've got a month left of my free trial, I was totally willing to pay & take up a subscription until now. I've been on 8.1 since its release, WhatsApp was fine to start with, as it was on WP 8, but this week it's gone crap. Notifications just don't work. I just did a test, and sent a message to my wife's android. She got the notification straight away. She sent a message straight back, nothing for me until I opened WA. There's also that hissing noise coming from the phones speakers after opening a chat, seriously can't be good for battery life! Is that hiss an OS issue or is it the way some apps use the OS? I'm only having it with WA. Haven't noticed it with any other apps.

I have wp 8.1 and mine Works fine, and Works fine in notification center is working too.. Guess I'm lucky

Lets face it WhatsApp is a sham on WP8/.1. Why can't they just make it the same as IOS? Surely it cant be that hard.

I'm on WP8.1DP however I haven't experienced any problems with WhatsApp (except for sucking up battery power occasionally without reason). I'm in Australia and I reverted back to using my proper regional settings (I wanted to try Cortana). But WhatsApp is (fingers crossed) all good. I also use Viber. Although it can take a bit of time to open up it seems very battery friendly and has all the features and more that I want in a messaging app. On a side note re:WP8.1DP, and speaking of notifications (throughout the thread as a problem), I'm having other issues with notifications that keep arriving (ie from email accounts and other apps) that I've specifically turned off for notifications and toasts.

Watsapp....ya i'm eagerly waiting for this update and ya y arnt the developers concentrating on smaller mobiles like 520 which is the best selling model and yet we dont get good games like subway sufers and others to play..!!


No good developers, really...

damn it whatsapp!! lazy company!!

They stop sending update since they have been brought by Facebook. Maybe

I'm also using messenger... WhatsApp is really a disappointment on Windows phone 8.1

necesitamos un cliente NO oficial de whats app para WP 8.x

I'm not getting any issues with whatsapp notifications; it notifies me on time, for everyone who messages me. Facebook messenger on the other hand, has delay and sends me double notifications for each message, for some reason :\

For me, Sometimes its work perfectly n sometimes I don't receive notifications from WhatsApp for more than an hour :( , why are they not providing any update ?.. :/

No problems with it on my 920. On win 8.1 dev

Facebook still hadnt made an app for Windows Phone. I doubt they will have a fix quickly

Even kik gives notification on time and then it was last updated in 2012. Wonder how WhatsApp team couldn't do that over all this time.

Whatsapp for Android recently an update on 28 Apr. And where's ours? It has been such a freaking long time since the leak of a big update coming. So is the Facebook for Android which received a recent update too. WP Facebook? Is really sad to see such slow development of WP apps.

I tried WhatsApp on 8.1 and kept getting error messages about the connection affecting Notifications. So sadly i had to roll back to 8.0 knowing there wouldn't be a fix from this 'Development' Team anytime soon. They're starting to give the Skype WP Team a run for their money :/

My Whatsapp got the same problem. But after 7 hours its perfectly fine again. Weird.

The beta was updated today. It seems to be fixed coz its been a while since I got that error :/

920. WP8.1 Preview. Whatsapp (not Beta) works fine. Need to enable background job in Battery Saver. No problem. But love to see an update.

I've had absolutely no problems with whatsapp running on 8.1 developer preview on my carrier-free 920. It works exactly as it did before I moved to 8.1. No delays or anything. The only issue I have that is the same as in 8.0 is that if I scroll up too much and continue to load previous messages it will eventually crash the app after about 6-8 'pages'.

I use it everyday and is working fine for me, no problems.

Just use LINE. That's one beautiful and featureful WP app. Or use Telegram. :-)

Not a solution for people who live in the west. WhatsApp is the biggest messenger here. No one will switch to Line. No one. Unless WhatsApp needs to screw things up on Android and iOS. Line on WP 8.1 isn't optimal either, giving two notifcations for the same messages. Plus, it also eats your battery and the design... that's taste. I do not like the whiteness of the app. And the greenness. It should adapt itself to the accent color, but the developers opted to force their branding. That doesn't fit when you like blue and have blue as accent color.

Working fine again today, yesterday delays or until opening the app...

I think facebook wants us to use Facebook messenger instead of WhatsApp. That might be the reason being the acquirement of the company.

Everything comes down to money. So why can't Microsoft throw some money their way and get things fixed? An app like this really helps make your plaform more popular.

I understand that you can't do that all the time, but Whatsapp is an exeption.

Daniel yes you are way too critical..... This is a developers release for them to test their stuff and give feedback to MS.... NOT!!! as many surmize a reason for user whining. I am not trying to be mean to you or anyone but "it is what it is" and MS are kind enough to all others to try it too even though its not the final release. This is the opportunity for devs to test and fix their stuff so the general public is not annoyed by this stuff. If people want to play but are unwilling to accept the nature of the offer in its correct context then get a second phone for this purpose. Its like kids who like cookies but cannot wait for the cooking and complain about eating cookie dough.

Actually, whatsapp has the best and most reliable notifications of all the wp8 apps, including first party ones. I'm guessing they had to be inventive to get that stability and not go through the normal notification API 100%. Therefore, it's the only one with broken notifications in WP8.1.

It seems that many of you forget about "DEVELOPERS PREVIEW"

The SDK has been out longer than the preview. The official version is said to release in about a month, and even in Whatsapp beta the issues have not been fixed. So there definetely is reason te very critical.

Whatsapp should really do something fast about this bugs

Hi all first time here so hello all..... My phone is the nokia 625 on win 8 on the code black version....mi don't get whattsapp alerts as they come I often don't get a reply unless I open whattsapp then within seconds I get alert someone replied over an hour ago.... So having it not work in 8.1 makes no difference to me. im waiting for bbm I had a blackberry and now a windows phone. I'm hoping bbm will be arriving soon x x

I have had this problem from about last october. Either the notifications show up late or else don't show at all until I open the app. Useless. So now I am using im+ connected to gtalk, fb and skype.

As i said earlier if someone has noticed the bug in which your app crashed after you tried to browse your history of any chat is no longer there and the app is running very smooth on my 520.Just only recently a few days ago my phone hangs a bit maybe because of asphalt 7 and whatsapp crashed for the first time after the 8.1 update.Still i'm damn tired of waiting for the new update.

6tag isn't that great either. Lots of blank frames instead of showing someone's pictures. No notifications in the center. I went back to using Instagram Beta (so sad).

Download WhatsApp For PC (Windows 8/8.1/7/Vista/XP): http://www.wiknix.com/download-whatsapp-for-pc/

Migram and Jongla are much better and more secure,i suspect also that watsapp will die by the end of the year and be changed to facebook messenger.I droped watsapp several months agoo when i read the issues on security.its dead for me.

its since the FB takeover that this has happened. now whatsapp is as useless as FB on WP8. Cant call them useless enough times to feel good about it.

Strange...everything works fine now, for five days all went wrong, and since yesterday notifications arrive correctly. I activated battery saving, and then activate whatsapp always on. Do not know if it was so, but whatsapp works ok

I've noticed that whatsapp notifications seem to get in much better when not using WIFI. When using 3G/LTE, I seem to get them fine. I've noticed a bunch of glitches with WIFI too, there I would need to turn it off and on again to connect and 2 days ago, over the course of the night, it tried to connect which drained the battery to 35%.. Could WIFI / WIFI SENSE be a part of the problem? Lumia 1520 - RM-937

Can confirm notification is working now again Battery drain is significant though. 1520 on 8.1 preview.

Yes.. Battery drain has always been a problem with whatsapp on Windows Phone.. But it is not the only application that needs to get better in that respect. I would glady drop Whatsapp for an alternative but, 80% of the people I know use Whatsapp. The fact that Whatsapp is tied to your phone number never pleased me for many reason, one of them being, if you switch to a new number, you have to add your contacts again.. All the others like Hike, Viber, etc, have nice features but are lacking others.. And talking about battery drain, Viber is another application which drains the battery really fast..

The app works just fine on the Lumia 925 on Windows Phone 8.1 what's wrong with it?

Well as someone who used BBM I really hated when everyone moved to Whatsapp (by abandoning RIM). Now on WP I'm ditching Whatsapp because it's poor updates and support, also because it's slow. Facebook releases "Messenger", and then buy Whatsapp, halts it's development and bum, bye bye Whatsapp, now everyone is forced to choose Messenger or scatter in various IMs again.

Just worth a try... I did a little test to see if my WhatsApp messages were delayed, and they were a bit. I've just changed my region back from US to the correct region (UK) and all the other settings I changed for Cortana, and it seems to be working perfectly now, getting messages as they arrive. Would explain why some people have the problem and others don't. I wonder if the people who do have the problem, have either changed their region, or have cortana enabled.

It's now working again for me... i have hope ... ;)

in this days. i'm using INDOONA. texts and calls for free and 100 minutes to landlines number.. the chat message is sync with other smartphone. i use it on my lumia 920 and on my alcatel (android). I can send a message from a smartphone and answer from another one! :) try it!

I don't know why developers don't update there program to windows phone as android or IOS.

The problem is, because of WhatsApp and everyone's addiction to WhatsApp, and with WhatsApp working really like a crap application, people are moving away from WP. For me, that is a huge disappointment.

Not only it's broken on 8.1, recently it's broken on 8.0 too! Notifications do come in, but upon opening whatsapp, it crashes back to the main screen. Loads TOO LONG, and can't even backup. Deleted, reinstalled, same thing. It was fine a last week, but it's totally useless now.. even for users on 8.0

I don't know what others are facing... But in my Lumia 520 (WP 8.1) What's app is working fine... No delay in notifications or anything.

Line Messenger, with latest updates (stripped out UI enhancements) is as fast as delivering messages & notifications. The only one feature I would love to see with #LineMessenger is ability to share telephone contacts (Across platforms) Plus, Line Messenger supports in-app passcode lock, thus insuring total privacy

when will update come????

I'm running my lumia 620 with wp 8.1...Everythings all rite... but why is that i always get an error message " Whatsapp has detecetd an error with your push notification..... ".. I'm fed up of that.. :(

I seriously hope the WhatsApp team are waiting for the official release of 8.1 to roll out a good update. If they aren't, they must be sleeping.

I think its working again, idk what I did tho, but for the past few weeks notifications are great and timely and everything smooth... L520 wp8.1

How to download whatsapp beta

The notification problem started haunting the 1020 and 720 in my company... after the first update for Windows Phone 8.1, however, not sur if thats just an accident or something, it works again after I did three things: In Battery Saver > Usage, turn off the background run for alot of other apps Let whatsapp run in the background even if batter is low Switch off Data Sense l'm not sure if it is because of the combination of all these, or just one of them, but after that, whatsapp works just fine, so i don't bother to investigate further.

Strange, my whatsapp's working just peachy on my lumia 820 running 8.1......

Well John Chen, if you REALLY want to ROCK, you release BBM voor WinPhone right now. Take up some of the slack.
Windows Central Newsletter
Get the best of Windows Central in in your inbox, every day!
Thank you for signing up to Windows Central. You will receive a verification email shortly.
There was a problem. Please refresh the page and try again.