WhatsApp for Windows Phone brings back text statuses with latest update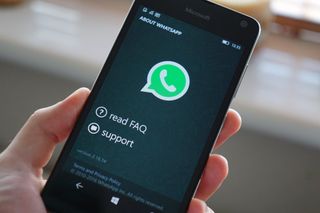 A fresh update is now available for WhatsApp for Windows Phone, heralding the return of text statuses that WhatsApp promised just last week. The update itself is relatively minor otherwise, but it does contain a slight tweak to the settings menu as well.
For a bit of history, when WhatsApp recently introduced its new Snapchat-like Status feature, it had the unfortunate effect of replacing the app's previous text status. After a bit of backlash from users, WhatsApp has added text statuses back — albeit in a slightly different spot. Now, you can set a status or away message by heading to the "Profile" portion of the settings menu and editing the "About" option.
On top of the return of text statuses, the settings menu has also been tweaked slightly. What was once labeled "About" in the main settings menu is now known as "Help." The same information — the FAQ, support information, and version number — are still there, just under a different heading.
If version numbers are of interest, this update moves the app up from version 2.17.88 to 2.17.114. If you're an avid WhatsApp user, you should be able to grab this update from the Windows Store now.
Thanks for the tip, Amandeep!
Download WhatsApp from the Windows Store (opens in new tab)
Windows Central Newsletter
Get the best of Windows Central in your inbox, every day!
Dan Thorp-Lancaster is the former Editor-in-Chief of Windows Central. He began working with Windows Central, Android Central, and iMore as a news writer in 2014 and is obsessed with tech of all sorts. You can follow Dan on Twitter @DthorpL and Instagram @heyitsdtl.
Now, videos also play WITHIN the app. :)
.
FASTER because of that.

Still no fix for painfully slow video uploads?

Still doesn't work on our L640. Hasn't since Build 14977.

"Doesn't work" as in just hanging while displaying "Loading....."?

Exactly. Just hangs at "Loading." Have emailed WhatsApp support. No response. They need a true UWP app. Tried a hard reset. No change. Worked fine until the RS2 builds began.

It may be the OS. Check a few more apps, there may be several that hang while loading. It's said that rolling completely back with the WDRT tool and updating the OS from there is the solution.

WhatsApp is the only one. Everything else works fine.

With the last few weeks of insider previews it Just hangs on loading for me too. I've even factory reset and that didn't fix it

Same here. The app needs updated to UWP.

It's NOT the app. It's worked fine on my Lumia 640 for months (6 months+ ?), despite how many Insider Builds during that time (a lot!). Meanwhile, my dad's identical Lumia 640, on production build, ran into the issue you describe. I backed up his phone, uninstalled WhatsApp, Hard Reset via 'Settings>About', restored backup. Once back in, turned off WiFi (to prevent any apps from downloading automatically), went to Storage and set default download to location as 'this device', then turned on WiFi and opened Store, searched for WhatsApp, installed it. Tested it (okay!). Exit. Change 'install to' location to SD card. Let rest of apps download/install. Happy times!

Or the painfully poor video calling quality

Did the roof over your head fall while you were cringing over the 'very poor video call quality' ??

Soo that's what they meant when they said "about section"... to most people that's just information about the app... sneaky lol.

Updated the new set of emojis as well... 👍

are they gonna return the contact list? i would like to see other people's statuses as well...

By press on "+" at the bottom you see contacts and their status, but no favourites list

no update available for me yet? must be provider specific or something along those lines.

Also, first slot, third row, 1st smiley has been changed ,along with addition of new joker.

Also exciting new emojis..!!

Did Windows Phone even get the Snapchat-like update before the reversing if that update?

just wait... all google apps are going to launch into Windows.

Yes it did. That's what got reversed now.

After this Whatsapp update, I am again able to use the app after MS messed up my phone and apps after its latest production update.
So NOT MS fixed the Whatsapp issue but Whatsapp even thougj it was MS that caused the mess with a half baked cumulative update...
I still have +20 apps not working after the cumulative update MS released on March 14!

What's with the outdated changelogs in the Windows Store? Even popular apps (Whatsapp, in this case) and first-party apps like Outlook Mail and Calendar show outdated changelogs in the Store. We've had the option to add GIFs in Whatsapp and select contacts from the Contacts list in Outlook since several versions ago, but the changelogs remain unchanged. I always check changelogs but it's of no use lately. None of these changes were announced in this version.

WhatsApp hasn't been working for weeks in my Lumia 950 and don't think this got anything to do with the app. Its the OS that's been messing it. Coz I tried to reset my phone but it didn't work still. Stuck on "loading"

"मस्त अपडेट है....नये emojis भी."