This is where I get my wallpaper for Windows 10 and Mobile devices
Where do I get all my wallpaper images from that I use on my devices? For once, I'm glad you asked!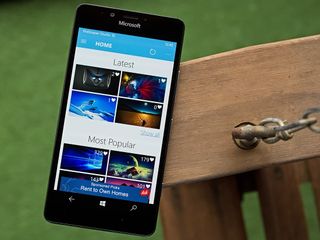 One side effect in posting many photos or screenshots of the devices I am either using or reviewing is the inevitable flood of 'Where can I get that wallpaper?' questions. And I get it. You see someone else's phone or PC, and you like the look of it. The problem is, I am but one person with limited time and linking to each and every image is probably not a good use of my day.
Today, I'll share with you the app I use for the majority of my wallpapers. they say help those to help themselves!
Wallpaper Studio 10
The app I use on my phone and PC is Wallpaper Studio 10 and George reviewed it back in January. You should read the full review, but here are the reasons why I like this app and why it has a 4.6 (out of 5) rating on the Store:
Solid selection of images and image categories, which is always important
Optionally pay $1.49 to remove ads, no fuss and I like supporting devs and our community
Lock screen and desktop slideshow support
4K category for high-resolution images
Ability to directly set wallpaper and lock screen
It's universal! Works on phone, PC, tablet and even has Band support
I am not sure what else to say about Wallpaper Studio 10. It's a well done, clean and easy to navigate app that has daily updates to the wallpaper selection. The 'Logo' category is where you can find plenty of 'Widows 10' wallpapers too that you have seen me use in the past. With the app, I can sync across to all my devices or just to one, favorite or just download directly to my OneDrive Wallpaper folder for safe keeping.
So, the next time you want to ask about my wallpaper or you see someone else asking in comments just point them to that app as there is a good chance that was the source.
At least for me, Wallpaper Studio 10 is the best of the wallpaper apps out there now. However, if you have one that you think is better or that I should try out let me know in comments!
Bonus: Another good and reputable source for very creative images is DeviantArt. On that site, you can search for terms like Microsoft or Windows 10 or whatever and come up with some unique hits too.
Bonus 2: There is an unofficial, Windows 10 UWP beta app for DeviantArt on the Store. I have not tried it, but it may be worth a shot. You can hit this link to grab it (opens in new tab).
Bonus 3: The subreddit /r/wallpaper us also a great resource that I like to check out.
Bonus 4: How could I not mention our own forums? We have a few threads like the legendary Share your W10M Start Screens and Backgrounds! which is 49 pages deep with 1200 posts! There is also post your desktop computer wallpaper and more. Just search for 'wallpaper' and you will get plenty of hits and new ideas too.
Download Wallpaper Studio 10 for Windows and Windows Phone (opens in new tab)
Daniel Rubino is the Executive Editor of Windows Central, head reviewer, podcast co-host, and analyst. He has been covering Microsoft here since 2007, back when this site was called WMExperts (and later Windows Phone Central). His interests include Windows, Microsoft Surface, laptops, next-gen computing, and arguing with people on the internet.
I tried the app twice, but it doesn't seem to sync my wallpaper.

just use bing wallpapers - From Windows 10 Nokia Lumia 730

Does that work? I just want the same image on my phone as on my desktop simultaneously.

Dynamic Theme is perfect for that. Real time sync. Lockscreen and wallpaper. Windows Central app

Dynamic theme Posted from Windows Central for Windows 10 with a Nokia Lumia 730

I still stick with the windows hero wallpaper for my phones and laptop. Makay Chapulets | MTN CCR
Posted from my Lumia 640XL running Windows 10.

Having it change automatically would be cool though.

I have an app that does change automatically daily. Its called dynamic theme. Changes both lock screen and wallpaper every morning for you

I tried the app awhile ago but it only had landscape wallpapers and none for the phones. I had to rotate them to use some on the phone

And I am saying which brand of toothpaste I use because it is as relevant to this article as his comment is.

I use Cortana. She digs up some nice stuff with just two words. Color + ? Gold Drops. Green Smoke. Orange Abstract. Easy peasy. Any search can do this. I would not say Google has an exclusive.

I'll try it again but last time I checked they didn't have wallpapers by specific resolution. They didn't have 1440x2560 which seem rare on any windows wallpaper apps. I'm not talking about cropping low res photos which most of them do. Maybe she's born with it, maybe it's Lumia 950xl

Yep same issue Maybe she's born with it, maybe it's Lumia 950xl

I use this one, but it's awkward because while I'm using it they got suggestive pictures of girls and guys so I don't like it.

Yeah, it would be good if those could be hidden as NSFW.

Also NSFMS. Not safe for mom and siblings. I've already had awkward moments happen before. You know, that's a good idea. We should suggest that in the appraisin app.

I mean I don't like the images regardless of my family being around or not

Was using that before "Dynamic Theme" comes

I've been quite impressed with Dynamic Theme. I have it manage my lock screen and start screen background to the daily Windows spotlight image. It also saves a copy to my pictures folder by default.

It's awesome, right? Windows Central app

JUST... GIVE US THE DAMN WINDOWS WALLPAPER

https://youtu.be/K5lYXaVkA0U?t=17 I will find it.
And I will use it.

I have this app and despite the beautiful photos I don't like it BECAUSE the photos are only in landscape.
I don't need landscapes for my phone's lock screen and background

Indeed really good.
I would mention few more that i like, not just for My Lumia even for a HTC android.
http://justinmaller.com/wallpapers/ (i customize a little to fit in mobile, but worth it. Justin is one of my favorite graphic designers)
http://interfacelift.com/wallpaper/downloads/date/any/ (the God of landscape photos)
http://www.uhdwallpapers.org/ (all kind of good images optimized at 1080x1920px) Cheers!

Thanks! I tried the first site but got a 404 error and tried the last one and got some good wallpapers

Alternatively, Wallhaven Alpha or Wallhaven.cc are both good. Also have the NSFW filter.

"Desktop slideshow support" does this mean we have the option to shuffle start screen back grounds in Windows 10m?
Posted from Windows 8 loser on verizon

I haven't tried it. I hate slideshow wallpapers.

I've tried it, but find it difficult to place a landscape photo onto my phone. Is there something I'm missing here?

A lot of the crashes on the desktop app for my side.

I've tried Wallpaper Studio 10 before, and while it's cool and works (mostly on desktops, doesn't synch on my phones for some reason), I much prefer Dynamic Theme. It actually syncs with all my devices and the Bing/Windows Spotlight images are beautiful.

I use windows central app on my lockscreen

Off Qn : I am using L730 on Fast ring, while downloading build 10.0.14322.1000 it is stopped due to low storage. Now i am neither resume it nor change the ring. Plz help. i have tried clearing maximum from phone memory. Thnx

Try our forums please, not an article on wallpaper.

I prefer Perfect Wallpaper over this app. Had both of them installed but WS10 seems slower and has less images than Perfect Wallpaper. Plus the wallpaper preview screen has a better UI in Perfect Wallpaper.

Have you had a chance to compare PW closely with Dynamic Theme? If so, can you please elaborate?

I was talking about Wallpaper Studio 10 not Dynamic theme. What are you talking about?

I know, sorry if it wasn't clear (thought it was)... I was asking if you've had a chance to compare PW with Dynamic Theme.

Nope. I haven't used Dynamic Theme. PW is sufficient.

I'm still using photostream as my go to app. Been using it since release day of the 920

Be interesting to see a "deep dive" on Wallpaper Studio Vs Dynamic Theme.

A good question for 'Ask Dan', which seems to have....disappeared? :(

You meaning to reply to me? (you didn't reply, you posted under)

I sometimes like bing wallpapers, so i use this app called dailypic. Takes from Bing

Not sure if that updates on its own. But dynamic theme takes daily pic from bing abd/or windows spotlight and updates your phone automatically

First time I came across Deviant Art, I had managed to wipe xp off my laptop. An ex pc guy from my old work came around to fix it. During the process, he accidently clicked on his hdd, and straight into the wrong folder. I happened to notice a couple of adult films in the folder, before he quickly jumped folder. I chuckled quietly to myself, and he assumed his rapid fingers had avoided revealing his sordid secrets. He then quickly showed me some of his photography, all good. He logged on to Deviant Art and I became slightly paranoid that it really was for pervs. Took him a few mins to convince me it wasn't some portal to the dark web, and a free pass to the sex offenders register. Was years before I ever viewed the actual site again. Epic site, with some immense cosplay.

Best wallpaper app i have seen in a while...even has band wallpapers..

Microsoft has a good collection on their website too Posted via the Windows Central App for Android

This also the best https://www.windowscentral.com/e?link=https2F%2Fclick.linksynergy.co...

"Widows 10 wallpapers". The category for those who have lost their loved ones to Android or iOS. Sent from Ultimate Toaster 2.0 Deluxe
Windows Central Newsletter
Get the best of Windows Central in in your inbox, every day!
Thank you for signing up to Windows Central. You will receive a verification email shortly.
There was a problem. Please refresh the page and try again.