Why Google buying Fitbit is a rotten deal for everyone
By Daniel Rubino published
Google has a poor history with acquisitons and hardware. Here's why Fitbit only sounds good on paper.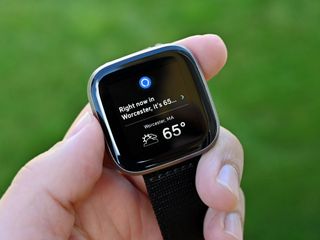 Google is officially acquiring Fitbit. The move makes sense for Google – at least in theory. According to Canalys, Apple shipped three million Apple Watches last quarter while Fitbit pushed nearly two million. Fossil – the biggest maker of Wear OS watches – shipped just three hundred thousand. You can understand why acquiring Fitbit could place Google much closer to Apple in one fell swoop.
However, the deal is a blow to fans of Fitbit and its nearly 12 years of independence. Of course, the irony is not lost on me, as fans of Pebble felt the same about its acquisition by Fitbit years ago. But putting pride aside, there is also little reason to celebrate either.
Google's graveyard and Fitbit's future
Although Microsoft garners a lot of criticism for canceling products, Google is not immune from it either, even poking fun at itself recently. There's an entire site dedicated to remembering the more than 150 services, 18 apps, and 16 hardware ventures Google has axed over the years. It's not pretty.
And then there is Motorola – bought in 2011 by Google and quickly dumped in 2014. That move comes off more as a defense against Samsung than a strategic boon to Google, who squandered most of it.
But the past is not always prologue. Google is gaining a massive assortment of patents and know-how from Fitbit, and more importantly, nearly a decade of user data. Google could very well – as it said it would – finally create Made by Google wearable devices under the auspices of this Fitbit acquisition. There is a slight chance that somehow Google can take the best of Wear OS (if there is any) and merge it with the fitness and health mastery from Fitbit.
I am skeptical. Google has had five years with Wear OS. Whether it is the anemic operating system, or the more significant problem, Qualcomm's lackluster processors, it has wasted almost all of it. ASUS, Motorola, Huawei, and Samsung have all paired down Wear OS devices or abandoned them for their own proprietary systems. What remains is Fossil dominating lesser brands like Casio, Tag Heuer, Polar, and Mobvoi (which is backed by Google).
The Fossil 5 is a contender. It is easily the best Wear OS device I have used. But the OS still asks for too many compromises for good battery life, sloppy app execution, and overall innovation that keeps it from greatness. Adding Fitbit mojo doesn't change that.
The Fitbit acquisition is not about catapulting Wear OS to beat Apple; it's full-on defibrillation of a dying patient, a Hail Mary to rescue years of failed policy by Google. Why expect anything different this time?
Fitbit + Google is like mixing oil and water
Fitbit's customized "OS" and Google's Wear OS are vastly different beasts. There is no mixing of them. What it could mean is we get Wear OS, but now with a dash of Fitbit health and fitness magic. That's cool, but does that move the needle against Apple? Does this change the fundamental issues underlying Wear OS – mediocre performance, poor app execution, and Google ignoring the platform? Even if everything goes right, the Pixel 4 exposes how tone-deaf Google can be when making its own hardware.
All of this has a familiar ring to it. Google buying Fitbit sounds like a good idea, but Google currently does not have an excellent track record in wearables, and combining two mediocre platforms does not create an Apple Watch killer. It gets you the Pixel Slate.
And for those worried about Google absorbing a decade's worth of your health data, at least they have (for the time being) committed to not selling that data for ads. Google can change its mind like it did with Nest, in effect forcing users to merge Nest data with Google. Some users did not like having their home data subjected to Google's privacy policy, even if not ad targeted.
Google's purchase of Fitbit is not a great one for consumers. I see one of the most creative wearable brands with a robust community dying and my data going to a company that has trust issues. Putting those concerns aside, there is now even less competition in the market, and that's boring too.
Maybe it's time for me to give Withings (opens in new tab) another shot. Or maybe hope against hope that Microsoft has a Surface wearable coming with the Surface Duo.
Daniel Rubino is the Executive Editor of Windows Central, head reviewer, podcast co-host, and analyst. He has been covering Microsoft here since 2007, back when this site was called WMExperts (and later Windows Phone Central). His interests include Windows, Microsoft Surface, laptops, next-gen computing, and arguing with people on the internet.
Just... great... 😢. Farewell FitBit.

Glad I jumped to Garmin years ago

Yup, so did I and glad i did. It also works great with my Microscoft 950XL Phone.

That's really bad. I need to close my account and delete all my data asap

If you use an Android phone, they already have your step data from Google Fit. Some companies let you delete your data, but it doesn't officially get deleted until a while later. I guess it's protection in case a user returns a year later.

I sold my nest the day google acquired it. And I was lucky as I was able to sell it used for the same price I got it new-sealed. On a side note, what do I do with my Glas since it can no longer be used for asking Cortana to turn the basement lights off and I have to walk down the stairs to turn them off every night, after the kids go to sleep, forgetting to turn them off?

Duo is powered by Google's Android platform. If Microsoft has a Surface wearable coming alongside it, why wouldn't it also use Google's matching wearable platform? Can Microsoft innovate, especially given Qualcomm's lackluster wearable products?

Other Android vendors are innovating in that space, as mentioned in the article. MS is also starting to work with processor engineering, they could have something up their sleeve.

Samsung doesn't use Wear OS neither does Huawei.

Technically, they wouldn't need a wearable to run Android. It just depends on what market they are going for. If it's Sports and health tracking, they don't need Android for that, as they could simply make an app to access functions of the wearable on Android and iPhone. However, there are smartwatches that work very well, without having Android and function well as both. If MS does create a wearable, it needs to have the best available tech, be water proof and a functional, viewable and gorgeous display. I know people like custom faces, but it's not absolutely necessary to make smartwatch that everyone will want. Although, having the option would be nice. I know I appreciate them. If MS goes this route, they just need to focus on making a device that is on par with Apple, in terms of basic functionality. Not an Apple watch clone, mind you. I think many people over hype the need for apps on a wearable. Most of the useful apps people would download and use can be built into the OS. People look for better timers, stop watch, heart rate monitoring, calendar, music control, and maybe a few others that I can't think of, right now. Add built in GPS option models, go for an actual watch style that can use regular watch bands, have at least 4 days of battery, built-in speaker for incoming calls, notifications and alarms and gorgeous design style.

Another missed opportunity for Microsoft. They shouldn't have cancelled Band 3. Three years ago MS had a great opportunity to establish their presence in the wearables. Android was struggling with Wear OS and Apple Watch OS was at its infancy. I'm afraid the quitting habit of Microsoft is going to cost them. Its still not too late for Microsoft to come up with a good Surface Watch to pair with Windows 10 or even Android phones. If they ever come up with Surface watch I hope it runs Windows Core OS and not Android. Not a great time to be a Windows developer cause its very unclear on Microsoft's future platform of choice.

Micro-"Soft"... The creators intended it to be a software company. Not a (Chinese) hardware manufacturer. Furthermore, with software and cloud services coming from google, what is there in it for this enterprise focused company, that is scared of any venture where there is a wee bit of competition?

Have been happy with my Fitbit Ionic. Too bad it will be the last Fitbit I will ever own. No way I'm trusting Google with my health data.

My main issue with this is Google now having access to all of Fitbit's user data...if a consumer makes a conscious decision to go with Company A due to (ostensibly) better privacy practices, that consumer should not suffer the unintended consequences of Company B (with a sketchy privacy record) coming along, gobbling up Company A, and now being able to have free reign with their data due to the acquisition. This is something that should be addressed in legislation.

1. Didn't want Fitbit to get bought out
2. That said, I'd rather see Amazon buyout Fitbit because at least that would create another major player in the market. Keep in mind that WearOS failed. Sure, there are a bunch of OEMs with watches out there - not selling. And WearOS failed in large part because of Google's laissez-faire approach to supporting the platform. So instead of spending two billion to improve their current platform, they spend two billion to buy another. Google didn't do this to improve upon their smartwatch offerings. They did it to REMOVE another major player from the board. Much like Android vs iOS, this is just another step to Google being the only other option on the market. I assure you, WearOS devices will sell a lot better once your only choice is Apple Watch or <insert random WearOS> device.

>>They did it to REMOVE another major player from the board. Much like Android vs iOS, this is just another step to Google being the only other option on the market. That doesn't solve their Samsung or Huawei problem. Both of those platforms appear to be doing better than crappy old WearOS. I don't think this is nefarious monopolistic 4-D chess, I think this is Google's engineer executives being bad at business.

Like most, I see way more negatives than positives. It's kind of sad since I chose fitbit after forcibly moving from my MS Band 2 (the band tore with 3 days left on the warranty) and chose fitbit as it was the only real wearable with Windows 10 Mobile/ Windows Phone 10 support. Have been on android for 2 years now and have not been the happiest, but it's not an apple (and before saying I hate apple just to hate them, I do have a work issued iPhone and I think it's trash). The only real positive I see is fitbit pay being migrated to android pay (hopefully). As neat as Fitbit pay is, it's lacking bank support. Besides that, I can't picture any visible major consumer changes until the net round of hardware.

Support for iOS devices pulled/crippled in 3...2...

Google very much supports iOS for its apps and services, sometimes before Android.

Google knows they can't shun iOS users. That's why Google's apps and services run on iOS. The only Apple services in Google Play are Apple Music, Beats app, and Move to iOS. Apple needs Android users less than Google needs iOS users.

I used to use Fitbit. I moved to Withings for battery life. I now use the Withings Steel HR Sport. Really loving it. Gives good fitness tracking, great battery life, and basic notifications.. What more do you need?. Though the best thing really is the battery life.. Immense!

How's the sleep tracking?

I've found sleep tracking to be pretty good. About the same as my old Charge 2. The Withings app doesn't drill down into insights as much as Fitbit, but I think Fitbit was going to lock that away under their subscription level. Much more comfortable to wear than the Charge series, and NO BLINDING SCREEN LIGHTING UP THE ROOM when you move your arm.

For me, I don't want something on my wrist. I prefer a clip on type of step tracker but not a lot of options. The inspire still lets you do that, Garmin may have a clip on and that is about all the options I can find. Not everyone wants a watch or needs all the additional functionality. My work pays me for steps and or time exercised so more than that is overkill for me.

This is exactly my journey. From Pebble Time to Fitbit Versa to Withings Steel to Withings Steel Sport.

Another migrator from the Charge2 to the Steel Sport HR. Couldn't be more satisfied. For those unfamiliar with Withings, the devices are trackers, not smart watches like the Ionic or Versa, equivalent to a Fitbit Charge 2 or 3, but in the form factor of a regular watch. Much more durable than the Fitbit, in my experience. And the battery life! Even actively tracking 8-9 workout sessions a week and a heavy compliment of notifications, it's never been under 2 weeks. Turn notifications and active workout tracking down and it easily gets to 3 weeks. Whereas my Charge2 was scratched up from daily use, my HR Sport is still looking pristine, even having been through several weeks of roofing work on mission trips.

Can we still hope that Fitbit's board shoots down this buyout, or do they only see $ signs in this deal? Haven't seen any positive views on this at all from Fitbit owners? Will many of (us) jump ship? ...and really interesting that this conversation involving no MS products is so popular here, LOL!

They have been actively seeking to be acquired, I don't think there is any way the Fitbit board turns this down.

Yeah, Fitbit had become a dead man walking proposition in the face of Apple and Samsung on the high end and Amazfit and Xiomi on the low end. They just don't have a big enough base to continue to evolve their high end products and are killed on component cost at the low end. Their name is really all they have to trade on.

I will still use Fitbit provided they maintain the features I need. It makes zero difference to me who they're owned by. Basically I don't need a smart watch, I want a fitness tracker, if they continue to release fitness trackers then I will continue to buy Fitbit, if they merge all ranges with Wear OS I will move on because they are just battery draining features I will never use.

I was waiting on their next watch. It's too bad google acquired them now that makes my choices that much more difficult.. Thanks Google >_>

Fitbit has been selling data to insurers and employers for years which is one of the reasons I stopped wearing one and moved to Apple. Google took a necessary step to build an ecosystem. The Apple watch killed Fitbit and the only way to save itself was to go with this acquisition. This move actually helps Android/Windows users because you can now get great potential Pixel lines of watches.

Attacks Google for cancelling products and services while ignoring Microsoft doing the same thing including two massive kills in their mobile phone and original Edge browser. Fair and balanced I think not.

"Although Microsoft garners a lot of criticism for canceling products, Google is not immune from it either, even poking fun at itself recently." Maybe read the post first?

@Richard Devine, What bothers me the most is that I did read the article and missed it. My apologies.

I've already moved on. I appreciated some ideas of comparable Garmin devices from others on Windows Central, and purchased the new Venu this afternoon. Twice as expensive as the Versa 2, but thus far I've been impressed with the superior build quality and the seemingly endless amount of customization possible on the Garmin app and the Venu itself. Loading a playlist of 50 songs from Spotify in minutes instead of the hours required on the Fitbit Versa devices, which still can't do more than control Spotify playlists from your phone, was almost enough by itself to justify the price difference. After I learn my away around the Venu, I will close my Fitbit account and delete my data. I hope Google does not ruin the company, but from their track record that is the most likely outcome. I will miss the online Fitbit community which always had an answer to any question I had over 5 years. I haven't had the chance to explore the online Garmin community yet.

Don't most people who get a Fitbit, wear it for 6 months or so, and then abandon it once the novelty wears off? I honestly don't get why people want to be so anal about tracking this crap. Just try to exercise on a schedule. It is that simple.

Goodbye Fitbit. Hello Apple Watch. NEVER anything Android or Google!

Welp it was a good run Fitbit. This is disappointing news to be sure but I hope that Google can actually take this and instead of putting wear OS on it and prove the operating system that Fitbit has created. I don't think they will just saying I'm hoping they will they 4+ days of batterty is awesome. Even the band had about 2.5 without charging. So here's hoping that Google does the fm right thing. Lastly Fitbit was dying it was bleeding cash and this was one way to save the company. I wonder if that Alexa integration goes away though

The last two paragraphs of this article perfectly summarize my concerns. Love my Versa, but not thrilled that everything now becomes a part of the Goo data stream...

Im so using my blaze. Was planning to upgrade. I'll be moving to the galaxy watch instead.

who cares? this is windows central and Microsoft bailed on Band a long time ago.. they have no dog in this fight. why would a website of microsoft pitchmen care?

Because Fitbit was one of the companies that supported Windows phone up to the end. It's sad to see them go.

"Or maybe hope against hope that Microsoft has a Surface wearable coming with the Surface Duo."
LOL, snorted my soda on that one. (P.S. Loved my Band. Too bad MS didn't.)

It couldn't run Windows, so developing for it was an even tinier market than UWP. That and the qc issues with band 2 made it not reasonable to continue. I would love to still be using my band 2, but it just wasn't the right device at the right time. Ms tried the best anyone could have given the realities of the market.

My Aria scale is dying, but just bought a charge 3 a little bit ago. I guess I will have to go Samsung or something when the current fitbit reaches end of life. No Google or Apple hardware for me

Fitbit has been ignoring Apple users for years. Despite the enormous amount of posts asking for integration with Healthkit, Fitbit has turned a blind eye. Hopefully Google will listen to try and steal some Apple watch buyers away. Sold my Versa the other week in favour of a Xiaomi band so no bother for me right now.

Well written article! 😊
I will never wnat to merge any of my data with Google's.

I still have Vector Luna smartwatch, a company which has been acquired and killed by Fitbit. So would say Farewell Fitbit as well.

I switched over to a Garmin device this weekend due to this. Based on what I'm seeing on social media, I'm not the only one.

Time to move to Apple Watch...

I'm ok with the buyout. I could see Google scrapping Wear OS and beefing up Fitbits software with what they've learned. Concerned with Google having your Fitbit data? If you use an Android device, they already have the majority of that info from Google Fit and Maps.

It is really pathetic how these giant brain dead monopolies acquire brain smart companies with shareholder capital and gradually sabotage them and jeer at the original inventors
Skype
GroupMe
Lotus
Visio
Nokia
Here Maps
MixRadio
. . . Microsoft, if you are listening, there is still time to divest Skype and let it free and let it grow... it has no place in your grim business centered future where quality of video and voice is only focused on the business hubs in metro downtowns. And there is no value in subjecting it to your crazy experiments like using React for developing it. A functional problem cannot be harnessed with a technology solution. No one is going to wait for 60 seconds for it to load in today's age... you would rather spend that time in stealing a half a million dollar sports car

Ironically, the week before the news broke, I was thinking that Microsoft should buy Fitbit that it could implement some of its Band 2 features into Fitbit devices.
Windows Central Newsletter
Get the best of Windows Central in in your inbox, every day!
Thank you for signing up to Windows Central. You will receive a verification email shortly.
There was a problem. Please refresh the page and try again.