Why pin Cortana to your Windows Phone 8.1 Start screen?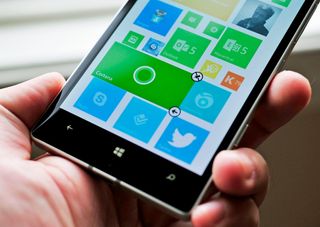 For those in the US whom also have Windows Phone 8.1 installed, Cortana is probably one of your most frequented new features on your phone. If you're outside the US, you'll have to wait a little longer for Microsoft to localize your language (unless you follow our simple tutorial).
When sharing images of my 8.1 screen, a lot of people have asked me why I pin Cortana as a wide Tile. After all, I could just hit the dedicated Search key (Tip: you can long press the Search key on the Lock screen to call up Cortana). On the surface, it's seems like a simple question, but I'll explain why if you have Cortana, making her a permanent Tile on your screen may be a good idea.
Benefits of pinning Cortana to your Start screen
Cortana behaves differently – When you tap the Search key, Cortana goes right to 'search mode'. That makes sense, as you probably want to hunt for something. However, tapping the Tile puts Cortana into 'Daily Glance mode', where she presents the latest news, weather and info that you may need right up front. You could search from this screen, just like you can always bring up the Daily Glance (Tip: swipe up from the bottom of Search). The point is, she acts differently.
Live Tile – Cortana has a Live Tile. An awesome one, at that. For instance, her 'Halo' icon pulsates and frankly it looks awesome. The Tile will also flip to deliver the latest headlines and information you may need, making it useful and cool looking
Live Tile #2 – Cortana's Tile is also transparent when using a background image, which may be useful if you're setting up your Start screen to be as 'see through' as possible to reveal your personalized image
Showoff – Cortana is pretty cool, let's face it. And there's no reason to now have Microsoft's new personal assistant plastered across the screen. It's a fun talking point and there's nothing wrong in having a little pride!
To pin Cortana to your Start screen, simply navigate to the app listing and long press on the Cortana icon. A menu will pop up with a 'pin to start' option. From there, you can make the Cortana tile small, medium or wide, depending on preference. A cursory glance from how users are pinning Cortana suggests most opt for the more useful wide tile.
Windows Central Newsletter
Get the best of Windows Central in in your inbox, every day!
Daniel Rubino is the Editor-in-chief of Windows Central, head reviewer, podcast co-host, and analyst. He has been covering Microsoft since 2007 when this site was called WMExperts (and later Windows Phone Central). His interests include Windows, laptops, next-gen computing, and for some reason, watches. Before all this tech stuff, he worked on a Ph.D. in linguistics, watched people sleep (for medical purposes!), and ran the projectors at movie theaters because it was fun.
I completely agree with the article!
Her live tile with that pulsating animation is too awesome to avoid.
http://i.imgur.com/3pIGPP4.jpg
I love my L925 more now. xD

Crap. Now I have to rearrange my Home Screen for the fourth time today. lol

Me too. Thinking about turning on the extra tiles too.

I already turned them on, can't go back anymore, it's just too huge and there's no space for tiles! :D

It took me a day or so to start getting used to the extra row as the tiles ar pretty tiny compared to not having the row. I have the 928 so only a 4.5in screen. But after a day I am pretty happy with the look. Now it will just take some time to figure out the perfect setup and background image for the tiles as I have been arranging them on a consistant basis since yesterday.

Yup! Agreed! I also have Cortana as a double wide tile :) love it

Mmm... Cortana pulsating sounds hot. :)

Correction: Nothing *Wrong* with a little pride :P

Could you give us the link to that tileground?

http://i.imgur.com/IegZBdw.jpg
Didn't have link but WP 8.1 can upload things now!

I don't fully grasp what this means??? Upload how and to where?

Uploaded image to imgur directly from internet explorer 11 instead of using an app!

OMG dude!! IE 11 rocks! Finally you can upload pictures in comments on the full Facebook site, IE can finally access your local pictures hub! Been crying for this feature FOREVER!

Haha.. Not just photos, you can upload and download any kind of file through the new IE.

Saw people pinning but never did. Finally this article backs my decision.

Program your home and work commute into Here Drive. Bring up pinned Cortana, she'll ask you if one is home and one is work. Not sure what she does with that info from now on but will be pleased if she uses it to give me commute times on her live tile when it's time.

That's how you use the geofence feature. So you could ask her to remind you to do something when you get home. And when you arrive, a notification will appear much like an appointment would. She can also tell you the time it will take to get there with traffic if you ask.

Yeah, geo fencing is cool. It even switches on the Wi-Fi and gets connected when I reach home or office.

Cortana will also tell you when it's time to leave to make it to an appointment with an address in your calendar based on traffic. Caught me by surprise today. Great feature

Does Lumia 520 also support cortana once upgraded to win 8.1??

Daniel really needs to do an article on the geofencing.

Kashyapjani, does your sound silence pin still work? What app? I noticed the two I had no longer silenced the volume

I'm using the one from status tiles and it's working.
http://www.windowsphone.com/s?appid=37a02018-8fbd-47ba-8c4e-eedf46e65a22
You can even shout at Cortana to stop the music.. but I prefer saying please. ;)

I'm guessing that the 8.1 APIs for the separate volume controls broke volume apps designed for 8.0.

Thanks for that background/tileground.. I was searching for some nice backgrounds and this one is great.

Yeah its great. I should mention that I got it off wphomescreens.com in case you want some more. This whole category is awesome: http://wphomescreens.com/homecategories/abstract

Now that I have WP 8.1 (developer preview) on my L925, I'm not sure I could EVER go back to old WP8. It finally feels completely mature, for the most part.

Even if you wanted to you can't!;)

Yes you can, with some Nokia PC tools...just take a back-up first....
but
who on their right mind could ever give up Cortana !!

Te informo que si se puede volver al SO anterior ...cambiando nuevamente la firmaware del equipo ;)

Hey mate, could you please tell me what shortcut app du you use, because I cant find one which has transparent background. Thanks.

http://www.windowsphone.com/s?appid=37a02018-8fbd-47ba-8c4e-eedf46e65a22

I had it pinned for a bit but took it off. The third row on my 8x makes things too small, and I don't want to take up the space otherwise.

Pressing Windows Key doesn't work outside US. I tried many times but it doesn't wakes up Cortana.

So try pressing the Search key, like I mention ;)

Huh? Its the search key...

Turn on the loctaion & Internet !

Why can't the facebook app install after the update??

You should uninstall Facebook Beta before installing the "new" Facebook. At least it worked for me!

Correct. I was unable to even open any Facebook app with the beta installed

Is there a reason to go from the beta to the official app on 8.1? I went to the beta when I got my phone a few months ago under the impression it was a way to get the latest & greatest features for the FB app. I'm confused on which one is better for 8.1 now though after reading quite a few comments about the apps since yesterday.

Yes. The official one on 8.1 links to the people hub. Native Facebook has been removed, so functionally is gained by piggybacking off the official app.

Thanks, switching over to it then.

That's weird, I have the Facebook App installed on mine.

And it's stuff like this that is why I go to WPC for my WP tips and info! Thanks, Daniel!

Hey Daniel, Can you post a picture of what you see after you tap the Cortana tile?

I don't know about him but I see this: http://i.imgur.com/kX4mgG9.jpg

When I pin her to the start screen my phone begins lagging :(

Which phone is it? Mine doesn't. Try a hard reset perhaps?

Same :( Makes start screen animations super laggish on my 620. Probably an issue on low end Phones only. I unpinned "her" :|

Question: is cortana always a long press of search, or also a tap when unlocked? Nokia's hair trigger search key is already a frustration, I'd hate it if it launched directly into cortana by grazing that button

A tap opens up Cortana but she isn't listening. A long press on the other hand is like going close to her ear cause she is ready to listen! xD I must remind you that in full screen apps, search key is locked. Even action center requires to be pulled twice to open when in full screen.

Did ms change how to setup search from lock screen? I can't find that option.

I'm not sure but there's an option in speech settings which allows 'speech above lock'. That should be it.

Nope, mine is checked. Maybe...a...bug...

You long press the search key over locked screen and not the glance screen, right?

Yes the lock screen, I don't have glance on.

I am still using a Lumia 900 from ATT. I'm due for an upgrade in about 2 weeks...I wish they'd hurry up and announce some new WP 8.1 devices so I can get my Cortana on...

I have to recommend at least trying the Lumia 1520. Once you get used to it you will wonder how you even survived with a small phone.

I know this is really off-topic, and I apologize. I just can't bring myself to use a Lumia 1520... it is just too big. I can't believe that ATT hasn't given me any other viable options besides these "Niche" devices like a 1520 and 1020. I've been thinking about getting a 925 for zero dollars, because I am itching to try 8.1. How much longer can I be expected to wait for an ATT device on par with the Icon?

I thought the same thing. I wish they would bring something else because my wife is in the same boat as you. However ATT gives you 14 days to bring back a device so you could give the 1520 a chance and if after 2 weeks you still feel it is too big you can swap it for a 925. The only reason I said that is I know a lot of people with giant phones and they all thought they would not like the size but every one of them now wouldn't go back to a small phone.

I would really only choose the 925 due to lack of options. The 1520 is simply too large for a daily device for me. Even a 5" device feels clumsy in my little baby hands. I can't imagine strapping a tablet-sized device to my arm and going to the gym or out for a jog. I think I'm going to hold out for the summer, and see if my dreams come true...

Went not a 1020 then it's reasonable!

Miracast support and always on speech support will be missed on 925 in the coming days. I hope that's not an issue for you. I bought a 925 few months ago and I'm loving it but I know what I'll be missing.

Cortana is draining my battery. I'll keep her aside for a while :D

i sent her home also. maybe i'll have her over for dinner when she comes out of beta.

Can't.... leave... her..... nooooo :p

Wish i could in my country... can't change my phone lenguage :(

Hey guys I got a problem with ibstalling windows phone 8.1!!! Plz help me...i want this update so badly :( the downloading installing process is normal in the Phone Update screen, but when it goes into the Gear Display it works for 1-2 mins and stops installation itself sending an error "Your phone could not be updated (80070008)" Plz help !!! :(

Hey,will the official update from nokia n microsoft combined will have any more or extra features from the current 8.1 dev preview?

Just coming from Joe Belfior's WP presentation. We still don't have the moving Lock Screens and there are some options he showed for WiFi that we don't have yet. On top of that there are the firmware updates per each phone and whatever Nokia will add in the next Update too.

Why don't you hard reset your phone prior to updating it? Might solve the error.

Well I Dint go for a hard reset....but I unistalled all apps/games still Dont work for me! :(

Try hard reset man. Should definitely work and not much to lose if you've uninstalled all apps and games, right? The new store has a section called 'my apps' which you can use to install all your old apps.

off-topic, but I'm not calling an app "she." did iPhone fans do this when Siri debuted?

We're not iPhone fans now, are we?

Cortana is not just an app, whereas siri is just a stupid app compared to Cortana.. Cortana is your vitual assistant, It would be rude that she helps you with basically everything and you don't even recognise her as a common noun. Besides she's also a character in the Halo series..

I've also discovered you can go into specific Cortana interests (but not all of them) and pin those directly. It seems to work with Headlines and Weather, but not Trip Planner, Sports teams, or Daily Glance.

"Unless You Follow Our Simple Tutorial" Unfortunately, I never got it to work. Uh well.
Anyway, Thanks guys I appreciate it :)

It's actually useful! Without prompting me it gave me traffic conditions based upon my calendar!

"Just because its cool." Good enough for me.

Hmm interesting! Will do this now.

Plus it seems faster, oh I went there.

If you open Cortana with the search button, then wait about 5 seconds, she does the same thing as tapping the tile. Not saying its better, or even on par with the immediate daily glance info as tapping the tile, but it does end up delivering the same info after a mild delay.

Drains my battery as live tile -_- and I cut off her background task. Its cool as live tile but not a necessity. Holding down search works just fine.

I don't have Cortana yet.

I still can't update my huawei W1, it says it can't open the file u.u

I tried out Cortana but was disappointed to be honest. To its credit, the app does recognise most of my words but lacks features. Ok it calls people and sms's them but cannot send emails or do things that Indigo does. Too much hype, too little results imho.

She reminded me to download the apps I had made her note when I reached my workplace Wi-Fi..so she's awesome. xD

fascinating! what exactly did you say? "Remind me to download my apps when I get to work?" or was it more specific to a wifi name?

Sounds fascinating but it was easy coz the Wi-Fi part is just text
http://i.imgur.com/PY44T9W.jpg

How did you input the office address? It is not recognising my address when i speak.

Opened up the map and added my then 'current position' in favorites when I was at work. ;)

OK, so it was just a reminder to do so when you get to work. Thats cool still. love that it knows where you set work (and that its supposedly restricted to your device and not available outside of it).

I don't use it as a wide tile because I don't have enough space but I agree the tile is very useful and cool to look at

Awesome, thanks for this tip

It looks nice with a transparent tile. Too bad the Xbox Music tile isn't transparent too. The Podcast app tile is transparent, ferchrissake!!! Sorry, but all the good things about this update are almost outweighed by the suckiness that is Xbox Music. :)

Yeah unfortunately true. I'm using
Nokia mix radio and music match player, they both are faster than the Xbox music app

How about fixing your own live tile? It doesn't stay transparent. What up wit that?

Yeah! How about that, Daniel?

It's transparent in the vids,but not on my 1520.

I'm having this problem too. Only way we I'm able to get it transparent is if I replace one type of live tile for another then the first one becomes completely transparent i.e. no logo!

cortana doesn't currently tell jokes or respond to "do you love master chief" like windows phone had shown on their windows phone youtube

She doesnt on mine. when I ask her something she searches it on the internet, and like if I say tell me a joke, so trys to text someone saying a joke. How do I fix this?

Same here. I know Joe Belfiore tweeted something about the chit chat service yesterday but some reported success with a hard reset... Something I'm not willing to do (I still hold some unpublished apps, etc.)

She tells a joke only when you ask her to do so through speech. And the other question's answer is complicated and personal and I don't wanna upset her anyway.

She doesnt on mine. when I ask her something she searches it on the internet, and like if I say tell me a joke, so trys to text someone saying a joke. How do I fix this?

Maybe she has to like you to tell you a joke.. :p

Speaking of transparent live tiles, when will wpcentral get one? I unpinned it and I'm just relying on toasts for now.

I didn't know it could do this, which is why I didn't pin it to my start screen. Now I see. :)

Not to mention that the Cortana tile is transparent so it goes great with those using the picture background feature.

Conrtana found a new home right smack in the middle of my home screen.

I will when us stops hogging it ! Lol

Ahh, helpful to know. Thanks Daniel.

I'm so glad you guys wrote this: I didn't even think about the Live Tile and I have been hunting and hunting on how to add Plane Flight Tracking to Cortana. It's odd that it's not available as a voice command, but only through the Live Tile settings. But now I have it! Thanks!

Finally get Cortana and store to work. However, I discover that the phone appear to be more laggy than before and the benchmark reduced for about 1000 scores

When you load 8.1 for the first time, it is doing a lot of work in the background updating apps and what not. Should not lag after a while. That's my experience. I updated 4 phones to 8.1 lol

I saw Daniels start screen with Cortana and thought I'd see how it is. Definitely like having it there now.

I have upgraded and can access Cortana with search button but she is not in my app list

Cortana picks up my accent just fine. I'm glad I ain't a South Indian. No offence to my south folks.

Find me the way to use it without changing my language to english, and I'll pin it on start screen for you

I have the Cortana pinned to my start screen, but am using the medium tile. The wide tile takes up too much space for what it is. On the other hand, the formatting on the medium tile is all wrong, so it doesn't really show the information in a useful way. But like you said, the pulsating halo on a transparent tile is pretty cool, so that's enough reason for now.

Show off... That was the best part xD

There's something wrong with my Cortana since this morning.. No matter what i ask her.. The only reply i get is ' sorry i didn't catch that'..how ever she does reply in text when i type in my query.. Could you guys suggest what the problem might be..

Maybe your mic is having issues.

I thought so too..but then that would have caused me problems while being on calls as well.. But I can talk all right.. What else do you suggest

Your accent and pronounciation?


Don't forget you can also pin interests from the notebook. Like weather (see through weather) news etc

I dunno if it is a common problem or if it is just me. After pinning the Cortana live tile when I unlock the phone the icon on the the tile shows up a second later.

Reason number 5: Looks pretty

And look how cool is she this way :D : http://prntscr.com/3a9ofn
edit: now its her tile instead of Me tile even better :) .

Wird, here we go again http://i.imgur.com/zvyRQA9.png

Cool.. You should bring that me tile down, near her eye. Should look even more cool. Haha

Any fix for interests only being available when NOT on wifi?

Not getting new feeds on live tile notifications of WP central

Love 8.1 and Cortana :) but it drains my battery very much having it on .. Anyone?

Its a major update new features it will definitely drain battery. But the firmware will fix that thing too.

I have no self control. I need you to stop posting awesome tips so I can get some work done. Never mind, I can work tonight when things slow down.

with wifi and mobile data, my baterry just cant handle having cortana (gps) all thay available.

Just put your location in the action center and turn it on once you wanna talk to her. My icon can handle the battery drain. I just don't like giving my location out all the time like that.

Dan, any news on blackberry messenger coming to wp?? Thanx..

Will take time still in beta mode

There is no option to share the photos under screenshot album to services other than Email , Facebook , OneNote . Does anybody noticed it .? Or it was like this earlier .?

Yeah, you can share to all services in WP8! Wierd.

Nah, you can't share screenshots to all services in WP8 as well. I don't know why they don't want us to share them ss on other services. Privacy eh?

I have a unlocked 1520 and it's telling me Cortana isn't available in my region... Anybody else having the same problem?

I'm from Pakistan i had upgraded to 8.1 but couldn't get Cortana...that's annoying

U need to do change ur region to US. http://www.wpcentral.com/want-cortana-outside-us-heres-how

And by "If you're outside the US, you'll have to wait a little longer for Microsoft to localize your language" what Microsoft means is "a couple of years...with any luck".

Is there a way to change the news sources in Cortana, so I don't have to put up with Fox News propaganda and CNNs desperate hunt for viewers and that f**king Malaysian plane? Any way to select my own news sources like in Bing News?

That and wanted to know if anyone managed to get temperature shown in Celsius

I am with you 100% MIKE! Has ANYONE found an answer to this yet? Having FOX 'News' headlines flip up on my Cortana tile makes me cringe.

Completely agree. Having Fox News come up on my phone would completely negate the coolness of having a Cortana live tile. It would also be unprofessional and embarrassing, not to mention distracting. I need to be able to control what's on the tile or no go.

I have pinned Cortana in wide tile.

I wish that there was more control over what shows up in Daily Glance (and the Live Tile, I guess). Frankly, I don't want to wake up and have all the day's horrible news be the first thing I see! I'm happy to have the weather and commute information, but I don't want to be bombarded with Ukraine and Boston Marathon bomber. (pun totally not intentional, but now that I realize what I "did there", I'm keeping it!) Also, the first time I opened Cortana this way, it showed 3 sets of "cards"-- weather, headline news, and tech news (the last of which I added as an "interest"), but I clicked on "Hide" for the 2 news-related cards. Now I can't figure out how to get them back. Anyone know how to reactivate those?

If you go in interests and click on the card you hid, you should be shown a switch to turn it on again.

Eureka! Yes, the toggle switch does appear if you do what you suggested. (Just be sure to press "save" after flipping the toggle--- I forgot to do that the first time and then wondered why it didn't show up when I went back to the main Cortana cards screen. (Is there a name for that interface? the one that shows up after it says "Getting things ready")

What should be the name of that interface? Tough question. The interface shows us details based on our interests, right? Interest cards maybe? Information at a glance? Daily glance?

How do you open bing search nor that cortana using the search key?

Pulsates?! Definitely goes to my Start Screen

I feel like it drains my battery quicker

Yup, she's quite the thirsty little assistant

I agree 100%! I pinned her for the pulsating icon, and kept her there for the daily glance lol Double wide for the win :)

Kinda stupid that Quiet Hours requires Cortana which requires US.

Well, it's not when you realize Cortana is ONLY released as a beta in the US Region. You have to understand that Inner Circle is tied to Quiet Hours is tied to Cortana. They all rely on each other now.

Agree. Don't really see why most if not all of what Quiet Hours does be done separate from Cortana.

All hail cortana! http://i.imgur.com/2yAgFQA.png

Subtle marketing. "On the surface" I caught you!

Can cortana be asked to play music in your music library?.. Just curious....

Yes! "Cortana, play When I come Around by Green Day" or simply "Play Green Day" to have her randomly select a song by said artist.

Yeah.. I simply say her 'please play some music' :) she can even be asked to stop it..

What's a cursory glance ??? Can Daniel see me right now ???

Did anyone with HTC got Cortana? Please help! I have set everything to USA and I don't have her on my phone. Help!

I'm rocking Cortana on my HTC 8xt. Are you sure you got the 8.1 developer update? There were two updates, the first one which "prepares" your phone for the update and then the actual update. Try searching for updates, but first make sure you are enrolled in the dev preview program.

I got both updates, I'm enrolled in the preview, and I have set everything to USA (region, language and speech) and I don't have Cortana, don't know why. Btw I have HTC 8s.

Are you sure that everything is set to US? It requires a restart for each of those settings namely language, speech and region. Don't restart manually but with with the link provided when you change the setting. I also had to download English US in speech which took a while. If Cortana is showing up in the app list, open it from there first. Don't forget to pin it!

I've set everything possible to English (United States), and can't use Cortana. I have her on app list. Only thing is it writes. Speech requires download. I go to speech and language is English (United States. Someone? Anyone?

What Region are you set to?

Remove US language and then add it again... Worked for 2 of 3 of my handsets...

Yap, only I added another language, and all of the sudden, language pack update appears for united states :)

Just curious, but can you activate cortana from the lock screen? Just like the Bing search feature on WP8.

Yup, like the story also says... :)

LOL! Sorry, bad eyesight!

Thanks for the tip! She is on my start screen now!

I pinned Cortana to Start as soon as I updated, but frankly I never use it. As soon as I heard about press-n-holding the Search button to go right to voice mode, I use that exclusively to control all things Cortana. I keep her pinned, though, entirely for the look.

I have Cortana on my start screen, but I noticed if you tap the search key and scroll down, all the info that comes from the Cortana app button is right there

vv Her actually
http://c2.bgr.com/2014/01/cortana.jpg

It's a her... But you can go ahead and treat your AI woman like an object.

C'mon!
http://imgur.com/reoeK4v.png

I only had her for transparency when enabled extra tiles. They are too small, went back to normal and no background. I have too many tiles that aren't transparent

Besides the live tile, there is no point in pinning. Just swipe up after pressing search and get the same headlines.

I agree, but Cortana looks so bad ass! Not to mention how useful the live tile info can be, seeing as Cortana doesn't give out many notifications. But to each their own. I personally love the ascetics she adds to my Start Screen. She will not be unpinned anytime soon. :)

Cortana is proudly displayed on my 1020's now extra-wide Start Screen. :)

I wish the Sports news section in Cortana's daily glance would connect directly to Bing Sports rather than Bing News.

Use it both from the search button and the start menu. But she isn't as personable for me as I am hearing here. She doesn't use my name or answer personal questions. Am I missing a setting or is it personal??

It predates me a bit, but with Cortana pinned to my screen my phone feels like I'm holding HAL... :)

I tried Cortana for an hour and she is really fun to be with. Unfortunately, I must turn on "Location Service" for Cortana to work. So I uninstalled her by changing region again. Location Service + Cortana = Battery Drain.

Can we control her via headphone button? Would love to talk to her while phone in my pocket.

Done sage advice. Windows phone 8.1 rules...

Daily glance is useless outside the USA, with weather in Fahrenheit and American news.

Ya but she helps you commuting timely at least.

Why my cortana live tile does not flip as a wide tile?

Hell!! I did everything thing!! It's all US on my 8X!! But still no Cortana! What tha hick is the problem?!!

Did you download the US language pack in settings? Cortana won't start without a proper US voice pack.
Cortana is working v.well indeed on my 1020. My bro was a bit put out - he assumed Siri was the best. Cortana pulled her pants down and gave her a jolly good spanking!
Siri just cant do geofenced reminders, and it has that horrible Siri voice. Oh, and the app integration just blows iPhone out of the water (Mix Radio Play me...Mix Radio Skip etc etc).
Cortana even knew the next Manchester United match, and spoke to me the time and the opponent. Not bad for a US Beta app that has only just gone into the wild.
I cant wait for Microsoft to release the UK version.

Cortana is great...even in the UK!
One of my favourites...geofenced reminders;
'remind me to buy some milk when I go to Tesco's'.
The reminder set perfectly. Geofencing is definitely one of the best features of Cortana...timely, location based reminders - superb

I'm in my bedroom & I tried to pin Cortana to the home screen with your instructions but my phone got stuck in the lawn mower

I'm trying to help myself. Sorry!

Whenever I tap on dedicated search button Cortana comes up no bing search! Any solution??

Are there any downside or problem to set regional and language to US instead of my own country?

Not as such. Mostly that you have to use the US store and buying apps would be in dollars. Apart from that, no local search results would be shown if the searching app isn't allowed to have your location data. E.g. Google on IE. Those are the only things I noticed. Your virtual self is projected in the US. That's all.

My Cortana bahaves strangly. I got tile on screen, I can ask tel her to add appointment or read me my schedule, etc. But every time I ask her to do one of those "cool" things as sing a song or "tell me a joke" all I get is Bing web search. - Why?

I have the excact same problem and no one seems to know or can't help me. I hope someone here can tell us what to do :(

I have wiped system this morning and now it is working as it should.

Meaning hard reset? was it a long process? because I never did a hard reste before.

Yes. About 3h - I got a lot of apps

cool will try that tonight. Thanks

There is still a problem with Cortana here in India no answers for personal question it only shows bing search results...

wouldn't it be awesome if they brought Cortana to Windows 8.1 as well

If you're talking about the desktop version then that would be dope as hell. I actually have been looking for a way to get Cortana working on Windows 8.1 but no luck.

I have installed my wp8.1 in my lumia 720 .....but i cant find Cortana ..... I used the search button still Its coming like "Listening....."

It shows my flight information.

I asked Cortana to remind me about something yesterday, but unfortunately turned off location services. Shedid not remind me about it , but reminder is still visible on my lock screen. Tried to delete this but can't find it in my calendar or anywhere else. Can anyone help me ?

Reminders are found in the Notebook and can be deleted there.

Has anybody figured out why she sometimes responds by speaking the answer and sometimes by giving you Bing search results? Does she revery to Bing if your question doesn't fit into a pre-designed set of questions? Also, can anybody share any tips on using the Cortana location feature? I have created a few locations but she seems to struggle to recognize them. For example, I created a location called 'Robin' for a friend's house, but "What is the weather like at Robin" (and variations) don't seem to catch my location. Perhaps, like my first question, there are only certain "queries" that leverage the saved locations? Either way, I am having fun learning :-)

Can anyone tell me why Cortana's speech is not working for my Lumia 525? I am in India. please help

Coz u have switch your phone to U.S. region

Hi... Cortana is not available in my Lumia 620.. I'm from India but I've set my region as USA... But still I couldn't get Cortana in my mobile.... Is there anyone else facing same problem as mine.... ?? Devs with solutions kindly reply
Thanks in advance

Pinned live tile makes my phone lag and drains battery faster.

Just updated to WP8.1 Dev Preview. I set up the Cortana notepad and I must say, I'm impressed. Microsoft is beginning to show us what they are made of.
Windows Central Newsletter
Thank you for signing up to Windows Central. You will receive a verification email shortly.
There was a problem. Please refresh the page and try again.