Windows 10 build 18970 hits the Fast ring with new tablet experience for 2-in-1 PCs
Microsoft has refreshed the tablet experience for 20H1, giving users more spacing to work with and other optimizations.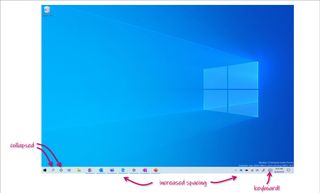 What you need to know
A new Windows 10 20H1 preview build is now available for Fast ring Insiders.
The update pushes the build number to 18970 and brings a new tablet experience for 2-in-1 PCs.
This build also adds the new Cortana experience for everyone and introduces a cloud download option for resetting your PC.
Windows Insiders on the Fast ring can get their hands on a new Windows 10 20H1 preview build today. The update brings the build number up to 18970, and it adds several notable new features. Chief among them is a new tablet experience for 2-in-1 PCs, which is available as a beta for now.
While the new tablet experience for 2-in-1s is the most notable visual update in build 18970, this update also brings the ability to reset your PC back to a fresh state via a cloud download. The new Cortana experience is also now rolling out to everyone on the Fast ring.
Here's a look at all of what's new and fixed in 18970.
What's new in build 18970
Introducing a new tablet experience for 2-in-1 convertible PCs
We are beginning to roll out a new tablet experience for 2-in-1 convertible PCs as a Beta to Windows Insiders. This new experience allows users entering tablet posture to stay in the familiar desktop experience without interruption, plus a few key touch improvements:

Increased spacing between Taskbar icons.
earch box on taskbar collapsed into an icon.
File Explorer switches to touch optimized layout
Touch keyboard auto invokes when you tap text fields.
Introducing a new Reset this PC option–Cloud Download
Reset this PC now provides users a new choice to download Windows or use local reinstall. Previously, Reset this PC was only able to do a local reinstall and would build a new Windows installation from existing Windows files. When this feature was introduced in Windows 10 version 1507, it provided the advantage of enabling Windows to be recoverable without requiring extra disk space to store a compressed, backup copy of Windows in a hidden partition. We've heard feedback that some of you would prefer to use your high-speed internet connection to speed up this process by just downloading Windows.
Continuing the Cortana rollout
The new Cortana experience is now available to all Insiders in the Fast ring in the United States. If it's available on your device and you haven't tried it out already, we'd love to hear your feedback! We've posted a Quest in the Feedback Hub to help you get started.
General changes, improvements, and fixes for PC
We fixed a DWM memory leak that was impacting the previous two flights.
We fixed an issue resulting in some WSL distros not loading (Issue #4371).
We fixed an issue impacting a small number of Insiders, involving a lsass.exe crash and resulting in a message saying, "Windows ran into a problem and needs to restart."
We fixed an issue resulting in WIN+(period) closing if you tried to search for an emoji when focus was set to a text field in an Electron app.
We fixed two issues that could result in Settings crashing when interacting with options on the Search page.
We've done some work to help improve the launch performance of Settings when the Setters header is visible.
We fixed an issue resulting in some Insiders experiencing a bug check with BTHport.sys in recent flights. I>- t's important to periodically back up your data. Starting in recent Insider builds, Windows Home and Pro users without a first party backup solution will now see a friendly reminder to consider setting up a backup option that is included with Windows. If you'd prefer to turn this off, there's an option to do so in the notification.
We're working on addressing feedback about the acrylic in certain surfaces not appearing immediately. In this build, it's fixed for Start menu, the volume flyout, the network flyout, the clock & calendar flyout, and notification toasts.
We've made some bug fixes and improvements to Magnifier reading capabilities.
Improved Magnifier performance when moving the mouse around the screen.
We resolved an issue where Control + Alt + L would not put Magnifier into Lens mode.
No one likes bugs, so we squashed several of them related to the new text cursor indicator. Text cursor indicator now appears and disappears more reliably. We also fixed an issue where text cursor indicator preview in settings did not change size when text scaling was on.
We have made improvements in Magnifier reliability.
We fixed an issue where the File Explorer search suggestions weren't being read out by Narrator.
We fixed an issue in Narrator where it would speak "unknown" if you had the "Header Status" column enabled within Outlook as you arrowed between different email messages.
We fixed a couple Narrator dialog reading issues. Narrator would sometimes speak "empty document" or stop the dialog reading too early.
We fixed an issue where Narrator would not always speak the group name of a radio button on web pages.
We fixed an issue with Narrator and Excel not speaking the column header when arrowing between cells in a table.
We fixed an issue where Narrator would only speak "item" when navigating by table cells in an Outlook email instead of reading the entire cell's contents.
Narrator will now read webpages from the top of the page and not at the main landmark with a fallback to find a paragraph. Thank you for your feedback!
Narrator now supports the aria-haspopup property.
Improved Outlook performance and stability when reading mail messages in Outlook.
We have made improvements in Narrator reliability.
We made a change to Narrator input learning, so you just have to press Narrator + 1 once to turn input learning off. Thank you for your feedback.
We fixed an issue when a user navigated to a webpage in Edge, Narrator would read just the URL field and not the webpage.
We fixed an issue when a user was replying to an email in Outlook, Narrator was automatically reading the message while the user was trying to type.
If you're enrolled in the Fast ring, you can grab build 18970 now via Windows Update. For more, including a list of known issues, you can check out Microsoft's full release notes.
Dan Thorp-Lancaster is the former Editor-in-Chief of Windows Central. He began working with Windows Central, Android Central, and iMore as a news writer in 2014 and is obsessed with tech of all sorts. You can follow Dan on Twitter @DthorpL and Instagram @heyitsdtl.
So the way I see it, the new tablet mode is just desktop mode with some taskbar, File Explorer and keyboard adjustments. Is that right? Seems like that is what this is about: "This new experience allows users entering tablet posture to stay in the familiar desktop experience without interruption."
If so, it seems like a step back but if not enough people are using Tablet Mode anyway it seems like a logical step to let users keep desktop mode as they may expect but at the same time bring a few key improvements of Tablet Mode over. What will happen to window management gestures, though? And I don't really see the point in increasing the spacing between icons in the taskbar, the spacing seems to be just alright as it is.

But but people may not (very likely not) be using Tablet Mode because it's just not very good. So their not improving it is self defeating... Brilliant

It's in Fast Ring, so it could be just a test and not something they will eventually incorporate.

"We're working on addressing feedback about the acrylic in certain surfaces not appearing immediately. In this build, it's fixed for Start menu, the volume flyout, the network flyout, the clock & calendar flyout, and notification toasts."
There is hope. Broken animations next, please! And fixing it for Action Center, of course.

Goodbye Live Tiles. You won't be missed.

MS have admitted few people used live tiles and in fact tiles in general. They reported most desktop users prefer to pin their favorite apps on the taskbar.
Bleached is correct on this occasion. Few people will miss live tiles. They never had a chance anyway after WM failed.

"They reported most desktop users prefer to pin their favorite apps on the taskbar." YES. That is exactly what I have been doing for the last 20 years. I never even use the start menu. A huge waste of time. The whole "live tiles" thing was silly and pointless. It was just useless clutter. Too big, too busy, too much all the same colors. Really, just poorly thought out. Icons surrounded by big blue squares? What the H were they thinking?

Bad tiles were silly and pointless, good tiles are awesome. Just take a look at mine (I made most of them but downloaded a couple as well): https://imgur.com/pXAxyeQ Icons surrounded by blue squares are the result of lazyness...well, several developers still put useless shortcuts into an endless path of subfolders like in the XP era.

The legacy start menu might be an option, but it won't be the default.

I use my Surface Pro 3 all the time in tablet mode and have no issues with it. The "improvements" don't seem like a big deal.

Window 10...Tablet mode... let's see... maybe they could just copy android's source code for launcher shell and make it launch windows applications instead?? It's android open source anyways? Naaa.. too obvious and easy... I mean it's not like m$ didn't already do that with google chrome browser by switching to chromium...

You mean go back to Windows 3.x Era?

Windows 3.1 wasn't touch or mobile optimized. You aren't making sense, just trying to make some inaccurate comparison since Android and Windows 3.1 both have icons. Android is much more than that.

That's only "too obvious and easy" for someone who has no idea of software development.

Microsoft showing again that they can't do two things at once. On Win8 they made an awesome tablet mode but desktop mode suffered, on Win10 they made an awesome desktop mode but tablet mode suffered. And with this... looks like they thrown the towel again... instead of making a good tablet mode, they will do some hack-jobs to the desktop items and be done with it.

All I use is touch for my work computer because the track pad has died on me and my IT department is slow as hell. Needless to say once I learned the gestures and what motions did what, I really think it's a pretty good experience. Literally this is coming from someone who's only been using touch for the last three months on a Toughbook. Good think is the keyboard still works though. I don't use tablet mode though, just regular desktop. Any improvement will be welcomed as a step forward of course with larger touch boxes.

If they aren't going to improve the Live Tile experience, where Devs see the value in utilizing them, that will have users wanting to use them, I'd rather they focus on making the tablet UI more like MS Launcher on Android. An app drawer in tablet mode could be used in the way the Taskbar bar is used in desktop mode. Swipe up and see you most used or favorite apps that are more tablet mode friendly, like Drawing apps, games, email, social and media apps. The Homescreen wouldn't have the app listed like the Android homescreen, of course. But, I would like to see the homescreen be replaced with the Glane, News and Time line. That to me seems like a better use of space for tablet mode on 2-in-ones. If MS can get there Phone connect app on par with Dell's, they will have a winner. Since they seem to be keen on creating a similar experience, that would be the way to go. Personally I like the Live Tiles, when the app itself actually utilizes it. Otherwise, it is a waste of space. I've grown to accept that Live Tiles isn't a thing and MS just need to focus on creating an experience that is useful.

I think these changes have potential. As a daily user of windows on my surface pro for business and personal use I still find it odd that the tablet experience changes are not part of tablet mode. Tablet mode changes many aspects of the UI to use and optimize for tablet use, even in 2 in 1 devices. I don't think it adds more value making it part of the desktop mode.

Still looking for a fix in Settings ... Devices, where the Device Names are square boxes instead of proper text. Horrible! I'm trying to set up a printer over a network and have no idea which device it is! Please, MS, fix this quickly.
Windows Central Newsletter
Thank you for signing up to Windows Central. You will receive a verification email shortly.
There was a problem. Please refresh the page and try again.