Windows 10 on ARM to add 64-bit app support in May
Microsoft is will announce an ARM64 SDK for Windows 10 on ARM PCs at Build 2018, according to a new report.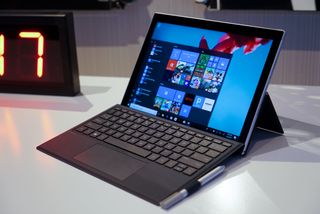 In recent weeks, the first Windows 10 on ARM PCs have begun to go on sale. Though they offer lengthy battery life, LTE connectivity, and instant on capabilities, one of their main limitations is that they won't run 64-bit apps. However, it looks like that's about to change.
Speaking with Engadget, Microsoft general manager for Windows Erin Chapple revealed that an ARM64 SDK will be announced at the company's Build 2018 developer conference in May. The SDK will allow developers to compile their 64-bit apps to run on the Snapdragon platform powering Windows 10 on ARM PCs. According to Engadget, the ARM64 SDK will be available for both Microsoft Store and desktop apps.
Microsoft previously stated it had plans to add 64-bit app support, but there was no timeline available. Windows 10 on ARM still has its share of limitations, but adding the ability for developers to compile their apps to run in 64-bit with Windows 10 on ARM PCs will be an important addition for developers. However, it's not something that's likely to be noticed by the average user.
Exact details of how 64-bit app support will work, along with its limitations, aren't available at the moment. However, we should get more clarification at Build in May.
Dan Thorp-Lancaster is the former Editor-in-Chief of Windows Central. He began working with Windows Central, Android Central, and iMore as a news writer in 2014 and is obsessed with tech of all sorts. You can follow Dan on Twitter @DthorpL and Instagram @heyitsdtl.
Nice... Windows 10 on Arm will get more interesting and really dangerous for Intel in 2019. That is when the snapdragon 655 will be as fast as the 835 for $40-50 (Atom/Celeron prices).... and the snapdragon 855 will be >50% faster than the Snapgragon 835 (improved emulation). By that time the mobile/PC OEMs (Samsung, LG, Xiaomi, huawei ect) that are already buying Qualcomm chips in the millions for phones unlike the PC Oems (HP) can launch devices at significantly cheaper price points.

Given current benchmarks, we need an 895 so the emulated x86 code runs at a good speed. Current units are quite slow.

Maybe not a 895 but certainly a better processor. Earlier benchmarks on the 845 showed a roughly 40% performance increase of the previous 835. If that trend continues come 2019 the 855 will be more than capable. Alternatively they may release a new series of chipsets larger and more powerful for Windows 10 on ARM.

The 845 showed a 40% increase on the GPU side, but the CPU side was more like 20% over the 835. I think the CPU is going to be the more relevant component when it comes to emulation performance.

With Arm 64 compilation support that will be less of an issue than it is now. I would not be surprised to see many Big Name programs support Arm 64

Big name programs do not support UWP and there are at least 600 UWP million devices. Why would they ever even consider ARM64 UWP?

SD845 uses 10nm process chip. TSMC's 5nm process chip will be out in 2020 and 3nm process chip will be out in 2022. Snapdragon's new mobile processors will use those chips in that time frame. The performance and battery life will keep getting better in the coming years.

It's not just processor. MS's emulation layer will also advance.

This is what I'm thinking as well. At least that's what I'm hoping for...

A huge part is the performance loss due the emulation. Which should also improve over time. For native apps the 835 is performing like an i3 which is actually not that bad.

You think a year from now comparable devices are gonna be significantly cheaper? Lol. I doubt that.

The fire sale as Microsoft ends WoA development next year will certainly bring rock bottom prices.

Oh someones gonna feel the burn alright, the ignorant and the trolls surely will : ( .. ouch.

I shared the news a few weeks ago to our team lead programmer and... "how unfortunate for Intel" is our conclusion. Though Intel will still be popular in content creating department, ARM will be popular in business departments.

This is not that much use to most people. This is not the ability to run x64 applications, just for some developers to make ARM64 builds of native apps. E.g. if someone wanted to make a Chromium build for WoA they could build a 64bit version. Or VLC could make a 64bit native build.

That is a much bigger deal than running emulated x64 apps, because emulation is always going to be slower than native. Depending on the program it could be as simple as recompiling the code. I would not be surprised to see many big names support Native 64bit Arm development.

Plus, 64-bit emulation will be slower than 32-bit, therefore ARM64 build is the better option if you MUST go 64-bit. e.g. (XPA) games.

so whats the benefit of that in the near future again? even if it could run 64bit apps it will run them very slowly if not at all.
its already proven from HP envy x2 that its struggling to run anything outside the UWP platform even with 8 GB of RAM ...

The benefit is that developers can compile an app to run at full ARM 64bit speed. I.e. not emulated. It will only be useful for specific developers. I doubt someone like Adobe is suddenly going to release a Photoshop 64bit ARM. But they could if they wanted to once this is released.

SD 845 will run faster. Gen 2 device like Andromeda will be better.

it will run alot better if it's downloaded from the store via ( desktop bridge)

ARM64's not emulation, MS's not trying to emulate x64 legacy apps.
XPA games will benefit from this.

I really hope the price of the devices come down

Translation: Not really. Seriously, until they get it to the point where you have no more limitations on a WOA device than you would on an Intel one, this is going to be niche. Most will find the computing they can do on their smartphones is perfectly fine without buying an underpowered, more expensive, less capable WOA machine. You know those same processors will be on phones, too.

Technically not less capable. Can smartphones do emulation of x86 programs?

Can you use any Intel as a long lasting pocket wifi? Wouldn't it be useful for travel & business trip? Unless you are in the dev department where you need powerful HW to run Adobe, 3dsMax, Unreal, VisualStudio, SVN, Git, Office, Reason, Komplete, Local Server typpa applications. (run these on smartphones?)
Besides these creator tools, our ticket system, project manager, chatroom, etc are all web based. ARM'll be more useful than Intel in business department.

XR HMD's, here they come!

This is huge news! Win32 x86 can be recompiled to ARM64. That means a desktop version of Chrome can run natively on ARM.

Sure it COULD be, but it'd take a ton of work and is isn't going to happen.

It depends on how tied into low level hardware APIs. Considering Chrome's cross platform nature, I'm going to bet that is not the case. It should be fairly easy, but Chrome doesn't use MS compiler so we might not still see it soon.

Why would one want to run that thing?

So surface phone is incoming with this support

If Apple moves forwards with ARM Macs, I could see Apple providing Boot Camp Assistant to install Win 10 ARM, just like it does on its current Macs. IMO, both companies would mutually benefit. For Apple, it would give its users the option to run Windows for those who need it; and for Microsoft, it would provide a huge credibility boost for its Windows ARM efforts. https://www.bloomberg.com/news/articles/2018-04-02/apple-is-said-to-plan...
Windows Central Newsletter
Thank you for signing up to Windows Central. You will receive a verification email shortly.
There was a problem. Please refresh the page and try again.