Windows 10 currently has 1.5 million Enterprise SKU installs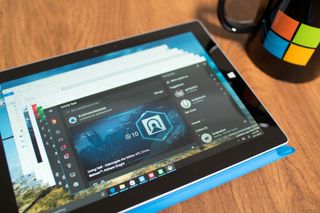 Earlier this week, Microsoft announced that Windows 10 was installed on over 75 million PCs and tablets four weeks after its launch on July 29. Now, the company has confirmed that 1.5 million of those Windows 10 installs were of the Enterprise SKUs.
The number was revealed to a group of journalists attending an enterprise-based press event in Redmond, Washington today. Unlike the Windows 10 Home and Windows 10 Pro SKUs, which can be downloaded as a free upgrade for Windows 7 and 8.1 PCs for the next year, the Enterprise SKUs are fully paid versions of the OS.
While it's still a small percentage of the entire Windows 10 install base, having 1.5 million Enterprise PCs users in just one month is still a solid update rate, as the vast majority of Microsoft's large Enterprise customers will likely take their time to convert their PCs to the new OS.
Source: Rod Trent (Twitter)
Windows Central Newsletter
Get the best of Windows Central in in your inbox, every day!
But how many of those enterprise installs are just for those in IT or development related positions? I have two boxes upgraded to W10 for development. My company as a whole is still on Win7 and probably will be for a long time.

Precisely. In the same position. I'd imagine much of this number is a testing base or msdn accounts

Nearly all of them are on IT professionals PCs. That isn't at all surprising though. Most companies will need months or years to do complete testing of their systems for a new OS deployment to end users.

They're going to be mostly for the devs and it related positions, as they should. This is how most companies transition to a new os. At my job only two people in a company of 300+ are using w10. One is me and the other is another engineer.

I'm an IT Manager and was running the inside builds starting at 10166 to ensure we could run all of our enterprise applications on the domain without issues. I've began upgrading all 250+ computers. The reception is great and they love that edge can make a webpage a note for editing purposes. I also showed them how to simply go to the ellipsis to open a webpage that edge might not display correctly. It's about how you prepare and train your client users. Again, the reception is great! No issues this far

This time around will be a lot shorter than the previous Windows versions. IT pros have already been involved with OS Insider preview testing 9-10 months, application compatibility testing will be shorter since W7 programs will all run on W10, training time will be shorter since their employees will all be taking advange of free upgrade and start training themselves at home. In a recent survey, 40% of IT pros plan to implement W10 in the first year. That's why it is not surprising to see that Bank of America plans to go W10 at full steam immediately. Six months from now, you will see the enterprise activities will start to intensify. In addition, the Intel SkyLake is coming full board in early 2016, the machine replacement trend will pick up also. ASUS has already indicated that their PC/Tablet/Laptop sales have picked up substantially in Europe and Asia after the release of W10. Their Asian inventory has declined to a critical low level. All these are pointing to a strong 2016. W10 on SkyLake 2-in-1 will lead the way.

So what you are saying is that there are 1.5M enterprise companies who have only one Win10 install?

my guess is loaded on hyper-v

Most are for testing and evaluation purposes I'd say. That doesn't sound bad. No large enterprise is going to roll out an operating system organization-wide when it's only released for a month.

That's awesome... Go windows 10... Posted via the Windows Central App for Android

Note that MSDN users often use Enterprise licenses to test on. Not saying these are all developers, but some will be.

7.5% of goal in 1 month. Pretty good progress

It's not bad but adoption rate is already slowing down drastically, as was to be expected.

There will probably be another surge right before the free upgrade offer exires in a year. No one is counting the new PC sales. Even with the sales declines, they still sell like 70 million PC every quarter. That's 280 million PC every year. There will easily be between 400-500 million users in a year. The following year, enterprise customers will be comfortable and will start upgrading.

Once Xbox One is upgraded to WIndows 10 the totals will shoot up even more.

As far as I know. Xbox and Mobile don't count towards the whole PC Windows marketshare. Sure Windows 10 is basically running on these devices. However, they're not entirely the same thing. Going by your logic. Phone are going to be running a full x86 PC operating system.

They have stated "1 billion devices" within the first two years is their goal. They did not break it down to phone or PC or Xbox.

I installed Enterprise and I'm a regular POS employee

You might want to spell that out (POS). Some people may think you don't think much of yourself :-)

You're right! Piece of smooth (employee)

I have to admit, I did read it that way. And then I couldn't stop laughing.

They also just released the rsat tools like a week ago. A lot of instals werent going to happen without them.

yup, as quikly as win10 can be installed, deployment is VERY important, and RSAT helps A TON! I could imagine the install count jumping early into the near year (as a former government employee, we are entering the "slow part" of the year.)

SKU stands for "stock keeping unit". Basically, it's a unique identifier for each different product a business can buy or sell. In this usage, each version of Windows 10 would have its own unique SKU since they are different from each other. Enterprise is one SKU while others would include Windows 10 Home, Windows 10 Pro, Windows 10 Mobile, or Windows 10 IoT (Internet of Things).

I find that number impressive in this short amount of time. We aren't even considering it for another 6 months, although we are starting testing. It'll be another year until we upgrade Office, though :-(

Any serious enterprise is going to take time to test their applications, especially custom in-house ones. Then there's the planning for the migration itself, deciding if they'll be upgrades or new kit, VDI or full clients, etch. Only the stupid ones well rush to install a clearly unfinished OS and only the even more stupid will be impressed by quoting numbers.

My company is small and all the PCs are very high end but IT still looked at me like I had three heads when I suggested upgrading to 10 (from 7)... :(

My company is not so small (Ubisoft) and my IT was happy to upgrade me to 10 when I asked, lucky me. (I'm not an IT Pro or a developer).

What is the ratio of upgrades vs new hardware for the 1.5M units?

1.5 million to zero. Enterprise is always installed on existing hardware.

New hardware as in first time use, not a 5 year old desktop or laptop.

I can tell you all of Amazon is upgrading to 10 next year. IT folks are testing right now.

Our company is in the middle of transforming from W8.1 to 10. Some computer have some don't.

Edge does not work well with Microsoft's own enterprise offerings like SharePoint Online. Perhaps some day.

Internet Explorer is still there...

I was at the auto shop today (first time I'd ever used this service center) and they were all using Windows Surfaces running Windows 10! I was quite shocked. I don't know if they were using the "Enterprise" version, but I noticed that their desktops were still running Win7 Enterprise.

I know where 4 of them are. I am going to have my team be ready to start rolling Win 10/Office 2016 starting Q1 next year. We have about 10K machines around the world. In a way we are lucky we had started to migrate to 64bit Win 7 as we have already broken everything with that and IE11 Now that we have the "craplications" on a terminal server or a VDI and Enterpise mode for IE11 figured out I think we are pretty good to go. We are on a 4 year rolling refresh cycle, however we have about 5K due in Q2/Q3 next year so we will get a good chunk done.

We have a few hundred thousand machines worldwide and will start our migrations this fall as most of our testing has been completed.

All free trials I bet, once 90 days is up they'll be gone Posted via the Windows Central App for Android
Windows Central Newsletter
Thank you for signing up to Windows Central. You will receive a verification email shortly.
There was a problem. Please refresh the page and try again.