Windows 10 Fall Update reportedly set for November as cumulative patch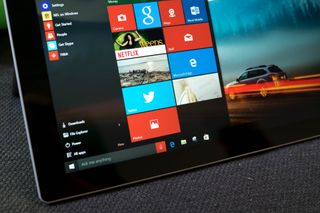 Windows 10 users who are not on the Windows Insider program can reportedly look forward to downloading the first major, non-bug fixing update for the OS sometime in November. That's when the update, which has been reported on previously as "Threshold 2" is currently scheduled for release.
The report comes from noted Microsoft watcher Paul Thurrott, via his unnamed sources at Microsoft. He states that the official name for the update will be the rather dull sounding Windows 10 Fall Update. He adds it will be released as a cumulative patch, rather than as a full build of Windows 10. Users will be able to download and install the update if they have the RTM version of Windows 10 without having to waste time downloading all the other cumlative updates that have been released after Windows 10 launched on July 29.
Likewise, if you still have a Windows 7 or 8.1 PC, you can wait to upgrade to Windows 10 in November to get the Fall update, according to Thurrott. He adds
Microsoft is also rumored to launch a major new update for Windows 10, under the code name "Redstone", sometime in the summer of 2016.
Source: Thurrott.com
Windows Central Newsletter
Get the best of Windows Central in your inbox, every day!
New media creation tool? Let's hope the "something happened" error isn't there.

Well im happy they've since dropped the esd bs now people can customize to their heart's content & make things easier to make VHDs

I'm hoping that means they are bringing an update for Windows Movie Maker.
I still find it to be the best performer on low end devices - but it really is feeling very dated now!
Come on MS...give us some movie maker love!

Actually, since Windows 8.1, WMM has -sadly- been discontinued in favor to Movie creator

So will the build number stay at 240 or will it change despite not being a full-fledged build upgrade?

Wondering the exact same thing

Since it is a cumulative update, I would say the build will remain 10240.

So this is the rtm build that will expand Cortana to Canada?

RTW doubt they'll change installation media at retail/opk level for quite a while unlike MSDN/mct

I hope so, man. Been waiting patiently for that since launch (don't feel like running Preview on my daily driver PC).

i hear you man. also dont want preview software running on my main laptop. i hope this is it!

Bugs bugs bugs lol.. I keep a testing aaaaahhhh bugs. It's getting agrivating when the start button just stops working.. Easy I just dont use start. Lol. Bring me more bugs.

I hate when I cannot type in the search bar. It's infuriating.

Welcome to the world of software development. The goal is to try to make things as stable as possible in the end, but it can be quite an adventure before that last release which has all the fixes in it.

My pc just started doing that last night. Can't open start, store, type in Cortana, etc. I don't understand how the night before I was having a few drinks with Cortana and everything was great.

Thank god im not the only one. Happens to me all the time. You need to end cortan via taskmanager and it will work again.

After Windows 10 Mobile launches I'm opting out of insider. Its just too frustrating for me. I did provide lots of feedback though. I already did with Windows 10 PC insider.

No sign of Onedrive placeholder's replacement, I'll be sticking with Windows 8.

Yeah, that's one of a few reasons why I'm still running 8.1 on my Surface 3.

It's unfortunately drawn out. They aren't going to allow users to sync any normal folders to OneDrive; they must be placed IN the OneDrive folder if you want syncing. SMH.

Symbolic links is what you need my friend! Works a treat.

I think you mean 8.1. :P Anyways, yeah its sad that Microsoft is kind of stubborn to still not give us any clue of this feature will ever comeback. Its really useful feature though have some issues, they could just fixed it rather than removing it altogether. Now OneDrive in Windows 10 is really bit frustrating for users who only have limited storage but have large cloud storage and you can't access those easily, seamlessly and natively on File Explorer. Now OneDrive is essential all-or-nothing approach that just give distrust to its users. Seriously what's the point of having 1TB subscription for those tablet users who have limited storage or ultrabooks.

It's hard to remember what's new when I've been using the new features for so long, haha.

Exactly why I'm opting out of the Insiders when w10m launches. I need that fresh OS feeling without the bugs when Redstone comes out

So will the ability to send a text from the PC through Cortana be in this update?

It sucks that that works via Cortana. Should work via the messaging apps.

It's possibly so that it can alert you across multiple OS devices, such as Cortana alerting you on iOS or Android too.

Yeah, Cortana is great but they should not rely that always to Cortana which is a service essentially not available on (virtually) most parts of the world. It doesn't make sense really. It should work with Messaging app natively and they can just add extra relevant functionality with Cortana, but all essentail things should be there not relying to Cortana. Also they have to make it work through local network rather than only pushing everything to the cloud. Its really inefficient since you have to use internet to upload from your PC then download to your phone (hoping a user didn't turn off Mobile Data or connected to Wi-Fi) and send it then bring back the data to the cloud and download the update to all devices with Messanging app synced. They could just use Bluetooth or Wi-Fi to pair it and just use cloud for backup and extra synchronization but don't rely to the cloud for core stuff.

I was wondering exactly same thing. I don't want to put previews on my computer just yet.

Why no Addons for EDGE MS... Come on :( this can't be the truth!

So like 8.1 to 8.1 Update actually. I would have expected a new build and I think I even read in a TechNet documentation that feature ugprades would come as new builds.

Wish you would stop reporting things in seasons that are only applicable to half the world when your website is followed by the entire world.

MICROSOFT are the ones calling it the Fall Update. Go sling your beef their way.

Dude who cares?.. when they call the next update Gummybear are you going to complain because you don't have gummybears In your country?

Have some gummy bears... http://www.amazon.com/Haribo-Sugar-Free-Gummy-Bears/product-reviews/B008...

So will this have the double wide tile start menu, the new icons and stuff like that?

Cortana for Mexico and Brasil at least?

So excited about the multitasking with the slider in desktop mode with two snapped apps...

For people installing this update south of the equator, will this be the Windows 10 Spring update?

Cortana- hope she expands to other countries.

I bet Cortana is still region not language locked.

It's Windows 10 service pack 1! I'd imagine the build number should change or why would Insider builds have higher numbers? Posted via the Windows Central App for Android

" Users will be able to download and install the update if they have the RTM version of Windows 10 without having to waste time downloading all the other cumlative updates that have been released after Windows 10 launched on July 29." I want to be clear if this actually means the update doesn't require to go through OS reinstallation process for update and instead will have traditional Windows Update for TH2? It would be really great if the update doesn't require full OS download and reinstallation, more efficient to the bandwidth, less pontential issues and saves alot of time. I don't think average users wnats to have full OS download and reinstallation every few months, that would be annoying and give disservice to users.

I just hope this update fixes enough stuff that my wife stops complaining about how she wishes she had never upgraded from Win8.1. That, and the OneDrive *needs* to support SD cards again. All the available work-arounds cause issues of their own.