Windows 10 finally gets its long awaited Office Lens UWP app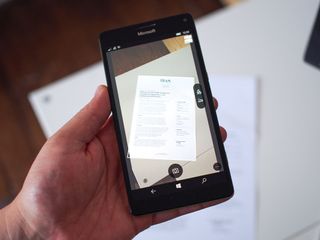 Microsoft has quietly launched its long-awaited UWP Office Lens app for Windows 10 on PC and Mobile. The app still allows users to take pictures of images, documents, business cards and more, and stores the text for later use on PDFs and Office apps.
We got a chance to check out a preview of the Office Lens app for Windows 10 earlier this year and were very impressed by what we saw back then. Let us know what you think about Office Lens for Windows 10 in the comments!
Thanks to Thamarai for the tip!
Download Office Lens from the Windows Store (opens in new tab)
Windows Central Newsletter
Get the best of Windows Central in your inbox, every day!
An update after December 2014. Let's hope it is worth the wait :-)

Can it scan multiple pages yet? I use other scanners, including google's, because it handles multiple pages. I'm amazed that so many of you have this miracle life in which only one page is needed! Must be nice!

What does that help when Windows 10 Mobile already rendered a majority of the cameras borderline useless.

Huh? The camera experience is perfectly fine on W10M, what are you talking about? The only bad thing is that older WP8.0 devices lost the ability to create Living Images.

One can no longer select a lower resolution photo on lower end phones. This renders the camera on the 640XL useless for taking pictures of children. The camera was so slow at full resolution that it caused one of my clients to revert back to a hand-me-down Lumia 925 (with no SD card and limited to Windows 8.1) rather than deal with the hassle of reverting his 640XL to 8.1 and restoring his settigns. Unless you have a high-end device (something with a chip better than a SnapDragon 400) or a really low base resolution camera, the camera in Windows 10 Mobile is de facto useless.

Guys he put de facto in italics, it must be true.

Well have you tried pro shot app maybe?

Pro shot is pulled from store. Sorry, but it's hilarious.

The Classic version isn't

Pretty sure that was temporary, although I didn't read the announcement

Perhaps a slow SD card was slowing it down in the first place.

I wish it had been a slow microSD card... But it wasn't. On his old Lumia 521, he could snap pictures very quickly, due to the decent CPU and the lower-resolution camera. On the 640XL, there is a 13 megapixel sensor, and even on the internal memory, the shutter lag (or in this case, save lag) was measured in tens of seconds. It was less of a probelm before he upgraded to W10M, as he could use the stock camera app to lower the resolution, which made the shots much faster (not great, but palitable). That option got removed when they discontinued support for Lumia Camera on W10M. I had the exact same experience on my wife's Lumia 830. Even it's PureView 10 megapixel camera was just too much for the SD400 and 1 gb of RAM to handle. It didn't matter if it went to internal memory, a Samsung Evo 64 or a PNY Turbo U3 64GB (that both worked beautifully on my Lumia 1520). It was at the point where my wife switched first to an iPhone (which didn't turn out to be much better) and then to an LG G4 to get decent performance with a good quality picture. We both wish there had been better priced higer performing Windows Phones at the time, but there was nothing in our price range (950/950XL were double the price of new LG G4s at the time, and are still almost twice as expensive as a brand new LG G4). I know MS was going for ease of use over power settings, but some of us need fast burst rate over megapixels, especially on these unbalanced devices that put too powerful a sensor in too under-powered a phone.

I just remembered a MS app in the store called "Hyperlaspe Pro." It's free and does well with motion shots.

Yup, the free variant in the Windows Store for W10M is called "Hyperlapse Mobile"...

Why are you taking pictures of children anyway?

To provide an alabi in the event of our children's disapearance that we loved them, even after that one night they kept us awake until 3 AM for no reason... You know, makes paperwork easier...

Have you used this app? In the business world, the business card functionality of it is priceless. I love it.

Wow, just tried it. I've bern looking for a Business Card reader photo app, and this is great. I just set up a new Business Card section in my OneNote notebook. I selected this as default location in app. Took a photo of business card. The app uploaded the photo to OneNote, converted the text, and created the VSD file. Double tap on that in the OneNote on mobile and it asks to open the People app and create new contact. Awesome! All free. Awesomerific!!!

Maybe the glass on your lens needs cleaning?

One of my high traffic apps. Absolutely love it. I use it almost every day at work.

Hooray for UWP development!

...and of course Office Lens "doesn't work for your device" (my Surface 3). Yeah, why have a software scanner on your tablet? Would only make actual professional work on a tablet more productive. I get that there might take a little more effort to get the GUI right, but restricting the "scanning" functionality to phones doesn't make much business sense to me. So the article says "for PC and Mobile." That doesn't seem to be the case.

Exactly! I use it on my mobile daily and it would be even better on the SP3 if i could capture the end of meeting whiteboard engineering sessions.

The Store says it is only available on W10M and that it can be used to capture the whiteboard images.

Just installed it on my Surface 3. Seems to work fine. Have the same photo, whiteboard, document, business card options. "Scanned" a document just holding it in front of the camera. On the AU, but not insider at this point.

So did I. Must be a roll-out issue.

Only available for mobile, I see. Good to see they have at last begun to realize the failure of UWP.

Are you kidding? UWP is revolutionary!! It's brilliant! 1 app for each device!! If apple thought of this youd never have said that it was a failure...

I would say its failure is that it is 5 years too late.

It's never too late for inovation, man!

Excellent to have this on Windows 10 Mobile

I can't seem to get it on my Surface pro 4 for some reason.

Same with Surface 3 (non-Pro). The Store says "it doesn't work on your device." I doubt it is actually available for PC; seems like it is Mobile only...

Yeah same here on the Surface Book; it's not available. I guess it hasn't rolled out to those devices yet but you'd expect Microsoft own devices would be able to get the app early unless it's a region thing. However I've been looking forward to this app since I use it regularly on my Windows Phone.

Makes you wonder if WC tested the app on a PC or just assumed it was available. Let's hope it will roll out to surfaces soon.

I have had it on my Surface Book for months. You can even see it on my PC Start screen from our hands-on early this summer, so it does work there. Whether they plan to release for PC, not to sure.

so why im not getting it on my surface book? download link is not working :(

Just installed on my Surface 3 (not pro). Store says PC, mobile, holographic and hub.

Sadly, it shows as Mobile only in the store, but for Windows 8 and up. Can it really be UWP if also for WP8?

Same thing for me, cannot get it on my SP4.

Sadly I can't see camera lens support, but that may come later ... Great it got updated!

Now they need to do this for the office remote

Great update, can finally scan a document to OneDrive without creating a copy in onenote and gallery as well.

With the update can I attach the bz card to a contact? Or it is the same old save the bz card to the cloub which is totally useless to me.

it still completes half the transaction that you need. you have the business card and you want a picture that properly cropped and enhanced and then you want to attach it to a contact. This will get you that picture. So, not totally useless.

One of my most used apps... Downloaded it, It's an update though, but there's yet another store bug! It wants you to install again, but it's on the phone but still in my library as uninstalled.. It actually works but the result is it doesn't show up in the camera app as a lens anymore.... Patience waring thin.. Why do so many things with Microsoft end in unprofessional, never quite finished, released too early...annoyances... Rant over... They need to start to get there act together and show some professional management towards their consumers, even die hard like me are starting to get weary ......

I really like the new UI. It's really easy to use. Hope it's release for my Surface soon.

So, this doesn't seem to save in the correct OneNote file for me, regardless of what I select as the save location. ;(

Awesome. Now if they would just update XIM I will be really happy.

Aaand it doesn't integrate into the Lenses menu in the camera... WTF!?

I am waiting for Office Remote. They broke it on W10M, used to work perfectly on WP8.1 :(

Once again, Microsoft blows the promise of what Windows Phone was. I loved the whole lens concept. And, naturally because of the stupidity of their current leadership, they release a lens that is no longer actually a lens. I wish I could tell Nadella exactly what I think of him.

This version is for Windows Phone 8. Where is the one designed for WP 10.

Blows up on start. Nokia 950

Frustrated with the store that doesn't let me install new apps shown here. Started since the last update. Its always saying "something went wrong at our end". PS - Sorry for being off-topic, but I couldn't help it.

This is nither UWA link nor its available for PC...

So awesome for documents, I love it... Renders scanners obsolete!

This app is good but can't beat cam scanner & cam card app... Still i am using all the 3 apps for my business purpose. Thumbs' up

Not just yet. "This app does not work on your device." No UWP to be seen in my store.

I get the feeling the Store hasn't fully rolled out this new version - still showing the old Windows Phone 8 for me here in Canada and not available for PC on my Surface Pro 4. I'll dream about taking pictures of whiteboards tonight and try the link again tomorrow.

iOS version has also been updated and is now 1.3.2

Would love for this to be a thing for my surface. Have a fantastic scanning to pdf app on my android phone, but can't find one worth a damn for my surface, which is a device that I would really like it on. Surprised that Microsoft never released anything for a surface (or that no one else has made anything worthwhile) since it's focused on business stuff, and the SP4 actually has a nice camera.
Hope this becomes available for PC soon.

No PDF output...? Did I miss it...?

Store link now works on my surface and can download If there are any other good scanner apps, suggestions would be nice, in case this one doesn't work out. Perhaps a windows central list would be handy ;)
Or if anyone has a forum link. Suppose I should go search r/Surface

I could download it on my Surface Pro 4 today. The app looks nice, but not all that different from the Office Lens that's been built into OneNote for a long time.

Note the HoloLens support in this UWP app. Makes capturing documents and whiteboards much easier!