Windows 10 Home stand-alone price will be $119, Windows 10 Pro to cost $199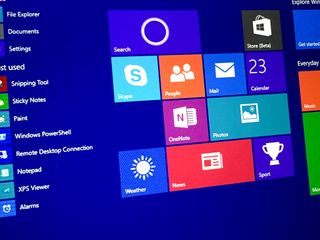 Microsoft will sell a stand-alone version of the Windows 10 Home SKU for $119 to consumers who want to install it on a new PC, along with Windows 10 Professional for $199. The company has now confirmed this news after online retailer NewEgg.com posted what turned out to be incorrect prices for Windows 10 Home and Windows 10 Professional on Saturday.
According to what a company spokesperson told CNET, people who want to upgrade from Windows 10 Home to Windows 10 Pro will be able to do so with a $99 upgrade. Microsoft has already announced that owners of Windows 7 and 8.1 PCs will be able to get a free upgrade to Windows 10 for one year after it officially launches on July 29.
Source: CNET
Waaay too expensive. A lot of small businesses will want to wait a while to make sure their mission critical devices will be bug free and completely compatible with all of their software. Plus, there's the group who want to hold out for the placeholder file replacements. These people will have to wait to upgrade. At $120 minimum per computer, they could just not upgrade until support runs out. Then you have another XPocalypse.

Most small businesses I know don't custom build their own machines, they buy them with Windows already on them. These prices aren't too expensive.

I'm saying that many businesses want (and policy sometimes says they must) wait like 18 months to upgrade to allow IT to make sure all of their programs work. That means that they'll have to pay the upgrade fee. Just this morning, I talked with a friend of mine that is a business owner and he was adamant that he wasn't going to upgrade for at least a year and a half. He also mentioned to me that he was going to roll out iPads to use PayPal Here. When I mentioned to him that he could use the app with his laptops, he immediately changed his mind and told me he would "consider upgrading sooner". What if someone wasn't there to tell him that? Then he'd be stuck using iOS and Windows 7, which doesn't help the Windows ecosystem at all.

Businesses typically have software assurance. There would be no cost to upgrade in this case as the cost for software assurance has already been paid.

Large companies, yes, smb's like I work for not so much. We have 146 computers and half of that is still using XP. I was really hoping the price would be about 50$ for pro and give me the chance to get the whole domain on the same operating system. Unfortunately this effectively kills that dream "Unless" they come out with an upgrade version price that is comparable.

That's the full price. You should be dealing with Upgrades, not full. The upgrade disk has always had the full install on it. I worked in an office with 99 machines all running '98 and no budget. I talked them into 2 copies of 2000 each week and got the whole office cleaned up and running business class OS in a year. When money is tight, you figure out alternative plans to move forward. XP had its day but its a mess these days.

If someone hadnt told him sooner that would be on him for not doing his due dilligence as a business owner. The prices are not any different than previous versions of Windows, it's not too expensive, especially if you consider what the cost would be of iPads as compared to upgrades of PC's

If it takes 18 months to determine if software will work, either 1) your IT dept is wholly incompetent. 2) the software you are using should just be replaced with something that isn't locked to an old OS or old technologies. 3) both. Posted via the Windows Central App for Android

@Jas00555, exactly it is far too expensive... At least offer discounted prices for the 1st year to speed up adoption amongst xp and vista users. What happens if you need to reinstall the o/s and the "refresh" option doesn't work? Unfortunately the IT guys in small businesses are also biased to their preferences, they rather use ipads over other tablets because its what their comfortable with for personal use.
In regards to to your friend's dilemma wouldn't be easier to get cheap tablets running windows 8.1 and install the PayPal here app?

18 months to test business applications? Ridiculous. Only govt agencies take that long and normally its due to politics, not testing. Ever since stupid Gartner told businesses the CFO should control IT, businesses have been sitting on obsolete, insecure operating systems and applications to save money and look at all the hacking that has occurred in that same time frame. Nice work Gartner, you people have no experience WORKING with IT, just manipulating ignorant executives.

These prices are way to expensive in every way. Hmm, building a new PC, should I go for the legal Windows or should I put the 200$ towards even better hardware... I think most people with access to pirated software will choose the hardware.
They should have made a monthly plan like the one for Office 365.

That's a horrible idea. Software costs money, that's how it is, I don't need another monthly bill over my head, I just want to buy the OS and have it at that. Not to mention the fact that I've had my current OS for just over 2 years now, wouldn't take very long to pay for the $200 and then some with a subscription model.

It's not a subscription model

This is equal to what the previous comparable versions cost.

If you're building a new PC then your PC vendor should be able to provide an OEM version either for free (as I always get) or very cheaply - certainly much cheaper than retail. I always build my systems from components, and the OS is always thrown in for free. The first OS I actually paid money for was Windows 8 for $15 during the 1st year upgrade offer, and I've been using almost every version of Windows since Windows 3.11 (all completely legal versions)

Windows 10 is the last OS. Only updates will come after that and no other OS.

Just buy a windows 8.1 or windows 7 if possible they are low cost.,,then upgrade for free...

Windows 8.1 Pro retail cost is $199... nothing different

Not if you know where to shop, and I'm not referring to anything illegal.

Just remember, if a deal is too good to be true, it usually is. I bought a "legal" version of XP from a "reputable" seller on eBay, came with CD and packaging and manual and everything. Fast forward to two years later, my XP stops working because Microsoft has determined it was a fake license. I talked to them, and we find that some of the things on the manual and the CD that are supposed to verify that it's real are actually fake (like, one of the hologram wasn't a hologram - but the others worked!). Since then, I only buy from the major retailers and there you'll pay close to MSRP unless there is a sale or similar....

That is an unfortuneate instance for sure, and I do agree that if it's too good to be true it is. I usually search for deals through my school, which I'm allowed to access forever as long as I log into their website every 6 months, there are a number of deal's that can be found elsewhere as well where you actually get protected purchases.

Yes, student licensing is less than the regular licenses that this article is about.

In my case, Dreamspark Premium allows for full version of Windows 7 Pro, Windows 8.1 Pro for free, student licensing. The login credentials are tied to an existing student login from your school, so you can't just go and get a free account somewhere or anything. It says the licenses will work for at least 2 years minimum guaranteed, counting from the download date I assume. That is also a big difference: if you buy it, discounted as a student, it should (?) be yours to keep forever, while I only get a limited guarantee and can only hope to get a longer validity of the license key for Windows.

I didn't say that was my only source, I simply provided a single example. I've also had plenty of success with g2a.com

Those are consumer prices...businesses that buy group licenses do not pay consumer pricing. Plus as far as software goes for a business those prices aren't that high.

thats basically the retail cost as is today... note that these are retail prices not OEM prices (example Windows 8.1 Pro OEM is $140)...

Does seem expensive ...but then you realize that Windows 10 is the last version you'd have to buy ...so it'll work and be updated on your device forever.

You know what's expensive for small business? Not having a 2012 replacement for my small business server 2008. Now I have to buy the components separately.

What about Windows Server 2012 R2 Server Essentials? Isn't that a replacement for SBS?

Those prices go right along with the current prices of Windows 8.1. Not overpriced at all. However, I want 8.1 Pro to go on sale so I can get a copy of that. Hopefully, I can get it for around $40. :)

Will we be able to transfer license to new PCs?

if you got 8.1 you can upgrade, i am sure if you contact microsoft they will help you

I am more thinking of the future, if I decide to build a new rig, and dismantle the current... I assume we will be able to transfer Windows to the new machine.

Depends on which version it is. If it's OEM, then no, because that licence 'dies' with the machine it was orginally installed on. However the retail unit allows you to transfer it to another machine...

You'll probably just have to call the authentication line and say you are running on one PC. Had to do that for 8.1 when I put in new Mb and CPU. No issue after.

You may have to call up and activate as OEI licenses are generally tied to the motherboard. This practise has now spread to consumer products - why keys are now incorporated in the bios for present day machines which ship the o/s pre-installed. Where previously they had a sticker on them containing the key.

When we get the Windows 10 free (got a surface pro 3), do we get an ISO or something in case of emergency? So that we can reformat etc.

There's no official information on that yet.

That functionality is built into the OS under recovery settings. But I'm sure there will be a way to install Windows without a product key, then use the registry tweak to activate the upgrade key just like previous versions of Windows.

I hope that the license gets attached to your microsoft ID.

Er just no... Bad idea. What happens if you lose access to that Microsoft account?

What if your lose your phsical media?

Only option that I see is "Create a recovery drive. Even if your PC can't start, you can use a recovery drive to reset it or troubleshoot problems. If you back up system files to this drive, you'll also be able to use it to reinstall Windows."

The Update that runs in your systray says you will get the full install downloaded to your machine. I'd copy that to a backup location, like OneDrive.

Free for one year or free for ever during the one year after release?

If you upgrade to W10 on an eligible device, it is a perms license. You do not have to buy a license at the end of the one year period.

Free for ever as long as you upgrade during the first year of release.

did anyone have to keep paying when they got WMC for free after the offer? or when they got windows 8 through "you can gey windows 8 for free if you windows 7 computer recently".... did they have to keep paying after that? simple answer: no. they are just giving the OS for free, they are not giving a time limited key. why would they? that would be more work. also they have said you can keep it forever until your device dies. and it was said many weeks ago. until your device dies doesn't sound like a service or montly fee. and yes, you can reinstall it after one year, you will get your key somehow, by email or one of those software that get it for you or phoning Microsft. and yes, even if it's an upgrade you can clean install, and make windows believe it was an upgrade, put win10 key and be happy with it. all the times you want forever, until your device dies and you get a new device with no preinstalled OS.

So I assume 8.1 pro will get the upgrade to 10 pro?

Way to Expensive for the pro version.

Was just thinking it was pretty cheap for all those features.

$149 for pro and $99 for Home would be more around my range of goodness.

Not bad priced. most people get it preinstalled it on their computers anyway. of course it's obvious it would be better if cheaper but it's not like I build a new computer everyday. and future updates are free so now which is a nice thing. I am glad people calling it "too expensive" don't use 3d software, most are expensive 1000+ software that "should" in theory be cheaper. I only remember Zbrush being the one that lets you buy and keep upgrading for free. and that software is $795. and well some are cheap, and they are still $400. so calling Windows expensive is just silly. it's priced right but I am expecting some kind of discount happening in future. like I said, most users get it preinstalled on their new computers or laptops or tablets. so most people won't worry about the price of the OS, only the upgrade, which is free for everyone wanting it the first year. Also about people complaining for Home version not allowing updates to be managed. it's good there is always pro version upgrade for $99. of course they will keep complaining but some people are dumb and complain about anything.

Can someone explain to me what to do? I want to run windows on my Macbook Pro. So I figure I would buy parrarels and run it as virtual machine. So should I wait for windows 10 and parrarels update or buy parrarels now and buy windows 7 or 8 and wait for free upgrade to windows 10? But don't I have to update parrarels before I upgrade to windows 10?

You can already run Windows 10 on Parallels, in fact it is really easy as it is one of the virtual machines thats included on their list so it is a one click operation - you don't need to download the install files yourself. Once Windows 10 is RTM I assume you just activate it with a valid product key.

Do I run 32 bit or 64bit Windows?

64 bit unless you have some reason that you need 32 bit.

I'm pretty sure parallels would be updated to support Win10 when it releases, or maybe a little later. So its okay if you buy win7 or win8 now and install, and later upgrade. Even if you decide to wait for parallels to have win10 support, you can continue using 7 or 8, until parallels can fully support it. You have one year to claim the upgrade, so I'm pretty sure it will be ready by then. :)

So where's the best place to buy windows 7/8 from? I assume 7 would be cheaper. Can I get education discount somewhere?

Oh, I do! Parallels is $40 instead of $80, I can get windows 8.1 pro for $70 instead of $200!

I might actually buy this one instead of downloading it from PirateBay xD

These prices are too high. The New Microsoft should price Home at $50 and Pro at $100. This would encourage people on XP/Vista to upgrade to Windows 10 and for users using pirated versions of Windows to use a genuine copy. Volumes will make up for the lower prices!

I do think there should be an upgrade route for XP/Vista users, even if it was a straight format & install as opposed to an upgrade. Maybe charge $50 (or local eqivilant), my sister for one has a Vista PC & 2 Vista laptops! Though I understand that some machines running XP/Vista won't have supported drivers for Win10.

I agree. The $50 and $100 version of windows ten home and pro should be offered to Windows XP and vista users at least during one year after launch.

Or even $74.99 and $149.99.

Since you have no clue about the reasons for these prices, why not just suggest 50 cents for the Home and $1 for Pro? Since you're just pulling numbers out of your ass anyway. Volumes will make up for the lower prices!

Am even downloading before the release date

Wow, much expensive, such price... A new era of piracy will begin

not expensive if you consider that you will recieve updates and support for years to co e. i guess everyone is used to paying $0.99 for software and then that software collecting info on you and pushing advertising to you. if you want ads in your OS, then sure they can lower the price a lot. XP and vista make up less than 20% of the windows install base. that means 80% of users will get a free upgrade. considering most people are buying laptops and not building custom desktop and those laptops will come with windows 10, i doubt piracy will be a huge problem. Piracy was a problem when desktops where the main way consumers used a computer. Now desktops are used by businesses and some gamers and consumers are using laptop, tablets, and phones as their main computing devices.

I'm sure there will be OEM copies available at a discounted price much like there was for other versions of Windows.

I was hoping to be able to get Pro at a lower price than that... though I just want easy-to-use remote desktop software and the ability to test mobile apps on a computer. I don't need all the business features. I would have liked if they allowed individual features (such as Remote Desktop, Hyper-V) to be purchased seperately for maybe $10 each (like how many apps and games have in-app purchases to unlock extra features). Would have been great for individuals who just need a few features. Leave the full Pro version for businesses.

Do you guys think that buying a windows 7 license and then upgrade it to windows 8 a good idea?
Sorry, I lost track to my previous similar comment on the other article.

If you buy a Windows 7 license, you do not need to upgrade to Windows 8. You can upgrade directly from Windows 7 to Windows 10 for free.

Yeah. That's what I meant. It's a typo, sorta. Thanks though. ;)

Idiots. Idiots. Idiots. Why so expensive of an upgrade. Just like Win8/8.1, after 1 year most follks won't upgrade or buy a new license but will stick with their phone or tablet. Or maybe get a ChromeBook that costs $199. If so few people upgrade anyway, why charge so much? If you want folks to upgrade from XP and Vista to Win 10, why charge so much?

It's literally the same price as Windows 8.1, they didn't have a problem with people complaing that's too expensive.

A ChromeBook for $199.00, what a waste of money!

Did you just say get a "chromebook" lololololol god those are awful.

Anyone upgrading from XP or Vista is (likely) going to need a new PC. That will probably come with W10 already installed.

There are some small businesses that are running xp and don't want to buy new machines... I'm serious lol....

Not so much not wanting to but, with the way the economy is, it is an issue of not having the money to.

There should charge an annual small fee allowing users to opt in or out of the particular features they require. If you require business or enterprise features you pay more, rather like office.

do you still need Pro to access 32 GB of RAM

You need 64bit pro or home version.

So , the free year price will be bundled with the non free version , excellent ;)

For those complaining about the prices for windows 10, please download one of the free versions of Linux/UNIX/Ubuntu to a thumb drive, then reformat your hard drives and install it. You want have to worry about paying for an Microsoft OS ever again. Thanks

Well unfortunately Linux still has that stigma that it's hard to use and is a geek's o/s. When in fact it is has come a long way and is much easier to use.

Has there ever been a recorded case in history of someone paying retail for Windows, or are these prices purely theoretical?


Well yes. People who want to buy a version of Windows for a PC without it.

Some people do build their own machines... Soo yeah.

Yeah, but not retail. Most system builders would buy the OEM version...

I'm looking to replace Mac OS on an Apple machine and so I need to purchase this. Does anyone know where I can pick up a cheap copy of Windows 7 or 8 now?

Check amazon, you can pick up an OEI license (system builder) for Windows 7 pretty cheap.

And that's not even counting the "Australia tax".

The prices posted on newegg may not be wrong. Those prices are for OEM version which are normally less than the full version. You can buy a OEM version for a discounted price when you buy new parts. ​

Good thing I have 8.1 pro. Windows 10 pro for free? I'll take it

Not seeing the attractive upgrade path yet that MSFT talked about for other users with a genuine license of XP or Vista. May have to look around for a cheap Windows 7 or 8 license to install first as the pricing difference between a free upgrade for Windows 7 and 8 users to purchasing a new license key for all other versions is too great and unfair in my opinion.
If they want everyone on Windows 10 they need to make it more attractive for everyone.

If windows 10 is a huge hit I can see a windows 11 one day

What's difference between home and pro?

Pro has the ability to connect to domains as well as having more tools in mmc. ie. user account settings. Pretty much everything is the same between home and pro as it was in windows 8.1 though with 10 the professional version will supposedly have the option to defer updates or get on a slower update path. The windows insider program will continue and as updates are released they will be released to microsoft partners and insiders first to check for bugs etc. and then pushed to the general update path. ie. home users or professional that has not changed thier update preference.

I'm using Windows 7 Home Basic, will it upgrade to Windows 10 Home version or Pro?

So now we know when and how much. I still have two questions then, will we be able to do a clean install with the dowloaded free Windows 10 and two, will there be any pre launch sales of the retail version like there was for Win 7 & 8. I picked up three copies of Windows 8 Pro for cheap last go around and I'd like to do that again with Win 10 Pro.

In New Zealand the cost to upgrade from WIndows 8.1 (full) to Windows 8.1 Pro is currently $169(NZD) or $120(USD). Once I get the free Windows 10 Home upgrade what would be the cost to upgrade that to Windows 10 Pro?

@JohnCallaham, please change the wording of the last sentence ("Microsoft has already announced that owners of Windows 7 and 8.1 PCs will be able to get a free upgrade to Windows 10 for one year after it officially launches on July 29.") This is what is propagating the confusion over the FREE upgrade. As you state it, it sounds like the upgrade is only free "for one year". What is actually the case is that you can get the upgrade for free WITHIN the first year after release. (after one year, then you will have to pay for it). Most on this site understand the deal, but others searching might get confused.

" Microsoft has already announced that owners of Windows 7 and 8.1 PCs will be able to get a free upgrade to Windows 10 *for* one year after it officially launches on July 29. " Word in asterisks should be 'within', or that will mean its operating system will be free only lasts 1 year after upgrading. Well, people are still being confused with that phrases :/

So what they are saying is I should buy windows 8 which is in the 80$ range for home and 100$ range for pro and get my free upgrade. Posted via the Windows Phone Central App
Windows Central Newsletter
Get the best of Windows Central in in your inbox, every day!
Thank you for signing up to Windows Central. You will receive a verification email shortly.
There was a problem. Please refresh the page and try again.