Windows 10 and Pocket Minecraft players will soon be able to use pistons, ride pigs and more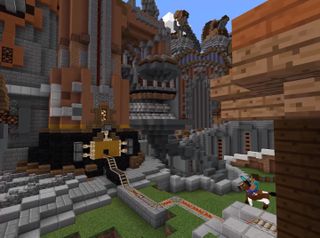 Mojang plans to release updates to the Windows 10 and Pocket versions of Minecraft soon that will enable players to use pistons in their sandbox worlds.
Xbox Wire (opens in new tab) stated:
Mojang has posted a change log of what will be included in the update. Among the new additions will be observer blocks, which will detect changes in neighboring blocks. There will also be pig riding, husk zombies in the desert and more.
Download the Minecraft Windows 10 Edition Beta (opens in new tab) ($9.99)
Download Minecraft Pocket Edition from the Windows Store (opens in new tab) ($6.99)
Excellent. Patiently awaiting Realms support.

Wish they would fix the crashing on mobile preview builds and add a way to save your worlds. Then, sure, pistons would be great.

I wish Microsoft would add a feature that would writer your game data to either your one drive account or your phone. I hate how everytime you need to install the game, you lose all your game data.

In the W10 edition, you can export your world to a file. Idk about pocket edition ----------
I am someone, of the 2639th variety.

Pocket edition does not allow that (yet)

This would be cool, actually yesterday I saw something similar enabled in the latest Terraria build.

Oh yeah! :D Long awaited changes :D Guess I will play Minecraft even more in the future :D I already "wasted" almost a week in the Windows 10 Edition :D
And "What's so friendly about The Friendly Update anyway?" My guess is trading with villagers :D It would be cool :D

I have a question, if you bought the Windows 10 version do you get the w10m version too? Wouldn't it make sense, seeing that they're the same edition, basically?

Not yet, they still want you to buy Windows 10 edition, Windows 10 mobile pocked edition, XBox One Edition, Xbox 360 edition, PS4 edition, iOS pocked edition and Android pocked edition. At least they should try to unify Microsoft platform in just one UWP form, but it seems they even haven't started yet.

I hope they have plans to change this in the future. I mean, at least with win10 versions.

Of you own the full windows version, you can get the W10 version for free.

Always crashed and freeze on my 1520 with Insider Preview Redstone

How did it get missed that Android and iOS versions will get Xbox Achievements on 0.15, and that it will support Xbox Live Multiplayer? ...

wish this will come soon. tried it on android though, and it was great!

Anyone know if they have plans to merge the desktop UWP and windows mobile app into one UWP app? Would be nice for me since I got the desktop version for free. ☺
Windows Central Newsletter
Get the best of Windows Central in in your inbox, every day!
Thank you for signing up to Windows Central. You will receive a verification email shortly.
There was a problem. Please refresh the page and try again.