Windows 10 Mobile Anniversary Update arriving on August 9?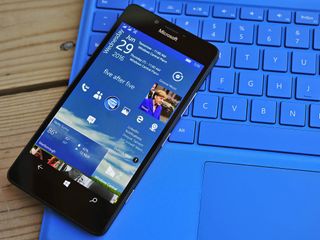 Microsoft's official India Twitter account for all things Lumia may have inadvertently spilled the beans on when the Anniversary Update could be hitting compatible smartphones. If the deleted tweet is anything to go by, we could be looking at as soon as August 9 for the update to start hitting handsets.
Neowin managed to capture the tweet before it was quickly redacted.
Now we've been stung by social media accounts in the past, so be sure to take this with at least a spoon of salt. While August 2 didn't bring consumers the joys of an update notification, we can't be far off and waiting just another week would fit in Microsoft's "in the coming weeks" time frame, especially if we're to experience a gradual rollout.
We'll — of course — inform you all once we know the Anniversary Update is hitting Windows 10 Mobile.
Windows Central Newsletter
Get the best of Windows Central in in your inbox, every day!
Rich Edmonds was formerly a Senior Editor of PC hardware at Windows Central, covering everything related to PC components and NAS. He's been involved in technology for more than a decade and knows a thing or two about the magic inside a PC chassis. You can follow him on Twitter at @RichEdmonds.
but will this be the build 14393.5 or 10
does anyone no?

Buildfeed shows there are 14393.5, .10, .33, .50 and .51 in circulation. who knows?

Arent the 33-51 Xbox builds though?

Builds starting from 14394 are RS2 builds

Screw the anniversary update for mobile... I've already got that... I want to know when I'm getting the new bloody firmware on my UK CV 950XL! Waaaah! :)

Screw the new bloody firmware for the 950... I've already got that...

Haha! At least there is a way to get the anniversary update if you can't wait... No way to get the firmware though... Not even through WDRT. Ah well... Will just have to put up without DTTW for a while longer! :)

you tried on the restore tool I updated L950 to double tap to open from there

Yeah tried WDRT and lumiafirmware.com... The new firmware simply doesn't exist for my device's product code... It'd be perfectly understandable if it was locked to carrier etc, but it's a completely unlocked/unbranded UK CV device, so it's Microsoft themselves holding it back for some unknown reason.

If they've delayed, then maybe the build available for fast insiders.

For once we know when in India!

Wen in India knows when in India

Same day though!
Coming in waves .

It seems strange to me that MS isn't making a bigger deal of this. Every person I have shown continuim to from my phone is amazed. It also works flawlessly. In fact, yesterday at work I ran an entire meeting from my phone to our big screen conference room computer and everyone was saying how they might get a windows phone now.

We need more real world users like you and me to show people what WINDOWS 10 MOBILE really is !!
They have little advertising.. So called 'Retrenching'.. -_- I really don't like this attitude that they show.. I *really* hope RS2 does something great now.. And we need advertising and more phones.

I am sad that Microsoft has almost pulled out of India (for the time being). They could have done decently here

Maybe, but they also kind of didn't. The devices sold were rarely upgraded from, it seemed. Given that they were low-margin devices, and they didn't lead to long-term growth, it was easy to understand their pulling out if the market. This also allows other OEMs to put out devices--OEMs with a better means to serve the mass markets with both better hardware distribution and more mobile brand recognition.

That's true. I am actually hoping other OEM's put out windows devices :)

So far OEM's are releasing low spec hardware with missing features. For example compare the Elite x3 to Acer Jade Primo. The primo didn't have windows hello or finger print scanner and is under spec'd in comparison.

Jade primo was released half a year before the the X3 and it matched the Lumia 950 specs. The X3 comes with the latest SD chip to quench your flagship and fingerprint reader thirst

They had OEM support with Nokia, but they retrenched from that. Now they want to retrench back to OEM provision after mucking things up? After what they did to Nokia, no OEM is going to really get behind MS and Windows phones like Nokia did. Get ready for the new, new, new approach from MS, half-arsed to the end.

MS should pull out off India. MS should not want to do business in countries like India.

Why, Unkirjc? Well, they clearly don't want to do mobile business anywhere else. Why would India be any different? They've pulled so far out of Europe many people think they've given up on phones entirely. And they may be right.

I don't think they have given given up on phones. Also, i understand that India being a price sensitive country doesn't fit into their plan for now. Things may change down the line

Can you qualify that statement please good sir. Why is India a bad buainess environ for Microsoft? Posted from my Note5

I did not say that. But they don't care for humanrights. They rape children and women and they don't care. Just take a look on YouTube. Thats why MS should not do business in India.

Its okay to have opinions, but kindly don't try and project it on others. Freedom of speech and misusing it are two very different things. Besides I think you're being ignorant.

Not only children's, they raped two Italian Marins for three years, for internal political idiocies

"They RAPE children and women" ?!!!!!! WHAT THE **** ARE YOU TALKING ABOUT.. Idiot.

Like I said. Take look on YouTube.

The world is full of violent a-holes and yes, many of them live in India. Not sure that makes India any different to anywhere else. Violence is an extremely popular pass time world wide.

Now you are being country racist.

I am. I don't like how they treat children and women.

That is a narrow view of the world. Every country has its demons.

Which means they are their own racist. Wait a minute what?

Then maybe they shouldn't do business in the US because of how they treat the black community and the poor.

Sincerely asking as a man of afro-ethnic decent, what country do you reside if you don't mind sharing? I was going to make this same comment and I'm in the u.s.. Curious to know if other countries share your perception. My curiosity was also sparked after viewing your profile pic and was surprised.

I am from The Netherlands.

Okay i learnt some thing from someone it says " ik gaa neer bed" .. Means m going to bed right?

Interesting indeed. Thanks

There are more armed children in the US than in (almost?) any country in the world. Surely MS should refuse to do business there? Oh wait, on the phone front they pretty much have ceased to trade in the US... Oh well. Carry on.

These things happen all around the world...

Hey Gerard.. That statement is totally wrong.. India was one of the TOP markets for WP during 2010-2015...
It's MSFT who screwed up.. Real lack of support.. Not good.

Abhi, relax. Once a wise man said, nothing. :)

Rahul9, you are probably well meaning, but a wise man challenges this stuff wherever he sees it. He doesn't stay quiet and leave it for someone else to deal with.

I like it where it concerns India. Don't give them anything.

the Netherlands had the fourth highest prevalence rate of physical and sexual violence against women in Europe, with 45% of women having experienced such violence, which is well above the European average of 33% U should learn about ur own country first. Almost half of women in the Netherlands have been victims of assault. This statistic stems from a new report by the European Union Agency for Fundamental Rights (FRA) on violence against women. Racist quit WC.

Let Microsoft decide that,if to pull off or not to.

That is not how it works in the world.

Well, check back in a year, and we might have an idea of how RS2 does for mobile devices. We're probably 9 months from any commercial products with it, perhaps more.

Yup, I've shown a ton of people how awesome it really is, problem being......wait for it.......Apps (what, you thought I was going to day something else). Also, they really need to make it so apps that aren't compatible with continuum at a minimum are shown blown up on the screen.

Agreed, just projecting the phone app would be enough for me, in some cases. IM+ isn't Continuum-capable, and no one else offers an AIM-compatible app. That means on the AIM site works with Continuum, and others might be the same (wondering now if MLB.TV works in the Continuum Edge browser).

That's actually really good to hear. My experience has been that, while people are amazed one can "transform" a phone into quasi desktop, the amazement doesn't translate into desire for the phone or OS itself. Kind of like hololens; I'm impressed with the technology, but I can't see myself getting one.

I like Continuum, but it definitely isn't flawless. If your display isn't set for it, the image doesn't line up properly (though any other devices I plug in is just fine). It also needs some common sense additions, like not leaving the display on for your phone while in use, and not suspending an app immediately (TeamViewer signs you out if you tab from it, which is inconvenient). It is something that is awesome when you find a use for it, but it also needs a lot of polish and added features.

Pest this on Satya and Terry Myserson's twitter, LinkedIn and Facebook account. We need to start posting on their social sites as well bombarding the feedback and not just here in the windows forum.

Sir u have done the unthinkable.....its time for others to show the world the power of windows phones....as such the marketing team of microsoft seems to be useless.....

They are waiting for other oems to do so like you might saw what is hp doing right now globally they are investing so much for the marketing of hp elite x3 and specially a CONTINUUM mobile Posted via the Windows Central App for Android

So this thing might be released on my birthday and I don't have a phone to Celebrate it. Sigh. Posted via the Windows Central App for Android

A week is not so much. But it gives them time to iron out the last little bugs. So this can be true :D

Dude, before this tweet they said, coming Weeks XD
I am really not excited about the 9th, because it will be yet another like 2nd of August XD

Thanks Rich, Thats just befor my VAC, i will enjoy it :)

Is the pc update out in India?

I'm not holding my breath but it would be cool.

If you would hold your breath you be dead by then (LOL)

...until they break this date also.

WC really needs a new analogy. The salt references are getting old.

It's not an analogy. To take something with a grain of salt is a well-known, probably centuries-old expression meaning to not trust something 100%. The salt references were old long, long before you or I were born or WC even existed. It's pretty much standard English.

ill be happy as long as i get it, mobile has never been fast with MS IMO, as long as i get it

I've decided - I'm staying with Windows Mobile as long as there are decent devices in India. It might be foolish, but I tried out Android again and just can't live like that.

Good for you, That will teach them.

Still have not gotten double tap on ATT 950 version when others have!? When is that coming?

AT&T would know it since they're the ones to approve the rollout. My guess would be right along with the Anniversary update.

That is what I was thinking! Thanks

Thanks. Just thought we would have that before update

Maybe along with the Redstone build. Maybe separately.
If they're letting out redstone for at&t in coming weeks or so, then you may get them along.

i dont see why its a gradual roll out? all previous patches are pushed the same day and there arnt exactly a lot of devices out there like there is for PC?

You can't compare insider build pushes to those of production. How many windows 10 PC's are out there right now? I'm thinking it's quite a bit more.

i thought i had replied to this. im talking about mobile not pc. and referring to non insider monthy updates to theshold that have all rolled out to everyone the same day. so rolling out w10m in a staggered way seems pointless when there are a low number of users? i understand the need to roll formware ut slowly but not the redstone update!

Will this update fixes app gap

Sure it will and Jesus will return on earth .....

"Soon™" - Jesus of Nazareth Posted from my Note5

"So the last shall be first, and the first last."

It adds further API's for developers which makes for better apps... But the gap is highly exaggerated anyways.

Indeed, All the apps we have are sligthly buggier, poorer and uglier versins of iOS and Android, and the fact that there is no bank app, public transport app, shopping apps, travel apps and so on is no big deal, its only every app I need (I get that I need some of them like once every three-five months, but Android has them, why should I compromise?). Oh, and don't get me started on the atrocity that is Groove! But I'm stuck with Lumia 1520 for forseeble future, so no new phone until the phone breaks or is no longer supported (and knowing Nokia, its the latter)

No... "All" are not buggier, poorer or uglier. There are apps in all categories you list. Sorry, do you even w10?

Facebook messenger still doesnt have video calls and keybord works wierd in it mail and Calendar are far worse on W10 that the ones on iOS and Android, done by MSFT. Camera app is lacking in everything, it used to be good, and people used to envy my pics, not I am embarrased to show any of the pics and actually stopped taking them, cause I know there is no point to bother. Maps don't have adequate transit features and generally is lagging behind all the other map apps in accuracy and data. Swarm is buggy and ladderboards and coin sys in it is not working Skype is just a general mess everytwhere, so we are not touching that There is no Swedbank app and not going to be one, they confirmed There is no Aliexpress app There is no DX extreeme app Amazon is also out There is no kiwi.com app There is no AirBNB app TripAdvisor app is virtually unusable The app for public transportstion in Estonia is horrid, and Trafi is not planning on releasing their app on W10 There is no tele2 app There is no *every new app that is released on iOS and Android* so there, the app gap is there.

How is mail and calendar worse? And those apps arent made by Microsoft. They are apps that has been developed for years by other companies. Camera app is the best one there is and the pictures taken constantly win blind tests, transit information is bought from other sources... Same with all transit apps, the GPS is as accurate as others and the maps are the same we had in Here, the new skype app is quite good even though it is also very new, I use a third party app that is excellent and gives me better functionality than Swedbank on other platforms... There are apps missing on other platforms too... Mytube is better than any YouTube client on other platform, Disqus is missing, no continuum equivalent which makes them extremely bad for me to work on, 9gag is better, Rudys apps are missing, Skype is worse, Groove is a lot worse, OneDrive doesn't integrate, Cortana is worse, the Xbox app is so much better on Windows and with the coming handoff features the gap just becomes even bigger.

Third party attempts to fill in the gap do not translate in app gap for the competition... By the way, even if Microsoft services are worse on Android (in some cases), at least you can still make us of them. I don't see any google maps app in the store, or at least one that it's worth using

Yes it does... If a service is available through a better app then that gap is filled. I can use all the services I use and I see absolutely nothing that outweighs the negative effects of having your data mined and owned by another company that makes a living on selling my information and my profile. gMaps is very, very good and is praised even by Android users. Besides, there is no reason for me to use an online gps service when I have an excellent truely offline GPS.

Are you delusional? If app says that its published by MSFT I don't give a rats ass wh actually done it, MSFT is responsible. What 3rd party app for Swedbank? Its a freaking bank, there is no 3rd party app for it.

That is not the point, that is why it has been good for so long... It has been there for 8-9 years. Bankappen is what I use which is a third party app for swedbank.

I looked at it, first, its in Swedish (I assume), second, why would I trust my bank details to a 3rd party developer, no thank you...

"Sorry, do you even w10?" No, I don't windows 10, I did however USE windows 10. F*&K I wish the general public would stop butchering the english language. Commercail on the radio last night....the last sentence was "this is how we fridge!" I was like WTF? that sounds like your 2 years old. Terrible.

Yeah, you might not keep up with the lingo but still.

having an app that you use once in 3 to 5 months translates into: you'll have to upgrade it everytime you use it - so why not just use the browser based app for that purpose - which also runs on mist if not all platforms right away and does NOT require to be maintained by the user ?

This one is easy. It just doesn't work properly in Edge. That reminds me. Edge is horrible too.

It's probably because you are used to Google standards which makes thing that follow real standards not work correctly.

Yes, it is horrible. I was just trying to set up my surface 3 to sell, and got on edge to view wc.com....it was un useable. Jump back on my macbook, and smooth as silk. Gotta love the 10 year old macbook handing a brand new MS product its ass in speed.

I had the impression that you could let apps automatically update... It's unbelievable that whenever someone complains that an app is not there someone else suggests to use the browser. Obviously that's the only choice you have, but it does not mean it's a better option... Apps are there for a reason, get real!

They are always lacking compared to the sites. I often prefer surfing services instead of using apps since the apps are never as up to date as homepages are.

Only most of the sites don't really work on Edge, do they?

Yes, they do. On all platforms. Especially sites that follow standards.

Please, try using airbnb or kiwi.com and get back to me....

Tried both on my XL and both works great. What am I supposed to have problems with?

Slow, sliders don't work well, general experience is frustrating. As it was said here already, apps exist for a reason, and the fact there are no apps for W10 means no one takes it seriously and it is MSFTs job to convince them. Pay them, develop for them, do whatever it takes, instead of firing whole bunch of people from mobile team. Here's an idea, with all that money saved, they could invest in apps development and they could start with their own apps, like the ones they do for iOS and conveniently forget to release on their own platform...

We've been getting our hopes so high for so long... And then august 2nd came and we fell so hard. Of course you can get the insider builds but that's not the point. Microsoft knows there's only a few of us in mobile and only fewer getting w10 mobile anniversary but that doesn't mean we shouldn't be treated with respect. You're aiming for enterprise and corporate? Respecting your audience is a good start. Donna should grab her balls and have the guts to say " it's August 2...
Or august 9... We're trying to give you as few bugs as possible " but don't just pretend that nothing happened when you didn't hit your mark and treat us like spoiled babies who didn't get their favorite toy for Christmas(granted some of us are just that)

You would complain so much more if there is a breaking bug rolling out. It doesn't need to be rushed like some competing platforms that have had bricking updates.

Exactly, they don't have the pressure of ppl getting upset and not buying their phones anymore because... There are almost none... We're what's left at this point. Bugs.. We've been thru a lot of bugs together,just be upfront and honest

You got hard for the anniversary build? XD

What is that clock app that shows time in words on live tile? anyone?

Yeah, and how much is that doggie in the window? Anyone?

If he's named microsoft. he's worth nothing that poor little doggie.

Microsoft is worth nothing, now? If you're going to be troll, at least, attempt to be good at trolling. Clown.

Yes, Monty, Microsoft is worth NOTHING. They ruined the surface, with windows 10, they ruined mobile with windows 10, and they are ruining the xbox with windows 10....worth NOTHING!

Cloud services alone almost netted $20 billion in revenue, clown. Would you like to be addressed as Bo Bo or Bubbles

That does not mean a role of beans to consumers who want awesome products. CLOWN. Love the name calling...you could be way more original since you are using windows and all. I figured that all windows users did not want to follow the Herd and be original. Clown is SO un original! good job!

Excuse me, but please make me aware of a youthful English word in your lifetime. Not only am I absolutely abnormally excellent at thinking, but I'm also far more advanced at trolling. Step your game up, clown.

The comment you foolishly responded with was subjected to the worth of Microsoft. They've clearly delivered enough products to consumers who think they're awesome.

Microsoft was forced into changing gears with Windows 10 because of end user's inability to adapt.

Sorry, you are wrong on everything.

Wow, they made almost enough in cloud services to pay off that ****** aquisition of business facebook. Essentially....Look what i am doing at work today!

Even if they made no profit, which isn't the case, they are still doing $20 billion dollars in just ONE of their many businesses. Look what I am doing at work today. I'm generating $20 billion in cash flow.
So did you make a decision or will I be forced to? Bubble or Bo Bo? Lol clown

Ha ha ...they made 20 billion and their stock is still worth less than half of what apple stock is worth ******* EH! CLOWN how about we call you ASSHAT. Much more appropriate. that 20 billion is going to go down as well as more and more people leave and stop paying for the rapeing that is MIcrosoft services. I have cut the cord and have saved quite a bit of money now!

You don't know how stocks work. Different companies have different amount of shares available. Less shares means higher price per share. The total sum of all shares is what a company is "worth", but it is a purely speculative price.

And if you went to Google, you really have no idea what being "raped" really means since your privacy is gone.

Literal Moment Posted via the Windows Central App for Android

Will older Lumias running Windows 10 insider get this update?

If the device is supported, then yes

If the device is supported, then yes

No, it was not supported last time itself. I got it through insider build.

Only those that can run production build.

My device runs production build but it was not on the list of supported devices. So it did not receive the official Win 10 update last year.

Well, make up your mind. Production build or Insider?

No, you won't get the update. I'm presuming you got W10 through the Insider loophole, but after that point any new updates to W10M are only coming to supported devices. As yours is not on the list, they're no longer sending the builds to your phone model, Insider or not. Sorry. What device are you using, out of curiosity?

Not a loophole. I got it way before it was officially released. After that, I have also received 2 updates.

By loophole I mean in terms of your device model; let's say you had a 720 for instance, the only way for a 720 user to get W10M was to use the Insider program as they wouldn't get it officially (loophole). By being on the Insider program, you'd have got round the official stance that your 720 would never see W10. Unless, I've got your situation wrong. But I'm reckoning those two updates you got are just Threshold-specific updates, same as what I eventually got on my non-Insider 950XL. But the Redstone updates, the Anniversary ones and onwards, won't reach your device.

Every Non-Insider(th build)/Insider(RS build) will get this update.

I am on a low salt diet. Can't take all these rumors.

That could be one reason for tanking market share. Too much salt kills.

its good...to know that the delay is not long!!

Nobody knows, its just a tweet..

can't help...just have to trust officials!!

Do realize that the"official" officially deleted the tweet.

then i could just...sleep..till i find a notification on windows central about the release!!

Happy anniversary update birthday too me It's my birthday on the 9th.

happy bday,fred. Now they've to release on 9th.

Thanks, I hope they will on the 9th already have it on both of my PC.

I know it's not a rumor, but I miss the Windows Central's "Rum'o'meter" :P

Windows fans are gonna stay as long as msft releases considerable updates time to time with new features and especially bugs squashed. Aug 9 is here, of course this should be taken with a grain of salt. I hope RS2 and first party devices (Surface Phone) make up to the mark...

Anyone notice Panorama in Windows Camera? I dont know since when I have it. I'm on released preview btw...

Guys I'm in release preview, but it's said that the build 14393.10 has been released for release preview, but still I did not receive. Help!

August 9? Yeah just like prisma was coming to window phone later in july. LOL's

What is the app over literal moments?

"can anyone tell me....what calendar app is this....on live tile...."

Same question. Can anyone?

Looks like Chronos Calendar + (which is nice but doesn't fully work with WP10 yet)

Looks like Simple Calendar....TimeMe Tile is also on their.

Are you guys doing a "what's new with the anniversary update?" For mobile?????????

What are those apps in the start screen? Can someone tell me? :)

Now, if we could just get AT&T to release the firmware update for the 950, that would be great!

The only thing I hate about at&t is how late things like this come. I was excited for dttw, 3 weeks later I still don't have it and I'm like mad at at&t. What are they doing that take so long :|

I allready have it updated yesterday in insider

Microsoft bas chutiya bana raha hai....only work on some minor improvement in os to stay user ... Where is aap gab between android,ios and windows ?????? Posted via the Windows Central App for Android

I started to get annoyed with many of MS' broken promises !!!!

We are used to it, that's why..doesnt matter.

Sorry what's the difference between ANNIVERSARY UPDATE and Final Release? Will this update will be the same full of bugs still missing 8.1 apps???

Allts of new stuff in ur phone

What apps are on 8.1 that are not on 10,

FM Radio, PDF Reader etc. etc.

FM Radio still working on 10586 Mobile build in India.

Battery tile in-built, Lumia Camera(Renamed & Used as 'Camera' in w10), Here Maps, here Drive.

Why the secrecy anyway? If there's a go live date, tell people.

Reason why? If they give a date and miss it by one day people will cry out yet again that MS lied and say they will move to Android.

I think at this point only die-hard fans of WP are left, we are going nowhere. We will retire when we die. :P

We will retire when windows phone dies in about 6 months... there I fixed that to make the sentence accurate Alacorn!

We have heard this kind of thing before, and is almost never correct. It will be ready when its ready.

I said the same thing, someone gave me a thumb down XD

Speak against Windows Phone and you are guaranteed a thumbs down.

Usually if some one going to buy a phone. They just ask over and above hardware requirement about the os performance. A layman won't try insider or preview.. He need User friendly device... I sure it not the hardware fault for the windows sale shortage. The complete responsibility to the Os department.
As they changing update date even i felt ashamed... If they are not sure about the release, then why do the mocking by releasing date?? Are we buffoons?? We bought windows phone is that our mistake??? There are lots of mobile os and brands all over the world. Hence we trust windows thats y we here now.. Please dont try to test our patience....

The ONLY reason this is "affecting" you (it's not. You're being a victim of your own self created anxiety), is because MS chose to be more transparent with it's development. You cannot get this insight from any other platform. Get a grip on reality, please. I beg you. You're above the self pity comments and because I KNOW you can do better, I can say you're currently making a fool of yourself. I say this with the upmost respect and with much love. Step Your Game Up!

Typical fanboy response....good one! I think it is copy and paste from the MIcrosoft fanboy handbook

Typical, also known as, shared response usually favors the cliché "strength in numbers " phrase. With that being said, I ask would you kill a world to save yourself? Don't prove yourself to be a coward in addition to being a clown and sway from answering the question. Bless us with your foolishness so I can continue to do my due diligence for good deeds today.

Oxymoron there....strength in numbers and talking about windows phone users. what is it like 12 or 13 of you left now?

You still didn't answer the question, clown. Wait...oxymoron...that's like expecting you, Bubbles, the clown, to not make a fool of yourself, essentially the opposite of what clowns do. I get it!
Look at you go! Boy o boy! You sure showed me! I applaud you for your ambition; that unwavering persistence. You, my amusing joke of intellectual being barely passing the requirements to be considered braindead, are going somewhere in life with that cute little car you clowns drive. You go show Homie that there are some clowns who do play that and you take much pride in yourself. Fool.

Off subject, but what is the clock app that is in the second row of live tiles? Alos, what is the Calendar app that is being used?

TimeMe Tile for Clock and Simple Calendar..at least I'm pretty sure.

When it was first announced that AU will be released on 2nd Aug, i said to myself there will be at least one date postponed. I was right

Long term users always know! Lol

I was on the Release Preview ring (with Threshold) and this past weekend my phone was updated to 14393.5 (Redstone). I don't see how Production can recieve something later than Release Preview.

"I don't see how Production can recieve something later than Release Preview."

The clue is in the name "release" "preview", you get to preview the release before it is released to production

Has there been a Windows Central review on the AU especially for mobile?

9 aug 2017? Seems possible now

Probably yes...2017...he he he....;D

9th of august 2017 will be the announcement that its comming soon...thats all.

Insider build 14393 does not work properly on the BLU Win JR LTE X130e. There are scaling issues and the keyboard does not work at all rendering the phone useless. Have provided feedback through the feedback tool. Lets hope they fix it. Threshold is working really well on the phone and it would be a shame to miss out on Redstone.

Here is almost perfect, only issue is that the Glance Screen is always on when charging, and you can't turn it off in the options. The rest it's fine AF! Mine is the 830

Using fast ring and it's definitely not ready. Its good but not release ready. Its basically like a year ago, polished so it looks nice, but works like crap in the same areas it did a year ago... So sad

The few that are left are busy working on making bots that you can talk to and sound like spock instead of pushing windows mobile. Guys/Girls......Do you REALLY think microsoft gives two sweet F&*Ks about mobile? HONESTLY. They have bailed and checked out so bad it's laughable that any of you are still here waiting for the light at the end of the tunnel. Unfortunately the end of the tunnel is the dirt being thrown on the grave with HEADSTONE 2.

What's more laughable is the reason why you, Bubbles, truly feeling the way you do about Microsoft and it's products continue to come here and comment. And we all know what that reason is, Bubbles! It because you're a clown and that what clowns do; Make people laugh by making fools of themselves. Lol

It was reasonable to late with the Mobile version when Windows 10 was a new OS, but now the same thing with the update... I don't get it. Until they start releasing updates on the same day for all devices OneCore is just a myth.

I am having lots of issue with my 950XL...even on non-insider.... I don't read those issues are common among other 950xl owners.... None of the insider built worked on the phone so now on non-insider and still having some issues... The biggest problem is with Camera and photo apps... camera takes to long to launch and when touch the button too take a picture or record the video it take about 5 to 10 second to start. Also, photo app has all blank tiles instead of showing the image...I have to touch sync button to show the images - I have turned off the one drive storage photos as well and didn't make any difference.... most of the time video playback doesn't work..just shows skipping images. Also. auto restart. freezing while trying to unlock the phone, crashing apps etc are additional. My girlfriend's 950 (non-insider) runs very smooth. Maybe I go faulty phone!!!!

My prediction; They're waiting for sms relay seeing to how they released skype preview with the au. If that date happens to be the 9th, then they'll push the red button. If not, they'll wait. Tending to the coming weeks statement, they have until September 21 to fulfill their promise. Until then, ms didn't not uphold a promise. The build is available (which I don't see why mobile users are in a rush because of the lack of focus being put at this stage), and Dona did mention that mobile would be rolling out after pc and for anyone expecting it on the 2nd to not be surprised because of the way they roll out updates in waves. A wise man once told me," the most sensible common about common sense is making sense of the common that common sense isn't common at all." ...which was interesting because I thought that was common sense. In other words, it's socially acceptable to produce rants and temper tantrums the first day of fall, in my opinion. Lol

Considering there are still some major bugs in the last 14393.5 I hope they have some major fixed on the way in the next six days. Using something as simple as Apps Corner completely blows up any phone you use requiring a factory reset. The camera button still only works about 30% of the time. I have had others but those are two big ones and reading the Feedback I'm not the only one.

Don't really care when it's going to release. Been using Windows phone since 5 years, tired of waiting, jumping to Android world this week.

I really don't think you have to shout to everyone that you're moving. It doesn't matter for anyone but for yourself, so just go and leave us alone! Fyi, I fully respect your decision, if that's what you're seeking.

Bubbles will be what we shall proceed with. Congratulations, clown. You've earned a new way to embarrass yourself. Well I guess that's a clowns job so that makes you successful. You go, you! I'm rooting for you, Bo Bo! *Bubbles

Your posts make no sense. but thanks for trying....makes mine so much more enjoyable! Go play with smithers for awhile.....I bet he would love that!

Like minds tend to gel so I fully understand why a clown would fail to make sense of anything I post. It's beyond your purpose. You only exist to amuse by making a fool of yourself. Wait, who am i kidding?! You wouldn't understand that either, Bubbles!
I must say, Bubbles, I do apologize for my insensitivity to your life's worth. I'll attempt to correct my misjudgment, if I did indeed misjudge. Which one do you consider yourself to be more; Jester or clown?

85% of windows phone users weep because their phones are not upgradeable. Thank you, Microshaft, for rewarding me for my loyalty being 7 years with windows mobile! (fyi, at the time back in 2010 I thought moving away from windows mobile and business sector with a decent market share was dumb. Proved true when in 2012 the saddest market share for Windows was below 5%, with most devices being old windows mobile)

I am gonna tell this again, upcoming anniversary update is not going to resolve any current issues we face in 10586, they r just bringing Redstone updates to our mobiles. Still app crashes, app scaling issues continues, Battery Drain is Most common bcz the truth is win10 consumes hell of a battery just like Android. And MS is definitely not going to resolve battery drain issue bcz if it resolves it to old mobiles then they never gonna upgrade to new MS mobiles.... Don't expect anything from Ann. update and don't get disappointed later. Personally I feel current build is very smooth, works great in my mobile, but has many minor bugs. 60% satisfied.

At what point is there going to be the realization that apps crash? At what point is there going to be the realization that NO, I repeat NO, smartphone will last a day plus with the usage many of you want. If your phone can't last a day with literally zero usage, you have bad hardware or a rogue app causing the drain. There is this constant back and forth of battery doesn't last, programming can fix it. Programming can't fox the user. Do I wish my 950xl would last longer, yes. But do I see my office iphone counterparts also carrying a charger or battery pack, yes. The anniversary update actually does address many issues, but instead of a balanced comment, we are bombarded with it didn't fix YOUR problem. WIPE YOUR STINKING PHONES AND START FRESH WITH REDSTONE.

Hello Mr. Thanks for taking time to read my comment. U asking me to look for app which has battery bug ? I am using Windows phone since 2012 and this is not my first mobile, 99% of the apps what I am using in my windows 10 r there from Windows 8.1... I know how to stop apps running from background. why outlook app is crashing ? L730 has one of the best H/w, even now I purchase L650 it doesn't beat my phone in specifications. I just want to say native windows 10 phones r working better than phones upgraded from 8.1 Its been a year and still no basic bug fixes. in win8.1 if I use IE for 1 hr max there is battery discharge of 20-25% but now its almost 50% whom to be blamed ? my phone ? I am getting max. of 12 hr battery backup from 36 hrs battery backup of 8.1. is my mobile not compatible with win10 ? now my usage less than when I am in win8.1.

My WCentral crashed two times while reading this article. (L950, fast ring)

Me too. L950. Especially,while reading comments.

Yeah, WC app is so buggy that it will freeze or crash unexpectedly when opening an article. That's why i gave it 1 star for frustration. The old WC not the UWP was a lot more stable.

Go off the preview what's the point on a 950 anyway.

For those who are unhappy, just remember, there's the Android who keeps your phone in the same version of the OS forever and there's iOS, that shove updates up you're asses changing your phone into a calculator. See, there's options so cease the whining guys!

Android updates monthly. If that is what you want, then there are devices available that keep up with them. Android is actually the best for updates. Most updates are coming through apps now too, so it matters less and less what phone you buy. The apps will be up to date. Posted via the Windows Central App for Android

Android has huge app base, not buggy but laggy. Windows has no apps but awesome performance until Win8.1, i enjoyed win7,8 alot than buggy 10

Guys we all have different opinions and yes we view things differently you just have to know that whatever you do you cannot please everyone.Just look at how windows mobile has evolved form WM8.0 to W10M they are doing their best we just have to be patient.Lets stop throwing insults at each other though.

Do you really think this is their best?! Posted via the Windows Central App for Android

They are doing their best with very limited resources, MS moved most of the Mobile division branch to other divisions, ready to sack alot of Mobile developers. Engineers are working very hard, no one can question that but MS is not putting much resources.... Our Problem is with Microsoft.

14393.5 has a Bluetooth bug on the notification centre, i doubt they will release that to the public, or that the reason for the delay so they can fix it, otherwise the anniversary update is quite decent than threshold 2, more responsive, and i love the fact that i can finally hit next or previous on the lockscreen when playing music. Posted via the Windows Central App

Will Lumia 630 get this update?

Will it be available for lumai 640running on W10

Yes x40, x50 and few x30 will get this update

I'm talking about mobile and the 10586 updates that have been released to non insiders every month simultanouesly

waiting on my uncompatible lumia 920....

Not really looking forward for loosing my Kids Corner. Any cool feature introduced with this release on mobile?

Guys,I use Lumia 950, just before few weeks,I switched my phone to release preview(14393.5), the problem is, when the phone charge drops at

cmon sherlock they deleted it for a reason, they cant even guarantee an august 9th release at this point

Does anyone know what the calendar app is in the picture?

Can i know will it be for lumia 535 also?

Hope we get another build after 14393.5 because I just experienced the phone freeze while on BT. Hope the 14393.10 or later does a better job.

Phone goes on shutdown. For every time automatically

Let's hope this time stock apps won't crash 5 times before running.

Hope MS fix this BT nonsense. Every blasted time I use BT the phone freezes up. WTF!!!!

Latest insider fast ring = public build right?

I were very happy at 10586.430 update it was running like bullet
After getting the anniversary update my lights are still active after battery saver turn on and these are annoying bcs most of the time i used my phone and stuff at night while laying on my bed please if anyone have a fix respond other wise its great using lumia 1520

Hi ,I am very happy & satisfied after getting windows10 14393.5,its all in one windows

I just want to confirm that how i can convert any windows10 pc app into windows10 mobile app free of cost.plz tell me all details

Im on insider fast ring can i get official wm anniversary update after its release? Tell me how?

Will get Lumia 630 anniversary update?

This should be today, and if i'm not mistaken, we should start downloading the update in the next 8 hours, same as RS1 for PCs and laptops.

What willll be the size of this build

Hi, question!, I like the calendar and i like it, that version is?? (Sorry for my bad english)
Windows Central Newsletter
Thank you for signing up to Windows Central. You will receive a verification email shortly.
There was a problem. Please refresh the page and try again.