Windows 10 Mobile Creators Update review: Disappointing but still worth a download
Microsoft's latest release for Windows 10 Mobile is a minor update and not a major one. With an odd name, a lack of features, and a number of improvements that most users won't even get, is there even a point to upgrading? Read on for the answer.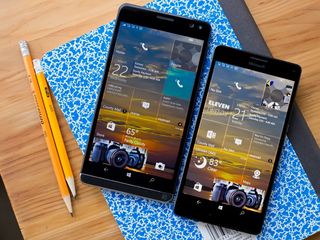 On April 25, Microsoft will begin rolling out its latest update for Windows 10 Mobile. The update shares the same name as its PC counterpart, the "Creators Update", which is odd considering the Windows 10 Mobile update has literally no new features for "creators." In fact, saying it has any new features worthy of note would be pushing it. Regardless, it is the latest and greatest version of Windows 10 Mobile.
The Creators Update for Mobile is the second feature update for the platform. Unlike the previous update, which most considered to be a major update, the Creators Update for Mobile is much more of a minor release, similar to how Apple will push smaller, "point updates" to its major iOS releases every few months. This feels like a point update, meaning a few small improvements here and there but generally nothing groundbreaking. This wasn't always going to be the case, but Microsoft's commitment to Windows 10 Mobile appears to have faded.
Without further ado, this is our Windows 10 Mobile Creators Update review.
Video walkthrough
As always, if reading long reviews isn't really your thing, we've got a video walkthrough showcasing all the most noteworthy changes and features in this release.
General improvements
Not much has changed on the surface when it comes to the Creators Update for Mobile. A lot of work has been done behind the scenes to make the OS run much smoother, and with fewer bugs to run into the whole experience is actually pretty enjoyable. Because of this, the Creators Update for Mobile is literally the best version of Windows 10 Mobile ever, which is to be expected considering its the latest version of the platform.
This update makes older phones, such as the Lumia 640, run better than they did before. This is mostly unheard of when it comes to mobile updates on other platforms. More often than not, Apple will release a new update, and users will find that their phones a bit slower, or they get slightly worse battery life. The Creators Update for Mobile is the complete opposite of that, making things run faster, smoother and improving battery.
Windows Hello is also slightly faster, and it works from further away, too. Before, I'd have to hold my Lumia 950 up to my face for it to unlock with my eyes, but with the Creators Update I can have it lowered in my hand, and just glancing at the lock screen logs me in. I've honestly been quite surprised at how much better Windows Hello is on the Creators Update for Mobile.
Microsoft has also improved HTTP images on Live Tiles, and in the Action Center it added the options for "Call Back", "Text" or "Remind Me" if you miss a call. The Action Center improvements are nice, because they mean I don't have to go into the phone app every time I miss a call to sort it out.
There's also a bunch of new system sounds, which further align with the system sounds found on PC. I really like the new sounds, especially the default one. It's refreshing to see Microsoft focus on details like this, because they are important to the overall user experience. The new sounds are a breath of fresh air, one that I'm sure most people will appreciate.
One of the best changes made in the Creators Update is that you can now lock and turn off your phone's screen while using Continuum. Just hit the lock button like you normally would to turn off your screen when in Continuum, and you'll find the Continuum experience will operate just fine. If you hit the lock button again in quick succession, it'll lock the Continuum experience, too. You can also set a timeout period for the Continuum screen, a nice addition.
Cortana
Cortana with the Creators Update is a little smarter than it was previously. You can now ask Cortana to activate system commands, such as changing the volume, controlling music, and identifying a song. Cortana could already identify songs, but now you can use a voice command to get to the same function. You can also set reminders to reoccur every month or year, which is a nice addition for those who use long-lasting reminders.
The Cortana UI itself now features a completely black background rather than a dark gray one, which should very slightly improve battery life on OLED displays. Apart from that, however, there isn't much else new with Cortana. A PC-only feature called "Pick up where I left off" would be great to see, but Microsoft omitted the feature from Mobile. (This is somewhat of a trend with the Mobile update.)
Microsoft Edge
Not a lot has changed on the surface for Microsoft Edge. Even the new "set tabs aside" function found on the Creators Update for PC is missing here. There are some new features, however, and if you're into books you're going to love them.
Microsoft (oddly) built a new book reading experience into the Edge app, with there now being a dedicated bookshelf in the Edge hub where all the books you buy or download are stored. The experience is actually pretty nice, and the reading mode is feature-filled. You've got a new read-aloud feature, which is great for those who may suffer from visibility issues, or if you're lazy and just don't want to read yourself.
There's also an entirely new section in the Windows Store dedicated to books, where you can buy new books for reading within Microsoft Edge. But it all feels a bit odd. Why build this functionality into Edge instead building a separate reading app? And why is Microsoft taking on Amazon and Apple in the book market?
Settings
The Settings app in the Creators Update for Mobile actually received a few changes and improvements, all of which are welcome additions. For starters, Microsoft completely gutted the old Wi-Fi selection area and dumped in the new, improved, and faster Wi-Fi selection UI found on Windows 10 PCs. This is a much better experience overall, and considering both experiences are now the same between PC and Mobile, it makes a lot more sense to the user. Wi-Fi Sense and Paid Wi-Fi Services are now combined in their own area, and the Data usage page has been updated with a new UI.
In the device area, Microsoft has also improved the Bluetooth UI, cleaning it up a bit and adding a new Bluetooth device experience that's a lot more straightforward. Unfortunately, a lot of the Bluetooth connectivity issues that users appear to have been facing with Windows 10 Mobile have not been fixed. I personally have never encountered such issues, but people have told me countless times that the issues they've encountered are still a problem even with the latest update.
Glance can now be set to be always on when charging. This is actually not a new feature and something that was brought back with the Creators Update. The Glance Screen feature actually got stripped of most of its customizable features with the Anniversary Update last year, and it appears Microsoft is now slowly adding back options such as being able to keep the display on while charging.
There's now a new Apps category in the hub of the Settings app, where you can quickly uninstall and "reset" apps that are installed on your device. The reset option is actually handy for when an app becomes corrupt and you need to restore it back to as if it had just been installed on your device.
Finally, there's a new "sidebar" feature that displays below the rest of the content on screen when in any particular settings page. It's called a sidebar because when on PC or in Continuum, it displays on the side. In phone mode, it displays below the content. The sidebar is there to offer you links to help and other settings that you may find useful. For example, in the Bluetooth area, you might find a link to Wi-Fi in the sidebar.
What's odd is that with the Creators Update on PC, Microsoft added a lot more features to the settings app, such as more customization options and even a new Night light mode, which would be right at home on Mobile. As it turns out, these features have been omitted from the Mobile release. Microsoft says they'll come to the platform when they're ready, but the fact that they aren't here in the Creators Update is a bit of a letdown.
Windows Update
Microsoft has made several improvements to Windows Update with the Creators Update on Mobile. For instance, you can now pause updates for up to 35 days, which is convenient if an update is causing issues. Microsoft also made it so Windows will no longer surprise you with an update that needs to be installed by offering the user more frequent alerts when an update is ready.
So, for example, if an update has been downloaded and needs a reboot to install, Windows will notify you earlier before that reboot actually takes place, so you get plenty of warning that it's coming. You can also pick a time for the update to install, giving you much more control over when an update will interrupt your phone being on.
The most important changes to Windows Update, however, are under the hood. Microsoft is introducing a new Unified Update Platform (UUP) with the Creators Update, which promises up to 35 percent smaller downloads when new, feature releases are available. This is great for users who are on limited data plans or who have very slow download speeds.
View 3D
There's a new app included with the Creators Update that allows you to view content created with Paint 3D. Here's the thing, though: the Paint 3D apps isn't available on Windows 10 Mobile. It's an app on PC only, so the View 3D app is kind of useless. Literally, its only function is to view 3D-created content from the Paint 3D app. If you want to download content you made on a PC to view on your phone, I guess this is a great app for you. If not, it's basically a waste of space.
Conclusion: What's the point?
The Windows 10 Mobile Creators Update is a bit of a disappointment.
Sure, the under-the-hood improvements are much appreciated, but I was expecting more than what's on offer here. This is supposed to be a major feature update for Windows 10 Mobile, just like it is on Windows 10 PC. However, Microsoft skimped out on the Mobile release, cutting features that are available on the PC version that would be just as welcome on Mobile, such as the Night light mode.
Most of the under-the-hood improvements won't even come to the devices that benefit most from them. Microsoft is planning to roll out the Creators Update to only 13 devices, and the Lumias 930, 830 and 1520 won't get the update. Those are the devices that would benefit most from these improvements, and Microsoft cut them right out of the equation.
Seriously, what's the point of this update? It doesn't bring anything new the table that's "worthy" of its own release, and most of the under-the-hood improvements are wasted on the fact that the devices that would benefit from them aren't even getting the update. Microsoft claims that it is committed to Windows 10 Mobile, but this update tells me they company is anything but committed.
Actions speak louder than words, Microsoft, and your commitment to Windows 10 Mobile is definitely not showcased in the Creators Update. An why is it even called the Creators Update on Mobile? There aren't any creator features. None. No Paint 3D, no Windows Ink, literally nothing.
The Creators Update for Windows 10 Mobile feels more like an afterthought than anything else. I'm hoping this will change with the next update scheduled for later this year, but by the way things look, we're just going to get another empty update in the fall. I can't help but wonder, would users be missing out if the Creators Update for Mobile didn't exist? I really don't think they would. The Anniversary Update is OK as is, with the Creators Update just improving upon it a bit. The lack of any real new features is a real blow, however, especially to fans.
Negativity aside, this is still the best version of Windows 10 Mobile to date. As a minor update, it is a great release. I recommend the upgrade, but you won't likely notice many new improvements on the surface, even if it is supposed to be a "major" Windows release.
Get the Windows Central Newsletter
All the latest news, reviews, and guides for Windows and Xbox diehards.