Windows 10 Mobile Creators Update review: Disappointing but still worth a download
By Zac Bowden last updated
Microsoft's latest release for Windows 10 Mobile is a minor update and not a major one. With an odd name, a lack of features, and a number of improvements that most users won't even get, is there even a point to upgrading? Read on for the answer.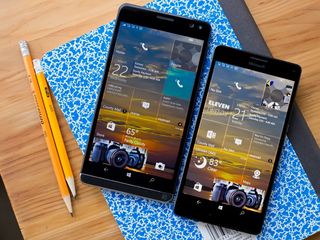 On April 25, Microsoft will begin rolling out its latest update for Windows 10 Mobile. The update shares the same name as its PC counterpart, the "Creators Update", which is odd considering the Windows 10 Mobile update has literally no new features for "creators." In fact, saying it has any new features worthy of note would be pushing it. Regardless, it is the latest and greatest version of Windows 10 Mobile.
The Creators Update for Mobile is the second feature update for the platform. Unlike the previous update, which most considered to be a major update, the Creators Update for Mobile is much more of a minor release, similar to how Apple will push smaller, "point updates" to its major iOS releases every few months. This feels like a point update, meaning a few small improvements here and there but generally nothing groundbreaking. This wasn't always going to be the case, but Microsoft's commitment to Windows 10 Mobile appears to have faded.
Without further ado, this is our Windows 10 Mobile Creators Update review.
Video walkthrough
As always, if reading long reviews isn't really your thing, we've got a video walkthrough showcasing all the most noteworthy changes and features in this release.
General improvements
Not much has changed on the surface when it comes to the Creators Update for Mobile. A lot of work has been done behind the scenes to make the OS run much smoother, and with fewer bugs to run into the whole experience is actually pretty enjoyable. Because of this, the Creators Update for Mobile is literally the best version of Windows 10 Mobile ever, which is to be expected considering its the latest version of the platform.
This update makes older phones, such as the Lumia 640, run better than they did before. This is mostly unheard of when it comes to mobile updates on other platforms. More often than not, Apple will release a new update, and users will find that their phones a bit slower, or they get slightly worse battery life. The Creators Update for Mobile is the complete opposite of that, making things run faster, smoother and improving battery.
Windows Hello is also slightly faster, and it works from further away, too. Before, I'd have to hold my Lumia 950 up to my face for it to unlock with my eyes, but with the Creators Update I can have it lowered in my hand, and just glancing at the lock screen logs me in. I've honestly been quite surprised at how much better Windows Hello is on the Creators Update for Mobile.
Microsoft has also improved HTTP images on Live Tiles, and in the Action Center it added the options for "Call Back", "Text" or "Remind Me" if you miss a call. The Action Center improvements are nice, because they mean I don't have to go into the phone app every time I miss a call to sort it out.
There's also a bunch of new system sounds, which further align with the system sounds found on PC. I really like the new sounds, especially the default one. It's refreshing to see Microsoft focus on details like this, because they are important to the overall user experience. The new sounds are a breath of fresh air, one that I'm sure most people will appreciate.
One of the best changes made in the Creators Update is that you can now lock and turn off your phone's screen while using Continuum. Just hit the lock button like you normally would to turn off your screen when in Continuum, and you'll find the Continuum experience will operate just fine. If you hit the lock button again in quick succession, it'll lock the Continuum experience, too. You can also set a timeout period for the Continuum screen, a nice addition.
Cortana
Cortana with the Creators Update is a little smarter than it was previously. You can now ask Cortana to activate system commands, such as changing the volume, controlling music, and identifying a song. Cortana could already identify songs, but now you can use a voice command to get to the same function. You can also set reminders to reoccur every month or year, which is a nice addition for those who use long-lasting reminders.
The Cortana UI itself now features a completely black background rather than a dark gray one, which should very slightly improve battery life on OLED displays. Apart from that, however, there isn't much else new with Cortana. A PC-only feature called "Pick up where I left off" would be great to see, but Microsoft omitted the feature from Mobile. (This is somewhat of a trend with the Mobile update.)
Microsoft Edge
Not a lot has changed on the surface for Microsoft Edge. Even the new "set tabs aside" function found on the Creators Update for PC is missing here. There are some new features, however, and if you're into books you're going to love them.
Microsoft (oddly) built a new book reading experience into the Edge app, with there now being a dedicated bookshelf in the Edge hub where all the books you buy or download are stored. The experience is actually pretty nice, and the reading mode is feature-filled. You've got a new read-aloud feature, which is great for those who may suffer from visibility issues, or if you're lazy and just don't want to read yourself.
There's also an entirely new section in the Windows Store dedicated to books, where you can buy new books for reading within Microsoft Edge. But it all feels a bit odd. Why build this functionality into Edge instead building a separate reading app? And why is Microsoft taking on Amazon and Apple in the book market?
Settings
The Settings app in the Creators Update for Mobile actually received a few changes and improvements, all of which are welcome additions. For starters, Microsoft completely gutted the old Wi-Fi selection area and dumped in the new, improved, and faster Wi-Fi selection UI found on Windows 10 PCs. This is a much better experience overall, and considering both experiences are now the same between PC and Mobile, it makes a lot more sense to the user. Wi-Fi Sense and Paid Wi-Fi Services are now combined in their own area, and the Data usage page has been updated with a new UI.
In the device area, Microsoft has also improved the Bluetooth UI, cleaning it up a bit and adding a new Bluetooth device experience that's a lot more straightforward. Unfortunately, a lot of the Bluetooth connectivity issues that users appear to have been facing with Windows 10 Mobile have not been fixed. I personally have never encountered such issues, but people have told me countless times that the issues they've encountered are still a problem even with the latest update.
Glance can now be set to be always on when charging. This is actually not a new feature and something that was brought back with the Creators Update. The Glance Screen feature actually got stripped of most of its customizable features with the Anniversary Update last year, and it appears Microsoft is now slowly adding back options such as being able to keep the display on while charging.
There's now a new Apps category in the hub of the Settings app, where you can quickly uninstall and "reset" apps that are installed on your device. The reset option is actually handy for when an app becomes corrupt and you need to restore it back to as if it had just been installed on your device.
Finally, there's a new "sidebar" feature that displays below the rest of the content on screen when in any particular settings page. It's called a sidebar because when on PC or in Continuum, it displays on the side. In phone mode, it displays below the content. The sidebar is there to offer you links to help and other settings that you may find useful. For example, in the Bluetooth area, you might find a link to Wi-Fi in the sidebar.
What's odd is that with the Creators Update on PC, Microsoft added a lot more features to the settings app, such as more customization options and even a new Night light mode, which would be right at home on Mobile. As it turns out, these features have been omitted from the Mobile release. Microsoft says they'll come to the platform when they're ready, but the fact that they aren't here in the Creators Update is a bit of a letdown.
Windows Update
Microsoft has made several improvements to Windows Update with the Creators Update on Mobile. For instance, you can now pause updates for up to 35 days, which is convenient if an update is causing issues. Microsoft also made it so Windows will no longer surprise you with an update that needs to be installed by offering the user more frequent alerts when an update is ready.
So, for example, if an update has been downloaded and needs a reboot to install, Windows will notify you earlier before that reboot actually takes place, so you get plenty of warning that it's coming. You can also pick a time for the update to install, giving you much more control over when an update will interrupt your phone being on.
The most important changes to Windows Update, however, are under the hood. Microsoft is introducing a new Unified Update Platform (UUP) with the Creators Update, which promises up to 35 percent smaller downloads when new, feature releases are available. This is great for users who are on limited data plans or who have very slow download speeds.
View 3D
There's a new app included with the Creators Update that allows you to view content created with Paint 3D. Here's the thing, though: the Paint 3D apps isn't available on Windows 10 Mobile. It's an app on PC only, so the View 3D app is kind of useless. Literally, its only function is to view 3D-created content from the Paint 3D app. If you want to download content you made on a PC to view on your phone, I guess this is a great app for you. If not, it's basically a waste of space.
Conclusion: What's the point?
The Windows 10 Mobile Creators Update is a bit of a disappointment.
Sure, the under-the-hood improvements are much appreciated, but I was expecting more than what's on offer here. This is supposed to be a major feature update for Windows 10 Mobile, just like it is on Windows 10 PC. However, Microsoft skimped out on the Mobile release, cutting features that are available on the PC version that would be just as welcome on Mobile, such as the Night light mode.
Most of the under-the-hood improvements won't even come to the devices that benefit most from them. Microsoft is planning to roll out the Creators Update to only 13 devices, and the Lumias 930, 830 and 1520 won't get the update. Those are the devices that would benefit most from these improvements, and Microsoft cut them right out of the equation.
Seriously, what's the point of this update? It doesn't bring anything new the table that's "worthy" of its own release, and most of the under-the-hood improvements are wasted on the fact that the devices that would benefit from them aren't even getting the update. Microsoft claims that it is committed to Windows 10 Mobile, but this update tells me they company is anything but committed.
Actions speak louder than words, Microsoft, and your commitment to Windows 10 Mobile is definitely not showcased in the Creators Update. An why is it even called the Creators Update on Mobile? There aren't any creator features. None. No Paint 3D, no Windows Ink, literally nothing.
The Creators Update for Windows 10 Mobile feels more like an afterthought than anything else. I'm hoping this will change with the next update scheduled for later this year, but by the way things look, we're just going to get another empty update in the fall. I can't help but wonder, would users be missing out if the Creators Update for Mobile didn't exist? I really don't think they would. The Anniversary Update is OK as is, with the Creators Update just improving upon it a bit. The lack of any real new features is a real blow, however, especially to fans.
Negativity aside, this is still the best version of Windows 10 Mobile to date. As a minor update, it is a great release. I recommend the upgrade, but you won't likely notice many new improvements on the surface, even if it is supposed to be a "major" Windows release.
Zac Bowden is a Senior Editor at Windows Central. Bringing you exclusive coverage into the world of Windows 10 on PCs, tablets, phones, and more. Also an avid collector of rare Microsoft prototype devices! Keep in touch on Twitter: @zacbowden.
Hope it will release for over 13 devices . Let's pray.and thanks MS

Yeah , we trust on MS dev department, they r Good warriors behinds back stages of windows phone section.

relax then , and enjoy the kit-kat .

I updated Lumia 920 using interop tools.

I know . Just a while before use this app . Maybe MS had a mercy in as , cuz as we r , customers is the king .

Me too. I own a Lumia 920 and I've received all updates.

You're a bit behind the times

Could I use interop tools to get a build of Windows 10 on my HTC 8S? I know req's have been bumped up to 1GB, but I recall a time when I could get W10 on my 635.

u can , but i don't advise you at all .

Everytime lets 'hope' that MS will do good next time. Next time they wont do anything impressive and then we will hope again!!

Some peoples said . In god they trust . But me , in MS i trust . . Let's hope.

Feedback hub link, if you want to upvote
https://aka.ms/ew4n38

Appears you need to upvote from a phone, just FYI. Wouldn't let me from my Surface.

Hi zac I have a question can the lumia 30 series phone get this creators update on 25th of this month? I am using lumia 930 also what about redstone 3 update is anyone get build 15205 on the lumia 930? plz reply thankyou

For now no . either 1520 owners. Both on the same bottom of ocean. i hope MS will have merry on those two devices .

My Lumia 640 is the oldest supported device. I'm sure this is the last os update for me

No i also using Lumia 640 we are ask also getting Redstone 3 up date

Yeah..the pace they are going with, that looks to be the case.

Yeaaa might as well download if your in the 1% club ;)

Is Night Light added to this update?

Disappointing, that option is very useful on a phone.

Holy cow, why not? Ridiculous IMO. Whatever I guess.

Ok, why not hit up Daniel Rubino about why? He actually explained it pretty well maybe a couple months ago. That *CAN* work better than just random complaining.

Yea, we are told the actual content in this 'creators' update, you know the update that was to be mobile focussed according to MS, will come when it's ready. OK, so why bother with this update at all? The few bug fixes could have been slipped in to a normal Tue patch as that's all they are. The full creators patch could then be released in a month or two once MS has got their **** together. Doing it like this and pretending this is the creators update is silly, just generating bad press and a sour taste for customers. Another stunning PR move by MS...

Updated OneCore is why :).

Perhaps, but that's clearly (well, to everyone NOT working for MS that is...) not a great reason to claim the 'creator's update' for this. I'm still hoping we'll get focussed inbox in this build instead of a stupid message claiming it's not enabled for the account when every other Windows device I use has focussed inbox working fine (and no, a hard reset doesn't help so this is yet another missing feature ATM).

I do not remeber MS ever saying that this update woudl mobile focused. As I rwecall, when the aniservery up date was coming out they said that in teh future mobile (and the "next" thing) would get focus.

I do remember that this was supposed to be a mobile focused update as well.

Why bother with the update at all? Easier to justify eliminating 'older' devices when it is a 'major' update, than when they are just minor bumps. At some point even MS will be justified in saying mobile/phone is not significant enough to continue supporting it, like Zune, MCE, SPOT, Band....

According to Microsoft, phone hardware doesn't support the current iteration of night light. I would hope they are working on a version for mobile though

Most color correction and control was done by manufacturer apps. It's embedded in the OS now. I find it curious that they'd cite hardware as the issue.

Hmmmm...yeah the reason they gave in the feedback hub for why it wasn't implemented yet was hardware. I thought the same thing though, all Lumia phones have a color adjustment in the settings, so not sure why they can't access that.

Uh, I just said. Feedback hub. The request for Night Light feature. It had all kinds of votes, now it appears it's been completely taken off. I've resubmitted a suggestion for it.

An old Moto E 2014 with Custom Rom support Night Light in Nougat 7.1.2 then why Creator Update in mobile not?

why dont you lower the brightness? Its simple.

It's not the brightness, it's the amount of blue light that gets reduced.

Yeah, it automatically changes the hue..

Maybe I have lower expectations from being on Windows Phone/Mobile for so long. This sounds like a pretty good update, the only thing that would have been nice is the night mode like you say. Like I'm not sure what else is required with Windows Mobile now. Maybe I'm just not up to speed with what's being offered on IOS and Android comparably. Windows Mobile users are already in a world with the app gap so nothing has changed, nor will on that front. I just want my OneDrive to sync my pictures again.
Lumia 950

Wait.... your OneDrive is not syncing your pictures?

Well ... If this encourages you, there are (silently) applications popping up in the Windows Store (Windows 10 Desktop) applications that you normally find for Android and iOS, indicating a move to W10M. I guess not all is lost, yet.

1st line reads accurate to me.

my OneDrive never stopped syncing pictures, Lumia 950xl. I think you might have a bug, try resetting your Microsoft account in the phone or if possible uninstall and reinstall OneDrive.

I found going into OneDrive app, go to progress, and dismiss all errors. After that try syncing again. May take like 10 minutes but it should start working again. It's what has worked for my wife and I to include someone on the forums.

No need for new features when you're not trying to gain market share. Windows mobile is in maintenance mode now

Nice summarising Zac. Truly, the Creators Update for Mobile is anything but major. It would have made sense if MS pushed this out as a cumulative update for all devices fixing the bugs. But hyping the fans and then under delivering is the new mantra of MS these days, so no surprises there.

Not "these days". Exactly on April 3, 2014, the day after WP8.1 was released.

When I next upgrade my phone (2018 at the earliest) I will be back to square one. I will no longer look to Windows Phone devices as an advantage due to my previous experience but I will come to it from a level playing field of what will be best for me AT THAT TIME... No longer waiting for future promises that ultimately fail to deliver.
Maybe the Surface Phone will be out or around the corner and maybe MS will get their paradigm shift that they crave, maybe some form of Windows Phone will still be a viable option, who knows?... What I do believe is that unless something major happens then I will be leaving Windows Phone behind and will most likely go with a good enough Android device.

I got my S8+ last night. Ripped the sim out of my 950xl. It's amazing how crappy the windows experience is. The number one thing I miss is the live tile interface, but I found a launcher that is actually pretty good. With widgets acting as the "live tiles" it's actually more usable that windows. I don't think there is much I'll be missing from windows mobile 10. The OS has been garbage from day 1 and hasn't really gotten any better. For those of you that keep praising it and claim it does all you need, you guys are peferct for where the OS is at right now. I'd like to come back one day, but even a surface phone with the current state of the OS would be a waste of my money.

I will be picking my S8 up today after work and while I configure it, I will prepare my ebay posting for my 950+2 Qi chargers+3 mozo cases+some soft shell case+5 new screen protectors. After ~13 years, I give up.

U sunk a lot of stinky cheddar into that phone🧀. I though paying a hefty g note for the XL on launch in Canada was bad. U have me topped. After 13 years, u earned it.

2 of the mozo cases were free because the first one cracked, still unable though. They sent me a 5-pack of "we are sorry" screen protectors. As for the Qi, one came with my 920 and the other was a purchase. A mix of cash and luck I guess. Hope I get more than the $20 Best Buy offered me for my 950!

Wow. Just $20??? Most people won't pay much for a Windows phone but $20 is just far too low of an offer.

People won't use them if they're given away unfortunately.

Hope you know that you can use your Qi chargers with your Samsung

i sent you a PM..I can buy off your phone from you.i'm going down with this ship

And why do you think we want to know all this?

@EliteMikes: Will let the first wave of devices pass.. if no reports of hardware flaws.. I will also be joining the Android family with a far superior device than my Lumia 950.

Farewell. Is it low self esteem that creates your burning desire to broadcast that you have a new phone and you are crossing over to android?

How in the world did you get lots self esteem from someone saying that they're going to change their phone?

It would be to your benefit to learn English reading and comprehension. You are lost

Maybe he's/she's hoping someone from MS will see his post andf beg him to keep using WP...?

LOL, seriously. If there is any people with self esteem issues it's those windows mobile insders that think they are doing great work and helping the platform progress. I'm just speaking truth, the platform sucks right now. Maybe next year it will be better....

What would be better is if they limited who could get into the program so that we eliminate all of the cr*p that shows up in the feedback. The other part is Microsoft does not even really listen to their Insiders. So I do not buy your claim "I'm just speaking truth". You are oversimplifying the problem. And calling windows mobile insiders having low self esteem really only reflects on you.

"And calling windows mobile insiders having low self esteem really only reflects on you." Yep, that was my bad, shoudln't have typed it. I'm not trying to be a troll or be treated like one. I have invested thousands into windows mobile hardware and I'm ticked off at MS to say the least.

There's no apps, but the platform doesn't suck from a usability standpoint... You don't use WM so don't comment on what you don't know...... All these damn iDroid fans in here now. SMDH.

That S8 looks nice though

Maybe next year. Sure, why not? Even the Cubs win the series once in a while. ;)

So you say "The OS has been garbage from day 1" and you go and pick a 950XL...

How would I know it was crap without buying one first. I had the first wave of pre-orders. I had a hope that MS would quickly fix the issues. While many things have been resolved, so much has not.

Fell into the same trap. Traded my One M8, which was lacking in all the ways WP has always been lacking, but worked essentially bug-free for what it was, for the POS L950. It is not fair to say that the OS hasn't gotten better. It was literally unusable at launch, and now it is perfectly usable if just kind of...bad...but it is also fair to say that anyone who bought a 950-series phone is a sucker or a fool. And yes, I include myself in that category (maybe a little from column A and a little from column B).

Yeah, you are sucker in Android part and sucker in MS part... but there's nothing connected to us, MS users. It's only your preference to suck... and it's pretty OK if you're lady. But, if you're man... then...

I got my 950 XL a month ago... no comments about S8 buyers :D

Perhaps it was because Windows Central always made it like WM would get better and catch up to the other 2 providing false hope. They were hoodwinked into supporting a weak OS. Idk

You are full of contradiction...stick with android

Exactly! Android is deffinitely for that guy :D

Out of curiosity, do you like the hardware Bixby button?

Not a fan of that. The button placement is weird right now after having all the buttons on one side for so long. I don't see me really using Bixby much though, I feel like Cortana is better at showing me what I care about

Do you think it's worth the price? I picked up a ZTE Axon 7 Mini for $200 at Best Buy and I'm loving it, just wondering what an extra $650 does that a mid-range can't....

Too early to tell. My company covers $750 so the out of pocket wasn't much. The sell of the 950xl will cover the rest. I'd like to think performance and screen quality is where the extra money is money well spent.

Yeah, I have a OnePlus One as well, and it has the power button placed on the opposite side of the volume rocker. I constantly power off the phone trying to adjust volume. :/ Honestly, I think I only would like a camera button, preferably two stage and remappable.

Elitemikes if your looking to sell your 950xl let me know. Glad you like your device and are you using any windows services on the device?

I'm using all MS servies except I dumped my contacts back to gmail. For whatever reason, contacts don't sync from the outlook app.

Did you enable contacts sync in Outlook settings? They show up fine on my Android (I use Google's contacts app).

Would love to here your review of the phone after using it for a month. The problem with android has always been performance - and the constant 'maintenace' required by the user to keep it running it top top shape and to keep battery life at acceptable levels. Please come back then and let us know how its working for you.

I can't say the 950xl has exactly been a poster child for performance or battery life. My wife's has stayed on the release branch, and I recently hopped onto the fast ring hoping for some changes. In my family we have 3 950xl and 3 950s. There hasn't been one person happy with these devices.

Trust me. Performance-wise Andoid > Windows.

Apps aside! Just out of curiousity, what will your s8+ do, that your L950xl can't possibly do? (Apart from apps dominace, oh! Perhaps you've been dying to play pokemon go and snapchat, it's ok) No matter how expensive your s8+ is, it is still an android phone, nothing changes. You can enjoy your new phone in silence you don't need to annouce it, what are you expecting from us here (to praise you for buying a phone?) Low self esteem.

Give me one top notch experience that you can get on windows mobile 10 that doesn't exist elsewhere. I'll steal one, live tiles, now what else? MS has a good selection of their apps on android. I'm actually not a big app user, but the apps I need to use need to work well. I have a ring video doorbell, that app has been horrible on windows. I have a nest thermostat, no app and the 3rd party ones arent' very good. I spend 2 hours in a car a day and I'd like to rely on Waze and have bluetooth connectiviey that isn't spotty. The camera experience has never been as good on 10 as other versions. I can go on and on. I used to be a huge windows fan, but MS doesn't care and I can't support them when they don't support me.

I didn't say that there are experiences in windows phone you can't get else where. You have made a lot claims that your phone has failed you in a lot of ways which cannot be verified, but when you said "The camera experience has never been as good on 10 as other versions." Then I had every reason to doubt all of your claims. When the reason some people are still holding on to their W10M devices is the great camera experience (you can scroll down and read other comments about camera). If you like android, use it. My phone works for me in the ways I need it to work. I don't need it to make me a cup of coffee or open doors and ring door alarms for me. If I need it I might get a phone that works it, but I'll certainly not annouce buying new in public. NB: You are not the only person here that use a windows phone and own an android device. I have full knowledge of the android experience, bet you it is not as advertised.

I've used Windows phones since the dell venue pro. The best camera experiences I had was with the 1520 and 950. But since then, the app always crashes ob my elite x3 or throws up an error. So idk, i don't think he's wrong man

I seem to have better luck with the camera than my wife's 950xl. She has lots of crashes and hangs. I've had windows since the verizon trophy. Things were much better prior to win 10

Can you elaborate on the problems with the Ring app on WM10? I'm considering getting one of their cameras.

The app on windows is just bad. I don't really care about the missing features, but performance is horrible. Startup time on an overclocked midrange core i7 with 32gb of ram and fast SSD is baffling. On the phone I'd try to answer a "call" and the app either takes too long to start or it crashes out. Reliablity has slighly improved over the year I had it, but it's still random when it it works. I'm going to be moving soon and I'm debating if I'm going to stick with Ring. If I do, I'd definatly buy the pro model for the higher image quality and configuration options. Sadly the app is the same which needs work on all platforms. The android one is better but there are design elements across all platforms that just don't make sense to me. They favor adding new devices instead of controlling the ones you have setup already.

The short answer is, "Everything."

I don't yet have an android phone in my possession and this will be my first foray onto that platform when i inbox my s8+ later today. But NOT BE BUGGY as hell is a pretty big thing on my list as what I'm looking forward to.

There are literally a dozen useful apps I use everyday that aren't available on w10m, the snapchat references are ridiculous. The functionality improvement by moving to Android is more than impressive. Use whatever device you like, if you just want a phone/sms device w10m can handle that without too much bother. Android definitely has its faults too, but w10m is a decaying platform without much hope to resurrect itself.

The user experience on wm is crap period

I think you are right. I got so used to the camera app crashing on my windows 10 mobile, that I refrain from clicking a picture with someone.
But the latest update does make the device feel fast, and has improved the battery backup.

Yeah with my elite x3 cam app crashing all the time, noticed I pretty much severely decreased the amount of photos I take

Mine delivered today. Will be my first android phone ever. First thing i was gonna do, is download that same launcher you did haha. I have feeling this "transition" won't be as painful as i once feared..

What have you found superior on Android over Windows Mobile so far? I have used both for years but beyond the apps, I find Android missing core features. I'm on a GS6 right now and looking on upgrading that to an S8+ when a good sale comes up. My other is a 950. For apps, I grab my GS6 but for everything else my GS6 is too limiting. Even worse, on stock Android phones you can't even set per contact sounds for phone or text. My Truecaller is a seperate popup and when dailing it uses trucaller but then pops up the stock, and then truecaller. Nova launcher has served me best but besides style tweaks it really adds no value to the experience. Text messages reguarly fail and even on a factory reset my camera app takes ages to launch. Not saying my 950 is perfect but I can go on about how my Android devices are severely lacking in basic user experience elements. I agree though that until Microsoft shows some direction, don't spend money on Windows Mobile.

Since I've only had it for about a day and I've been trying to tweak it to my liking it's too early to say. I'm using the squarehome 2 launcher. I've been fairly pleased with how it functions, it needs a few tweaks like on the all apps page "app drawer". I've gotten my home screen set up close to my windows mobile device. Between some widgets and android stock app icons, they are alive enough and some are way better than windows. The google hangouts icon actually shows more info than a count. Other things show counts. Sadly one of the weakest offerings is the Microsoft outlook widget, it can't be sized to be the width I want. I haven't had any texting failures, but very limited usage. I switched to "Textra" for texting. I wanted a better popup experience over the stock one. I just installed Truecaller, i completely forgot about it until I read your post. I haven't used it yet, I'm hoping it doesn't work as you describe. I wanted to use Microsoft's "Next" lockscreen but it's weird on the s8+. I think the issue is due to the strange screen size, my home launcher has a bit of weirdness to, so maybe it will be resolved now that the phone is release. So while I'm not a big app person. Every single app I have used generally functions better on android than windows, including Skype. Sadly MSN News doesn't have a widget, but I am using flipboard to satisfy news on the home screen. MSN weather has a nice widget that works as a tile.Cortana is not as good as I was hoping sadly, i had higher hopes for it. I do think i prefer the notification experience in windows, but that could just be that I'm not used to android yet. I'm going to setup pushbullet for PC sync, I've been hearing it's very reliable. I'd like cortana to handle this better than it does, but until then I'll use something else. Battery life so far seems amazing. I don't have any real usage but I literally played with the device for hours last night and the drain was fairly slow. My 950xl would have needed charged. For instance when I wake up I grab my phone and read news and stuff. During this time I can usaully get my lumia under 90%. I'll say the S8+ dropped about 2% with the screen on a comfortable brightness. I only needed to restart the device due to an update and I had to pull my sim/sd card to clear old stuff on the sd card I forgot to do. It's been reliable so far. My wife is due for a new phone, she hates the 950xl, but we are in the house buying process and we dont' have the spare funds for another phone, mine was mostly covered by a company perk. Anyways I may look at the S8. I may like the slightly shorter phone while giving up a little battery life.

Groove music is missing swipe to change tracks. That is missed, but it will properly download tracks in the background. I missed that from the wp7 zune days.

I have a Galaxy S7 and I don't really find it that amazing. I still use my Lumia 640 as my daily driver. Has better battery life and works better with both my cars Bluetooth.

I had fairly good battery life with my 950XL before the previous update and hope to get it back.My battery is typically down to 40% within two hours of a full chage without any change to usage habits. In addition to that, my WiFi consistently drops when connected.

This review is the wake-up call for Microsoft that Windows 10 on mobile devices needs the same attention as on PC devices. Notice how I said "Windows 10 on mobile" rather than "Windows 10 Mobile". I have a good feeling that focus behind the scenes is shifting from Windows 10 Mobile to Windows 10 on ARM. I am sure that Microsoft is shooting for a seamless semi-transparent tranformation for mobile/tablet users. However, they should've ended the Creator's Update with a high note, a big bang. A statement saying "We're still here and we're gonna be here for a while". Throw a little bigger feature... Night Light would have been nice. Differentiate yourself from competitors with one thing... ANYTHING... Goddamn it.

Supposedly, GATT is included in this update for Bluetooth as well. Can you confirm that?

This is probably the most important feature. At least Fitbit will use it so I can switch to that when my Band dies.

It's not working yet (ever?) with fitbit. Better hope that Band 2 holds out awhile longer...

I think it's safe to say it will happen: https://mspoweruser.com/fitbit-signing-up-beta-testers-for-call-sms-noti...

Maybe. With only 13 phone models eligible that's what? 0.05% market share? And the majority of those phones are reaching end of support in the next 6-12 months.

I'm just hoping Fitbit continues supporting mobile since their app is already UWP and on mobile currently. About my last option unless I switch OS'

I will update my 950 and hopefully the 930 on the insider build. Then they will go back in the drawer. I am not expecting Microsoft to be in the mobile business by rs3 so I will keep the Lumia's a spare in case I break my phone. They are pretty great cameras too. Sad to see Microsoft killing their platform with neglect. I got the message a year ago but the long slow death is horrible to watch.

Doing exactly that with my 830/650/950. Will agree cameras are great and I'm sure if it wasn't for that fact alone I'd be putting them on the chopping block, but then who'd buy them any way. Saw the writing on the wall 2+ years ago and can't believe I'm still here albeit we're in Limp Mode. When BB started their shenanigans it took me only a few months to oust them, guess the older one gets the softer we become ;)

The Lumia cameras really were the best. If MS isn't making phones anymore it would be nice if they licensed that tech out

Yeah I would love it if they did that. I want another phone that has a 41MP sensor. I don't think Microsoft will ever license the tech out though.

I think those are nokia's tech

I think they bought those patents/licenses/tech. The brains behind them they laid off.

The message you got a year ago is from haters, telling you windows 10 mobile is dead. The reality is MS cannot allow W10M to die. W10M will continue to recieve support as long as MS is alive. You will recall from memory, when the mighty symbian ruled the mobile world, MS maintained their presence silently in the mobile world. so android ruling today doesn't make the case different. It may not have best the feature apps now, one thing that is certain is that W10M will always be here. MS needs it more than we do, but you may not know this. I don't have much to tell you, only time will prove us right. Now if in the next five years and a group of haters keep telling W10M is dead, just ask them how long does it take for a thing or a person to die one year, two years, five year or ten years?

I know that logically you are correct, but I question, considering how confused Microsoft's strategy has been, whether they have a logical position at all. I fear they have no idea what they are doing and intend to quash W10M just as the app situation starts to improve and it becomes a competitive platform, which it seems to be now.

Well it takes alot of time too boot tho and to turn off :/

I'm still hoping that Bluetooth will be fixed and I will be able to connect with Fitbit and get notifications again

I have been able to connect again my Fitbit with my Lumia 950xl with Creators Update. I was surprised and happy. Just turn on your Bluetooth and go to your Fitbit app and voila!

New default sounds though. Yeah.

Makes me all warm and fuzzy inside LOL.

Have there been any Continuum improvements? other than the lock screen setting.

I just wonder how many of my apps it will break.

I want this update on my Lumia 730. I am a developer and would like to test the new features in the Creator's update SDK. Sigh.. Now way.. So what Microsoft expects me to do? Buy a new device?? Which one? Lumia 950.. Way out of my budget. Lumia 640.. Oh yeah.. Spend money on that one and what if it doesn't support RedStone 3? Good way to screw with developers!

Just use the emulator, I understand where you're coming from though.

i think you can still get on the slow ring/ fast ring

if you were an Android or Iphone owner, you will feel the same. Try buying a "cheap" iPhone 4 and see what happens with "updates"... All companies are the same.

Developers??? Who cares! they are the guilty ones for unsuccessful sales of WP!!! Most developers are LAZY.... Just some of them are smart enough and can see Windows Universal Plattform as the best ecosystem. WUP is available out there! Stop waiting and complaining.

Not sure how devs are lazy. There is no demand for WPs, therefore no demand for apps, therefore no revenue. And even Amazon abandoned WM, clearly its not lazy devs.

And who are you to call developers LAZY? Have you ever developed an app? Maybe, just maybe, it is a sh*t ton harder than you think it is

I've always wondered if it was more difficult to develope Windows Phone apps than for iOS and android.

Just from what I have read, it is actually easier to do WP than Android or iOS, just because of the associated dev environments. MS has been doing development environments forever (Visual Studio) and it is well received and supported it seems. Apple and Google have been improving theirs. The biggest hurdle is market share. You target what has the most potential for return on investment. 1% sale over a million users is more than 1% sale over 100K. Even ad supported follows that math. There are way more Android devices than even iOS, but the statistics show iPhone users are more inclined to buy apps. So it is probably a wash which one you chose to develop for. The reality is if every single WP user bought your app, you would still sell more if only 1% of Android users did. Even MS does this math. Search for Microsoft in the iOS and Android stores. The idea that UWP targets a huge audience is only valid for apps that make sense on both the desktop and mobile. There are a lot of mobile apps that just don't make on a desktop, so the fact that there are billions of desktops is irrelevent. There isn't a good solution for this. I can just hope that those people who develop desktop UWP apps make the extra effort to support the phone, so the app situation foesn't get worse. I'm fine with what exists today, but not everyone is, and the fewer of us there are the less likely ther is a future at all.

My lumia 640 work very smooth now,i can say the update is good.

Off topic but: Does anyone know if cortana becomes available in a certain country do unsupported devices still get that Cortana update?.

Those devices should, but I might be mistaken

Cortana availability also relies on OS updates so your device must be up to date as well.

I own a 640 :) but since I don't see cortana coming anytime soon and I fear that RS2 will be the last update before my device isn't supported anymore. That's why I am asking :)

I hate to say it, in particular because I hate android a lot (a lot a lot). But I think the future of Microsoft on mobile for the foreseeable future is a microsoftized android device. Right now my plan is a moto, with cortana replaceing now, and replacing all apps that can be replaced with MS apps. Which means I still lose my synced bookmarks in edge (and no, I'm not switching back to Chrome). It's sad, you win some, you lose some. MS fans lost this one. We lost this one big. Even in the best case senario we still won't be getting all the already existing integration points that were present on W10M (notifications, SMS Relay noteably). Such is life. At least for 3 short years I was free of the other two mobile platforms.

Has W10M died already? Seem like you're already preparing the funeral. Dear friend, keeping using your phone, you're getting your next support/update in about a week from now.

I hate to give up on Windows Mobile. I have my trusty daily driver Lumia 640 and a Galaxy S7. I have all the apps I need on my Windows phone still. That might not be the case down the road the way things are going at Microsoft. Seems like since Satya Nadella took over, Mobile has been weakened to the point it is now. Unless someone else takes the helm soon, I really feel I may have to make my Galaxy S7 my daily driver, and I truly regret that. I gave up on Apple iPhone after my S4 died prematurely. My 640 has my Bank of America app and my credit union has a tile website saved which lets me touch it transfer funds and pay bills just as easily as the credit union app on my Galaxy S7. I can control my thermostat from my Windows phone with an app and a website tile saved on the phone. I can listen to my favorite radio stations while traveling or at work with TuneIn radio, I listen to Pandora in my car or at work. I love the way I can get my text messages read to me in my car over the Bluetooth. I like how much more battery life I get from my Windows phone. I counted and I have over 150 apps on my Windows phone, and for the most part, my Windows phone is faster and more reliable than my Galaxy S7 which I have to restart every day to get the Wallpaper to update on my Lockscreen.

I installed the update on my L650 that I only use from time to time. Not very impressed. Got a Samsung Galaxy A3 2017 for some weeks now because we got new apps for our company that only work with android. What can I say... everything works fast and stable out of the box, I don't have to wait and hope that the next update will maybe fix some of the bugs...

Just wait, the Galaxy will slow down over time and with each new update, Walter.

WM looks to be a lost cause

I like W10 Mobile a lot, and I am not bothered about the "Creators" side of things, so hidden system upgrades and the minor additions is enough for me. Long live W10 Mobile - the grown-ups mobile.

Ecurb87, The forum is the better for your insightful and deep comment via an emoji. You truly are the light in the darkness.
And thank you for bearing out my observation on grown-ups, which is the opposite of child-like.
At least this grown-up can actually construct a sentence and does not have to rely on a picture.
Way to go "dude" keep it dumbed down.

My grandmother really loves Windows Mobile too. She has a hard time hitting the small icons on Android and iOS. I think when you say adults, you really mean seniors.

What if you bought her the + sized phones Android or iOS, still no good?

Bleached, Firstly I stated it is for grown-ups. Not adults or seniors. I meant grown-ups, as in not child-like. Your grandmother is obviously a very wise person - a grown-up in fact.

Android UI has simplified mode with huge icons, two per row

ya true....if you dig deeper you will understand how silly OS are the android and ios.......

The most important question for me now is :
Will other devices (those that aren't getting the creators update) get future major updates like the one coming later this year or is it end of the line for those devices???

Are you sure? Or are you just speculating?
Cause as I heard from "Donna Sarkar" she didn't clearly say that those devices won't be getting future major updates but only talked about the creators update
So please tell if you know a certain thing about this matter

Sure. Because they are also excluded from insider testing on rs3. How it could be that MS release next update on not tested devices?..

Zac, thanks but can you please be more enthusiastic? I know it'll be great if all advantages of CU for PC are available on phones too... but at least they keep pushing updates and fixes and (at least my 950) will keep going as good as always. You wrote "only 13 devices will receive the update"... we have luck... Apple only updates OS only for 1 device!!!! ... Windows phone users should stop arguing and understand that Microsoft launched 950 and 950XL long time ago, and why not buying it? Because no one whant to "spend" money in a new device... and now everyone are complaining about marketshare... so complainers want to switch to a more "cheap" or "unexpensive" device? They want to switch to iPhone or Galaxy S8??? These phones are EXPENSIVE too... And Apple/Facebook are stopping updating iPhone 4!!... So Android do the same! So, many iPhone users have to buy a reL expensive PHONE.... an arvice... if you like Windows phone, its no different from other companies. just buy an unlocked 950. it works great! and stop complaining.

No one bought they 950/950xl becasue they weren't great upgrades. I wish I had a 1520 laying around with 8.1 on it. That was a much better experience.

I bought mine because the coin I flipped landed on heads. Other than that I would of just used my M8.

He's not enthusiastic because there isn't much to be enthusiastic about. Apple makes several different iPhones and iPhone versions, not just one. Microsoft makes zero phones. The iPhone 4 came out 5 years ago, stopping support is expected at that stage of the cycle. The only currently available w10m phone is the x3 which goes for $600-$800, same as the expensive phones you mention. The x3 has greatly reduced functionality compared to other similarly priced devices though.

It would be awesome for the 3D Viewer if they could provide a QR-code from your PC that you scan your creation into your phone with. Then it would be an AR type viewing of your creation.

Well done review. Thanks.

Yep, has me looking for my iPhone 7.

Under the hood improvements are good enough for me.

It seems pretty clear they are doing the bare minimum for the platform. HP must be pretty fed up with the lack of interest from Microsoft, must make it hard to sell the Elite to businesses.

Dumb people working in Microsoft why can't it be upgraded to Lumia 930. You mindless jack ass

Nothing to make this work in the car, so I will keep using iPhone. Crazy they keep ignoring cars and drivers, it's the #1 reason I dumped my 950 XL.

FYI My Lumia 950 works perfectly in my car. With Pioneer AVIC. Sound quality has been improved further with the CU update.

My Lumia 650 works in my Grand Cherokee, text, phone, and stream Groove. I would love it if it could "project" to the massive screen in the car so I could use Waze instead of the crappy Jeep GPS (2015 maps with no update). Bur at least the voice guidance comes over thru the audio (and silences the radio appropriately).

Waht kind of cr ap py car do you have? It all works great in my Camaro.

Does your Camaro have Car Play/Android Auto?

I hope you at least have the ss.

That is why I keep using my Lumia 640, it works in both my cars. I can't get my Galaxy S7 to read my text messages in either car. I love the way Windows 10 works in my cars. Even Maps has improved. I can ask Cortana for the nearest Taco Bell (ex) and it gives me street by street directions there.

Re: Bluetooth - I experienced endless issues for months, attempted endless reboots etc. In the end, simply factory resetting and NOT USING A BACKUP resolved every issue I had - works perfectly now. (L950)

I totally disagree. I think this article headline was written just to get clicks, as its a false statement to say that the update disappointing, while the article goes on for two pages on all the improvements that were made. Of course I would be happier if they were actively adding awesome features to Windows Phone, but that is obviously not good enough business for Microsoft to bother. All I can say is that I have received more incredible updates for Lumia 640XL than I have for my Samsung 6S since I've received them. I'm sorry for the 1520's of the world, but I can see real speed improvements on my 640. And if you really want it, its easy enough to join the Insider program to get the update. And I have faith in Microsoft. Be it a Surface with a LTE chip, or a bigger phone, a time will come when we won't care what features our smartphone have.

It's too bad too, because there are so many things I do like about WM10 even though Microsoft is faltering on it. Yesterday, I was using my 950XL plugged in with a Bluetooth mouse and wired continuum to a TV, with Bluetooth also paired to my PC's bluetooth module in the next room. It was then using that to play the audio for the TV over my PC's better speakers and subwoofer. All that, being powered by a phone.

I tried dex and man it is so much better.

At the end of the day, it matters not, to me. Each have different ecosystems, but a similar end goal. I don't have a tizen or android based laptop/desktop, so the ecosystem is not for me. I'm glad that others are enjoying it.

I agree that Dex is better than Continuum even though I have never used either. I've watched many demos of continuum and dex online though. Continuum apps are stuck maximized like Windows 8 apps. Supposedly continuum will be able to run apps in a windowed environment eventually but Dex could do that before it was even released! Continuum is behind Dex in other areas too.

The full screen limitations was supposed to be removed with the Creators Update, but it was postponed hopefully only until rs3 because I was waiting for that.

Never heard of it. Maybe MS will buy it.

I didn't have any interest in the W10M Creator's Update until seeing what you just said about the Hello improvements for the 950s' iris scanning. I like it when it works, but its hit-and-miss ratio can be so frustrating at times

Fingerprint scanners are still better.

Add a fingerprint scanner to my 950 XL and I'll use it instead. Or add glance to the Elite X3 and I'll use it instead. Until then, moot point.

I will never use fingerprint scanner, cos anyone can have access to your device when you're asleep or unconscious.
If I will use any biometric lock, it will be iris scanner.
I still prefer password or PIN to all of the above.

They haven't bought back glance alway on whilst charging, exactly the opposite in fact. You can now once again stop glance working whilst charging

One additional weird thing not mentioned in the article is that the update, supposedly going live in four days (!), still isn't available for us on release preview. Why's that? As Fast (Slow too?) has moved on to the "feature2," why not let it fly for RPers?

Are books restricted to reading on edge?

Disappointing indeed! The ONE thing I wanted was the Night Light feature as that helps a lot and is on my other devices. But, I hope they add in someday...at least everything runs smoother and faster

Why don't you use the 0%screen setting?

The movie app can now play a broader range of video format in the creator's update, this is a very good update with lots of improvemant, features and stability. You are going to love it. The only thing that makes this update bad, is the writer of this article Zac Bowden.

Installed the update on my tablet can't get WiFi the network adapter is not compatible with the curators update so no WiFi

I'm looking forward to faster performance. If the last AU update is similar to what this brings, I am going to be a big fan! I like the app reset thing too.

So half the people complain that they dont fix bugs enough and on Mobile or windows for ARM. So this build they fix tons of bugs and improve on what is there and Same people complain theres no new features and only performance has improved and bugs gone. On my 950 Xl and 950 they both have been alot better on newest builds, nothing new but runs so much better. run on creators update for a week or two and reset your phone and you will see the diffrence instantly. I do wish they added nightlight though but I'm sure it will come in future build. Both phones i have had on insiders fast since i got them. Had to reset once to fix a build problem. Was such a big diffrence.

I upgraded to creators on 950xl, lost gesture based audio routing from handset to speakerphone, does it work for u?

According to It's performance and features, It should be named as RS1.5 instead of RS2.

we want VoLTE on 950 950XL ,830

The 950 and XL are capable. You just need a carrier that supports it. http://www.t-mobile.cz/volte

Now can we again use upgrade advisor app is it now working

we want 64 BIT windows 10 mobile now

Well, use iOS or android until it comes out. They'll keep you distracted.

Why? There's no devices that would even benefit from it.

How to set a timeout period for the continuum screen??

When L830 Screen blinking issue will be solved And When Lumia 730 LED notification light will be activate

I hopped back on the slow ring to pick this up and all I can say is ....ehhhh. If this is to be the last hurrah it's gonna go out with a whimper.

What ring I need to be in the insider preview to get the update on unsupported phone? And I don't want to break the phone, it's a daily driver. I'm on release preview now, will I get it?

Slow ring. I stay on release preview and jumped to Slow to pick up the CU. I'm back on RP ring now.

Waiting for battery improvement!?! L640

Keep waiting till next year. Maybe MS will focus on battery backup after losing some loyal Lumia users.

Anyone force the creators update on to a 1020? does 3d builder cam work with that?

Not surprising, as MS said RS2 is more PC focused. RS3 is mobile, but that may turn out to be WOA, not W10M. Doesn't matter to me, as long they keep having a platform for mobile devices.

Well I'll be updating, improvements to speed, Cortana, edge etc I'll take those. As for the android switchers I understand your frustration but you may want to look at the level of malware and permission issues on the android store, btw once you've installed an app it doesn't need to request approval for extra permissions on updates to the app.

Hello. My favorite feature is being able to delete core apps. Take that, iOS and Android!

You talk like W-store is flooded by apps and got alternative apps

I noticed messaging is now working again between trusted devices...

Not being able to see my phones version number in my account anymore..

Since updating the Back button to switch between apps takes 5 seconds to respond. It's very annoying. Wait why to I have an old man with a baby as an avatar? I don't know who that is.

"Glance can now be set to be always on when charging"??? When did it stop staying on when charging? On my Lumia 950xl it always worked. When my phone is plugged in Glance always stays on since I bought the phone before the Anniversary Update and it kept working after the update. What I'd like is an option to keep the phone on when plugged in, not just glance screen.

The one that creator update bring back is the option to turn off glance screen while charging. At least that's on my experience having 1 lumia on creator update (insider), and 1 on Anniversary update.

The one that creator update bring back is the option to turn off glance screen while charging. At least that's on my experience having 1 lumia on creator update (insider), and 1 on Anniversary update.

4 more days till roll out

There's a rumor the Creators Update will be cancelled at all even for the 13 devices.

all the 640/ xl and 650,hp elite x3 sold to businesses can't see why they would want to do that

still no static IP address setting for wifi !@#$ing brilliant microsoft.

Somebody, please confirm.. Do we still have 4G only option on creator update for 950?

'Mpeg2 Video Extension' app

Proud owner of a 920 and 1020 that's wondering if Nokia w/android will be coming to the US in either a midrange or high end device in the near future?
Web pages have reloaded one too many times for me to stick around with Microsoft mobile. Six years "original Focus" I'm done. Posted with 640xl. Good riddens.

I've waited for Auto-Correct (remove) option probably since the first day I got Windows Phone. And that was when 710 came. On 928 (got it in July 2013 from MS store) I probably added 500± words of my native language (NL). The NL wordflow works like in English or other keyboard use. Of course I have some words I added accidentally or misspelled. I'd like to remove them but wont happen since I'm on 8.1

They polished up the system but failed to include alot of new features. Lets be happy.

MS lack of effort is totally consistent with someone who is in last place and is not even on the same lap any longer with the front runners. Why bother?

I have a 950XL and am looking forward to the performance improvements. Battery life is probably my biggest concern currently.
The point you raise is a good one though "what is the point" - only 13 models! I previously had a 930, this was an excellent phone, a flagship from a couple of years ago and now it isn't "powerful" enough? It doesn't make sense.
I fully expect the next update to also add no features and be the final update for "Windows 10 Mobile" as we know it.

It's very stable build. Post-creators update builds work very well. Better speed, better update time, better windows hello response time... Adding finishing touches problem is gone for camera app. Even core apps getting regular updates.

Ouch, but accurate. It would have been nice to see more bells & whistles on mobile especially with all of the feedback that was submitted. I guess making mobile smoother, faster and prolonging the battery life addressed the majority of feedback complaints. One "new" feature I'd like to see is to once again have the ability to browse the app store on my pc and from there, tell it to install an app on my phone or other device. I've missed that functionality from the old 8.1 days which seem SO long ago...

You find it redicules, try being in a country without cortana. I havent come acros a singel improvment yett. If anything I find apps to open slower and crashing more often. They should have includet a inking feauter. On the bottom right right beside the redicules search button. And alsow give us a switch task button and avoid the "hold down back make everything slow down" system they have to day. What if they just gave us a simplyfyed task bar as we have in continuum for mobile. We can handle more buttons on the bottom. Pleas microsoft make your phones in to the productivity monster you say it shall be.

What a strange review? From reading the first lines, one get the impression that this is nothing to write about.
Then it continues with that it will make older phones run better than before. (Do iOS or Android EVER to that after an update?)
Windows Hello works better, and the reviewer list several other improvements that makes Windows 10 for mobile more stable and polished.
The reviver is very disappointed that there are few new features. Even that Edge now has a reading hub for book you buy, and a better reading experience as I understand.
Then he continue writing on other improvements like Cortana, Settings and Windows update. Before he concludes with:
What's the point? - The Windows 10 Mobile Creators Update is a bit of a disappointment. Well, I for one looks forward to get the new update next week. And I also look forward to what Microsoft will bring us in the future.
For those of you that are not satisfied with what Microsoft has to offer currently, they have give you a pointer to replacement for the time being. With the Androind phone that now is for sale in their store.

Zac went over to the iPhone a few months back as his daily driver

I don't think Zac got the negativity memo from Dan.

I am glad that us Windows smart phone users are getting some updates. this proves Microsoft still has people improving Windows smartphones. the big question is will Microsoft make and sell anymore Windows smart phones to replace the Lumia line of Microsoft smart phones it has discontinued making

That would be a no....and we soon will use the remailing phones to keep card tables from wobbling.

Cortana is not available in most languages, the Windows store apps are less every day, Windows phones being dropped (even the ones that reached the Anniversary update have severe issues that are unfixed for more than half a year!)... Kids are the future users and they are getting more and more used to Android phones, Android store apps, ChromeOS and with all that, being enrolled into google accounts and all google related. Even Microsoft Office is becoming irrelevant at school. Even at enterprise level, besides the Active Directory integration that still pushes a few Windows servers and Windows desktops with Microsoft Office, everything else is now running on Linux. As soon a decent Office contender appears on the Android store, people will ALSO migrate their laptops to whatever ChromeOS exists by then, Microsoft will slowly disappear. My entire family has Windows phones, we were heavy users of Skype and were proud of the updates and security, all that was broken with the Anniversary edition, none fixed (and we did provide a lot of feedback to Microsoft). The kids now complain that their friends have all the apps while they have none and whatever they have is now broken (even an older Android 4.0 tablet works fine with Skype!). Microsoft disappointed us all, we will not do the same mistake.

It's a decent effort from the 2 college interns that are the Windows 10 mobile dev team

No word if they are fixing the inability of 950&950XL to make phone calls on 3G only towers? In Januaray AT&T dropped 2G cell service. I happen to work in Oakland, CA. Where I sit, I'm connected to a 3G only tower (AT&T tech support figured this out). Meaning it doesn't do 4G. While connected to a 4G tower, in comming phone calls will time out before they ring the phone. Out going calls will take upwards of 30 seconds to connect. About 50% of the time they time out. The second call works. If I am in a phone call, then an in coming call will ring my phone. I've tried this with both a Lumia 950 and 950XL. Same results. Both AT&T and Microsoft try to direct me on how to disable 2G network. They both quote Windows 8.1 instructions. There is no ability to disable 2G calls in Windows 10.

2G was closed in Australia months ago. I've never noticed this problem here on my 950XL. I wonder if its an AT&T issue? I use Optus in AUS. Might also depends which frequent band you're connected to at the time? 800, 850, 900, 2100 etc. Optus here uses 900/2100 for 3G tho others use 850.

2G was closed in Australia months ago. I've never noticed this problem here on my 950XL. I wonder if its an AT&T issue? I use Optus in AUS. Might also depend which frequent band you are connected to at the time? 800, 850, 900, 2100 etc. Optus here uses 900/2100 for 3G tho others use 850.

Maybe this is the end of the line for Windows 10 Mobile? I have my doubt it will be a redstone 3 update for it. I suspect the next thing will be "Windows 10 on Arm" Basicly the full desktop OS on Snapdragon 835 processors. But it could be on tablets or laptops, I am not sure that will be on phones at all. But since Microsoft not tell anything its just my speculation.

That's what she said...after I passed out drunk.

I will shortly have 2 windows phones for sale, the Elite x3 and the Idol 4s, just waiting for my S8 order to arrive, its bye bye windows phone for me.

Can't wait to see what the new Windows phones are all about

I have my lumia 540 for sale.. Anyone interested e mail : jijujj8@gmail.com

I might be interested. How much will you give me to take it off your hands?

:)) where are the fanboys that were screaming a few months ago tha the CU will be great for mobile...

Would be a surprise if this update is great, microsoft needs times for evolutions..

I noticed several feedback indicating there is a major problem with the last 2 builds, yet it seems that you note the feedback, but nothing is done to fix it. The builds won''t download on several phones, including my 950 XL, a coupe have reset the phone, but it made it worse after they were able to download build 15204. A co-worker has a 660, that is a newer phone, and he didn't have any problem with the 2 builds. Is the 950 series being taken off MS list of phones that they want to keep updated?

To Zac: The Glance screen was already always on when charging. What they took away was the ability to turn it *Off.

The weakest update by far

I have been using a Chromebook for over a year and I feel if Microsoft kills off its mobile platform it won't be long before many will make their next laptop a Chromebook. Google is going to start having all the Android apps available to the Chromebook so as people get used to Android phones they will naturally feel comfortable using a Chromebook too! As much as I love my Windows Lumia 640 phone as my daily driver, I feel the same about my Chromebook over using my Windows 10 laptop. Right now the only thing I used my Windows Laptop for is to edit my phone videos that I shoot on my Windows or Galaxy phone. Once Android apps start to work on my Chromebook I will be able to do that on my Chromebook. I really hope Microsoft wakes up and realizes that if they drop the mobile platform it won't be long before they lose the desktop platform to a majority of home users. I am surprised how much I like my Chromebook. I can't stand using an Android Tablet, I use this over my Windows laptop because the battery life is almost 9 hours and it weighs 2 pounds and it starts up instantly when I open the lid. I think Microsoft needs to find a new leader because since Satya Nadella took over almost 3 years ago the mobile platform has become almost extinct Google has become the dominant platform and it won't be long before it completely wipes away Microsoft as a home platform. Then Google will start to chip away at the Business customers leaving Microsoft to being an app company making apps to run on Apple and Android. Microsoft will end up like IBM.

You are crazy if you would rather edit videos on a chrome book with an android app over a full windows PC. My kids have chrombooks for school and they are atrocious.

It don't appear even though speculation has it that WM is gone. I believe WM is if not merging/merged into Windows 10 core itself which will be running on Snapdragon chip as well as Intel/AMD of which technology has advanced enough to promote this type of change.

Has anyone already received the Creators Update? I've been checking for updates regularly for the past 6 hours, but in vain (950 XL).

Look if ur phone is on release preview mode from windows insider if not put it on that mode and u will get the update in like 5 min depending on ur region. if u have already done this then just restar ur phone and then check for updates after u have done putting it up on the release preview mode

If Microsoft has merged the WM code into the main core there will not be much more for them to add to this OS(WM).

Unfortunately the issue where there can't be a stable bluetooth connection with an Android device remains. Pity I can't use an Android watch (mine is full Android 4.4, notAndroid Wear) for connecting to my Lumia 950 dual sim.

What about battery management? Any improvement noticed?

I strongly recommend a "clean installation" update. It'll run like a missile.

Got the update yesterday on my 950 XL. The only feature I was looking forward to was night light. And that is missing for mobile.

Does audio routing gesture work?

I recived the update Today (lumia 950, Netherlands) I'm pleased by this update exept for one point. The sound of the alarm clock, this one makes me sleepy instand of waking me up. Is there anny way to get the old alarmclock sound back?

eduroam does not work anymore!

There's practically no change with this update. Bit dissapointed that we get none of the nice new features like Paint 3D or the new photos app.

Well, at least the did something. Sad that is all I can say. I tend to be brand loyal. When a product/service does a good job, I stick with them. When they burn me (not fail), I dump them. MS - I will happily dump O365 personal in favour of Amazon Drive or Google Services.. MS - be clear - are you dumping W10m? If so - just let me know. I get it - market share is terrible (Blackberry had the same fate) but be clear about it. Are you coming back with a mobile device (PHONE) for Windows on Arm? Be clear - you might keep me. Otherwise, you are a fickle provider who is lost and not trustworthy. I might keep my LinkedIn account....
Windows Central Newsletter
Get the best of Windows Central in in your inbox, every day!
Thank you for signing up to Windows Central. You will receive a verification email shortly.
There was a problem. Please refresh the page and try again.