Windows 10 Mobile may allow users to change the default search engine for Edge browser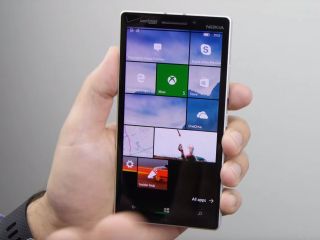 Windows 10 PC users can change the default search engine for the new Microsoft Edge browser. Now, a new report claims that same feature may be heading to the Edge browser for Windows 10 Mobile as well.
Twitter user Roman posted alleged screenshots of settings found in an unreleased, and unnamed, build of Windows 10 Mobile. They show a way to switch the default search engine for Edge from Bing to something else.
It's currently unknown when or if this small, but new, feature will find its way to Windows 10 Mobile insider builds. Microsoft has already announced that the official Windows 10 Mobile update for older Windows Phones will happen sometime in December.
Source Roman (Twitter); Via: WMPU
They didn't had that option yet? That's hmm odd as its an universal app and Edge on PC has this feature.

It's not an Edge feature, but a Windows desktop feature

How does that work? Do you have a source?

Basicly, this is a OS level function or a Windows Core function. If it was a Edge function it would on work in Edge, but since this is a OS function when you tap on the search icon it uses Bing, or in Edge when you type in it uses Bing.

Why only Edge browser..? People who save lot of data needs to copy link and paste it in UC Browser or Opera mini.. Instead Microsoft should allow 3rd party apps to keep default app for playing videos or browser or something like that

Agreed, I don't see why Windows 10 Mobile shouldn't allow users to change the default app. It's a pretty major con.

Seriously I'm still shocked that W10 mobile doesn't support "default apps". Microsoft never cease to disappoint

I'd still use Bing since I use windows and I'm in the ecosystem, personally.

I second that Posted via the Windows Central App for Android

No, you use Bing because you're the ultimate Winsheep, Micah. We all know that. (btw, you use it because you're in the US. Bing in Europe is so bad not even you would use it) Posted via the Windows Central App for Android

Sadly agree that Bing in Europe can really be dopey.

I agree. In Brazil Bing is so bad that not even the official websites appear in the list.

Yes we know how much you hate anyone who is completely happy with Microsoft lmao. God forbid that happens :D

No, he uses Bing because for him it works. It's a shame the service isn't the same across the world, but just because it is good in the US doesn't make him a "winsheep". I'm in the US and switched to Bing because I like its search results more than Google. Plus Bing rewards is a nice perk, but I understand it isn't available for everyone. Just like phones and carriers, use what works for you.

I was a fan of Bing US website, since I live in Mexico and Bing Mexico was pretty awful before July 2015, but today the service has improved a lot, I get good quality local search results, even better than Google Mexico. So today if I could choose between Bing USA, Google Mexico ) or Bing Mexico,this would be my order of preference: 1: Bing USA 2: Bing Mexico 3: Google Mexico

DJCBS using Bing me too :P

I agree completely. I google a Microsoft quickfix that I use regularly, it is the first option. I bing a Microsoft quickfix, and despite it being a Microsoft page, it ends up being about 3 pages in. I don't understand how they can get a search engine so WRONG!!

I find the same problem in Google with some searches ... I use Bing but will use google or whatever if I think its a odd response. even yahoo throws some different stuff now.

lol @ Yahoo. Nobody uses that shit, and anyone who does should be ashamed

I'm pretty sure it's safe to say they're awful outside of the US. It's hopeless in Australia. Granted it's not as woeful as it was last year, but Google still trumps Bing in every possible way.

Personally I'm in love with the ducks at duckduckgo.com

Bing rewards are the main reason I use Bing. The results are great too.

US only, and only in the US.

Will there be otg support for windows 10

Non-news, likely just prepping for all of those agreements they made recently.

Yay, no more typing google.de before searching

Or using the google app to find tumblr pics :D

You could always use Tumblr to find Tumblr pics...

Otg,interactive live tiles and aero effect...these three features i want ...

Hey pimps...Im on the latest build and I am running it on my Lumia 625..Tho it seems like there is no store app...Ive searched everywhere but it seems to have vanished after the upgrade...When It's there something that has to do with the store it prompts me the message:"there is no app to....,want to search for one at the store"?Anyone knows what I should do?How to get the store app if i can't download any apps?

Still there but due bug most apps ain't visible but installed. Don't know who thought releasing that build was a good idea since everyone has that bug

you should do a hard reset of your phone... i too have latest build on my 625 and i have windows store...

You have to go back to windows 8.1 anyways dumby >.< no need for A hard reset

Try searching for the store app in the ap list, but you'll probably have to do a restore of your device to get it to display. Definitely submit your experience through their app before you restore.

yeah, do a hard reset. No Players Ball apps yet. :'(

Is it supports background downloading.......lol.....fucking windows phone

That was random at the end there. Glad you like WP so much that you'd do that...but you don't have to announce it to everyone.

Well we know that Windows Phone take it up the arse Posted via the Windows Central App for Android because it's superior to the Windows Phone one

Dude, family site. No one needs to know your predilictions in the bedroom. I mean, congratulations on finding happiness, but still!

It does support background downloading

Wow! Just like we can in WP8 since forever? Even despite W10M functionality was frozen?! W10M keeps blowing me away.

Same here... Should have been there from the beginning

Hey, remember Beta? Built from ground up? It takes time ok. Most of you people think that such a feature is easy to be implemented. Well It's not. A feture like this is on a OS level, not on a applocation level, and OS level functions take a long time to be implemented ok.

Finally .. Google take me ! I mean I like the eco system but seriously bing is a horrible search engine. They way the ui works, and news are displayed is really bad, and the fact that I reall literally never get what I intended to search is a big minus. Bings just weird. Also as a google chrome poweruser, twitcher and YouTuber google is simply the way to go. Google synch to begin with. Microsoft came to late with bing. Should have been there from the beginning. I hate MS trying to force their apps on us. I love the os not the apps

Google is not the way to go for someone who wants nothing to do with their crap :)

Exactly, Google has enough of my personal data from Gmail. I don't need to be giving them any more of it.

I like the look of Bing way more than Google. There is a decent mix of news with limited Kardashian junk with the exception of Bruce. I've grown accustomed with the Bing page since getting the Surface RT. I can understand users outside the US not liking it. A poor search engine would drive me nuts, or to a different service. My one big beef with Bing is when searching for Windows and WP related questions. Even when including the version which my question relates I get unrelated content from different versions and lots of old content, even from MS.com. If I search for WP8.1, don't show me the WP7 answer from 2011.

My only issue with bing that google does have is being able to do custom searches based on say 2012-2015

I use it and I'm in South Africa. It's really not bad at all. It actually does somethings better than Google but every now and then I have to go back to the latter

I thought update was gonna be available in November ;(

That is necessary if I'm going to buy lumia950xl. Bing search results are so bad in some countries such as Finland that I don't want to use it. For example I cannot find YouTube main page with it at all. It just shows random youtube user pages in search results...

Not in some countries. Everywhere... They really have to let google handle search engines. Bing is decent for cortana but that's it.

Bing is pretty good in the US. It's my daily search engine. I rarely have to turn to Google for anything.

Google has more to offer and gives the results I expect. The only thing bing is doing better is the translator ^^

That is your Google-influenced opinion. My not so under-the-influence opinion differs.

I agree with you. I like the Bing search results more than Google, and Bing Rewards is a nice perk that needs to be made available globally.

Why are you searching for the youtube homepage? Can't you just go directly to it?

Also I finally want cortana settings for complete disabling, for hey cortana and language settings. Then glance screen options still missing. And edge has display freezes when trying to type in search bars.. I don't really know why the hell that isn't there yet with l950s release in like 4 weeks >.<
You can give ppl a desktop os as a service but a mobile os has to be complete and working with all what its predecessor offered when released >.<

I mean, they already allowed you to switch between Bing and Google in WP8.1, so it's not a huge deal. But this would allow you to set whatever search provider you want, as opposed to picking between just two. It's also not all that surprising given the development of UW apps.

Took them long enough to put it back...
It doesn't affect me but my sister still uses WP and the lack of Google search by default would make her jump ship sooner than she expects. Posted via the Windows Central App for Android

DJCBS why all this interest in WM if you don't use it?

1 - I still have Nokia phones using WP. A bunch of them. And I use the Nokia 1020 as a dedicated camera. Just because it's not my daily driver (God riddance!) doesn't mean I don't have WP devices still ;) 2 - When Nokia was around I replaced all my family's phones with Nokia phones running WP. I'm therefore now responsible to minimize their problems with the platform by, at least, explaining them. Specially to my sister who's so frustrated by the lack of apps that she's on the verge of wanting to kill me for not letting her buy a Samsung with Android. 3 - On a more personal note, I take particular joy in watching WP in this...burning platform...sinking ;P So, as you see, I do have my motives to still be informed about WP.

Tell me, which app is you sister lacking other then Snapchat?

Good thing is still Beta, and a completely built from the ground up browser. Troll harder about how long it took to put it "back"

I love Bing. It works just as good as Google in my experiences. I've always been able to find what I'm looking for and rely on it heavily, when doing research for my school papers. However, I do realize the experiences are different in other parts of the world. Being in the U.S., I don't have any issues.

I thinks either Bill gates or Stya Ndella gives u money to write these type of comments.....if so...carry on bro

It's your right to have an opinion, no need to tell google, they are very interested and already know and sell that. Get it?

Lol not at all. I wish that was the case. I only post my experiences. I'm just saying, I always find what I'm looking for using Bing. I don't have anything against Google, I just prefer not to use it.

We want a homepage and a speed dial page. Every time I launch Edge it takes me to Edge's website. Sick of closing the tab again and again. Please fix this Microsoft.

This isn't Microsoft go to their feedback app for suggestions

Second that. I would prefer to set a default homepage and a home button to jump anytime I want rather than opening the last page I was on. I use UC browser just because of this. It also has night mode and speed mode which MS browser lacks.

I'm in the U.S. so that's something I won't be considering.

I use Bing because I want to, not because I have to, and I'll continue to do so unless something drastic will change on Bing's side, but I think allowing users to change their default search engine is a must, and I'll be happy to see it happen. This will also help with Google lovers and WP.

Bing in Mexico works much better after Windows 10 desktop was released. I'm not using Windows 10 mobile yet but once I get my hands on a device with the release version there is no need to use Google in Windows Mobile 10 anymore, bing rules! BTW I read that Cortana is arriving to Mexico for the Holidays in Windows 10 desktop in an update, I hope the same service will arrive to mobile devices so it will be epic to get Cortana on all the ecosystem at once for mexican users.!!!

But, but... won't google now try to block this? After all the windows user base is huge, imagine what the now-defunct youtube app would do to their profits /s

Bing is ok..but we need to have the freedom of changing the default browser.

I've been a Windows Phone user since 2011. I genuinely love the platform (every device I own is windows based.) Last night I switched cell service providers, and had to get a new phone (my Lumia Icon wasn't capable of working on the new network). I finally took the plunge and bought a Moto X Pure Edition. I want to see for myself if what the critics always bash WP for us true. I'm hoping that W10 mobile takes off and I come crawling back, for the 2nd generation of devices. I'll be keeping an eye on things here. ​ ​

Cannot wait for the official build! I have my 640 XL ready and waiting for it!!

I have the 640XL and Windows 10 Dev is awesome! Can't switch back now.

With the lates version of windows phone preview it doesnt let me download any languages, when in the previews version it let me. Im the only one with the same problem?

You need to install insider app again and activate within app fast ring, then you'll get them through phone update. Good luck.

BTW if anyone is interested in lumia refocus and panorama apps not showing in store... you need to search with cortana (or without her) for the store result from web and when you click it it will 1st open in Edge then redirect to store app when you can install. Just remember Edge must be set for mobile view of pages.

well the EDGE is still a lot far from complete at windows mobile in comparison with PC ...

I really hope that this is true, and that they'll allow FULL search engine choice. This is my #1 feature request for W10M. Searching is a core functionality in a browser. I uninstalled Opera Mini when they removed this feature. They don't even allow Bing!! A few other features I hope to see soon on mobile Edge are: • Bookmark sync • Ability to add Bookmarklets (if anyone knows how to this, please tell me!) • "Night mode": Basically make the web page background black, text white. I don't care if it breaks a few sites, it should be easy to turn on and of. • Content blocking like in IE (I'm currently using a HOSTS file, but I hope they'll add a real blocker)

To add a bookmark just tap on three dont's at the bottom and the first option should be something like "Add to favorites" Then you choose the bookmark name and folder location.

Thanks David, I appreciate it, but I actually already knew how to add bookmarks. I could, for instance, bookmark Windows Central just fine. A bookmarklet is different in that you are not bookmarking a web page, instead you are "bookmarking" a javascript. Technically bookmarklets are "hacks", functionally they are "poor mans extensions".

And the night mode will proably be implemented when they will allow extentions in Edge.

Hallelujah, hot porn here I cum :)

Great, now we just need a option to choose a deafult browser.
Windows Central Newsletter
Get the best of Windows Central in in your inbox, every day!
Thank you for signing up to Windows Central. You will receive a verification email shortly.
There was a problem. Please refresh the page and try again.