Windows 10 Mobile rollout to begin in December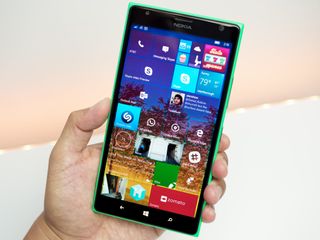 Windows 10 Mobile will first make its way to the hands of consumers when the Lumia 950 and Lumia 950 XL arrive in November. However, you still may be wondering when the rollout will begin for older Windows Phone devices, and it looks like the answer is December.
According to a Microsoft representative responding to a comment on the Lumia Facebook page, Windows 10 Mobile is set to begin its rollout in December. Here's the relevant snippet:
It's important to note that we do not know exactly when in December the rollout would begin, but the general timeframe makes sense. Also keep in mind that Windows 10 Mobile most likely won't be hitting every device at once, and we're likely to see a gradual rollout of sorts. Still, this is great news for when we can expect development of the first official Windows 10 Mobile build to near completion.
Of course, anyone who has been a part of the Insider program for the last several months has most likely already at least tried out Microsoft's latest mobile OS. And if you haven't, you can always get an early taste of Windows 10 Mobile by signing up.
Source: Microsoft Lumia (Facebook); Via: Thurrott.com
Windows Central Newsletter
Get the best of Windows Central in your inbox, every day!
Dan Thorp-Lancaster is the former Editor-in-Chief of Windows Central. He began working with Windows Central, Android Central, and iMore as a news writer in 2014 and is obsessed with tech of all sorts. You can follow Dan on Twitter @DthorpL and Instagram @heyitsdtl.
IT'S DECEMBER 2ND! WHERE'S WINDOWS 10! I'M SICK OF MICROSOFT'S LIEEEEEESSSSSSSSS!

Those Bastards how dare they LOL :D guess they wanna make it right before they roll it out, good thinking "Satya" You da Man :)

what lies, they have said december will start rolling out. Personally i think its great after all my 930 is runing insider prety much mostly bug free but hey i bought my phone with windows 8.1 so i can always go back to the os my phone came with, i dont need to but if you do then you can just use 8.1 which to me is the best os on a phone ever anyway. Try waitign 2 years for android updastes and then your lucky if yuo even get tham on some handsets. Microsoft is trying and after yeaterdays even it looks like they have suceeded.Whats a couiple more months to get updates, mremember its the begining or rollouts so some phones will get them before others, personally newer phones should always be prioritised, then flagships then mid ans last low end so personally itll depend on your phone and if they squash all the insider bugs.

Sorry dude, but I'm pretty sure he meant it as a joke XD

Well they announce something, only to release fewer details than the leaks, don't see what's good about it. That Lumia announcement was Weak and only digs the hole more. Posted via the Windows Central App for Android

I'm glad its not till later it is so not ready.

exactly and im greatful they found the corage to wait, thk god they dont do a dice/ea like bf4 and relese broken software lol.

More like queue the legitimate complaints that Microsoft continues to drop the ball on Windows phone. Lumia 950 is dead on arrival. It'll tank just like every other Windows phone, and Microsoft has only itself to blame.

yup, morons tend to cluster - this is true

It will tank, probably more than any other phone since it will only have one model available on one carrier. The only difference thus time is that they seem to know that and be semi ok with it. In the end, as long as we keep getting phones, I don't care what it does if they don't. But yes, another Dropping of the ball like only MS knows how. I will say this, I visited few other mainstream tech sites after the announcement yesterday and actually saw quite a few comments from people thinking about trying/switching to WP after they saw continuum.

i hoenestly expeted to see sent from a iphone or sent from a android at the bottom, Microsoft just blew the world up yesterday , personally i liked the phone but not thriolled with the design, im a 930 fanboy. None intrucive camera and well now i see those on scren buttons taking up realastate i will be waiting for another version of a flagship, maybe a htc but hell they proved 2 years runing and this year was the bigest, they are the innotive company at this stage. Delivering the surface book in the way they did kinda seeled my fanboyisum with them, at least for the next few years. Its a shame the 950 isnt to my tasets but i dont intend going to android or iphone, yeh they are all good platforms but i just cant manage no without live tiles, i really cant. posted on my windows desktop via nokia lumia 930 rocking a android os under a windows os(jokeing.)

Eh... They still need to do a lot of polish on the mobile build. I really like the universal apps-in fact this is the first version of Excel I actually use on the fly- but W10 still eats battery and there are a lot of animations and features that could be smoother (I'm looking at you, notification pull down menu). I will be very, very unhappy if Photosynth and Lumia Refocus don't make it to W10. I use both apps daily and this would be a deal breaker for me.

Photosynth is officially dead, the mobile app at least ;) http://www.windowscentral.com/microsoft-retiring-photosynth-apps Posted via the Windows Central App for Android

have you tried removing some apps. I found that my battery ran low fast a couple of months ago, but after uninstALLING A COUPLE OF APPS I FOUND THAT MY BATTERY WENT BACK UP AT WOW STATUS ON MY 930.

I just want TP to finalize. Getting tired.

So if 950 rolls out in Novemeber with W10 on it? Does that mean we get Preview for developers in November ? So we can get it in November already?

IT MEANS THE 950 WILL HAVE A FULL WORKING WINDOWS 10 LOL THE OLDER PHONES WILL BE ROLLED OUT AFTER.

I wasnt really talking about official release but Preview for developers :) If I had to wait for official 8.1 update last time I would get it like half-year - year later than I actually got it (thanks to Preview for developers)

I LOVE THIS GAME!!!! Phase 1: Tons of comments and articles about how VZW is way behind the windows 10 mobile update. People threaten to leave, bloggers talk about VZW's "known" slowness for updates. VZW comments a month later that windows 10 mobile has issues with it's bloatware they want on phone. A month later OS update is released. Phase 2: The rest of the year is spent quietly in comment sections about how AT&T and TMO still havent upgraded their devices to windows 10 mobile. (See past Windows 8 mobile updates for reference)

Ok he means January.... Remember this January

No, January 2015, obviously.

Cool cool Posted from space

Read your post
Posted via Windows Central App for Pergatory

It's been like 6 months in tp...

And it is in desperate need of another 6

Maybe I will get w10 on my 520 by April 2016

Seriously give up that phone

Too old..... Posted via the Windows Central App for Android

Why? It's a decent little phone that works, and works well.

If it works well then you should be happy and not require any more out of it

It's not coming to your device.
http://www.ibtimes.co.uk/microsoft-announces-list-lumia-handsets-get-win...

Here's what I got out of your link: "It is our ambition to bring Windows 10 to all Lumia devices..." Please read the full article before posting the link to it.

"It is our ambition to bring Windows 10 to all Lumia devices running Lumia Denim software the 520 didn't get Denim, did it? I thought it was stuck on Cyan...

My Lumia 520 is running Windows 10 Mobile. If you don't get it then just sign the phone up and get it through the Insider program.

Commenting via windows central app for windows on Lumia 520 running the Lumia denim update

The 520 has Denim, it got it at the end of 2014.

Lucky you still have the chance to upgrade. My 2 year old low end android lenovo has been vanished from the upgradable android list.

Some of those low end Android devices vanish off the upgrade list before they're officially released.

Isn't that the truth my dads Samsung tab3 7" is one of those forgotten devices that theres no hope for it.

Ahahahahahahahahahahahahahaha please though get another phone

Will this this come to the 1020? And if not is the current wm10 build solid enough to use as a daily driver? Meaning would this be a good time to jump in? Thanks.

December 30th still counts as December

@cannon#WP:
He didn't say December 2015.
So it's probably something between December 2016 and December 2018.

Hope they don't tell.. Happy New Year, Happy New OS. Lol

That's my birthday. That's fine by me.

640 would the first ones in December....

Cue delay jokes and whining.

Waaaaaah, not fast enough. When in India? Coming soon! Seems SLOWER!

I wondering about carriers? What ms is up to..

You'll be able to update regardless of carrier... Just like the technical preview.

Only after the initial Windows 10 update. This one will still be handled by carriers.

Basic cognitive ability...

This was covered earlier by WC: http://m.windowscentral.com/microsoft-confirms-it-will-still-get-input-c...

Yes. They must give it as much time as needed to make it as smooth as WP 8.1 if not smoother.

Good because it's still not ready for primetime at the moment.

So I'm guessing the Lumia 950s will be rolling out with an earlier build of Windows 10?

No, the new ones will be up to date, the roll out is set for the old ones! ;D I guess!

No, the 950s will roll out with the "RTM" that everyone will get in December. Remember, it's much easier for Microsoft to preinstall an OS in-house on a device and launch it than it is to rollout that same OS to millions of different devices in hundreds of different countries on dozens of different carriers.

Has MS said which carriers the new phones will or will not work on?

If it's GSM the phones will work on it. CDMA? I'm not sure.

Sounds about right. Expected it around then tbh. Just hope it is feature complete for the most part. Posted via the Windows Central App for Android

640xl should be the first one.

Actually I think you will find it to be a more general release direct from Microsoft, just like the technical preview.

Microsoft confirmed that the 930 would be one the first to get W10M.

cool and rightfully so as its the last flagship phone. Apart form 3-5 missing feturews i really want back, my 930 is runing very fast and smooth i see about 1-2 bugs a day and i cant creat a folder on my start screen but everything else has been great in the last build. I went from giving up to wow that much beter in 4 weeks lol.

MS had mentioned during the launch of 640, 640XL that these first Microsoft devices are the first to get W10M.

Mashmallow is already rolling out and I don't know why W10M is still taking till eternity! What is the use if launching big devices as long as MS delays like hell to stay upto their word. You really cant compare 950XL to nexus, when it comes to user perspective. 49k for a windows phone? That's bullshit

Yeah, but remeber how they came late to deliver lollipop, lollipop is the one that has the new SDK mode, so from Lollipop on forward the "generation" of Android is only changing name and redefining some stuff, that's why Android M is to fast to launch, but with lolli gezzz... they took almost 1 and a half year since kitkat was on a Nexus device, also, W10 has continnum, cortana and the ecosystem is more complete with universal apps, with what OS you link at same level Android devices? A=none , even Ubuntu has issues on connections with Android devices (both are linux and share same kernel), I mean I love Google and Android but Windows offer to us other kind of services more productive if you ask me, not so for joy or glam like iOS or Android, just my opinion, no offense or want to being rude wuth anyone in any mode. Cheers. I use an HP8 tab with KK and a Lumia 640xl on W10 Tech Preview. And for the prices, I agree totally with you.

Super, looking forward to the official finished (never finished; as a service) product. Been happily using insider builds as my regular phone for some months now. Time to trade this 1020 for a 950!

I'm with you brother!!!! It's a shame that didn't bring out a 1020 successor, but with their camera technology being in its 5th Gen, at least it won't be terrible compared to the 1020! I was a little disappointed when they released the 1020 worth such low specification but I couldn't say no to it!!!! Anyways after that presentation hopefully the phones will start to sell and they will consider doing some niche devices....
I hope to hear about that Intel phone sooner or later!!!!

Professional tests have shown it's not all about megapixels. Yes that gets you bragging rights but depending on the sensor, lower megapixels can actually be better. The main advantage of megapixels how big you can make the picture.

Yes, the much coveted Canon full frame 5D MarkIII is less than 20MP and costs about 3k. And the Lumix GH4 which shoots in 4K is only 16MP. so if you're really into photography get something other than a phone even though the Lumia line is doing great things.

They better fire up all the boilers because WP10 is nowhere near being ready for release and the clock is ticking. Posted via the Windows Central App for Android

The build we have isn't even the dame one that was on the devices today in NY, and MS stated that that build isn't the one they're shipping with. So, relax.

And the build on the demo devices was terrible lets no forget that, even the ever optimistic Daniel had his life sucked out of him when he used it

That's a little overly dramatic, don't ya think?

Can you please tell me at what time in what video did something mess up that caused Daniel's life to be sucked out of him?

That's to slow by them. Still they haven't released the new build yet.

Don't expect anything until February if you've had any experience with previous updates.

Do you people realize that if you wrote all the code for an operating system on paper you'd have an encyclopedia set? Keep your shirts on.

No wonder we got the "November" date for the 950 and XL. Like I said it ain't ready. Apple releases in a week or two, Microsoft waits a month or two. Still haven't learned

Apple's ambitions are much lower than MS' as well. However, Apple's timeliness is something to envy.

You are crazy!!!! Before it would take months for a phone to be released let alone or on pre order!!!!!! But everything they announced today goes up for pre order tomorrow (7th) and is expected this month or next month, there is just no pleasing some people!!!!

Who else will be carrying the 950/XL besides the exclusive monopolers?

AT&T in the US, no one else is known. But it's available unlocked with plenty of bands in tow, so it'll run on T-Mobile and Verizon just fine.

T-Mobile yes but Verizon not so easy. It's not just about the bands. Don't forget the voice portion, not just data. Then will they even allow it.

The Microsoft Store themselves would be selling them unlocked.


So, with T-Mo, if I actually get the update at all, it will be in December 2016. Got it.

They said December, not soon. What are you reading?

It may be then delayed till January next year *smh*
Posted via the Windows Central App for iOS

It comes when it comes all of you might as well get used to it.

Does this mean the insider builds are relatively stable?

Yes and no. Check the forums of your device.

As the first poster queue the whiners and bring your own cheese

Will Microsoft take over the update process completely with windows 10?

Almost, please see here: http://m.windowscentral.com/microsoft-confirms-it-will-still-get-input-c...

Why don't Microsoft just STOP giving themselves (and us) deadlines.... It clearly NEVER work. We're always stuck just waiting! Just keep working till its done then say "it'll roll out next week" or something.... Damn

Companies work with deadlines, can't change that. Besides, people get mad at MS (or anyone) with deadlines, they'd get even madder if they didn't know of release dates. In short, can't please everyone and people are always complaining.

I hear ya..... I'm just desperate for the 950's already, because the TP isn't working properly with my 1520

I have been using it on my 1520 for week. In general it is fine, the new messaging beta app sucks though. It is rough around the edges, but, I havent found any deal breakers yet. What issues are you having?

What deadline did they miss in the past when referring to OS updates? Last one I recall is W10 and that was perfect.

Cyan and Denim were both delayed...

Cue the carrier delays and usual BS!!! #ATTFAIL

Also us insiders will get it before release. Good to compensate the fact that my 920 won't get the official release. This is good news anyway.

Pretty sure nothing's gonna happen until like the last week of December. The waiting game IS Microsoft's game

When for Preview for developers?

Helpful, thanks for your thought out and considerate reply

No worries. I'll have replaced my TMOUSA HTC One M8 with an unlocked Lumia 950 by then and will have made it clear exactly where John Legere can stick the former.

Of this year? Does December give them enough time. They seem to take two steps back with every step forward.

Sad, expecting to see roll out in november, December US only or global roll out?, if not, i guess ill be getting it on january.

I don't mind, it's still quite buggy on low end devices.

They did the right thing with everything but mobile today. Everything had a date except the Lumias, which shows that the mobile division is lame. Posted via the Windows Central App for Android

Why so late ?? Google is already getting ready for the Marshmallow... Dear MS please speed things up... -_-

Because Windows 10 Mobile OS needs to be finalized for its final stable version release.

I got 6.0 on my nexus 7 yesterday...the tablet works flawlessly...but google has alot of ppl on mobile, how many does ms have ? 10?

Dissappointine:(.... Need to wait till December..most probably it will be actually on Jan 2016 to complete rollout in all countries

Rolling out in December 2015 and get it in June 2016.

Maybe for low specced, older devices Like Lumia 520, 630.

Way too far away should have been telling out with the release of the new 950 and XL. Microsoft should have explained all this crap as far as carriers and launch DATES (not launch month)

So, pretty sure that Windows 10 Mobile OS will be finalized in Late October/ Early November.
& Rolled to all Lumia Devices running Lumia Denim till the end of Quarter 1, 2016, as per devices specs, carriers and regions.

Most I think that most Windows Phone Users want too see QUALITY UNIVERSAL APPS (not LOW QUALITY, ALWAYS CRASHING, LESS FEATURED AND SMOOTH THAN ANDROID AND IOS COUNTERPARTS) for Windows 10 mobile, categorically, Social apps( Facebook, Twitter, Viber, etc.), official google apps( Youtube, Google Earth, Gmail, etc.), browsers (Mozilla, Chrome, Edge, etc.), YouTube downloader apps( From Greentube , tube mate), extra video players( Vlc, Mx player, Classic player, etc.), streaming apps( Netflix, etc.), torrent downloader apps (From µtorrent, bittorrent), Latest and Greatest Games( Especially Xbox Games exclusive for Windows mobile), and other majority of popular and Local etc.
This would be the things required for success of Windows 10 Mobile and Lumias with new designs ( I am bored with same designs having Windows Phones of 2014/2015), with latest processors specifications and rightly priced Lumias.

WHEN WILL WINDOWS 10 ARRIVE ON MY LUMIA 720? No one seems to be interested in this question.

Maybe by March 2016, my guess

So does this mean there won't be any more new insider builds until December?

No, why would they do that?

Wow December? That kinda long for them, it's been quite sometimes since they release the technical preview.... But oh well, hope they really use that much of time to polish the OS with more functionality and lesser bug, or else it is really no excuse for them to take that long to release the update.

What happened to joe belfoire

He and his emo haircut are getting canned.....

December! Its like ages waiting for W10

December means by March to all country....

I guess that everyone participating in dev prev will be getting/having the release version?

Will windows 10 available for Lumia 1020?

Yes, at least with Insider Preview.

December is eternity for me.

I was hoping for earlier, but still great!

Why they taking more time to released the win 10 phone :'(

Ever since I joined the insider preview for both PC and phone, I really don't care about RTM anymore. I just go with whatever latest build is available. Can't be bothered waiting in line for carriers etc. Just give me the latest builds :-)

Shame shame shame. My 925 will get windows 10 by Easter I suppose.

Wtf Microsoft ur being always late with mobile.

Looks like development still isn't anywhere near aligned with desktop win10.....

Can't wait to use Windows 10 on my Lumia 920 and Lumia 925. TBH the WP8.1 still feel slow especially some apps will take a long time to launch... not sure that's the apps design problem or WP problem. But I hope in Windows 10 that situation will get better. Posted from my Samsung Galaxy S6

Windows 10 for phones or Windows 10 mobile, or whatever does the representative know what the OS is?

I expect it on late January/early February for NL1520

I own a Lumia 820 and hope it's not the December 72nd...

Coming soon TM. so the iPhone and Android users will have Office mobile way before a loyal Windows phone customer.

Its getting more harder being patient on wp #sigh#

If it comes in December, it will be very much like a Xmas gift from Microsoft.

I can't wait for New year build! 10166 is still most stable build on my phone and it is months and months old.

Just buy a new phone if u cant wait ..yesterday everyone was buying the 950..

Insider preview builds a plenty incoming!

Are you freaking kidding me? How many people does microsoft have on mobile team 10? 5? Microsoft needs to catch up...but they seem like they dont want to...ugh i cant wait to sell my 930 and buy a real phone...im not bitching, but this kinda stuff shows that they dont rly care about mobile.

Oh, you're bitching alright.

Take your own time MS. I want the best product / software..

If Microsoft says December, make sure it will start roll out in spring

Everythin is finally falling into place...i see the ecosystem coming to life...

I've noticed that you are using often the expresion '' windows 10 mobile'', it is wrong, just windows 10. The times when the os for phones had a dedicated os are gone. Windows 10 is mad by the same division. All in one!

Woo! Glad for that. I just hope they get it hyper optimized before release.

I'll have the XL in black :)

I noticed the 1520 in this picture has got four rows of standard tiles, same as the 950-XL whereas the 950 only had three rows. Can you change this in W10M, i.e. Have four rows instead of three rows of standard tiles for less than 5.7" models?

I remember reading somewhere that as long as the screen resolution is high enough (I guess 720p or something) 4 columns are supported. Fingers crossed cause I really love the idea of 4 columns on my 730.

Hopefully we'll see a new insider build this week....been using 10536 on my L640, and it runs almost as good as windows phone 8.1. It's my daily driver on my main device (which may change if I'm one of the lucky ones to win a Lumia 950).

There is no pleasing people. December is now suddenly "too late" but I bet if it were earlier people would complain about the unstable state of the preview and say that they need more time. It's so ridiculous. :P

I guess just like last year we got 8.1 through dev prev like a month before official, final build sometime next month?

Do we have any news for next Insider preview ?

Will provide "developer preview" with the outcome of " insider preview" ? Make sense if they roll out update for all devices as developer preview in December.

Hey Verizon... December 2015, not 2016. Don't be the topic of another denim fiasco!

its verison dude 2017 garaNTED. iM ON UK VODAPHONE IM THINKING THE SAME LOL.

Understandable considering their focus on release and updating apps for IOS and Android. We are lucky to finally given a DATE.

You people love to complain acting as if you're current device is completely broken until W10 comes out... Just be patient till all the bugs get ironed out so you'll get a good experience as opposed to a new update full of problems.

Let's not forget that Microsoft will br updating many devices which are over 2 years old.... Only other company that does this is Apple and they release one phone per year! Let's not even get started about updates for 2 year old low end android devices...

So will there be any more insider fast ring updates? Or is that all now until December?

http://www.windowscentral.com/no-new-windows-insider-builds-next-weeks

No problem for me even I am very happy with Microsoft. MS need more time to make OS more stable and more development... Microsoft You spend more then 1 year but please make a powerful windows 10 mobile OS. Which overtake other OS. This is the last chance of MICROSOFT to overtake android and iOS.

i actually really like this, im glad they will wait for older phones like my 930 cause that means they know they have work to do and dont want to release the software until its ready. After a fantastic first ever for microsoft brilliant event this news for me is refreshing. I always though that rushing just let to mistakes, and its not like i hodont have a very smooth insider version already runing on my 930, so big cue dos to microsoft. Who knows maybe well get our calender weekly view, linked inbox, gestures beta in that time , either way a choise that had to be made and a great one from my point of view.

It's irrational to think on changing phones only for the OS delay, maybe lot of people can effort that "bad-economycal behavior", but c'mon, these are only toys, we can live with 8.1 or tp W10 I mean, when I was a student I started classes with a Moto c333, and finished with same phone (4 years), when Nokia with their Xpress family has the market in their hands or Sony with the first Walkman devices (I know things has changed but... to drastically?), don't be extremists, or maybe is an excuse for back to Android or iOS?, I don't have the need to get back on Android (for my personal phone) because all my important stuff works pretty well on Windows, and for apps, games and other useless things I have an HP 8 tablet with Android KK (but I barely use it, I let that tab to my kids) and a game console Wii U, that last I only use it on weekends. Anyone plays Splatoon? jjjj

According to Paul Thurrot, Microsoft HQ has historically put their heels up and taken the entire month of Deecmber off... every year... an annual tradition. I think what this implies is that in Dec, there's little, if any, active development work ay HQ during the moth of Dec and they just leave behind a skeleton crew to keep their ear to the ground and put out fires. We won't see any new official releases this month, methinks. Any new developments will only be seen in the new year.