Windows 10 Mobile ROM for Xiaomi Mi 4 LTE launching to the public on December 3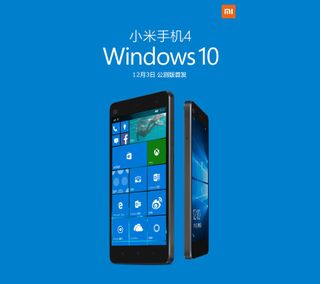 Earlier this year, Microsoft announced that it was working with Xiaomi to bring a custom Windows 10 Mobile ROM to the Mi 4, which was released to beta testers for feedback in the month of June. The Chinese manufacturer is now ready to make the ROM widely available, as Xiaomi co-founder Bin Lin shared an image on Weibo that points to a December 3 release date for the public launch of the Windows 10 Mobile ROM.
As a refresher, the Mi 4 is a budget handset with high-end specs, offering a 5-inch Full HD display, Snapdragon 801 SoC, 3GB of RAM, 16GB internal memory, 13MP camera, 8MP front camera, and a 3,080mAh battery. The phone currently retails in India for ₹14,999, or the equivalent of $225.
However, the ROM will be made available on the LTE-enabled model, which is not available in India. We'll have more information to share once Xiaomi formally announces the ROM on December 3, so stay tuned.
Source: Weibo (Bin Lin), MIUI forums
Thanks MohammadMSFT!
Windows Central Newsletter
Get the best of Windows Central in in your inbox, every day!
Harish Jonnalagadda is a Senior Editor overseeing Asia for Android Central, Windows Central's sister site. When not reviewing phones, he's testing PC hardware, including video cards, motherboards, gaming accessories, and keyboards.
Is it support both OS s android and windows10 ?

Once u flash windows 10 mobile rom u will get only that one u have to hard reset via recovery tool or something to get droid back

No with hard reset or recovery tool you cant get back to android.. You have to install android stock rom again to get back to android

Interesting to see will it work with MultiROM.

There will surely be an unofficial thrid-party option for dual boot.

Some hacker should try and make it like that in the future!

I wish some hacker comes up with a way to dual boot and also make windows OS to pull the android apps from its android ROM and run.it would be great to have windows OS with android apps.

That second part is pretty much a no go since the apps use a different programing language

Well the dual part is already fappening lookup syncphone on indegogo(& its a wintel)

wow, ms actually released the os to another manufacturer instead of pushing it to their older compatible devices first. *sigh*

there must be something to whine about....

i need a stable phone for work, so didnt join the insider program. if u have, good for you

Well this is not going to be more stable than the insider program so dont cry

It is Xiaomi's initiative with just guidance and permission from MS.

I think that is public beta release ROM for Mi4.. Many older MS phone already can download TP ROM for testing.

Stop whining.. Its going to get the WIP builds like us.. Not the official

Its written clearly that its an official release from xiaomi

Nope.. Word official is no were in the article

Their own older compatible devices have had access to Windows 10 for almost a year now. Don't whine about something that isn't true.

Not everyone wants a preview build

First? I've had this build on my 920 for a month soon.

Im talking about the official non insider release

Definetly we will get the official update 1st.. Dont you know which devices are in the first wave?

Can it dual boot ? Android & WM10

no dual boot ,but i suspecting if WP 10 ROM flashed to mi4, then does bootloader accept Android ROM to revert back?

I'd put money on someone over at xda getting this rom on other android devices as well as dual booting.

Would love this on oneplus.. -_-

Let's hope someone ports this to other Android devices.

I think that is the master plan here. anything enters into android world can be hacked and forked to be used on other phones. so it must a plan to spread w10m silently among android devices to increase the marketshare..its a good thing. I mean when more people use it sure we would get some quality apps both from MS and others.

Only thing is will the experience of a hacked rom be on par performance-wise with 1 that was perfected by the cooperating OEMs

Ok... Big question here for the experts. It is my understanding that WP8/10 uses a hardware encoded key much like their desktop versions. The Xiaomi obviously did not have one as it was intended for Android. Does this mean that this ROM is not locked to WP hardware like all previous builds?
If so, that would mean that this ROM could be the base to port to other Android devices, or in my case the Samsung Focus. Yes, I'm still bitter (looks silently over my L640 to the focus gathering dust in the shelf). DAMN you MS... Why? WHY!?

Yeah wp7 did but wp8.x uses uefi now. Read that a while back was posted on some college/university page online

So Android users are going to get Windows 10 before most Windows users? Microsoft need to think through their moves though.

Dude, this is in China only for those that own a Xiaomi Mi 4

The way I saw it was that it was an official release, like the Denim update or an RTM. I could be wrong.

Dude, Xiaomi did this with permission and guidance from MS.

We had it for months, troll!

Paolo, just a bit of advice for you: You don't just refer to people as troll because you are on the internet. Notice how the two replies above you refer to me. You have purposely closed the door to a meaningful exchange between you and I.

You mean he's wrong in thinking you're a troll? Because he's not. If you had read the article, you know that this is just a beta, they are now just supporting Windows 10 as part of the Insider Preview on a non-Windows phone. You're comment doesn't make sense and blames someone for something that isn't the way it actual is. You are a troll.

Yes, he is wrong in thinking I am a troll, because I am not. And I can choose to point out his error to him. If you can be bothered, you can check my reply below to Paolo to see my rebuttal. Even if I hadn't read the article, that is not conclusive evidence of 'trollship'. (I think I have just come up with a new word and I think it is great). Hint: Please read the same article on WMPU and see if my conclusion isn't justified.

Be assured I would call you a troll even speaking face to face :) it is not even an insult "n Internet slang, a troll (/ˈtroʊl/, /ˈtrɒl/) is a person who sows discord on the Internet by starting arguments or upsetting people, by posting inflammatory,[1] extraneous, or off-topic messages in an online community (such as a newsgroup, forum, chat room, or blog) with the deliberate intent of provoking readers into an emotional response[2] or of otherwise disrupting normal on-topic discussion,[3] often for their own amusement.". Windows 10 have been available for month via a little precious app that is the insider app. It is in no way different that having to apply a custom ROM. You are just provoking and offtopic.

So Paolo, from a single comment on a single article you determine that I usually post inflammatory comments on internet blogs to "sows discord on the Internet by starting arguments or upsetting people, by posting inflammatory,[1] extraneous, or off-topic messages in an online community (such as a newsgroup, forum, chat room, or blog) with the deliberate intent of provoking readers into an emotional response[2] or of otherwise disrupting normal on-topic discussion,[3] often for their own amusement.".? You are the best at what you do. But seriously, I invite you to check my comment history on this site and others (WMPU, CNet, The Verge, ZdNet) Hint: I use the same username. If you can't find the pattern you have described above, you are either assuming much or the one making inflammatory remarks.

So you are trying to point out that you are trolling in this single post and not always? Ok I'll agree with you you are not a troll, but you have trolled in this occasion, happy? ;) Didn't think you would take it as an offense to you as a human being and not as a poster. If someone says to me that I'm a troll when I whine about something I would understand the context of the accuse and not take it as a personal grudge and as a judgment against me as a person... Anyway we are just arguing about nothing. The point is, in this forum everyone whine about silly things, we had w10 for months....

@Paolo Ok, I give up. I should have known this is the internet. Thank you, have fun. Maybe I should even delete my original comment. Edit- I see I can't delete comments. I will just live with it.

You can do this beta test.. wouldnt consider it being a stable release

Windows users has had the option to get w10 for quite some time now.

Once they get windows 10, they are no more Android users anyway :P

In other words Project Astoria isn't completely dead, it just converts Android USERS to Windows USERS, instead of APPS!

What is there to whine about? This will only spread W10 Mobile to more users, thus increasing our market share. If this becomes successful, we'll see more Xiaomi device running W10 Mobile.

Game changer Posted via the Windows Central App for Android

So is this an android phone that can change to windows?

Xiaomi Mi 4 is an Android released phone, so Yeah, you can turn it to Windows Phone after flashing it with Windows 10.

It's public beta, not RTM release. Previously is like close beta phase...

It'd superb if the rom's would be made compatible with redmi phones.

Lol..:P are you complaining abt the specs of an android phone that can be flashed with a public beta of windows...?
Whining taken to another level... xD

A phone with mhl & usb2go nonetheless

For next M$ will make WIN10 ROM to iPhone 6S !?


Lol.. That can never be unless iphone starts making phones with open source ios OS

No. We only need an official bootloader unlock. And two unicorns

under nadella, never say never.

It'll be tough, but nothing impossible IMHO.

TBH, having an iPhone with Windows OS is foolish. Apple hardware is good but the main great thing in iPhone is the software. Posted via the Windows Central App for Android

This is fricken cool. Xiaomi phones are super bad ass I'd buy one with w10 on it in a heartbeat I think this will be really popular in china and great opportunity for people to try windows out without being tied to a device or contract

The looks seem appealing, better than Lumia 640xl

Progress is Progress, and this gets more 10 mobile out there, timing is erelevant as it's likely only a matter of days before full release... I have insider release running on L920 + L930 both as smooth as anything - Bring It !!!

Will we get updates like Lumia? Lumia apps?

lumia apps for almost lumia devices only,that why we had universal camera on WP 10

Lumia apps are deprecated in Win10 (mostly).

Deprecated? You mean the apps Microsoft is buzzy updating now for all Lumia's? The photo apps aren't the only Lumia apps out there.

Most of the Lumia apps are great. I will miss them if I buy Mi phone. But specs are good though. Also the support after purchase? Like Lumia???? Never

No sd slot. What the heck am I supposed to do with 16gb? Posted via the Windows Central App for Android

LOL like 99% of the world does not need more than 16GB on a phone. You can just upload to a cloud or download to an hardrive twice a year.

That's a huge set back! But still user memory doesn't occupy much for windows unlike android with the pre installed apps and bloat, and for the apps in MS store, I think 16GB is enough :P

Even its android version don't have sd card support. What were you doing with android?

What the heck do you want from such cheap device? 200gb storage? 50mp camera? Windows hello? You can buy a 64gb variant if 16gigs are less..

So that means you don't already have a Mi4. Else you wouldn't be moaning about that. Ergo this post does not immediately apply to you!

I think this is what the conversation would be in MS! Satya: When are we gonna release W10M update. Developers: 6to9 years! Satya: SIXTY NINE YEARS??? Devs: No, six to nine years :P

When'll Microsoft release it as an Ota for Lumia 640??? I'm not talking about insider preview. Not every windows phone user is an insider

True, wait for 13 more days and then u have the windows 10

So join the insider-slow? You get updates without carrier interference.

Seems better than Lumia 640XL?

Specs wise yes.. Quality wise no..

I wouldn't be so sure about that. Xiaomi make top quality phones!

Quality wise very much so. The Mi4 is a superb phone.

Yup! The design is sure looks to be super cool, that posh look! Not sure about build quality.

Build quality is fine. Solid phone. Metal frame, little bit of heft to it. Put a wood back on mine. One of my favourite phones.

Metal frame: Yes , that's awesome

Almost the spec as 950, half the price of 950.

But quality and big specs not as 950.. ;)

950 has 808 vs801, QHD display vs HD display, 20MP carl ziess optics, OIS vs 13MP, SD card support vs NA, Iris scanning vs NA. USB 3.1 fast charging vs USB 2.0, Continuum vs NA, Lumia firmware adds a lot that wont be available like glance, double tap to wake. If you think those things matter then 950 is worth it.. If not Mi4 is a great phone as well for the price point.

Is there any news on a new insider build release?? The last build is really good on my 1520. But things went quiet after that.... Hope to see another build :)

Definetly we'll see atleast 1 build more before official

I want a Galaxy S6 Edge porting ;)

I think it will be difficult to port to s6 edge as the screen estate includes the edges and windows 10 mob doesn't know about edges so some tiles will bend alond the edges but you can re arrange tiles. But games and other apps will be having issues.

Lol guessing you've never messed with a ativ s then cause you can set a safe area for this type of thing

I had the chance to play with a Mi4 a few weeks ago. Fantastic phone build quality wise, looks premium (daresay more premium than any Lumia) and only disappointment was the camera on it, which was way worse than my 640xl. But since it is a pretty good quality sensor, I presumed it was Android's crappy software. Pretty excited about this, finally means we can get some cool, cheap hardware for w10m.

Would be fantastic if Xaiomi supported w10m for the Mi5 straight out. Then we'll have a true beast of a phone that's an all rounder.

Yeah that would be nice considering the ram it has

I bought mi4 because of windows 10 and xiaomi build quality.Looking forward for the release. I'll make review of Windows 10 on mi4 and post on the forum. Posted via the Windows Central App for Android

Hopefully Xiaomi will also release an official Mi Fit app for Windows 10. Btw does this also mean that Windows 10 Mobile will be officially released (and starts rolling out) on 3 December?

I have the same thoughts! Just keep hoping.

Maybe is just a TP build for Xiaomi.

Lol im curious to see how sensor engine(the generic term Qualcomm uses for sensor core) will utilize those extra senors

Mi4 is a nice phone with nice hardware, but it will be quite hot after playing games for a while under android, it can be a high-end win10 mobile device which is just next to 950/xl

I really hope this ROM will be compatible with OnePlus X, that would be awesome!

So this "budget phone" as you named it has second best spec in the Windows Mobile world? ;-)

I love Windows 10 a lot, as I have used it on my PCs and all the Smartphones of my family are Lumia phones. I have used Lumia 435, Lumia 535, Lumia 625, Lumia 635 and now currently using Lumia 640 XL. I used all these Lumias as part of my office policy and due to my personal purchase of Lumia phones for self and family. Really, it is wonderful to have such Lumias all compatible with Windows 10. However I now wish to sell Lumia 435 (in Perfect condition) as I got 640 XL and if anyone is interested, please check this link: http://www.subito.it/vi/144939373.htm

Hopefully we can utilize Miracast/mhl sensor engine & quickcharge 2.0
Windows Central Newsletter
Thank you for signing up to Windows Central. You will receive a verification email shortly.
There was a problem. Please refresh the page and try again.