Windows 10 for PC may get two updates today to get to 10586.75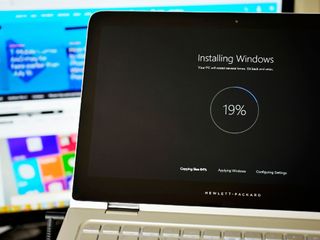 Microsoft may be readying not one but two OS updates today. Recently, we reported that build 10586.71 was being prepped for release today and over the weekend some eagle-eyed people even spotted it on Microsoft's servers.
Now, we hear that build 10586.75 may be pushed soon after the .71 update rolls out. This update would only apply to the PC release of Windows 10 for consumers.
As to why the staggered approach, we will leave that to the engineers. It is not clear if the update will come all at once or Microsoft will wait a few hours.
Not much is known about what is in either the .71 or .75 update, but new features are likely not on the table. Instead, much needed OS optimizations, performance improvements and all-around bug fixing are likely the big changes. The last minute inclusion of .75 – if it holds true – suggests some last minute bug fixing that was completed in time
Microsoft will likely share more details in a blog post should the updates go live today. Likewise, updates for core apps are likely to follow over the next few days to match the OS refresh.
Finally, this update does appear to be a general release and not for Insiders. However, we do not have absolute confirmation on that at this time.
Windows 10 Mobile
As per our original report, we are still expecting Windows 10 Mobile build 10586.71 to be released as early as this week likely for those on the Fast Ring of the Insider program.
Microsoft has, at least, one time in the past published both updates for PC and Mobile at once. However, they have also staggered releases, and we would not be surprised if that happens here as well.
Build .71 is likely to have much need bug fixes for the Lumia 950, Lumia 950 XL, Lumia 550 and all of those on the Insider Fast Ring perhaps including a fix for the supposed Message backup bug that causes excessive data drainage.
Once feedback has been collected, Microsoft would likely push that update (or a later one) to production for all Windows 10 Mobile users, not on the Insider program sometime in February.
Updates for Windows 10 and Windows 10 Mobile usually hit around the 10 AM PT/ 1 PM ET / 6 PM GMT timeframe or in less than an hour.
Windows Central Newsletter
Get the best of Windows Central in in your inbox, every day!
Daniel Rubino is the Editor-in-chief of Windows Central, head reviewer, podcast co-host, and analyst. He has been covering Microsoft since 2007 when this site was called WMExperts (and later Windows Phone Central). His interests include Windows, laptops, next-gen computing, and for some reason, watches. Before all this tech stuff, he worked on a Ph.D. in linguistics, watched people sleep (for medical purposes!), and ran the projectors at movie theaters because it was fun.
But not for non-insider mobile devices, right?

I'd love one. Actually I'd just like a fox for the messaging bug that prevents me from getting MMS from Google Hangouts occasionally. Super annoying. Hurts even more that my friend that I have the issue with is constantly blaming my phone. I explained that it is only with him, on Hangouts, but he's a Google diehard fanboy so... I think it's my device also however. My 8X never had the issue.

http://www.bing.com/search?q=18+gmt+to+india&qs=n&form=QBLH&pq=18+gmt+to...

In India when will people learn to do a time zone conversion for their lazy selves?

I hope this update will fix all the issues faced by windows 10 mobile users

No one has said we will get it today. As for fixing issues, they will probably sort 3 and create 10!!

I need Phone update within couple of weeks.. There's battery drain issue with 0.63 update. And my phone freezes after continuous use of more than 30min. & that reboot causes 5% battery drain in under 2 minutes
Hope 0.71 update fixes this

I think he's using an old phone(dual core processor).. Freeze issues are there on old phones.. I have it too

Roll back then. Safest bet instead of hoping they fix it

I don't have requirement of that much battery life.. As am planning for vacation am waiting for update which fixes battery issues and freezing issues... Am using Lumia 1320

1320 should be better than my720.

dan should make an article on how to add additional clocks to your taskbar so people don't need to translate what PT ET etc mean

agreed..... or, a quick search on Bing or Google would also yeild results for those that rather ask and wait than search.

I think people should just learn how to use a search engine.

By that logic, shouldn't this article just say "Go look it up yourself elsewhere"?

Sweet! How can you have infinite information at your finger tips and not use it for such a mundane task as looking stuff up!!!! That really bugs me. Same as going to work, watch someone else do your job and you getting paid!!

What's this sorcery you call a search engine?

He meant to say "Google it". Posted via the Windows Central App for Android

Or maybe learn how much time difference is between the gmt and their time

What's wrong with helping non-US citizens out? I quite appreciate the consideration that went into that line at the bottom of the article, it saves me the time of a bing search or changing PC settings. I mean, weirdly, here on GMT I have no use whatsoever for PT or ET timezones, so why should I need to add a clock for the reasoning that one day I may need to use it on a one-off occasion?

GMT is not hard, you should always know how many hours from GMT you currently are because that's how all time zones are defined.

Exactly. If we in maritime circles fannied around with giving non-standard time zones references out it'd be chaos. Pro Tip: Always know the diff between your local time and GMT. If they don't provide a GMT time, then the info is probably useful for locals only. Or you need to remind the writer that there are other countries out there. Luckily, WC usually gets this. I do find it odd that some people post local time to the internet and then wonder why many people just skip the event (or whatever). Pro Tip 2: The internet is international. Please remember this.

Hey! That sort of sensible arguments and polite way of presenting them have no place here!

Alarms and clock app on win 10 does the job too. Why bother with search?

Windows 10 Mobile hgas its own World Clock that will do the conversion for you. Anyone who is on the Insider program has absolutely zero excuse for not knowing what time a new build will drop in their local time zone. It just goes to show how lazy and stupid people are these days.

As if it really happened on the time DAN mentioned in this article, so the time conversion thingy didnt matter at all. its wednesday here already. 5:40 AM :(

Crossing my fingers for Bluetooth fixes.

My tablet is ready! I wish they would add swipe gestures to Edge.

Does this mean that I will have to reboot my PC twice? (Once for .71 and once again for .75)

Probably yes. But is that so big of a concern?

It's bit a annoying. Nothing more, nothing less.

I understand- You mean like switching off the light when you go to sleep?

They made me reboot my servers for that stupid currency symbol update last week, ridiculous.

Love getting new builds. I just wish new builds were more feature rich instead of bug fixing rich.

Everyone love new features but, right now most of the features I can think of are all app oriented which can be improved later too (through updates). Bug fixes are what more important to make the OS stable and capable of handing new features.

A pretty house means nothing without a good foundation to stand on. :P

That's what Redstone for! "Features"

I'd rather wait for couple more builds to fix the bug, and then see the new features.. need more stability and performance. Win10 M can do alot more than this.

With Win10 it's always going to be that way with WaaS

It would be nice to get a new build for Windows 10 mobile and not an update. The current build for mobile is giving WM Bad name. It's just too buggy. I had constant freezes on my Lumia 625 even after a reset so I just roll on back to 8.1. The PC build is really great though absolutely no complains apart from wanting new features.

My 625 is "unstable" even after rolling back to 8.1

I have a 520 that is unstable after rolling back to 8.1 while my other 520s that have never had Windows 10 Mobile are magically smooth like the 8.1 I remember. It is strange, as if bits of 10 corrupted the phone and were not removed during the reflash.

My 735 Lumia was a stinker on 10, but my 950 absolutely rocks on 10. I love this phone, and stroke it daily :/ Such a tough call between this and my iPhone 6s. For e.g the 950 glance screen is showing me useful info. The iPhone, is asleep. However "hey Cortana". nothing, the Lumia 950 does not wake Cortana for me :/ But Siri actually listens. But 10 is good on the 950, outside of that MS must simply not have any other phone!

so is this for both platforms mobile n pc is Microsoft finally gearing its self up for wpm10 gimme gimme gimme updates

Thanks. Now I have Abba singing in my head.

Are these updates going to be delayed?! That's the question!

Dunno, but times fly so fast. February just ahead

Anybody else getting an issue where Windows is asking to install "Update for Microsoft Visual C++ 2012 Update 4 Redistributable Package (KB3119142)" everyday no matter how many times you install?

I had that on my Surface Pro 2, but after a few reboots it stopped.

Hopefully this next update fixes it.

Yes! Mine has been doing this for almost a week now -- every day, sometimes multiple times per day (Surface Book). Actually, mine just keeps successfully installing it on its own. I've lost count as to how many times it has done this, but I've rebooted my machine several times and it keeps doing it.

What about windows 10 mobile update?

On PC, Insiders are arelady on RS1 branch. So "Finally, this update does appear to be a general release and not for Insiders. However, we do not have absolute confirmation on that at this time." Of course, it can't be for Insiders, but only for production W10 machines o_O EDIT : Voilà : "No new builds today" for mobile, dixit Gabriel Aul. Plus Gabe tweeted this yesterday : https://twitter.com/GabeAul/status/691846864975560705

Maybe one day they'll fix "Not Responding" error for Downloads folder (recently many others too) that happens as soon as I open it. This problem was on original 8.1 and now on 10 after (all) update(s) -Winbook tablet

Lol Gabe says no build today n we expect 2 builds at a time...•

Except cumulative updates on PC are not new builds.

For a cumulative updates they r taking a long time to release and they say we r working to release faster builds that means MS need 2months r more to bring 1new feature and 1 month to release a build to fix those bugs saying cumulative builds.(~-~)

@GabeAul just tweet ,no new mobile builds today. I have an idea, let's Crowdfunding wp10 and maybe we finally get a #ios and #android pair feature product soon, seriously

Probably going to need more fixing than just what is in these 2 updates. Have a Lumia 830 and service pro 4. Both buggy has hell. Kaspersky might be causing a majority of the problem on the sp4 though. However, I doubt it's causing the blue screens.

At least WC edit the article... No updates for W10M...

Gabe Aul tweeted "no builds today".
He has been tweeting the same for a couple of weeks!

Plenty of improvements appearing for MSFT's iOS apps like OneDrive. Oh, the irony!

NOW already 7:00 PM (GMT +0) and still didn't catch the update on my PC, frequently hit the "Check for updates" button from 30 minutes ago

No new mobile build today.

I hope it fixes everything that was fine with my pro 3 before the last update. Touch does not work on the top part of my screen. I like having the task bar on top and for some reason touch doesn't work there. Also my keyboard doesn't always respond well when waking up my device. Its pretty annoying.

Resuming: Nothing confirmed

I see no updates on my SP3 yet...

its Wednesday already so this turned out to be another rumor....

No update so far, it's past 8PM PST, looks like everybody went home already at MSFT.

I could receive updates for my laptop now

But nothing in phones though

When in India release updates

Cue the sad trombone. Not even one update, much less two.

So anybody think we'll see anyting today? Noting so far for me!

Just got store update in windows mobile 10. What is new in it.?

It's available now for me.
Windows Central Newsletter
Thank you for signing up to Windows Central. You will receive a verification email shortly.
There was a problem. Please refresh the page and try again.