Windows 10 build 10586.71 update due this Tuesday, may come to Mobile Insiders too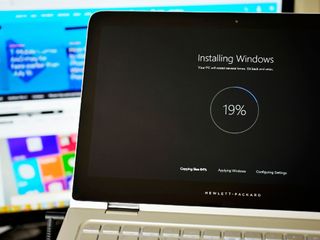 Next week, Microsoft is expected to add another cumulative patch to the Windows 10 desktop OS according to sources familiar with the matter. The update will bump the OS to 10586.71 up from the current 10586.63 released on January 12.
The Windows Update is scheduled tentatively for Tuesday, January 26 aka 'Patch Tuesday'. Like all OS patches and updates, any last minute issues could halt or delay the release.
There is no immediate word on what, if anything is new, but like previous updates this will likely address bugs and general OS optimizations for those on the desktop PCs, Surface, laptops and more. More information about the cumulative update will probably come forward when Microsoft release them to the public, but no new features are expected. As usual, there will likely be a small flood of updates to Windows core apps like Mail, Messaging and more following the patches.
A looming firmware update for the Surface Pro 4 and Surface Book is also reportedly on the horizon and may arrive with this update. However, more information on such a release is not yet confirmed. An earlier rumor suggested that this firmware update would come this past week, but that did not happen. Microsoft previously announced that they would fix the ongoing Connected Standby/InstantGo power issues with both devices sometime in early 2016. They company later apologised for "any frustration" customers are experiencing with the cutting edge hardware.
Microsoft has been fairly consistent with releasing two patches per month for the OS in and ongoing attempt to keep Windows 10 up to date as part of their Windows as a Service (WaaS) paradigm.
Mobile Insider Fast Ring too?
Our reports have also revealed that build 10586.71 is being tested on Windows 10 Mobile and it too could be released for Insiders on the Fast Ring before a wider general release sometime in February for non-Insider phones. This information is speculative at this time.
Microsoft last updated the Insider Fast Ring for Mobile on Friday, January 8 when the OS was updated to 10586.63. However, that update has not yet been approved for non-Insiders, and it may just skip to .71 or later.
Microsoft has been keeping their mobile and desktop OS with the same build numbers for a few weeks now. However, their releases are sometimes timed together, other times Mobile comes a few days later.
Insider Fast Ring update have diverged lately with the desktop OS being branched to Redstone (RS1) for early testing by users, whereas Mobile is still in the critical patch phase to improve general reliability before going to the next chapter of Windows 10 Mobile Redstone for 2016.
Windows Central Newsletter
Get the best of Windows Central in in your inbox, every day!
Daniel Rubino is the Editor-in-chief of Windows Central, head reviewer, podcast co-host, and analyst. He has been covering Microsoft since 2007 when this site was called WMExperts (and later Windows Phone Central). His interests include Windows, laptops, next-gen computing, and for some reason, watches. Before all this tech stuff, he worked on a Ph.D. in linguistics, watched people sleep (for medical purposes!), and ran the projectors at movie theaters because it was fun.
Hope this squashes some bugs or THE POLISH story continues like ARROW series with bugs as characters in arrow who are never dead.

Lol. That's why i watch The Flash.

Flash has its own undead characters too. If you're watching superhero shows and movies for realism, you're doing it wrong.

Well, not really, as long as the series franchise doesn't go well established they indeed have good script and storyline.

Clearly someone hasn't seen the previews for this week's episode of the flash. XD

So next update will be redstone???

For someone obviously clueless, if you ever watched or read any batman series the Lazarus pit always did that for al gul. And in arrow it's only Sarah who came back. Oliver sister was never completely dead.

Oliver came back too when Ras al ghul had practically killed him. He drank something like a tomato soup and came back?
Theeya too she came back from the dead.
Laural took Sarah to the assassin place like taking her to Starbucks and buying her a coffee and bought her back live? As silly as that

AHAHAHAHA @ Ras Al Goo xD

The only one who was dead no heartbeat, no pulse, no brain activity was Sarah. Both Oliver and Thea was on death's door with one foot inside already.

SPOILERS SPOILERS CHEERS GUYS F-SAKE :(

Hmm, I hope it quashes some bugs, too.

Anybody watch SpongeBob ?

They said it's gonna be fast.....
Doesn't seems so, even the official mobile update is being pushed back.

They seem to have recognized that Mobile has more immediate bugs and issues, which they are addressing before they do the official update. Reading people's experiences so far and that seems like the safe and appropriate response.

When windows10 mobile build will official release in India for non insider program

Have you got some glass cleaner and a rag? I keep polishing my crystal ball, but I still can't get any info on a release date.... :)

Daniel, serious question here, what do you think how many developers has the Windows 10 Mobile department? 2 or 4?

You're welcome to submit resume if you think you can do better.

What the layoffs mean to the consumers... That leads to the big delay.

It's not about doing better or faster, it's about appearing to do little. It's about a perception of resource share when bug free Microsoft software for ios and android is seemingly released every week but Win10M is constantly delayed, seems to have little or no internal focus and bugs that are reported for weeks and weeks and months do not seem to be addressed. It's more about perception of resources rather than actual resources. I'm completely aware that throwing more resources at an engineering problem doesn't always improve the situation or speed of delivery, I'm a senior engineer, the issue with the whole open insider program is that Microsoft picking and choosing the level of transparency in different areas will always lead to an amount of frustration. They read these comments and do or say nothing to appease concerns. You can't have it half way, you either go fully transparent or you go back to internal testing and the possibility of issues due to a massively smaller feedback base.

Couldn't have said better.

If you're an engineer then you should know better. you compared the velocity of development on apps versus an entire operating system. Apples and oranges. In regards to the feedback,w have literally millions of people testing with a metric ton of feedback coming back. How many people do you have testing and giving feedback on your apps? When you consider the scale of what we're doing its actually quite astonishing how much we manage to respond and address. This is a monumental effort going on. Mobile is made that much more difficult because of the added complexity of the mobile hardware to address as well as carrier restrictions. I'm sorry if you think Microsoft hasn't been as transparent as you'd like but bear in mind the insider program is a first. They're constantly learning and moving to improve everything across the board.

Your comment can calm everyone here. But not gonna increase either the windows phone share or business or the MS W10M build. It would have the same POLISH story even if MS releases that half baked crap in the name of windows as a services next year

Chris, This Apple/Android vs Windows Mobile development is a settled issue seems to me, even if you and I don't like it. 3% share!!!

Actually, it is 1.7% last we heard. Posted via the Windows Central App for Android

@bleached No, it is actually 3%.

Bug free MS Apps on Android? I take it you've never used Groove on Android? I use it on 2 Android devices and updates frequently make my entire downloaded playlists unplayable. This have been a LONG time ongoing. Posted via the Note 4/Nexus 7 (2013)/Lumia 1020/Lumia 2520

Dont worry the Groove app isn't the best on Windows either.

Could the reason for so many IOS and Android releases be because their OSes are complete in comparison to W10M. How do you seriously expect MS to release updates to any of their core apps to the OS and it's still in testing phase. The OS must be a stable and daily usable without complaint for any ideas of future features or stability releases to be had.

I doubt submitting resumes will help. They're probably not looking to expand their mobile software team anytime soon.

Technically it is supposed be the same developers as desktop or so it was claimed. They said the staff that were laid off last year were laid off in part because merging the OSes makes them obsolete. Supposedly they didn't even start working heavily on Mobile until the release of desktop and progress was supposed to increase. Not seeing it so far.

Layed-off staff originally from WP team in favor for Windows Desktop team? If that's the case then that might be one of the factor.

theres no way microsoft have 2000 employees working on mobile 10 no way, it took them 12 months to put a weekly view in their calender app, 12 months to show us skype intergrated and 12 months to give us linked email. If they had 2 thousand people working on it we would have got those features in like february 2015 not december 2015. I love windows phones i love windows 10 desktop but microsoft feel like they are 2 tears behind the competition since last year when they were actualy nearly casut u, you know when they finally got cortana intraoduced. Time is a huge factor and i only hope things like gestures that we had in 8.1, a apple pay equivilent and ofc deletion of the hamburgermenu all happen soon instead of 2 years time, but thats doubtful. And why cause they employ too little in numbers on their mobile platform and have a design team with no clue(950 example great spec awful cheap plastic phone.) luckly after the surface book whitch is awsome and marted great can start to rub off on their next line but i have a feeling thats 2017 with the surface phone, buy witch time if theres not pemium flagship spec and flagship case design then this little pupply will be forced back to iphone. Oh yeh and apple pay. I wouldnt mind a finger print scaner but i dont care so much for that as iris would be duable.

:P :P :P :P Very good question I say 4.

dont be silly its about 12 lol it feels like that, mybe they need to hire more people it certainly feels like that speed wise and has for the last year i have been with mobiole. Gestures plse?

Yes, but these issues remain since both L950/950XL been released. http://forums.windowscentral.com/windows-10-mobile/406709-w10m-new-firmware-version-950-950xl-current-problems.html

I myself am sick of the groove music experience on my phone, half the time it crashes, or you open it up, hit shuffle and it just loads forever until you soft reset. It is just terrible

Feels ok to me, just the playback controls take a few seconds more to show and when I shuffle sometimes I get 2 songs from the same artist in a row. Otherwise the sound seems better in my earphones for a month now

Yeah it used to have the swipe from left to open the menu but that's been removed since the last update(or mine just isn't working). Not to mention I don't get notified of sms messages when my phone is locked. That right there upsets me because my wife needs a ride, I wait for her message, don't see it, then get chewed out cause I'm late. Finally in figured out what it was and check my phone incessantly now. None of this was an issue until the last couple of builds.

Swiping from left brings the menu for me, also sms notifications work when phone is locked. There has to be an issue with different chip batches or something.. 950XL latest firmware and insider build

It´s not correct, aybe you need to find the problem in your handling, works actually great.

what phone you got, i ask cause i have a lumia 930 and groove runs absolutly fine on my phone and has prety much done for months. Dont get me wrong i miss swiping and hate the hamburger menu but the fact i can see 5 albums on my 5ich phone before i have to swipe is a big thing to me, xbox was like 2, i still wish the view was tiled through the whole screen so i could see 27-30 albums on 1 page. The rest is ok i have a music pass and was plesently surprised. Spotify is still my go to app cause its free lol.

Daniel wait a minute, did you just say that W10M has more bugs and issues???

Windows 10 Mobile is a ******* mess. My phone randomly reboots at least once every couple of days. Windows phone 8.1 this is not.

I have a new 950XL, which is a stunning piece of kit! However running the official 10 release it still reboots 3 or 4 times a day. Although, in between the random reboots it does feel and look very polished.

what phone do you have cause my 930 is fine. Have you tried reseting your device and not useing a restore Do a fresh install from scratch, i found that can fix alot of issues on my 930 and it has, well apart from neflix on the latest build lol, it was working till i did a complete fresh version of 10 lol.

I really like if the Microsoft they pay attention before releasing updates to take care bugs.

What's the point on having faster update release if it's way too buggy to even use. Microsoft seriously have to sort these mess before the public realize the issues of Windows 10 and ruin it's reputation. Even on their own hardware like Surface and Lumia suffers from issues whether it's Windows 10 related ir the hardware itself. Surface and Lumia won't get into near mainstream (well Surface is already getting there) if we got so many issues with the software. Nobody likes bugs.

Yeah alot of bug squishing is needed on 10 Mobile.

Look likes they are still not able to groom up the general release version for older Lumias. Probably not enough staff though

.63 build is worse than the build before . I have a lumia 930 and apps refresh everytime i open it after it was in background . Before it opened directly.

I dont have to do a hard reset everytime i upgrade to the newest build.

Then perhaps the insider fast ring is not the place for you.

I have been so long on insider fast ring . I am just saying that the previous build is much better than .63

I tend to agree, except battery life on my Lumia1020 is so much better on build .63 than .29

for my 535, .36 worked better than .63 too... my battery still going very fast, no improvement

Give me a break! Hard reset is the equivalent of the old "have you tried turning it off and on" response. I have never done a hard reset and have no real issues.

I just have to reinstall wp8.1 because of constant freezing.

Better settle for WP8.1 for now while it last.

Yeah, I was starting to feel that too. Now with .63 on my 640, sometimes I can't turn off my phone. As soon as it's about ot shut off, it turns back on again. And then sometimes I get this weird graphical glitches on my homescreen, where the screen would just get filled up in this repeating patch pattern. Never had those happen with .36. Hoping .71 fixes those issues.

WP 7.5 seems like the last finished product they've put out. I like 8 but they removed a few features that make it seem incomplete.

With the 950 we lost: Sensitive touch, radio, double tap, and overall trust your $hit will work. However, I hear some items may come back with a firmware release...oh wait, I have an ATT branded phone...I'm effed.

I'm with you on this Hell even 7.8 was nice. I really miss the days of super stable and gorgeous Windows Phone. Its really gotten worse and worse since 8.1. I've said it many times before, the app gap was not an issue back when Windows Phone was.. well.. Windows Phone. Stable, fast, integrated features, gorgeous transitions. I miss my 3D-ish interface.

Yes, only thing that is better whit .63 build is the battery. But besides that nothing is better and now new fixes for the lumia 930 buggs.

i have 267 apps all working great on my lumia 930 i also was just did a complete reset too and now netflix doesnt work lol but the rest of the phone workks great. Batery was sorted all my apps and i use 30 daily all work and work speddy, prety much everything workdks great exept now netflix lol. Im actually repeating a fresh instal again now to see if netflix works again and if it does then itll mean that my exact same phone with the exact same software installed differently each time, i hope thats not the case but as of right now all works great exept netflix which doesnt work at all.

phew netflix is still broken so if you install.63 everything i use and thats alot of apps works great but netflix doesnt and thats fresh, if you upgraded from the version before netflix should work but skype takes 20 seconds to load most times lol, the choice is yours, basicly if you use netflix like me stay away from .63 if your on a 930. Thats my experience. apps i have and that work great are: Messaging, outlook,calender here drive skype,facebook, diary budy and pocket diary,egg timer, media remote(for kodi) Onedrive,whats app,tube cast and metro tube, 6tag,grove musice,metrotube, plex, photo app,people app, 13 games including andry birds series, beach buggy, ashpal 8, dream soccer, pocket rally bejeweled, spotify, mixedradio, decibel metre, paypal, vlc remote, imbd, fm radio, qr code(cause microsoft removed it from the os guee and gestures still missing, ******** about it lol) loads of lumia apps i use, ebay and amazon, twiter sky news cnn news, and these are the onles i use daily nearly, the rest are on my program menu lol but they all work, hell if skype rang every time people called, if netflix worked, if i had gestres and pivoting back instead of hamburger menu id be very happy, hell give me just netflix and the phones ready for realease on my lumia 930 but i really want gestures and apple pay microsoft but i am likeing your .63 build otherwise and alot.

I really hope this update helps with battery and buggyness. Keep em coming Microsoft!

Definitely. Shutting down my phone is buggy, have heating issues, and standby battery is garbage.

Heating was ever since 8.1

Heating issues seemed to go away with the last OS and firmware release for my 950. Battery is better but not great.

And the update is delayed for 2020. Sorry to say that but it's official report.

Now wait a minute, 2020 is too many damn years down the road, it'll be 6 iOS and android updated OSes by then

I don't really think iOS and Android are ever going forward. It just feels like they're done for now like they're doing something in an update, removing it from the next version and then finally (or not) sticking the same thing again in the following versions...

You must admit that also describes Microsoft and Windows Phone/Mobile extremely well

Windows phone is like a developing country, has lot to catch up on.

Lol! Now think about it, that sounds true.

They've been doing that on android for the past few releases. "So, what's not broken, and how can we annoy people in Kitkat?" "Ooo me sir, let's remove the sd card function, unless we say they can use it!" They only thing worthy of a mention in droid is going from dalvik to art. The rest is pretty much the same, just different trousers!

Proof or are you just trolling?

@Khatri Prateek. Sources? Highly doubt it's 2020, maybe you've been watching too much cricket :P.

Great to hear. Anxiously awaiting.

.71 "sometime in February" mobile rtm build?

Sorry ur right i mean ready for an upgrade for older wps and for the 650

I hope Feb. I'm eyeing a 650 too.

I am waiting for official release of w10 with 1520

Best WP EVER!!! Bring it back. Scrap the 950 and bring the 1520 back.

@Mad Cabbie, lol take 5 minutes out and relax :).

Cool deal. I wish they would use the blue progress ring on Windows Phone...the gears are kinda lame. Lol. Looking forward to a possible update!

Well they are actually fixing bugs. The screen flickering issue which was there on my Lumia 1020 since Windows Phone 8.1 was fixed in the previous cumulative update.
Though there are a lot of other issues on Windows 10, but I feel that they will make it reliable by the end of first half of this year.
I am happy with their decision of delaying update to older Lumia's and would have just made the average users angry due to it's bugs

M getting screen flickers when scrolling through edge browser..n crashes and auto refresh on web pages...Really useless now on 640

I find it strange how many people are having issues with the current fast ring 10586.xx. Especially when issues reported on L640, because mine has run the last three versions without fault. Yes my 820 has some issues ( forget it on my 512 Mb ran devices of course, it's awful.) Wouldn't even consider WP back on 640 though.

i have the same problem ... from the last 3 buils (at least) L925

Yeah, count me in too. +925

Another L925 user to report that I'm also having the exact same screen flicker when scrolling, and the constant freeze and refresh has become extremely frustrating. I can't even scroll through one article on this site before it freezes and refreshes. Ugh!

Another 925 user here. Does the the screen flicker occurs on edge only or throughout the UI ? Mine does it throughout be it edge, store, app switcher (recents). Really annoying.

The screen flickers on my 925 just a little in the store app, but it's terrible in edge and surfy browsers. If I'm scrolling through main settings menus it doesn't flicker at all. Sometimes in edge I can't seem to get the ads on this site that pop up from the bottom to close. The scrolling ads I have no problem with, but those suckers with the "close" tab on the bottom of the page, they often won't close no matter how many times I tap on it.

Count me out because my 925 works good with .63. And it works even better in my 1520!

Oh god, I miss my 1520. Display quit on me.

Same problem with my 950.

Using L830 and i have the same exact problem. Screen flickers while scrolling down a long page opened in Edge. Sometimes it would reboot automatically. Previous build was much better than this one. I'm jusy having a bad experience.

I'm fine with bug fixing updates as long ad things actually get fixed. The battery life on my 950xl seems to be doing better since the last insider update. There's still some Bluetooth issues though, including the phone thinking it's still connected to my car hours later.

Agreed. Bluetooth needs some attention.

They need a stable build for the mobile os and some type of baseline standard so all can update to windows 10 mobile, this is bullshit....releasing several apps on android and ios, I'm not gon put up with it

Hope this mobile build will fix lumia 535 navi issues, finger crossed.

Nav bar fixed on me since 10536 or 10512 build but the touch problem not.
Edit:When nav bar ia hidden,its black .

I'm pretty sure that MS won't say 'Update delayed to late Mar' in Feb, hopefully.

In other news... No new features for win10 mobile in 2016.

I'm sure you're just the right person to be trusted on this, so thanks for the heads-up.

I'm sure there will be... So get out of here!

why my Windows 10 installation display is like 8.1?

"Tuesday, January 26 aka 'Patch Tuesday'.​" That's not Patch Tuesday.

False. "Patch Tuesday occurs on the second, and sometimes fourth, Tuesday of each month in North America." Last update was 12th (2nd Tuesday) and this is the 26th (4th Tuesday). Funny how that works.

Alright, I thought Patch Tuesday was just the second Tuesday of the month, my bad.

When the mobile is stable I'll upgrade from 8.1. Then and only then

It's come a long way since 10586.00. A long way..

For 640xl... It's stable for me... Better than 8.1...

I concur. Ever since I upgraded from my 635 to a 640xl, W10m has been smooth without crashes - even Cortana and Edge have been flawless.

It's been flawless yes, but I have free issues with edge though, but everything is good for me

I went back to 8.1 from Slow Ring. I'll prefer to stay upon release of 10. It's not even worth thinking of changing...it's just a downgrade. Horrible OS on MSWM 10!

Not true because it works fine in my 925 and great in my 1520.

Edge in windows 10m is unstable and you can't click on links

Yes,and sometimes when I use edge my phone restarts

Every time I use Edge someone in my extended family dies. But it's okay, because I have a big family.

When typing address in edge, when I press for it to go... Normally the history comes up and not the page... N even if I press the history it freezes....

Even on desktop. Sometimes it crashes the whole system completely, having to hold down the power button being the only solution!! -.-

Why would you ever use that? You know there are plenty of fantastic browsers available on desktop! Posted via the Windows Central App for Android

Indian Republic Day treat by Microsoft.

so this build would be really interesting for Indians...bydeway happy republic day in advance.... proud to be an Indian

A fix to Data Usage would be nice! .63 build has the annoying used up your data limit bug and crippled my pinned apps from running in the background on cellular. Turned off useless Data Usage app for now. #MSFail

I am glad this is not only me.

Hey, ok another one with that issue! I hadn't heard about the issue before it happened to me a few days ago...

I haven't had any more issues since I removed the set data limit option in the Data Usage app. Hope this simple crap that worked great in WP 8.1 is fixed SOON Microsoft!!

Rubino Battery is draining too fast in windows 10 powered laptop earlier 8.1 Its like 2hrs most of time which earlier had a 5hr capacity. And film + tv app is stopped if minimised not seemed to be a good option.

i wish the next pc build will have Connect again, I've been missing it for like 2 weeks now

I just found this out last nght while miracasting. For now, you can type in project in search and at leaqst get casting options (extended, duplicate, etc...)

Isn't that the same as win+p? I don't see any casting options there, only switching through options for physically connected screens....

You have to be connected first through miracast, then you can select which option. You used to be able to do this all from one spot with the connect option in menu.

I just want the email app to not constantly say "updated 13 days ago". Also email won't sync the flags on messages. It's a really clumsy sync as of now. Priorities on any phone should be: Phone, Messaging, Email, Camera..... ....... ...... ...... ....... Edge browser updates. Priorities please.

Build 10586. Being polished from 2 months now. MS should show at least a little bit of attention to its own platform before expecting others to do so.

They will polish 10586 until Redstone is released. Probably even for a few months after as well. If they follow the Office model it will be updated for at least 4 months after Redstone.

I haven't heard much about Slow Ring in a while. Do they still update Slow Ring, or is that mostly dead?

It hasn't got any new builds for PC since November but mobile got the last slow ring build in December.

For Mobile, Fast Ring updates are slow, Slow Ring updates are like the RTM builds, and the real RTM build is coming soon forever.

Is it that the Redstone is available on win10 os?

just did an update on my desktop this morning not paying any attention to the build #, but it seems to have corrected a few issues i was having.

Hopefully the power management issue gets fixed on other pcs also. My XPS 13 definitely has the sleep probelm.

Who is gonna bet this would be delayed? -p

Reliability is def the focus. But the OS is pretty much there. Can't wait to get another update.

MS Bhai tu rehne de tujhse na ho payega :/

Trying very hard to stick with windows phone as I'm fan of Microsoft. But you are really frustrating me, why Microsoft doing this to their fans? I read almost daily comments of the users on different sites and they are frustrated with windows phone and moving to other platforms. Its been one year they announced w10m and they even can't provide less buggy OS to insiders, people are complaining some basic issues for months and everytime new build they release those issues are still there. Looking forward that they will fix basic bugs in this build and also improve OS quality.

The whole f*king point of the insider builds is to test the builds. Its going to be buggy - If you cant accept that LEVE THE INSIDER PROGRAM NOW! Its not for you. ******** about the quality of insider builds gives the impression you dont actully understand the process and really should come out of it and stay on the offical releases.

Well, tell that to my lumia 950. I'll love to leave the program if you tell me how..:)

The 950 and 950XL are the exception, however I never buy first gen Microsoft hardware, it's the people with older Lumia models complaining about W10M being buggy that are the issue.

I wouldn't buy any gen Microsoft phone. Who knows if they will continue to support it tomorrow. With Lumia going away and some unknown "Surface Phone" coming, they may well cut W10M off completely. If the Surface Phone is going to be revolutionary, which is what they need to have any impact at all, it isn't going to be based on Windows 10. Posted via the Windows Central App for Android

@bleached, phones on 10 will be updated directly by Microsoft. Phones on WP8.1 updating to 10 are still tied to OEM and Carrier approvals. Therefore O/S updates from Microsoft; firmware however will still need OEM and carrier input.

I hope they resolve the issue of Cortana! In my taxi firm we run a 950, 950xl, 1520, 930, 3x640, 2x640xl, 1x1320 (my fave along with 1520) and lastly 2x650. Every single one of them has major issues with Cortana. Live tile is abysmal. It only updates if you select news headlines. You can't track flights / parcels. 8.1 you got updates on live tile for tracking. Remove news as an interest and the same headline just repeats until the live tile gives up again, after about 2-3 minutes. Very frustrated. MSFT said hard reset blah blah, regions are wrong blah blah. The guy I was shouting at said no one else had reported it and it was my phone. I said, what, all TWELVE OF THEM?? Having read the 'angry' and somewhat patronising post above, I should mention, although it is obvious, my complaint was about the 950's and the 650's. Ps, I run the TP's and I know what it's about because I read the warnings before I clicked accept.

650? They haven't even launched that phone yet.

maybe that's L550 he's talking about...

Agreed. Cortana is crap in W10M compared to 8.1! Totally disappointed!!

in the last year ive had microsoft helpdesk 4 times and helpdesk used to be really ood, but i had 4 people at 4 different times of the year and they ware all clueless, honestly it was that bad so i totally get what your saying there. Can i plse have one of your 650s :))).

re paidia milaei kaneis ellinika

W10M latest build, interesting bug happened! Notification center stopped working and hard reset didn't fix it. But when I plugged charger on my phone it started working... :D

Wow I'm surprised this guy has two 650s in his taxi firm. Jesus Christ they haven't even confirmed them yet from Microsoft just leaks I love these threads people talking bout how good or bad their phones are and half don't even have what there're talking bout

Maybe he/she meant 550? :P

"However, their releases are sometimes timed together, other times Mobile comes a few days later" This seems to indicate that mobile is always running behindcatching up, while 10586.63 was actually available 4 days in advance on Mobile compared to desktop.

Folks...just screw all the soft n hard resets! In the end all your devices will just blow up! Go back to Denim and all will be good. Teach MS Mobile a lesson. They need that kick in their sorry @$$ once in for all.

I miss gestures and i hate hamburger menu but at this stage i cant go back to 8.1, theres just to many new and improved features in windows 10. my 930 is being reliable and working well so far on latest build so i dont see the point.

If you seen the state of the gaming industry, the release dates of AAA games are all black and white with little gray area to actually make sure it works at launch. Mobile doesn't need to have its fixes rushed like your every day MMO or First Person Shooter...

I hope this comes to mobile and finally fixes the broken microphone in camera and audiorecorder on the Lumia 930

p[lex got a update yesterday that fixed the casting, i hope it stays ok after this update lol. apart from that very happy with windows mobile at this time so looking forward to the next update. who knows gestures might rear its head. Im using a lumia 930

The article says "Microsoft has been keeping their mobile and desktop OS with the same build numbers for a few weeks now." and yet my Insider desktop is on build 11102.1000, so how is this the same as 10586.xx? Just seemed a bit confusing to me. Either way, I'm always looking forward to see what else changes in the preview builds. Knock on wood, but so far no catastrophic issues for me.

You are an insider. They are talking about consumer builds.

Insiders are the most loyal consumers...

Yeah, I just checked the release number on my wife's tablet since she isn't on the Insider program. I guess since the W10M OS has been officially released for 550/950/950XL users, it would not be considered an Insider build and therefore would be tracking with the consumer build number for the desktop/laptop/tablet users. It's just the Insider version for the latter that has the higher number. PC Build (non-Insider) is 10586.63 PC Build (Insider) is 11102.1000 W10M Build is 10586.63

Hope this increases preformance on older devices because I'm fed up with my desktop being slow at some points if Windows 10 is not designed for older devices then why release it for older devices

Looking foward to a new mobile update. The 950XL could use it!

I think it is good to delay the public release when u know the os still persist some bugs .!! Delay the date we can adjust but pls provide the bug free OS .!! then start with the redstone theory.!!!!

ms ..solve the ui bugs please.....

"Microsoft last updated the Insider Fast Ring for Mobile on Friday, January 8 when the OS was updated to 10586.63. However, that update has not yet been approved for non-Insiders, and it may just skip to .71 or later." Give us STABLE NEW BUILD Microsoft for Lumia 950 XL. (NON-Insider).

I'm writing this from .71 on mobile, but not much to tell as far as I can see, probably just cumulative patching

Well that last update for the drivers was well over a month ago for my SP4... It's a shame it's going back, defective display port - cuts out frequently while presenting (even did a complete OS refresh, changed cables, monitors, projectors, adapters, etc, Surface team said to return it if I could). This was my 4th SP4 :( ... I debating even getting another one! I'm a really big fan, but I'm sick of having to reinstall the OS, sync data, etc and test it for a week to see if it's working correctly or not! This one had a bad display port and and a very abnormally noisy fan (not that it came on, that it sounded like it was GRINDING something on the inside! Yikes). Any recommendations for alternative devices to test? I've got about 1,600 euros for a device with a pen and has at least 8gb ram and 256 ssd.

There are plenty of great Surface alternatives! And they all have one feature the Surface doesn't have: You can repare them if your SSD or battery dies. - Lenovo ThinkPad X1 Tablet - Lenovo ThinkPad Yoga 260 - Dell Venue 11 Pro - Lenovo ThinkPad Helix 2 As of myself I use a used ThinkPad X230t and I really like it. Great device for note-taking and it still has a nice keyboard and feels like a traditional laptop if it needs to be.

Great, thanks. I'm going to see which of these Amazon carries here in Europe. So all of these use Pens? The Dell is a little small... But i'll check out the others. For me, Pen usage is important, I like to draw! haha. The alternatives I saw were the HP Spectre 13, and the Dell Inspiron 7000 series. I went against the Dell, but I am debating getting the HP. But I'm going to check these out first and see :)

Wow, they're all considerably more expensive or underpowered compared to the Sp4 :( ... Either with 4GB ram or 128SSD, with Core M processors or cost 2,200 euros without any kind of extended warranty! Ouch... Haha.

Really? The Helix 2 and the Yoga 260 are both available in your configurations for under 1600 € here in Germany.

http://shop.lenovo.com/es/es/tablets/thinkpad/thinkpad-helix/ = 1900 here in Spain for the 8gb 256 SSD. sdd http://shop.lenovo.com/es/es/laptops/thinkpad/yoga-series/yoga-260/ yoga 260 is 1749 for the 8gb ram 256 ssd. It's funny how it's more expensive than a Surface Pro 4. I got the Sp4 with extended accidental warranty and the keyboard for 1650 - i5 256 8gb ram. Europe is a special place for selling stuff like this. The HP I was looking at costs 1500 here in Spain, and in the US it was 1,100 USD, so like 1000 euros. Made me mad!

Oh, I see what you're doing 'wrong'. You have to click 'Configure' or 'Choose' (I don't speak Spain) and put your laptop together how you'd like it. Choose the cheapest option and upgrade it afterwards with the Configuration options.

Yoga 260: i5, Win 10 Pro, FHD panel, 8 GB RAM, smart card reader, 256 GB SSD: 1.487,86 €

You're absolutely right... :)

does any of them have a built in stand like the surface, i watch plex and netflix alot so would prefer that ability, but cost is silly for me on the surface.

Sure, all of them support pen input. I'd get the Yoga 260 as I don't like to carry several loose parts around. Does the HP have pen support? I heard bad things about the HP Spectre X360 and pen support.

Will it change the copyright back to 2016 Posted via the Windows Central App for Android

Maybe we'll get drag and drop support for attachments in Mail, anf maybe even Save all attachments?

I just hope they fix some bugs first, like how i have apps like motion data stuck trying to install and failing for the better part of a month and fix the message backup and sync issue. Also make contacts the way you link them with other social media accounts stays that way not having to keep linking with every reset.

I hope it won't be delayed™.

How the number sequence go because currently I'm on preview 11102.

Wats the point of hard reset whn ur updating a new build son of a bithcch, dnt take it as if u knw every fxcking thing abt software n gadgets

Any word on when non-insiders will get past .29 on mobile?

Thinking of switching to Android or iOS but still hopeful for Windows 10 Mobile...

Mark my words.
If they ll add a new feature to w10 mobile then that will bring 10 new bugs with that and to squash those bugs, MSFT ll have to need another some more months. This is going to be a never ending process .

I don't get it. Windows 10 PC is awesome. I can't say the same about Windows 10 Mobile. Believe me when I say this. I tried it out for quite some time. It was buttery smooth. But what made me switch to Android for now is the fact that the apps on W10M are not fully featured when compared to their Android or iOS counterparts. I will switch back to Windows 10 Mobile only when it's evident that it's ready for primetime. Great OS with not fully featured apps. So I'm sticking with Android for now. Posted via the Windows Central App for Android

I also have a plan to switch to iOS.

True...switching to Android M

I switched to Windows 10 Mobile, couldn't stand iOS9 & lacking behind hardware. Android 6 is incredibly boring! Take away all the apps from iOS9 & Android 6 those platforms have nothing!

Despicable me: Minion rush game only hangs a lot on my Lumia 540. Waiting to fix... In the coming updates...

I hope that after this upgrade apps will really close when I get out of them with back key, as it was in 8.1 version. This is so irritating! I have to press long "back" key and to shut them manually. Before apps would stay opened only if I'd use a "windows" key as a shortcut to check something else out!
And all those tabs that stay in Edge when I exit it! The next time I use app, there's a jam! I can't find anything! :(

cant stop laughing. My 930 was great a couple of bugs but great so in my wisdom to rid myself of those 2 bugs on being a old uninstalled app still showing in program menu and other skype taking 20 seconds to load regularly i went back to 8.1 fresh and then did a fresh instal and didnt use a restore i started from scratch, so i now have a cleaner built than what i did have and yeh NETFLIX doesnt work now, this is why i get upset over microsoft. It worked in the same build but as a upgrade earlyer today and all week now its a clean built a main app has stoped working, seriously what is going on here, my lumia 930 still has the same hardware, i havent upgraded the processor or replaced the ram, i havent shoved a gtx 970 in my mobile phone, hell its the exact same phone with the exact same build just cleaner.. Any ideas? lol skype is woloading in 1 second but noetflix is completely broken.

What about battery backup ?

Hi, With the new update on the windows insider program, if we leave the insider program and our phone is not the Lumia 950/XL or 550 will we receive the normal W10M updates? Cheers

I hope they will release WP10 on time. Fixing bugs is important but we all wait for this mobile system.

lool im reseting my phone for the second time to see if our current update will work wiith netflix. It worked when i updated my 930 from the previous built but when i did a completely fresh no restore used netflix stoped working. Its the only thing not working and im gona laught out loud if it warks the second time around, if it doesnt i just hope .71 fixes it cause its not like anything on 930 has changed. Its the same cpu, same motherboard, same memory, surely this sort of thing sgouldnt be hapening at this stage?

My SP3 went crazy after the last update. Now it won't stay shut down/sleep. It will reboot itself after 3-5 minutes no matter what I did. Please MS solve this bug asap.

This will be great for windows user and it will be useful to get new things in windows 10 when redstone update will arrive for windows user in next upcoming days in mid 2016.

windows 10 Mobile new version when release...........

WONDERFULLY TIMED UPDATE! Was in the middle of a cs:go comp match and this bad boy strikes and even though i pressed cancel well it just came in and raped my system anyway now banned for 48 hours due to abandening THANKS FUCKTARDS AT MICROSOFT!

Can't wait to put it on my computer later on today :)

Is the update out.? Posted via the Windows Central App for Android
Windows Central Newsletter
Thank you for signing up to Windows Central. You will receive a verification email shortly.
There was a problem. Please refresh the page and try again.