Windows 10 build 10586.63 now available for non-Insider PCs to download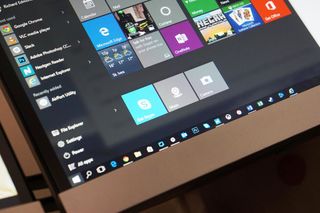 As we predicted last week, Windows 10 PC and tablet users who are not part of the Windows Insider program are now able to download the 10586.63 build of the OS via Windows Update.
The update has the KB3124263 demarcation. Microsoft has not yet published the KB page (opens in new tab) for this release.
The release is another cumulative update for Windows 10 PC users. It is not expected to include any new features, but it will have some minor improvements and bug fixes.
Windows Insiders are currently on build 11082, which was released on December 16 and is part of the forthcoming Redstone line. Those users will not see any update, but may have patches available too.
Update: Here is the changelog from Microsoft about this patch
This security update for Windows 10 Version 1511 includes improvements in the functionality of Windows 10 Version 1511 and resolves the following vulnerabilities in Windows:
3124605 MS16-008: Security update for Windows kernel to address elevation of privilege: January 12, 2016
3124901 MS16-007: Security Update for Windows to address remote code execution: January 12, 2016
3124584 MS16-005: Security Update for Windows kernel-mode drivers to address remote code execution: January 12, 2016
3124275 MS16-001: Security update for Internet Explorer: January 12, 2016
3118753 Microsoft security advisory: Updates for ActiveX kill bits: January 12, 2016
Windows Central Newsletter
Get the best of Windows Central in in your inbox, every day!
I didn't think they were doing Patch Tuesday anymore?

Seems that they patch on week days only now.

Did anyone else have the store become non-openable after the updates? Mine just flashes a bar across the top of the screen and closes every time I try to open it, even after a reboot.

I got the update, and my store is just fine.

Yes and more, Edge, outlook, and some apps would not connect. It acted as if I was not conneced to the internet, but Chrome, Firefox, and many other non mictrosoft programs connected without an issue. There was one Microsoft product that would connect that was Internet Explorer. I could not find any workarounds on the internet, this was the first confirmation I found on this issue. I uninstalled the update and things appear back to normal. Worried it will get reinstalled agian and break things again.

Getting update on my Surface 3 now and also getting it on my Toshiba encore 2 insider preview as well. Nice.

They are, it's just not the only day they do regular patches anymore.

Wen and Now are in India. Say hi from me :)

I am India.. Hi twotomtom :p

So this is at par with Mobile now, right?

Only of you include the insider build of mobile. Mobile is still at .29 for non-insiders and .63 for insiders.

I believe this is supposed to roll out to the phones as well. Maybe it will come out later today.

Help me with my Lumia please. I'm in build 586.63 and having a very annoying problem. My Weather and Office apps cant be opened. They lead me to store but in store it says they are installed already. Please help! :((

Back and up rest phone in setting about rest

Ultimately you should prefer Hard Reset..
No other way..
I think Soft Reset won't solve this problem..

Nope store is stuck currently n not giving updates

You just need to unistall the apps and soft reset your phone then set storage of apps in internal memory and try to install it again..if that doesn't work.. Hard reset.. :-/

Yeah, even OneNote. I'm on a L920. And this is after a hard reset without a restore. I hope this doesn't happen on the official release for the L950.
Thanks for tips, guys.

Check WMPU site. The store is partially down.

Oh, I hope that's the problem. Thanks!

How about delete those apps from the storage, then reinstall........

Yeah, i had the same problem on my L950xl and after doing a hard reset and updating the apps it work like a dream. Try it.

Same issue with all insiders i think

Does this also include mobile devices?

I do believe there is an accompanying article that contains the answer to your question!

Not on insider preview. Wondering when this will be out for non insiders? Other article was about the insider app and firmware. Not when this update would be GA.

Patches? We don't need no stinkin'...oh, wait. =p

Yeah, patches are for wimps. Write your own already!

Hope to see AT&T hit the firmware button for 950 today.

Me too, wishful thinking...

Remoted to my home pc and took the update....

I thought it is w10m officially released :/

I think ​God misunderstood me. I was praying for this build on my phone not PC! :(

Enroll in the insider program!

Could you pray to God on my behalf since he seems to listen to you.. I'll mail you the list. xD

And.....just ask for me what the winning lottery numbers are for this week please.

My insider PC only got a malicious software remover download, a c++ update and a defender update. No patches.

Just installed on my HP Stream...

Already having problems... XBox app hangs on green screen, and every time I go to the start screen it chimes "Updates"Installed"...

On a stream? Or in general?

Only tested my Stream so far...

Good to know, I will hold tight on mine for now. SP3 seems fine so far.

Any info when are insiders getting build 11082 for mobile?

Most likely to skip towards the next Build of Redstone for Win10M Posted via the Windows Central App for Android

WC ,any update on background app restriction for windows phone??

Bug found: Task manager not showing Network usage of app.

mine does show activity on firefox, the rest seems to be on 0Mbps.

I hope this fixes my problem on my dell 2 in 1. The last update would prevent the computer from power down and restarting. I would have to never turn off the computer or let it run out if battery. If I did, it would not reboot. I had to refresh from a jump drive 5 times already. Either that or my 840 evo developed a problem.

Love when 'Checking for updates' fetches a long list of updates!

Installed update, started browsing on Facebook in Edge and got a blue screen. Wonderful! Surface Pro 4 rocks

Omg everyone getting it official an still waiting to get the official 63 on 950xl .....
Cmon microsoft hurry up with the 63

funny thing, I am reading this thru continuum on the desk. and so I try to check the updates, didn;t get anything of course. then I realize I was actually using a phone +continuum, not on my computer

This is what Microsoft would call a success story.

actually in the past 3 weeks, I barely need to turn on my surface or desktop computers. Most of time I just use continuum.

Hey, nice to see you own Windows 10 Mobile and desktop, can you confirm that you get same html5test results on both the mobile browser and desktop browser? I really want to get something better to browse the mobile web than Chrome like Edge, but not sure if Edge Mobile is as strong as the desktop version.

I'm getting a "Some files are not signed" error 0X800B0100 on my Surface 3. Can't find a fix online. Good start! Anyone else seeing this? I can't find a fix online...

No problems on my S3. Of course it's only been a half-hour or so since the patches were installed.

Ha, give it time. ;) At least you can update. :(

Anybody unable to run Google Chrome 64-bit with this update?

Just updated, and Insider Hub is broken. Right after this update! Asks me to connect to the internet and to login with an Insider email. Anyone else? Reinstalling doesn't seem to help. Windows 10 Pro here.

Working fine here, just updated to 10586.63. Sure there's not a problem with your internet connection? Sometimes MS servers are busy too which could cause a temporary glitch

Hmm strange, my internet seems to be having no problems :)

Very strange, just confirmed again that Hub is working here Posted via the Windows Central App for Android

soo no fix on the gd flicking in this one?!

This is never shown, but the download from the Windows Update catalog is 352MB (for Desktop X64 version)

Updated my SP3, i5 an hour ago. PC is blazingly fast, with no discernible issues, so far. Truly,I am impressed with Win 10, both PC and mobile. Missing windows minimise, maximize and close features now apparent and working. Just updated some apps through store, so no issues there.

This update still does not fix the security settings issue (despite "fixing" and reboots)
which keep all of my PCs from getting insider builds.
.

No more audio via hdmi on my monitor after update. Had to update driver for nvidia HD audio and logitech webcam C270. Conflicting driver resources. All works after repair, but no hdmi output audio option in settings.

Nvidia HD audio working here after the .63 update Posted via the Windows Central App for Android

My sister's laptop a Lenovo G40 80 with Intel Core i3 4005U was upgraded to WIndows 10 last week, but I cannot even download build 10586.1, still not sure why Microsoft removed the Windows update tool for November to force 10586 Redstone version1 installation

And I'm not receiving Nov update :(

How much more waiting for the official Windows 10 Mobile release ??

Hello Microsoft i have Lumia 950 XL. Support 2 new phones with latest build without Wndows INSIDER Microsofttttt. Give us this build 10586.63 (for non-Insider).

Why is the copyright still 2015

hello, i need help. i want to upgrade my windows 7 to windows 10, and its not working. what ? pleae

I am running build 11082 on my PC.

All these new "cumulative update" still didnt fix the basic bug since 10586.14: No sound on toast notification/action centre. MP3s play perfectly, and I can record my guitar so it's not audio hardware problem. Yes the sound properties (right click speaker icon) says Windows System Notification General.wav and I can play it BUT when the actual notification comes, there's no sound. Actual email comes, no sound. Alarm goes off, the snooze and dismiss button pops up properly but just NO ****** SOUND, what's the point of silent alarm then? The bug propagates to all my two laptops plus one desktop plus one tablet and it happened to other user accounts too, so it's not specific to my particular computer or my user account.

Anyone ele run into the problem after the update then when you go to sign into the desk, type in your usernme\password, screen flashes and goes right back to sign in screen? i am no longer able to log into windows desktop Surface Pro 4. ************** Was able to use a bootable Windows 10 USB jump drive we created to get in and choose a system restore point to before the updates where installed. I am now able to log back into the desktop.

Not able to play any type of media files in any player. even downloaded codecs but still not able to play them. the same problem existed with nov-update.

i recently left insider on desktop and even though everyhting is much nicer and reliable skype doesnt ring when someone calls. Its disapointing that skype doesnt ring when someone skypes me. Luckly i have a windows phone on insider and when skype rings on there i just answer on desktop. Its lame but it works, im very surprised sktpe is this bad in the latest desktop non insider build.
Windows Central Newsletter
Thank you for signing up to Windows Central. You will receive a verification email shortly.
There was a problem. Please refresh the page and try again.