Next week's Patch Tuesday expected to bump Windows 10 and Mobile to build 10586.63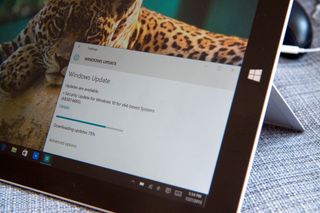 With a new year comes new updates for Windows 10 and Windows 10 Mobile. The updates tend to come on the second Tuesday of the month earning the nickname Patch Tuesday.
According to our sources, starting on January 12, build 10586.63 is expected for PC users and also likely those on Windows 10 Mobile. This update is a cumulative OS update bumping users from the current build 10586.36 release. No word on what is improved just yet, but there are usually general security and bug fixes. However, once Microsoft makes the news official we expect to hear more guidance.
Of course, if any last minute bugs are found the update could be delayed making the information presented here tentative.
Next Insider build?
There is no current information on when the next Insider build for Windows 10, or Windows 10 Mobile will hit user devices. Nonetheless, we can report that rs1_release.11097 (Update: They are now on 11098) is the latest Redstone release being internally tested for phone and PC. That number could shift depending on internal feedback and results.
The previous Redstone release, build 11082, for PC was released on December 16. That update did not add any new features, but it did lay the groundwork for the next Windows 10 chapter for 2016.
Microsoft did announce that Insider builds will begin to accelerate this month. In a blog post, Microsoft's Gabriel Aul mentioned the changed criteria:
As to new features coming, we will have to wait until Microsoft tells us what is in store.
Stay tuned to Windows Central as we will keep you posted on when those updates occur.
Windows Central Newsletter
Get the best of Windows Central in in your inbox, every day!
Daniel Rubino is the Editor-in-chief of Windows Central, head reviewer, podcast co-host, and analyst. He has been covering Microsoft since 2007 when this site was called WMExperts (and later Windows Phone Central). His interests include Windows, laptops, next-gen computing, and for some reason, watches. Before all this tech stuff, he worked on a Ph.D. in linguistics, watched people sleep (for medical purposes!), and ran the projectors at movie theaters because it was fun.
Isn't the current build 10586.29?

It's 10586.36 right now, as the article mentions.
----
Edit: .36 for Insiders on Mobile, 11082 for PC Insiders. My bad.

I thought the .36 was only for Insiders, not the main release.

.36 for everyone on PC, .36 for Insiders on mobile and .29 for everyone on mobile, as far as I know.

Yes. I wonder when .36 will be officially released OTA now that a new Insider Build is on the verge of release... I'm choosing not to run IP on my Lumia 950XL, so I'm anxious to receive .36

Hey you have my avatar... good choice Posted via the Windows Central App for Android

10586.36 on my phone (Insider) and Surface.

I would ve very very happy to see a lot of bugs eradicated and many sharp edges polished on Windows 10 Mobile before they start adding more features.

Except that downloading the whole new build every time is getting annoying

Yes, they should really make bug fixing updates, not the whole build again.

.36 or .29 to .63 will be a cumulative update, not a whole new build. On both mobile and pc.

It's a new build on mobile, while it's called a cumulative update there, technically the update process is the same as for a new build.

Then do you really need to be in the Insider Program?

it doesn't only apply to the insider program. Both lumia 950/xl are receiving the updates as a whole build.

Is that possable to do on Mobile due to space constraints? How dows iOS and Android handle it? I thought thats why they moved things to apps so they could update components without having to release a whole build.

Android, iOS, Windows PC, OS X, WP 8.1 did Delta updates... Just download what was changed, and not everything.

This is an OS update. There is no other way to update the OS on the phone.

Android and iOS only download the changed components whereas W10M downloads whole builds.

When there are bug fixes throughout the entire OS, how else would you update them but to due a full OS update? Many low-level components have been updated without a wholesale OS update, as far back as WP8.x... Firmware, model feature updates (Glance, etc.), etc.

Cortana is not working properly in the present build on my Lumia 630. I hope it gets fixed!

And did I miss something for the upgrade from 8.1 to 10 mobile for everybody expected in December then....?...

Pretty sure MS announced it was delayed until later in 2016

They should be releasing the win 10 mobile official version to older Lumia first....

And de-prioritize 200+ million users already on Windows 10? I disagree. You're speaking from a personal, selfish standpoint (you want it), not from a business perspective and what is best for the ecosystem.

+ Not ready yet for general use!!

It is ready for the general use. Just not ready for the upgrade(without hard reset).

Pretty sure it's not ready for daily use, esp. on low end devices.

It does run fast and fluid on my 640 and I haven't done a hard reset since build 10572.

I have updated my lumia 520 and 920 to w10m. Both of them became fast and fluid after a hard reset.

They should be releasing the win 10 mobile official version to my Lumia only.... now and forever.

Simply join the insider program if you want it on your phone.
10 mobile still has so many hiccups and bugs that Microsoft would ruin the remaining positive reputation if they would "force" users to upgrade

I agree. There are some applications that worked (albeit with problems) on Windows Phone 8.1 that simply crash on launching on Windows 10 Mobile. A notable example that affects my household is the Insteon for Hub app, which went from working to working well to adding truly meaningful Cortana support to not working so well to being almost useless if not for some awkward workarounds to being completely broken. Both my spouse and I have upgraded to Lumia 950s, but we have our old 920 and 1020 in key places in the house *just* to use the Insteon app. If those were to be upgraded at this point, my multi-hundred dollar investment in Insteon equipment becomes useless.

I'm sure there are more older lumias in the wild than 950 variants.

Hopefully the Skylake and Intel related bugs get squashed. I convinced a long time Mac user to get a brand new XPS 13. The display driver crashing and sleep/hibernate issue aren't helping to win her over.

Hopefully the new Insider build re-enables the fingerprint scanner on the Surface Pro keyboard. Also, hopefully the new Insider build for phones actually installs on the single SIM 950XL. Currently it will not install, period. Soon™. Hopefully. Soon™

I'm running the latest insider build successfully on a single sim 950xl.

Grat! What's your secret? It won't install for me, ever.

What bullcrap is that? I am running .36 on my 950XL single SIM.

I wish I knew what bullcrap it was. It simply will not install. Word on the forums is if you are running the new firmware, for some reason it fails every time. Yes, I've hard reset, tried on a cleal slate, retried, etc. Nothing works. So I'm happy for all of you who have it working, but fact is something is broken. Screenshot from 3 minutes ago on my SingleSIM XL. Tried with and without SIM inserted. Won't install, full stop. http://i.imgur.com/YO7Z57k.png

Have you tried using WDRT to start really clean?

Of course. I'll try today's insider update. Hopefully they fixed what was broken.

There was an update today? How did I miss that... (What was updated?) Nevermind, I see how I missed it, my phone rebooted itself and I have a SIM PIN so I was disconnected from the world for a while without knowing it.

Before I dig my grave, I at least want to see the news of windows 10 update for non insiders :(

Lol!
Hang in there, soon it'll be available!

Oh no! I'm used to having a working, full featured Windows Phone. If only they could dual boot...

You planning on digging your own grave? Morbid.

On my non-Insider phone (Lumia 950 dual SIM), I received one update from the .0 release to .29... while waiting for .36 to still arrive, I did get an update this week which I think was a firmware only update which was supposed to have fixed the auto brightness issue, but mine still blinds me in the dark (if I turn off auto brightness, it gets even brighter, then when turning auto brightness back on, it finally goes to the correct brightness).

Anyone knows when new builds will be available to Lumia 950 & 550? just like the insiders?

did you ready the 1st part of the story?

i'm just asking if those devices (lumia 950, 550) without the insider app are getting the update in the same time as the insiders.

Worst work by Microsoft.., what lagging in the competitive world..please try to replace R&D with talented and innovative

R&D has directly nothing to do with this.

Ah, you may have put your finger on the problem then. R&D need to do a fair bit of developing on this before it gets out there on their less experimental phones.

Worst work by vvsatish varma. Your English is lagging in the competitive world. Please try to replace your non-understandable words with talented and innovative words.
And what is your talented and innovative work?
Sitting on a couch and complaining? Get a life bruh

I'm still waiting for windows 10 mobile on my phone

Insider. No excuse for you.

Outsider. Waiting is good. WP8 works.

Let hope the Microsoft band 2 get fixed with the connecting thing

I thought "patch Tuesday" was gone and they planned to release updates as soon as they were ready instead, regardless of the day

My initial thought also actually...

That's exactly what I thought??

They do both, there have been many cumulative updates outside Patch Tuesday but there is always one there as well, plus some security updates, the monthly malware removal tool and of course updates for the other Windows versions.

My Lumia 950xl is still on build 10.0.10586.29 have only had the firmware update since... Is it supposed to be at build nr 10.0.10586.36?

If you are an insider, then yes, if not, then no.

Same here, my 950 and 550 are in build 10586.29

I somehow read your name as Queen Abdullah....no offense by it, I just thought "that's a cool name" and then "wait...that doesn't say Queen Abdullah" I need to step away from my computer.

Why xap file not sidelode in win10

What about using the forums?

I was very apprehensive about downloading newer builds before on my primary phone Lumia 730 .. But i must applaud how consistency is worked upon.. I've been a fan and user since it ls commencement in 2007... I must say the newer build works flawlessly.. I still haven't given up hopes that Microsoft won't let me down

Hope bugs,glitch,and more improvements will come.

In fact today i got this already on my phone! But don't notice much change, accept battery drainage seems lower!

No wonder your name's dick.

Oooh damn Pallav, that was scathing!

Need update! Right now store is not working for me when try to download it's show only starting download.

Hope bugs,glitch and more improvements will come in this build.

My system and reserve storage shot up to almost 27gb after the firmware update on 950XL; not so sure I want anymore updates...

So old Lumias have to wait little longer, fine

For the first time in a long while, my main PC is nearly unusable. It wanted to schedule time for a reboot and I finally let it. On the rebound all sorts of whacky going on. I can't use Groove, I can't use Start Menu, in fact Universal Apps are out of the question as I can't access them (icons are blank where they happen to be pinned to task bar). I can't even review system settings without some digging through old panels. I hope this patch corrects any of these issues if they are not unique to me. My other PCs seem fine, though I haven't let them update.

Yout might want to go to Windows Update and check for new updates, even if none appear when Windows Updates first opens.

Microsoft trial agent app in windows store.

I am having issues with network and audio, after 10586 update I'm not able to connect sometimes to the Internet also audio is not playable. Only restart fixes it but that's temporary. Posted via the Windows Central App for Android

Battery life. Did I mention my 1520 needs more battery life? Sometimes it goes from 50 percent to zero in minutes. And I get the"critical battery life" message about five seconds before the phone shuts down. Better must come.

Yesterday I noticed my 925 discharging faster than usual, fast enough that the charger could barely keep the battery level from dropping further. I rebooted the phone, and whatever was eating up power seems to have been killed off. I have noticed this happens much less often if I routinely go to the task list and terminate all suspended apps.

I'm seeing the same thing. If I leave facebook beta suspended then battery is emptied very quickly

You have a hardware battery failure, bad cells in the battery. The only fix is to replace the battery. Same thing happened with my 1520.

Do we have any idea when windows 10 mobile will be released for consumers? I want it on my lumia 1520...i have been waiting but seems to take forever now .

Get it with Insider then.

With W10 Windows update is a total mess. Last official non-beta update took like 40 minutes to finish. Fresh install on same machine took a couple of minutes. 200 million work hours lost, thanks Nadella.

Lol. Exaggerate much? Posted via the Windows Central App for Android

200 million confirmed Windows 10 installs x up to an hour each. The big OS updates (which used to be called Service Packs), where you end up seeing the blue ring take a long time, even on a speedy machine.

That is why they schedule the update to be applied when you aren't using your PC.

That never works, because it's switched off then. I don't think MS expect people to leave their PCs switched on and walk away. Environment aside it is a massive security risk as Bitlocker is rendered useless with such inadvisable practices.

Using 950, Cortana doesn't know where I work? Listed in note pad as work. Needs a fix too

I hope they add significant spit and polish to the next W10M release. Some glaring issues I see: Paste from suggestion bar usually not available. Workaround: Paste from context menu Moving text range selector often does not work Keyboard appearance not always reliable Memory allocation for current app causes app to freeze or crash altogether, but would work if the oldest suspended app(s) in the task list were terminated completely Mobile hotspot to local device stops working then the phone reboots Print works once, then can't find the printer again Photos sometimes duplicate when viewed--could be a bug in Photos app, OneDrive sync, or OS Photo sharing to Facebook causes endless, occasional duplicate reposts--could be a bug in Photos app, Facebook app, or the OS

The Facebook app is a complete mess for Winmo10. Either crashes, kicks you out or the post shows up 20 min later if your lucky. "Most recent" has no meaning a well. And with the Me tile gone for no apparent good reason, I now have to use Unishare. There are just so many things wrong with this OS.

The issues regarding post order is the fault of the backend Facebook servers. The crahses, etc. are due to the OS not terminating suspended apps soon enough. See for yourself by holding the Back button and closing all open apps. I see the same crashing issues in just about every app, especially if the photo picker is involved. But if I close most/all suspended apps first, the app I want to use works crash-free.

They should also overhaul bluetooth & wifi stability, plus ability to accept multiple files in one dialogue. Pinning a folder from Photos app to the Start, maybe. ;)

Je suis devenu accro aux nouveautés, j'en peux plus d'attendre, je veux de nouvelles builds

Looking forward to hearing from the significant percentage of idiots in the fast ring who will complain about bugs/stability once they start rolling out new builds more quickly.

Waiting for the next mobile build... This build was really pathetic on my 730...

Nitpick: Redstone is not two words.

Will this be the RTM for phones or this will also be released with FEWER BUGS?

Let me guess.... Windows insider users won't be getting anything cuz that just makes sense.

No, there's a new fix in the upcoming update called 'entry.point.complain.less.insiders.whine.lots'. Should be good stuff!

Lol thanks Dan for the update. But on a serious note, I don't think it's smart for them to keep making things available for insiders last.

Well, Insiders are on build .36 and official update is just .29, so that's not entirely true. The firmware stuff is...well, more complicated, but I'm sure they'll sort it out.

It took quite awhile for 950 XL users to receive the .36 update, most of us had to hard reset. And now the firmware is the same problem. Anyway I'm actually not too eager to get these updates because I think my 950 XL is working pretty buttery smooth and I have no major issues with it, but compared to my 920 days I was definitely able to get updates easier while enrolled as Insider

My PC has blue screened twice today already and once earlier this week. Dunno what's happening here but it's not good. 1511 for me was kind of worse than 10240.

Was the speech download error fixed?

build 10586.63 hmm funni..i have 11082 on my pc running insider

I hope the bluetooth disconnecting is fixed. Windows Phone 8.1 has no problems.

That's quite a jump in numbers, hope it brings a good bunch of fixes for Mobile. Also would like to see the new build for Insiders before it's released for everyone.

Anyone having problems with 950xl photo album some photos are are doing weird sometimes

recieving build .63 as we speak very exited hope it sorts out the battery on the 930.

Hell I have about 10 failed updates already now I'll have one more .

I would probably hold off for next update if you don't have 11082 at the moment on the fast ring as it has a really annoying issue where you can't see how much space is used as you delete and copy or move files from one place to another. You can still view total space available but not in realtime. Say you copy a game from Drive C to drive D . You can't monitor the usage during the copy phase. Just something to keep in mind on this build as it can be really annoying if you are low on space on any particular drive.

I hope they fix the Defender issue in Win10...
Windows Central Newsletter
Thank you for signing up to Windows Central. You will receive a verification email shortly.
There was a problem. Please refresh the page and try again.